Mister Sandman, bring us a dream, the cutest bedroom office ideas that we've ever seen — from cloffices to floating desks and everything in between. We have more than a few stylish options to help turn your space into a functional (yet cozy!) WFH zone, so prepare to fire up the Zoom meeting and Slack channels.
But don't get *too* bogged down by the thought of an office and bedroom in one. (Heck, college kids in dorms do it all the time!) We know that you like to sport your best sleep mask and catch some Z's at the end of the day, but that doesn't mean cute desk ideas have to be far behind. Here's how to get the best of both worlds.
Our favorite cute and efficient bedroom office ideas
Ready to start styling your bedroom office? Of course, you are! Best of luck creating the workstation of your dreams. (See what we did there?)
Psst: If you have a little extra room to work with and can keep your office and bedroom separate, have a look at these adorable and space-saving small home office ideas, too.
The prices below were correct at the time of publishing this article.
1. Opt for a corner desk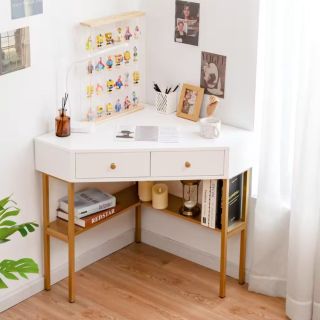 Corner desks save space yet somehow give you more room to work with. These L-shaped babies are ideal for your laptop and that growing notebook collection you've been harboring. If they include storage options, even better!
2. Create a nook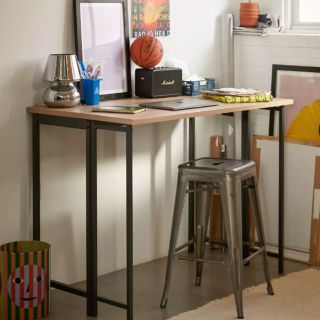 When it comes to creating a nook, don't just fill the abandoned space with random pieces you don't care about. Give the little hangout a purpose, like a place to work and create.
"By thinking about how you want to use your nook, it should be easier to decide how you want to style it," Leanne O'Malley of Studio says.
Once you have a mission, gather all the accessories you need to get the job done —and then the accessories you need to give your WFH hideout a personalized touch. Did someone say renter-friendly wall decor? Anyone? Bueller? Bueller?
3. Make a statement on the walls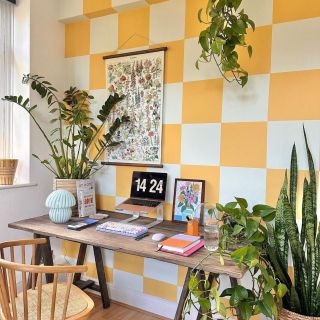 Why not spice up your study space with something snazzy, be it checkerboard walls or a playful peel-and-stick wallpaper print? O'Malley suggests tying in a statement piece with elements like larger pieces of furniture or perhaps decorative accessories in order make your workspace stand out — in a good way.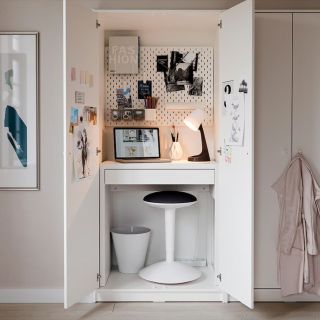 If you can utilize multifunctional furniture, why not? Who said that a dresser is just a place to store your garments? If it could also be used as a spot to whip up that report, welcome the idea!
"To make the most out of your bedroom, add a desk you can use as a dressing table and an office desk," suggests Lisa Slack, head of product Thomas Sanderson. "You'll save space and money with this multipurpose space."
Plus, when the clock strikes 5, you can easily put away your laptop and ditch the work vibes with ease. Once 5:01 rolls around, your vanity is just that.
"We believe in an 'out of sight, out of mind' approach, especially in planning bedrooms with workspaces," said Joe Ferguson, architectural joiner, SkirtingsRus. "It is important that during times of the day, one can work but still enjoy a restful sleep at night."
5. Make a 'cloffice'
Rather than use your closet for a wardrobe, how about you turn it into your mini home cubicle? Actor and artist Jonah Saesan totally makes the case for a cute cloffice.
"I like that my closet is an entirely different style from the room it's in, and when the doors are shut, it simply disappears," he said. "The wallpaper, felt wall design, and lighting really help with all that. But maybe most importantly, I wanted to be able to visually and physically put away work, because it's really hard for me to not always be working when my job is in my home. And closing the closet does exactly that."
6. Set up shop near the window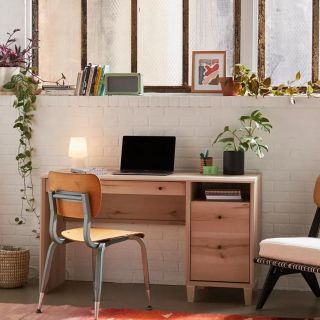 As much as we love retro mushroom lamps and stylish floor lamps, we can't beat what's outside our window.
In a recent study, Cornell University professor Alan Hedge revealed that optimizing natural light improves health and in turn boosts productivity. In fact, there's an 84% drop in things like eyestrain and headaches when there's more natural light in the room. We can't argue with those facts!
7. Let it float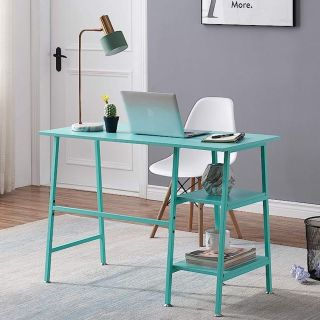 Yes, you can make a statement with your walls, but you can also do so with your furniture. Try caddy cornering the desk in your room and don't worry about sticking it near the wall. As long as it works for you, the arrangement is a keeper.
"When it comes to our home workspaces, too often we allow a poorly arranged environment to hinder our potential," said Camille Styles. "And a home office lacking inspiration and flow can negatively impact our work. It's critical to have things in place."
8. Multitask with your vanity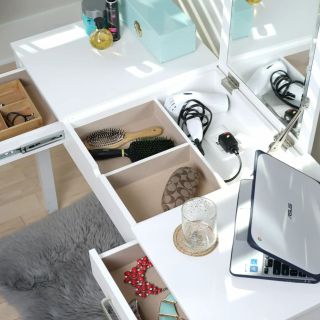 Let's be real, come Friday night (or afternoons if you're lucky enough to have Summer Fridays) you're going to immediately put on makeup after work wraps up so you can meet friends for dinner. How much simpler would that be with a desk/vanity situation?
9. Swap out the nightstand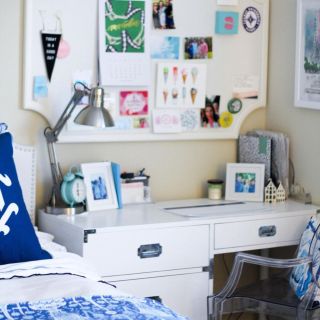 What'd we tell you about that multifunctional furniture? This could be an especially useful dorm organizing idea since you probably don't have that much space on campus to work with.
10. Use an alcove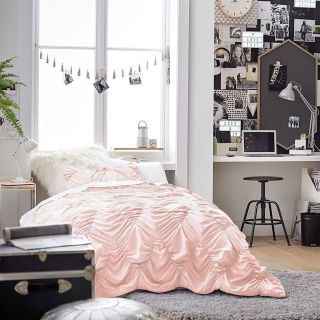 If you need a place to store your sweaters and pants but have your eye on a cloffice, check out an alcove space instead. Though it may not be possible to shut the doors and drown out the work day, it does give you room for some creativity! (We love a good excuse to use removable wallpaper!)
11. Make a gallery wall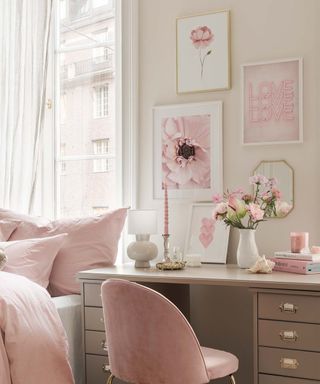 Add interest to your bedroom office whilst creating a motivational environment to work in with a beautiful gallery wall idea. Adopt a visualization board approach, and curate a display of uplifting prints and inspirational images.
12. Let nature nurture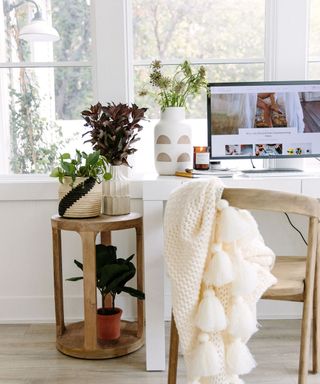 Not only do our beloved plant babies transform any space into a verdant indoor jungle of freshness, but plants can increase productivity, improve air quality, AND reduce sickness — the power of plant positivity knows no bounds! (As if we needed convincing.)
Styles said, "Bring a little of the outdoors in to help to create a sense of serenity and peace which is the perfect ambiance for both bedroom relaxation and workflow."
How can I make an office in my bedroom?
Andra DelMonico, lead interior designer, Trendey said, "You could lay down an area rug under the desk and another under the bed to define the space visually on the floor. Then add a freestanding room divider or ceiling-mounted curtain rails so that you can hide the office space when you are not 'at work.'"
How can I create a motivational bedroom office?
DelMonico noted that keeping your personal style in mind would be the most beneficial in the long run. Plus, there are a few ways to be active while on the job or studying, according to the interiors expert.
"Choose motivating colors like yellow, orange, or green. This will help you stay energized and motivated throughout the day," she said. "Avoid blue or gray, which can be too relaxing and have the opposite effect. Add bright task lighting to your desk or place it near a window. This will ensure your office has plenty of light to make working easier and keep your brain engaged."
How can I switch off from work at the end of the day?
Robin Antill, director at Leisure Buildings, believes it's all about the simple things when it comes time to shut off for the day.
"Closing your notebook or turning out your desktop when you're done, or removing all documents and work-related materials until you use that as work again are all small things one can do to help," she said.