Can you actually host Thanksgiving in a small space when the meal is big and appetites are bigger? Are we required to hire a moving company to temporarily get rid of the furniture?
Fear not, hosts and hostesses. Though a little creativity is required, it is possible to welcome loved ones for the biggest cooking day of the year — even if you're not working with much in the way of floor space. Our experts are on hand to give you a little guidance so you don't get overwhelmed (or overcrowded) on the holiday itself.
As you prepare to get some major usage out of your small kitchen and gather all those you care about, consider this advice to be just as important as your Thanksgiving hosting essentials.
How to host Thanksgiving in a small space
Yes, you're probably working with a small dining room, and your oven might be a tight squeeze for the turkey, but we're here to help make it work. Let's make Thanksgiving 2023 one for the books.
1. Serve a buffet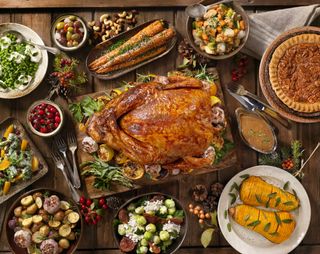 We know you've been eyeing Thanksgiving table decor buys — and you certainly can enjoy a few trinkets here and there — but it's probably more efficient not to opt for a sit-down dinner.
"If you have a small apartment and have more people than you can sit at a table, organize the food in big platters and do buffet-style serving," says interior designer Soledad Alzaga. "Stack your plates and arrange sets of cutlery wrapped around beautiful napkins and let people serve themselves and find a place to sit and enjoy the food."
And now that multipurpose furniture, like our favorite furniture pieces for small spaces, you've added to your home will get even more usage, as side tables and consoles can be a resting place for glassware and the like. See what we told you about creativity?
Soledad Alzaga is the founder of her eponymous business, a boutique residential and commercial interior company based in San Francisco, which was named one of the top 15 best interior design companies in the city. It assists in all aspects of the design and build process of residential and commercial properties from start to finish including consulting and working with architects, builders, and engineers
2. Keep the decor to a minimum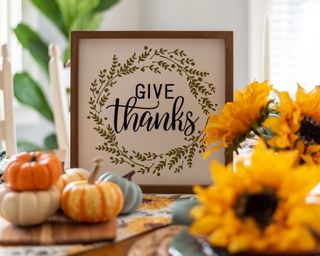 Though we're all for adding a festive flair, it might be best to approach decorating from a minimalistic perspective — and that's not to say decor has to be boring!
"For your Thanksgiving table decor, it's best to keep it simple," says interior stylist Vivianne Chow. "Choose a neutral color palette, simple floral arrangement, and lots of candles to create a cozy and intimate look."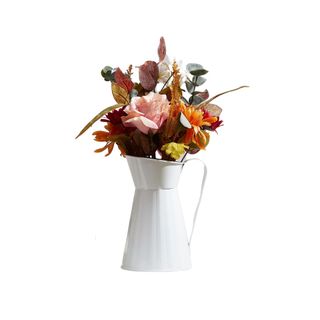 Rustic
Farmhouse Multi-Colored Floral Arrangement
Price: $14.97
Dimensions (in.): L9 x W9 x H15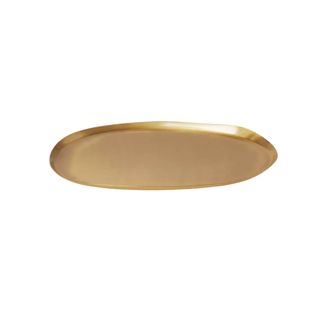 Threshold
Threshold Metal Oval Serve Platter Brass
Price: $20
Dimensions (in.): L9.25 x W14.12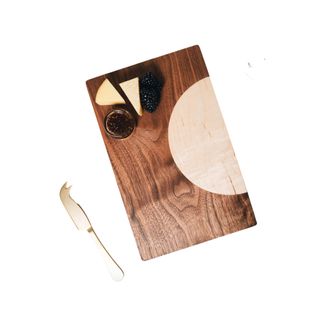 Handmade
Price: Was $95, now $71.25
Dimensions (in.): L11 x W7
Vivianne Chow is an interior stylist and founder of the home decor blog, VivandTimHome.com. She's passionate about sharing the best modern home decor to buy and recently built a dream custom home with her husband Tim. Together they're tackling decorating room by room and sharing design tips and ideas along the way!
3. Get creative with seating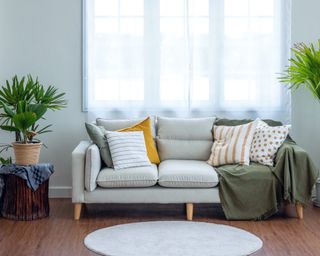 As you might've guessed with the buffet option, seating might seem a little unorthodox during a holiday in a small space, but it's nothing if not inventive. Don't be afraid to whip out folding chairs or ask guests to find a spot on the couch. If you have multipurpose furniture — perhaps an expanding dining table for a small space — even better.
"Consider using a transforming table that can be extended to full size at mealtime to seat everyone while they eat, but can be tucked away or used for a different purpose when not in use," says Challie Stillman, the VP of Creative at Resource Furniture. "An expanding console table like the ones made at Resource Furniture can serve as a small bar area or snack table throughout the night, but come mealtime it can seat up to ten hungry guests."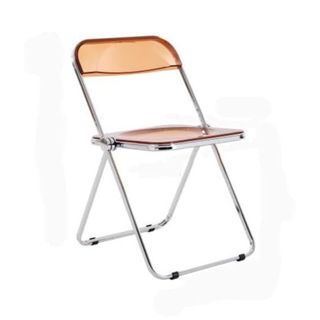 7 finishes
Transparent Acrylic Folding Chairs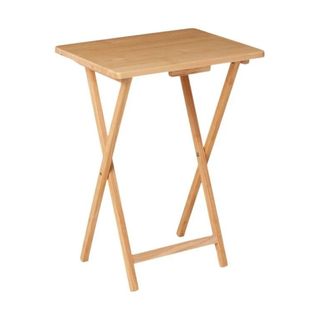 Walnut
Mainstays Folding TV Tray Table
Price: $10.98
Dimensions (in.): L19 x W15 x H26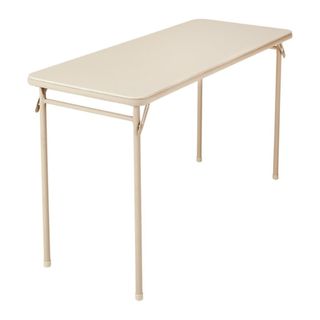 Three styles
Cosco Folding Serving Table
Price: $40.95
Dimensions (in.): L20 x W40
Challie Stillman is an expert in all things small spaces. Resource Furniture is dedicated to transformative and multifunctional furniture solutions to make any space in the home serve multiple needs, especially when it comes to hosting in a small space.
4. Try a potluck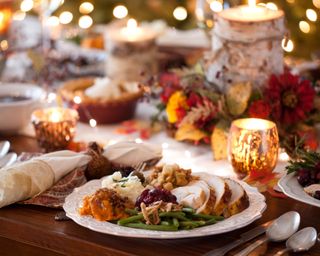 Just because you're welcoming everyone into your home doesn't mean you need to cook everything. Why not suggest a potluck?
"Instead of putting all the pressure on you to come up with so much food in a small kitchen, have everyone bring a dish so you are not overwhelming your oven," says designer Chantelle Hartman Malarkey Most guests ask what they can bring so take them up on it!"
And if you're planning on going a potluck route and not entirely sure whether or not a sit-down could work, embrace those informal vibes. Don't be afraid to change up your menu accordingly, either.
"Think small bites and apps over a large plated sit down formal dining situation," Hartman Malarkey adds.
(But just in case you are set in stone about the whole DIY approach, we've rounded up helpful ways to organize a small kitchen, according to experts, because we know you're going to need some room.)
Chantelle Hartman Malarkey, a.k.a. the Lifestyle Alchemist, is an interior designer, photographer, home chef, hosting expert, and blogger who shares ideas about family travel hacks, beauty must-haves, delicious recipes, among other topics, with her followers.
5. Utilize outdoor space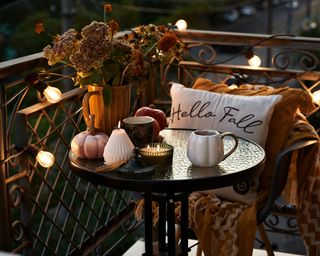 You don't necessarily have to enjoy the turkey and the trimmings outdoors, but if you do have a balcony or perhaps a tiny backyard — and the weather isn't horrific — why not make use of it?
"Everyone loves a good outdoor dining or cocktail situation so if this is available for you, go for it," Hartman Malarkey adds. "It instantly sets the tone and vibe."
Should you need, designers have Thanksgiving outdoor decor ideas on lock, too.
6. Embrace what you have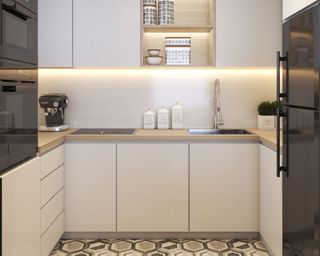 While a small apartment and a big holiday might not seem like they mix, playing up to its coziness is actually a strength, according to Hartman Malarkey.
"Light candles, play some good music, and serve some good cocktails," she says. Your apartment immediately gives off intimate vibes so lean into that to set the tone. Often when trying to entertain the goal is to make spaces feel decorative, welcoming, and homey. Small spaces give you a leg up since a cozy intimate homey mood is already set!"
7. Prepare in advance
Remember in college when the professor told you that you could not do an assignment the night before, but you did it anyway? Don't do that on Thanksgiving. A little prep work goes a long way. Plus, you'll want to kick back and enjoy the holiday, too, even if you've assumed hosting duties.
Prep in advance as much as possible. Plan the meal and know what serve ware and dinnerware you will need," says Laura Cassell Fischer, VP at over&back. "If you don't have an item you now have time to either borrow or buy it."
And get rid of the connotation that you're the one who has to be responsible for the entire meal.
"Ask for help. It's ok to not have everything you need to host," she adds. "Just because you are the host does not mean you have to do everything."
You know what they say: "Teamwork makes the dream work."
Laura is the Vice President, merchandise and Product development at over&back, an international company marketing tabletop ceramics to retailers around the world.
FAQs
How can I serve Thanksgiving dinner in a small place?
Take stock of what you have and what you might need to serve the dinner, be it dishware glasses, etc. Borrow or buy something you're missing before the day itself. And while you're at it, so that you don't overwhelm your small space, ask guests to bring something, which will take the weight off your shoulders. Serve a buffet and use any and all seating options to maximize your seating space.
How do you host an easy Thanksgiving dinner?
As Chantelle Hartman Malarkey says, particularly if you're working with a small space, lean into the coziness of a tiny abode and don't feel as though you have to serve a sit-down dinner. It could be a more casual style — you're the host, it's entirely up to you! And delegating tasks will definitely make things easier for everyone.
---
If you'd like to set the mood without going too overboard, add a couple of small toches like a seasonal candle or throw blanket. Wall decor is a great solution in a small space as it's out of the way, so try a wreath or festive sign.
Looking for seasonal buys for your abode? Walmart Thanksgiving decor and Target Thanksgiving decor can assist.