So, you've decided to go for it: Turkey Day 2023. Let these Thanksgiving hosting essentials — an edit of somewhat unexpected but incredibly useful items — be your guide to creating a delicious meal.
We won't sugarcoat it, though: your kitchen is about to undergo quite the transformation, and there's certainly going to be a lot of prep work getting the meal ready for guests and the occasional Instagram photo dump. It's a tall challenge, but we salute you, Chef. We know you're up for the task.
Whether you're working in a small kitchen, feeding your whole family for the first time, or are a seasoned pro, there are hosting essentials that deserve a spot on the counter — and we're not just talking about cute vases and candles to set the tone. These picks are truly lifesavers behind the scenes.
Thanksgiving hosting essentials: 9 kitchen must-haves
We know you have Thanksgiving table decor buys on lock and you're likely putting together your Thanksgiving tablescaping plans as we speak, but these gadgets are truly non-negotiable when you have to deal with the turkey and all of the trimmings.
1. Small kitchen gadgets
Small tools can make a big difference in the kitchen, especially when you have multiple recipes in the works and ones that are true labors of love. Before all else, start by investing in magnetic clippers for the fridge. At some point, your step-by-step stuffing guide or turkey heating instructions are going to accidentally make their way into the garbage. Stop the disaster and confusion before it starts by placing all of your important recipes and how-to's in one place that you can reference throughout the day.
As far as the cooking itself, there's going to be plenty of chopping, dicing, and mincing for multiple dishes. Rather than do it all manually, allow a few tools to help.
"An herb mincer and leaf stripper will save you lots of time during meal prep," says interior designer Soledad Alzaga.
Meanwhile, designer Chantelle Hartman Malarkey managed to find multiple uses for her micro grader.
"It's a must for Thanksgiving as it works wonderfully to grade hard cheeses like Parmesan," she says. "Grated parm is the perfect topping for Thanksgiving potatoes, casseroles, and veggies. [The grader] is also a classic for lemon zest which can add so much added flavor to so many dishes."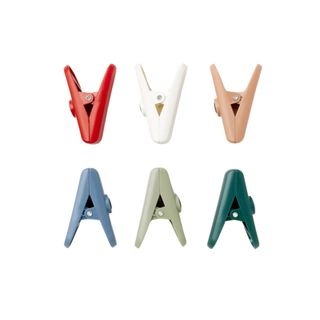 Six pieces
Figment Magnetic Bag Clip Set
Price: $5.00
Dimensions (in.): L2.8 x W0.94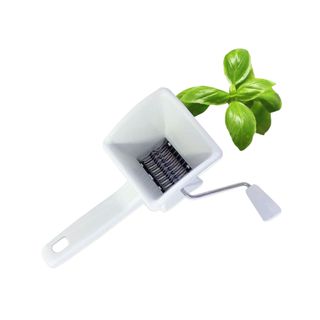 6.5"
Cuisinox Rotary Herb Chopper
Price: $10.05
Dimensions (in.): 3 x 6.5 x 3.5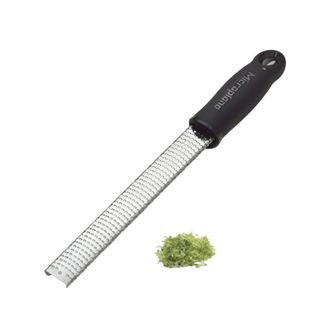 Willams Sonoma Exclusive
Soledad Alzaga is the founder of her eponymous business, a boutique residential and commercial interior company based in San Francisco, which was named one of the top 15 best interior design companies in the city. It assists in all aspects of the design and build process of residential and commercial properties from start to finish including consulting and working with architects, builders, and engineers
Chantelle Hartman Malarkey, a.k.a. the Lifestyle Alchemist, is an interior designer, photographer, home chef, hosting expert, and blogger who shares ideas about family travel hacks, beauty must-haves, delicious recipes, among other topics, with her followers.
2. Small kitchen appliances
The best small kitchen appliances can come in handy when you're out of real estate on the stove or oven. It's always nice to have an extra option for cooking side dishes.
"Air fryers are common, but what most people do not realize is how versatile they are," says Jason Phillips, a chef and contributor at Also the Crumbs Please. "They can bake and do other functions of a convection oven, just at a more rapid pace. What this does is free up my oven space for bigger items like the turkey and various casseroles."
Our list of the best air fryers can help guide you towards a suitable pick for you and your family. And no matter what you're using, you're going to want to keep track of how long everything has been heating up, that's for sure, less you'd like disappointed guests at the dining table.
"An unexpected but extremely useful kitchen item to have on Thanksgiving is a digital kitchen timer with multiple alarms," says Shantae Duckworth, a professional organizer. "This might seem basic, but its utility becomes apparent when you're managing a multitude of dishes with varying cooking times."
And a good appliance that can take you from dinner to dessert is one of the best electric kettles, whether you need to heat up gravy in a jiffy or get a few cups of tea in the works.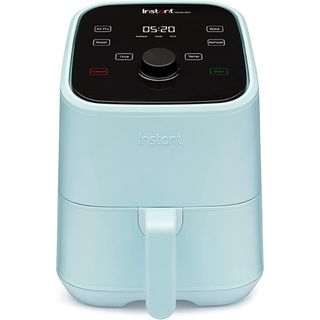 2-QT
Instant Pot 4-in-1 Mini Air Fryer Oven Combo
Price: $58.96
Dimensions (in.): D11.26 x W9.02 x H11.73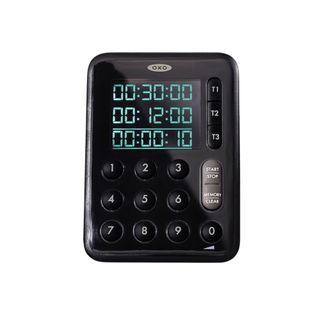 Multiple trackers at once
OXO Good Grips Digital Triple Kitchen Timer
Price: $26.95
Dimensions (in.): D2.55 x W4.5 x H8.2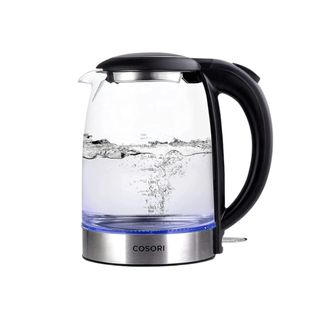 1.7 L
Price: $27.99
Dimensions (in.): L9 W6.3 H10

Jason is a chef who has also worked as a food writer for four years, for print and online publications. During that time, he honed his culinary skills in commercial kitchens and offshore boats, where he learned the fine art of cooking on a moving platform. His culinary journey has taken him to some far-flung places where he learned that food is the great unifier of all cultures. He is also a contributing editor at Also The Crumbs Please.
Shantae Duckworth is a professional organizer and founder of Shantaeize Your Space in Seattle, Washington. She is a Member of National Association of Black Professional Organizers, and a member of Black Girls Who Organize Group. She is a public speaker and writer as well.
3. Miscellaneous kitchen items
Even if you've mastered ways to organize cabinets in a small kitchen, there's inevitably going to be something that you can't find on the holiday itself. It's pretty much an unwritten rule. But to avoid any issues, you have to think ahead, past the meal itself.
"I think it's super helpful to have "to-go containers" available for guests to be able to take home leftovers," says Lauren Allen, the founder of Tastes Better from Scratch. "Thanksgiving dinner leftovers are one of our favorite parts of the holiday."
You'll want to have a few plastic bins on hand for Mom and Dad, but don't forget tin foil and saran wrap for the items you're storing in your fridge, too. And you're going to need a reliable can opener to get everything sorted when you start cooking. We'd say this is most important for getting to the better of the two cranberry sauces, canned cranberry sauce, but we know this is a controversial discussion that we shouldn't broach on a holiday.
And lastly, your dishes will likely be filled to the brim and your table set to perfection, but don't forget ways to actually serve the food to your guests. Try to eliminate multiple forks in the stuffing and casserole, if at all possible.
"A serving utensil set is often forgotten but especially useful for hosting Thanksgiving," says interior stylist Vivianne Chow. "When serving so many dishes on this holiday, it's easy to run out of the normal serving utensils you have on hand. You won't regret buying a versatile serving set."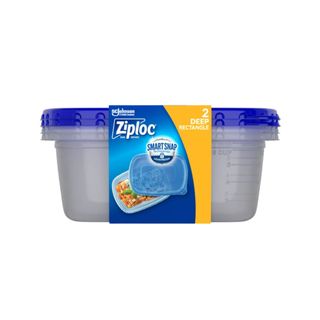 two count
Ziploc Containers with Smart Snap Technology
Price: Was $17.46, now $6.87
Dimensions (in.): L6.78 x W10 x H4.03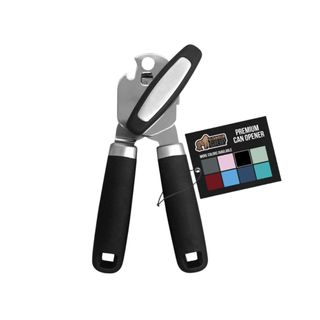 nine colors
Gorilla Grip Heavy Duty Can Opener
Price: Was $15.99, now $12.99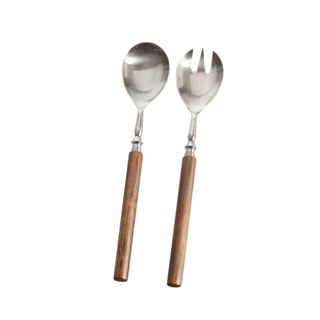 responsibly made
Mango Wood Handled Serving Utensils
Born out of her desire to share treasured homemade family recipes online, Lauren Allen's Tastes Better from Scratch blog grew from a side project into a go-to recipe resource for tens of millions of loyal home cooks each month. Her mission is to bring the joy back to cooking and she believes that with the right recipe and tools, cooking can be fun!
Vivianne Chow is an interior stylist and founder of the home decor blog, VivandTimHome.com. She's passionate about sharing the best modern home decor to buy and recently built a dream custom home with her husband Tim. Together they're tackling decorating room by room and sharing design tips and ideas along the way!
FAQs
What do you need to host Thanksgiving?
Thanksgiving is a big undertaking, and there are a lot of things you need to make the dinner a success. First, you need the proper appliances (including small appliances like air fryers), pots, pans, and cooking utensils to start preparing your food. You'll need serving platters and utensils, and plates, napkins, utensils and glasses for your table. Of course, we'd be remiss if we didn't recommend decorating accordingly with seasonal tableware, botanicals, and a nice tablecloth to finish it all up.
What not to forget when hosting Thanksgiving?
When hosting Thanksgiving, you won't want to forget the important foods and side dishes for both dinner and dessert, and you'll want to pay extra attention to your table details with nice linens and seasonal plates. In between cooking and football, you'll want to make sure your guests have light snacks and entertainment if you so choose. Above all, the one thing the pros insist you don't forget is to enjoy the gathering, too. If you're hosting, your family wants to spend time with you, too.
---
Need more Turkey Day inspo? We're definitely fond of all of the Target Thanksgiving decor picks this year. (Anyone else have the "Gobble" pillow in their cart?)