With the Holiday season fast approaching, it's time to put the most stylish Thanksgiving outdoor decor ideas into play so that your guests can be greeted with colorful, design-led displays on arrival.
And, when it comes to Thanksgiving decor ideas there's nothing more important than making an impression outdoors when your family and friends swing by for their dinner and of course, to keep neighbors entertained too.
Thanksgiving outdoor decoration ideas
From wreaths to pumpkin displays, twinkling lights and cozy cushions, you're sure to find the perfect inspiration to get your front of house holiday-ready.
From looks for your front porch to al fresco dining setups for your yard, the most stunning Thanksgiving outdoor decoration ideas will leave a lasting impression.
1. Go wild with your pumpkin display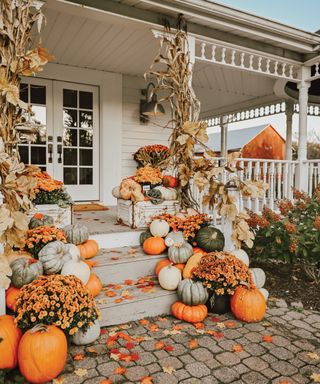 Thanksgiving wouldn't be the same without a grand display of pumpkins would it?
We adore how this fall porch idea has been decorated using this huge array or various shaped pumpkins and gourds.
To copy this Thanksgiving outdoor decor look ensure you mix colors too – shades of green, orange and white will all look great piled high on your porch steps. Team with pots of orange flowers and weave in garlands of dried leaves around your handrails.
2. Outdoor dining for Thanksgiving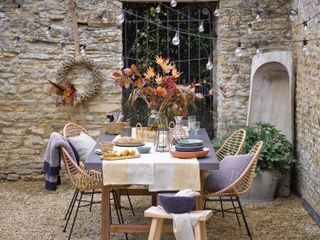 How about this for a Thanksgiving table decor idea? There's no reason why your Thanksgiving dinner can't be outside – if the temperature allows of course.
Create a cozy table setting in a corner of your backyard with plenty of pillows and blankets for your guests. Pick some branches and stems for a vase in the middle of the table and use some battery operated fairy lights down the centre to add some sparkle and festoon lights from wall to wall for a brighter light as the sun goes down.
3. Decorate your front porch with fairy lights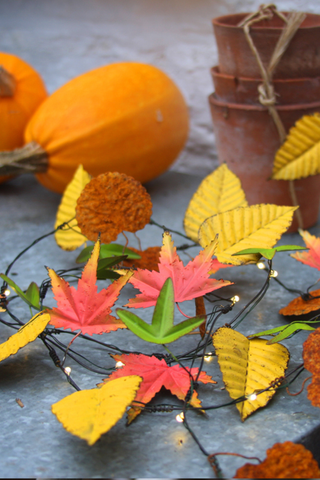 You can never have too many fairy lights – inside or out. Whilst the leaves have mostly dropped from the trees by Thanksgiving these beautiful lights from Sparkle Lighting with their realistic autumnal leaf design can be hung along the top of your front porch, or weave them around your handrail for a little extra glow.
4. Treat your porch to a new mat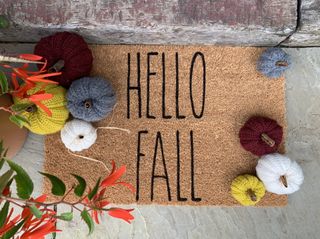 It's often the smaller details that make the most difference and that's why this 'Hello Fall' mat from Etsy is such a great Thanksgiving outdoor decor idea. We all need a mat to wipe our boots on at this time of year, so make it fun and welcoming for your guests too.
5. Decorate your outdoor space with sumptuous pillows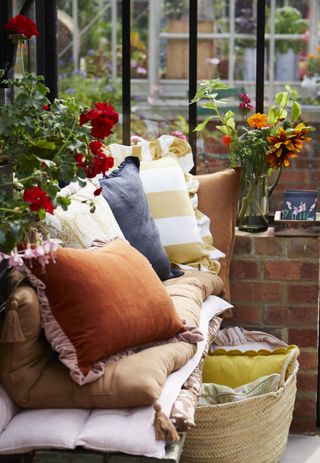 No one wants to sit on the bare metal or wood of a bench at this time of year, so look out for seat pillows as well as normal ones.
You can't have too many pillows – go for frills and ruffles, stripes, checks and plains in all the autumnal shades to match with the distinctive colors of Thanksgiving.
6. Don't forget to adorn your front door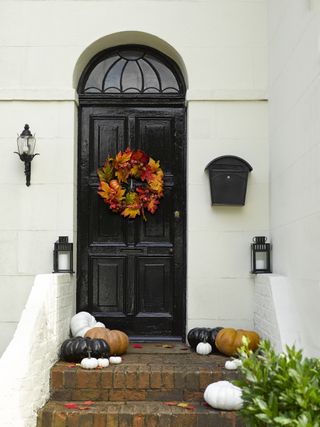 We always remember to decorate our front doors with wreaths at Christmas, but not always for other occasions like Thanksgiving. They're a wonderful way to add color and the season's textures to your home and they are the perfect welcoming touch. Try your hand at making a DIY fall wreath or pick out a ready made version.
Look for designs that thoroughly encompass the feel of Thanksgiving, for a similar look try Lights4Fun's fall leaf harvest wreathavailable at Amazon.
7. Add in an accent color to the usual Thanksgiving shades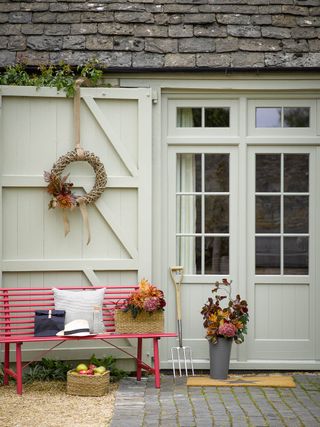 Although Thanksgiving is all about russet and saffron, you can add in a third shade to your scheme.
A dark blush is ideal, it sits between the two shades perfectly and adds a modern feel.
This bench is the perfect shade and we like the soft apple green too. The result is all the warming colors of Thanksgiving with a little extra touch.
8. Add sparkle to your backyard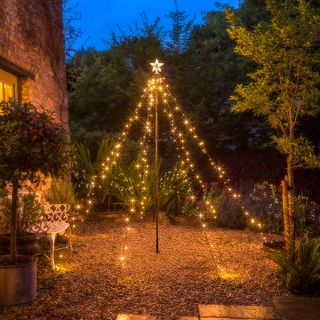 It's not always about the front porch, what about Thanksgiving outdoor decoration ideas for the backyard? If the weather is fine then a lighting display will create the most delightful welcome for a Thanksgiving evening get together.
Keep it simple with lights of the same color and a design like this can be kept up as a Christmas lighting idea too.
9. Invest in a firepit for a cozy Thanksgiving backyard corner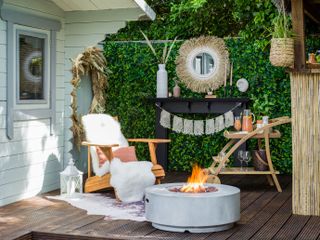 If the weather is clear in your area for Thanksgiving then consider creating an outdoor living space for yourself and your family.
A cozy chair or two around a firepit will create a perfect corner to relax in after your Thanksgiving meal. Blankets and sheepskins will add texture and consider a drinks trolley for convenience.
10. Candlelight will provide a perfect welcome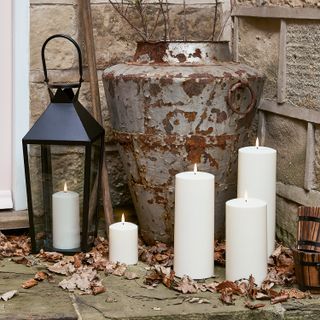 Sometimes the most simple ideas are the best – like this display of candles around the front door. You can use real candles if you're super careful, or, opt for Lights4Fun's TruGlow range available at Amazon.
Another idea if you have a front porch is to have a few grouped together on each step and intermingled between pumpkins.
How can I decorate my front porch for Thanksgiving?
'Make your front porch and outdoor areas feel warm and cozy by adding in Thanksgiving outdoor decor essentials, like corn husks, white pumpkins, and more,' says Nadia McCowan Hill, resident style advisor at Wayfair.
'Be sure to add cozy blankets and fall-inspired throw pillows to surrounding seating areas to encourage snuggling. Include an outdoor bar cart to store s'more supplies and fall drink essentials, enticing your guests to stay a little longer.'