We'd venture to say that Thanksgiving table decor is more important than the food. Well, minus the stuffing, of course.
Now that the holidays are underway, you're likely busy cozying up your home and looking for inviting ways to welcome guests. Since a large chunk of time is going to be spent feasting, it's of the utmost importance that your dining area is celebration-ready.
While you're mulling over the menu — or even upgrading to one of the best dining tables — you'll certainly fall for these homey knickknacks that pair perfectly with a nearby sliver of pumpkin pie. (We'll take ours with a scoop of vanilla ice cream, thanks!)
Thanksgiving Table Decor: Quick Menu
Thanksgiving table decor: picks, styling tips, and more
Why you can trust Real Homes Our expert reviewers spend hours testing and comparing products and services so you can choose the best for you. Find out more about how we test.
If you're ready to get your hosting essentials together, you'll need some cute accents to add variety. Fortunately, we've had our eye on some pretty appealing selections, to say the least.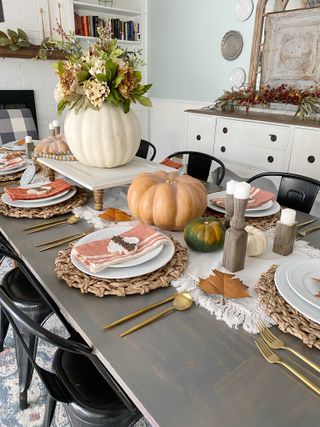 12 Thanksgiving table decor picks
Experts share their styling tips
Designer Jess Onorato suggests mapping out your plans by selecting a color palette first: "Introduce rich colors such as golden ochre, deep crimsons, soft orange, sage green, and even luxe jewel tones," she tells Real Homes.
From there, her heart is focused on the florals. Can you bring a little piece of your garden to the table? Will you opt for a Thanksgiving cornucopia? Options abound, dear friends.
"Explore diverse foliage options to maintain a unique aesthetic, like eucalyptus, maple leaves, dried hydrangeas, pomegranate branches, gourds, and pumpkin peppers," she recommends. "Consider adding a wooden dough bowl filled with pomegranates, apples, pumpkins, or gourds to enhance your kitchen."
Jess Onorato is a seasoned designer with over 15 years of experience in home staging, interior design, and sourcing home products with profound histories and unique characteristics. Over the last three years to date, Jess has worked at Central California furniture and design store Habitat Home & Garden where she is currently the Director of Product and design. She operates on the belief that a well-designed space has the power to enhance lives, evoke emotions, and inspire creativity.
When it comes time for the heavy-hitting stems to shine, Onorato suggests opting for a neutral vase so that the flowers can be the stars of the show. Likewise, designer Chantelle Hartman Malarkey is equally fixated on florals but suggests a bit of variety.
"The key here is to get vases that are different heights so you add dimension to the table," she says.
And to tie all of the accents together, Hartman Malarkey loves a good runner
"I love a good fall color table runner! Look for one that is made from cheesecloth material so it is light, elegant, timeless, and doesn't overpower the table. It is the perfect base to add all your fall decor on top of!"
Chantelle Hartman Malarkey, a.k.a. the Lifestyle Alchemist, is an interior designer, photographer, home chef, hosting expert, and blogger who shares ideas about family travel hacks, beauty must-haves, delicious recipes, among other topics, with her followers.
Where to shop for Thanksgiving decor
Festive finds are in high supply and equally high demand. You should have no problem snagging something creative and meaningful for your family dinner.
How we chose
After taking the stylists' advice into consideration, we decided to look for wallet-friendly pieces that fit within their description of a natural and chic table setup. We also had a look at the customer reviews before selecting any products for our list.
FAQs
How do you style a Thanksgiving table?
Embrace the best of the harvest season: pumpkins, moody hues, florals, and natural elements. Once you've decided on a color scheme and style, think about the main show-stopping attraction (minus the turkey) and the smaller pieces you'd like to pepper throughout the table.
What colors for Thanksgiving tables are preferred?
Typically, we associate Thanksgiving with red, orange, and yellow, but you don't have to fear veering off the typical combination. As Onorato stated, "deep hues" like golden ochre, deep crimsons, soft orange, sage green, and jewel tones are the way to go.
Hartman Malarkey even goes so far as to shake things up: "Small pumpkins in multi colors like white, oranges, browns and blushes/mauve tones are great for tablescapes," she says.
What is a centerpiece for Thanksgiving?
From pumpkins and florals to chic kitchenware (like those pumpkin Dutch ovens), there are plenty of Thanksgiving centerpiece ideas to opt for. The good thing is, creativity is highly encouraged and there are no wrong answers.
---
Getting ready for a big day of eating? Your abode needs to look the part! Luckily, expert-backed Thanksgiving decorating ideas are here to assist, and for that we're truly grateful.