Cleaning a bathroom properly is so satisfying. And it's surprising just how many of us don't know where to start with how to clean a bathroom.
If it's been that long, and if it is that bad, it needs to be done pronto and there is no time like the present to put on your Marigolds and start tackling the filth.
From where to start with a grotty shower, or bathtub, to tackling dirty bathroom floors and the dreaded toilet bowl... Rest assured that our step-by-step guide will help you deep clean your bathroom quickly and efficiently. Whether you want to use your favorite bathrom cleaner or natural alternatives, keep scrolling for a failsafe guide, complete with top tips from some great household cleaning experts too. Without further ado, here is how to clean your bathroom like a professional.
How do I deep clean my bathroom?
Follow these steps to deep clean a bathroom. They're perfect if you're short on time – or motivation – and want to get things done as quickly and efficiently as possible. If you're looking for a really deep clean, leave the products you're using on for a little more time to work their magic before scrubbing.
1. Declutter your bathroom space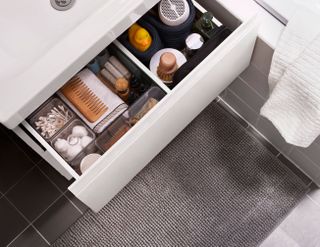 You need a clean slate to really deep clean your bathroom. So this means removing and recycling any empty shampoo or shower gel bottles, emptying your bathroom bin and placing anything else in your bathroom that takes up room outside the door for the time being. This is also a good opportunity to wash towels, bath mats and the like.
And, if you have a medicine cabinet full of half-used products, testers, and minis, during a deep clean is a good time to to dispose of clutter and anything you won't realistically use.
2. Clean your bathroom tiles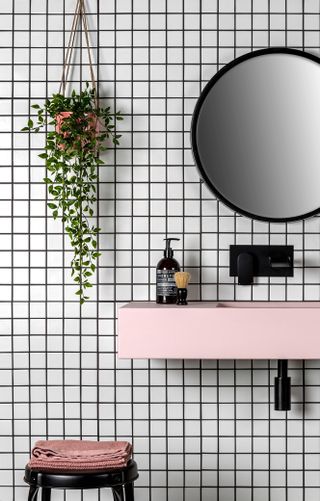 Next step is to cleaning tiles. Spray any that surround the bath, or shower. Give them a good scrub before wiping them down with a clean cloth. If you so wish, it's also possible to use the shower head to rinse down your ties with warm water. Make your bathroom look even more fresh and clean tile grout as well as the tiles themselves.
3. Clean the toilet bowl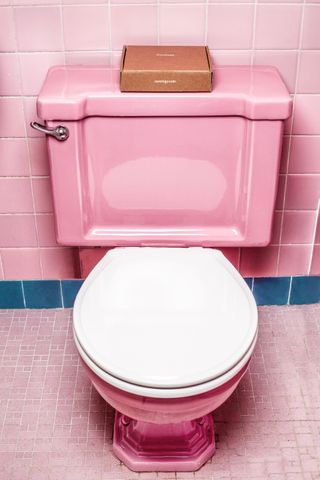 The next area to tackle should be the toilet bowl. Put whatever you're using to clean the toilet with – this could be professional cleaner or white vinegar – into the bowl, where it can begin to work its magic while you get on with the rest of the bathroom. Close the lid... for now! If you need to tackle a clogged loo, make sure you know how to unblock a toilet.
4. Clean the shower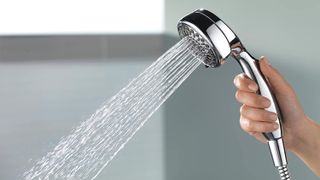 Next, clean the shower fully and/or – if you're fortunate enough to have one – a bath. Start with the screen, or any glass surrounding your shower.
Learn how to clean a shower head separately for a really deep clean. Then, tackle the shower basin and/or bath. You could use the same multi-purpose spray to clean your bathtub and all aspects of your shower also, or look for products that will suit more specific areas if you have different materials as part of your bathroom. A glass cleaner over a stainless steel cleaner per se.
5. Clean bathroom taps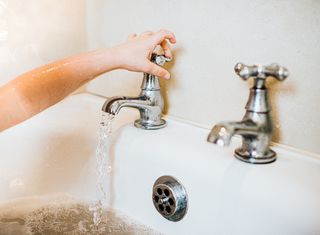 Next, tackle any stainless steel in your bathroom like your faucets if you haven't already done so.
If you live in a hard water area, you're likely familiar with calcium deposit build up and now is a good time to tackle this with a commercial or homemade limescale cleaner.
6. Finish cleaning the toilet bowl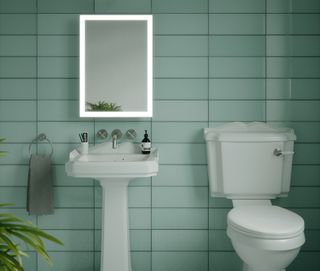 Next, return to the toilet. Take a toilet brush and give the toilet bowl a good scrub, making sure to cover all aspects and get into all the corners. Once you're happy you've done a good job, take a multi-purpose bathroom cleaner and spray the outside of your toilet, as well as the toilet seat – wiping down with a cloth. Finally, give your toilet a flush and shut the lid.
Finish the job off by tackling the tools you've used aka, clean the toilet brush. Simply hold yours over the toilet and spray the bristles with bleach if using or another natural cleaning products. Let this sit for five to ten minutes before flushing the toilet to rinse off the loosened dirt and excess product. You're done with the toilet.
7. Wipe down bathroom surfaces and windows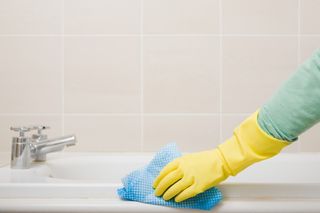 Take a clean cloth and wipe down any remaining surfaces. Give any storage solutions you may have a quick wipe down, and clean mirrors from streaks also. During a deep clean, you could also make time to clean the windows in your bathroom.
8. Clean the bathroom floor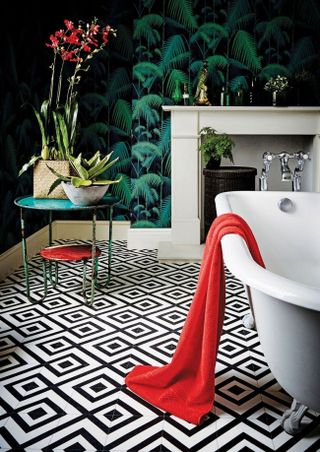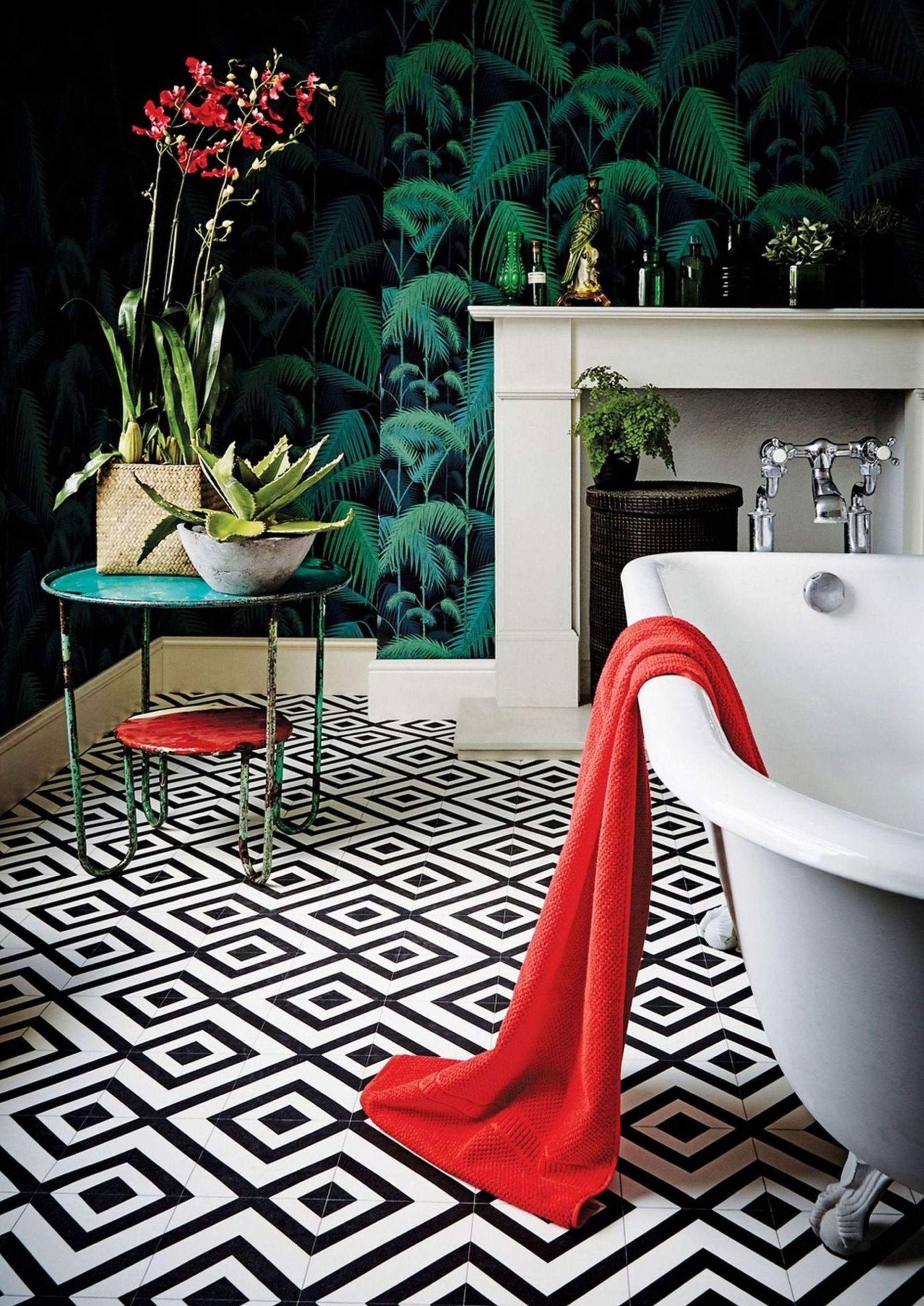 Cleaning surfaces can sometimes lead to even dirtier floors so it's best to keep this closer to the end.
Start by taking a brush, or vacuum and do you best to remove any dust from your bathroom – you'll be surprised how much can build up. Once that's done, grab a mop and bucket – or perhaps just a cloth if your bathroom is small enough – and give the floor a wipe down.
9. Clean the bathroom sink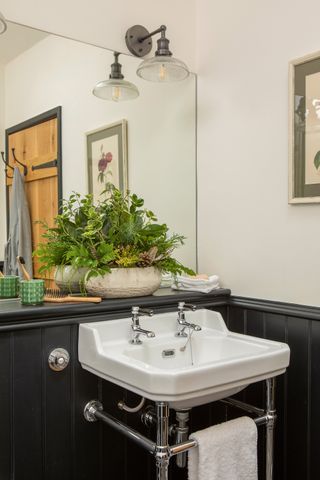 It's often advised that you clean the bathroom sink last, as you may need to use it while cleaning the rest of the bathroom. Start by tackling the taps and eventually the basin. Remember, both the inside and outside of the basin will need a clean.
10. Put your bathroom back together
Return any toiletries, toothbrushes and the like to your bathroom. Try to organize them as neatly as possible. This is a good time to think about bathroom storage.
How often should a bathroom be cleaned?
For the average person, we'd recommend giving your bathroom a quick clean once a week – doing so will dramatically reduce the number of deep cleans required. Perhaps aim to take on a deep clean every six weeks, or so.
How often you clean the bathroom is totally up to you, and will depend on how often you use it and, to be honest, how dirty it tends to get. For example, if you partake in a lot of outdoor exercise that means you end up covered in mud pretty regularly, chances are you'll need to clean your bathroom more often that others.
How to keep a bathroom clean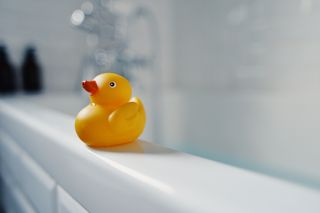 Expert tips on how to clean a bathroom
Want to know how professionals clean a bathroom? Check out these hot tips from our favorite cleaning gurus.
Martha Stewart's bathroom cleaning tip
When it comes to making the job easier Martha Stewart says, "...a better strategy is prevention; mount short and frequent campaigns against dirt and soap buildup, and the task will never be insurmountable"
Mrs Hinch's bathroom cleaning advice
Cleaning queen Sophie Hinchcliffe recommended to "Spray Viakal on the taps, shower heads and plugs, and the shower door. It's fabulous for limescale and the shine it leaves is the best. Make sure you open the windows when you're cleaning the bathroom to keep the area well ventilated."
She also highlights to not forget your toothbrush holder!
Lynsey Queen of Clean's bathroom cleaning advice
Lynsey Crombie recommends starting from the top down and when it comes to cleaning the toilet, "Clean the toilet, pay attention to the bottom of the toilet as well as the pan, and add in bleach. If you have any brown toilet marks at the bottom of the pan add in a good quantity of lime scale remover. I always like to give mine a steam too to make sure I have killed all the germs and bacteria."
What cleaning products do I need?
Your bathroom will be sparkling clean in no time!