Guess who's back with a brand new rap hack? That would be Real Homes. Today we're ditching the harsh chemicals that affect our health, and the health of the planet, in exchange for an all-natural limescale remover that will help you get rid of limescale.
While there's certainly some scepticism around the effectiveness of natural cleaning products, we promise that this one works a treat in tackling limescale in the kitchen, bathroom and beyond. And you'll only need a few ingredients, as well as a little bit of patience, to get yourself started.
For more hacks, head over to our cleaning hub.
Limescale remover hack
You will need:
White vinegar
Water
Spray bottle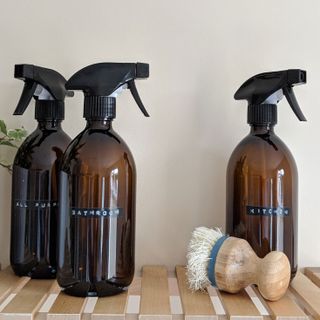 Method:
If removing limescale from the dishwasher, we'd recommend filling a large mug with white vinegar, placing upright on the top level and running on a single cycle – without any other dishes.
To tackle limescale in a washing machine, add white vinegar to the detergent draw and run on a single, hot cycle.
It's also possible to fill your kettle with an even proportion of water to white vinegar in order to remove limescale. Leave to stand for 30 minutes, then rinse thoroughly.
Take on the toilet by pouring white vinegar around the rim and leaving to work its magic overnight. Go at it with a toilet brush in the morning for super shiny results.
Using white vinegar to remove limescale from a shower head takes a slightly different approach. Place an even white vinegar to water solution in a sealed plastic bag, place your shower head inside, secure with string and leave to soak for 30 minutes.
Tackle tiles, baths and sinks with an even mix of water and white vinegar in a handy spray bottle and use as you might any other bathroom spray.
Our advice for taps is to soak a towel in white vinegar, wrapping around a tap and ensuring it's completely covered. Leave for an hour, before rinsing.
Discover more cleaning hacks