Few people actually seem to keep their car in the garage, so planning a garage conversion to create another habitable room can be a good way of enhancing the value of your home. It is also far more cost effective than building a new extension and less prone to planning complications.
Before you start, consider what you'll do with everything currently kept in the garage. If you store a lot of garden gear in it, you may need to factor a shed into your plans; if it's where you keep your chest freezer, you'll need to work out where it can be moved to — or whether you can live without it. If you really have no room anywhere else for these things, perhaps a partial garage conversion (or a conversion that has lots of storage space set aside within it) will work better for you.
Related articles: Before and after design ideas for garage conversions | 7 ways to create more usable space indoors without extending | 12 garage storage ideas
How much does a garage conversion cost?
A basic garage conversion will cost around £1,000 to £1,250 per square metre – if the walls and floor are stable, there is a watertight roof, and the ceiling height is sufficient to leave around 2.2-2.4m of headroom after building up the floor by 15cm above external ground level.
If the structure is attached to the house, rather than integral, and needs structural repairs, it may be more cost-effective to demolish and replace it.
Design costs
Design fees for a garage conversion range from £1,200 to £2,500, plus £300 to £400 for a structural engineer. A typical single garage conversion (18 square metres) would cost around £17,100 to £23,900, and a double (36 square metres) £31,300 to £43,300, plus VAT, depending on personal specifications.
Factors that might affect garage conversion costs
Typically, a garage conversion will cost more if the original structure is unsound. If you are going to spend a lot of money stabilising the building, knocking the original garage down and building from scratch might be cheaper.
Another factor to consider when costing a garage conversion is the perceived value that it will add to your home. Check the value of houses in your area, if there is little off-road parking, homes with garages might be valued higher than those without. Unless the added space is vital, don't run the risk of reducing the value of your own home.
A partial garage conversion should cost less, but not by much. Fewer materials will be needed, but services, such as electrics and plumbing, will still have to be installed and budgeted for.
Planning permission for garage conversions
In the majority of cases, the work involved in converting a garage will be classed as permitted development. However, if you live in a Conservation Area, a location where development can be restricted to protect the appearance of the surroundings, or on a new estate with strict guidelines, it's worth checking what's allowed.
If in doubt, apply for a certificate of lawful development from your local authority at a cost of £86. Do remember, the removal of permitted development does not rule out the potential of a garage conversion, but you'll need to ensure the design is sensitive to the setting and apply for full planning permission, which costs £172 in England. Listed properties will need listed building consent, too.
When you will need planning permission:
If you live in a listed building;
If the garage conversion increases your home beyond permitted development rights;
You are converting the space for business;
Your council has restrictions on reducing parking.
Even if these restrictions apply, you should be able to convert the garage interior as long as the exterior is untouched.
Don't forget building regulations approval
You'll need building regulations consent and sign off for the various elements of your garage conversion, as with other home alterations. Always check that your local council is happy with your plans before starting work. For details, see planningportal.gov.uk.
As a 'change of use', a conversion is always subject to building regulations approval, so your local authority will need to be notified. You can use the council's building control service or an approved independent inspector, costing around £300. To comply, the garage has to be structurally sound and have a damp-proof course; the walls, floor and roof will need to be upgraded for energy efficiency, and all new and existing electricals will need to be tested to ensure safety, including in the house.
Other permissions
Sometimes there are legal restrictions on alterations to a property, so check the deeds to your home to see if permission is required from a previous owner. If the work affects a structure shared with an adjoining property, the Party Wall act will also apply.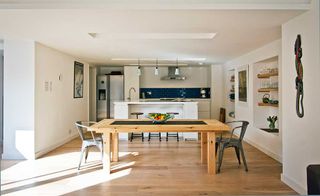 Garage conversion design details
Making a garage conversion look like a natural part of your home, and less like a converted garage, is vital for its success and your home's future saleability. Before work starts, commission scaled drawings of the finished project, indoors and out, and include details such as power sockets and furniture layout. Consider these points:
Exterior
'Ensure the brickwork, materials and windows replacing the garage door match well with the existing house,' says Jeremy Leaf, estate agent and chartered surveyor. 'Ask builders to fully tooth and bond the new brickwork into the old.'
'Often, the top of the garage door is lower in height than the other doors and windows on the ground floor. Consider whether you will be able to match the brickwork or external materials if the garage door opening requires reducing in size,' advises Designer Nigel Lewis of Space & Style Home Design (spaceandstyle.co.uk).
Floor levels
'The garage floor will usually be lower than the floor level in the existing house,' continues Jeremy Leaf, 'so do try to avoid a step down into the room and raise the floor if the ceiling height allows.'
Access
Design the position of the door to the new room in the right place. 'It's best to consider what the ideal position would be, rather than going with the existing door if there is one,' says Nigel Lewis. Work out how the door's position will affect the furnishing of the new room — it's no use positioning it in an ideal place in the hallway if it makes the new room awkward.
Natural daylight
If you can fit in extra windows to make the new space feel more like a room and less like a conversion, do so. If the garage faces into the garden, replacing one wall with floor-to-ceiling windows or folding-sliding doors will make it feel wider and much more spacious, but do consider how this will restrict the layout of the room.
Decorating details
Match the decorating basics to the rest of the house, but particularly to the room adjoining the conversion. This means sourcing (or having made) similar windows, doors and fittings, skirting, flooring and light fittings.
Room proportions
If the space is long and narrow, think about dividing it into two areas with better proportions. You can visually change the proportions of the room by using paint colours that make it feel bigger and brighter, too. Keep windows uncluttered, and hang mirrors to reflect light and stretch the space visually. Shop for furniture that matches the room's proportions; if it's too big, the room will feel cluttered. Invest in good storage, too.
Who can convert a garage?
Once you're ready to go ahead with your garage conversion, contact an architectural designer, or a specialist design and build contractor, who'll help put your ideas into fully formed plans. To find an architect, visit architecture.com or use an architectural technologist (see ciat.org.uk). The starting point for your design is to draw up a floorplan.
There are companies that specialise in garage conversions, and using one can save time putting together applications, but any good builder will be able to do the job. Ideally, work with someone who has been recommended and is a member of an accredited body, such as The Federation of Master Builders.
If the garage is attached or integral to your home, you need to think about the best position for access, and put plans in place to redirect this if required.
Can you do a garage conversion on your own?
You can do most of the garage conversion yourself, which is ideal if you're on a tight budget, but your work will be regularly inspected by building control officers and anything that's not up to scratch will have to be undone at your own expense.
Get written quotes (not estimates) from three different companies, with a clear specification of what's included. Using an architect can give a more creative result.
Garage conversion essentials
Replacing the door: The garage door will have to be replaced with a new wall and/or window. This may mean new foundations, but there are other options, including having lintels set just below ground level that bear on sound masonry or existing foundations each end.
Roof: The garage roof will almost certainly need to be upgraded to ensure it is water-tight. Use new tiles and materials that match those of the main roof. If you can swap a flat roof for a pitched one it will make the conversion less obvious from outside, and the new raised pitch may have space for rooflights. Doing much more than general repairs to the roof will have to be approved by your local building control department.
Windows: New windows won't usually need planning permission but will need to be energy-efficient and double-glazed to be approved by building control. They may also need to be able to be opened right up, too, to comply with fire safety regulations. Match the style to the house's existing windows to help the conversion fit in.
Ventilation: Shower rooms and kitchens must meet building regulation requirements with extractor fans, but you might also like to include an extractor if you're planning on using the room as a home gym. Otherwise, an opening window and background ventilation in the form of air bricks or trickle vents will be needed.
Insulation: Building regulations require walls, windows, the floor and roof to be insulated to a certain level. This might mean dry-lining the walls, using polystyrene floor insulation and fitting sealed double-glazed windows. It's important to get this right — poorly done, it will result in a cold, damp room. Bear in mind that bedrooms, home offices and playrooms will need more insulation than a utility room, for example.
Heating: If your boiler won't cope with another radiator, or it's not practical to run the new pipework, consider electric underfloor heating, which is relatively easy to install.
Walls: External garage walls will usually be single course brickwork, which won't meet building regulations for moisture and insulation. This can be solved by adding an interior, insulated stud wall built off a damp-proof course on a couple of courses of bricks. 'Set 75mm clear of the original wall, this stud wall can easily accommodate services and insulation prior to plasterboarding,' says Designer Nigel Lewis of Space & Style Home Design.
Electrics and plumbing: This work must be signed off by the building control department of your local council. Future-proof the space by allowing plenty of electrical points and a phone point, even if they won't be used now.
What can you use a garage conversion for?
When building a garage conversion, how you use the new room will depend not only on your needs but also on how the space relates to the rest of the house. So, if your garage is joined to your living room, a home office or playroom is sensible, and a utility less so. Here's how you could use the room, with a few pros and cons.
If your garage adjoins your kitchen, knocking through into the space to create a bigger, brighter kitchen-diner will give the best results in terms of usefulness and financial investment. If you do this, be prepared to plan very carefully to get the design details right. It's vital that the new room doesn't have the feel of a boxy converted garage. Need inspiration? Check out this former garage converted into a gorgeous kitchen diner.
2. Extra living room
If your family is growing (or growing up), you'll begin to need extra living space to cater to everyone's tastes and needs. A converted garage that your kids can use – whether for gaming, relaxing or entertaining their friends – will be invaluable. Kit it out with plenty of slouchy seating (sofa beds will be particularly useful) and a TV to create a versatile space that they'll gravitate towards. The downside? The older children become, the noisier they get, so ensure that the sound-proofing is up to the job.
3. Utility room
When a garage adjoins a kitchen or hallway, it will be very useful as a utility room. Use it for everything from laundry to extra storage and, if possible, squeeze in a downstairs cloakroom, too. Depending on your needs, you might even be able to devote half of a large garage to utility and leave the other half for a car. Or, you could split the room to create half utility, half playroom, for example. For a utility, underfloor heating will be useful for keeping the room warm and dry, while good ventilation is also a must.
4. Extra bedroom
With a small garage off a living space or hallway, converting it into a spare bedroom for guests will be a good idea, but the room will be much more practical if you swap a conventional bed for a wall bed or sofa bed and fit in a desk or exercise space to double the functionality. The downside to a downstairs guest bedroom might be lack of access to a toilet or shower room. So, if there is enough room, squeeze in a space-saving wet room.
5. Home office
A home office is best sited away from the main living space if you have a family who will want the TV on while you try to work. If, however, it doubles up as a homework space, having it near to where you'll be most of the time can be very useful. It will need plenty of natural daylight to make it welcoming during the day, but invest in good blinds if it is south-facing, and ensure the heating is sufficient.
6. Playroom
For a garage off a kitchen-diner or living space, this is the perfect use for families with young children. Include a TV, too, to help keep your living room much more of an adult space. Good daylight, ventilation and lots of practical storage will all be must-haves. Bear in mind that children grow up very quickly, so when you're converting for this purpose, think five or 10 years ahead to how you might use the room then, too. For example, a teenage den will keep your living room just for you.
7. Home cinema
Perfect for partially converted garages, these rooms can be created without the need for windows, although sound-proofing must be good. Future-proof the room by installing a window anyway and fitting good blackout blinds.
8. Home gym
Ideal for a room that leads off a hallway or kitchen, a home gym will need to be fitted with air conditioning or a window that can be opened to keep it fresh. Add a flatscreen TV and mirrors to make it feel like a real gym, and devote the back of the room to a shower space.
This type of conversion is best suited to an unattached, probably double, garage because it will give both you and the occupant – whether an ageing relative or regular guests – privacy and space. Depending on your arrangements, you will have to fit in an en suite, possibly a laundry room and kitchen, plus a generous bedroom/living space. The room will need lots of natural light, and you should consider how it will be joined, if at all, to the rest of the house. At the very least, you might want a covered walkway between the two buildings.
Garage conversion build schedule
Check structure is suitable for conversion
Produce design drawings
Confirm whether planning permission is required
Apply if consent is required
Produce detailed design and building regulations drawings
Notify local authority Building Control of commencement
Strip garage back to retained structure
Structural alterations, including knocking through to house
Damp-proof new floor, if necessary
Insulate walls and new floor, plus the roof if single storey
Pour new floor, if required
Install new window and doors
First fix joinery, wiring and plumbing
Plaster and dry-line
Fit new doors, skirting, architrave, fixed floor finishes and light fittings
Decorate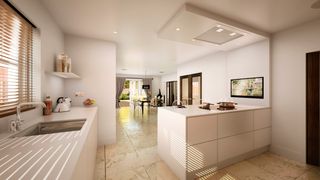 More ways to make the most of your garage: