Finding enough space to store all your frozen foods can be tricky, especially if you have a family of hungry mouths to feed. But getting the best chest freezer could be the answer to all your food storage woes.
We've trawled the sites of our favorite retailers to bring you not only the best buys, but also those makes and models which are still in stock. Keep scrolling for our freezer reviews from brands such as Russell Hobbs, Haier and Indesit to determine which chest freezer will suit your household's needs, and budget.
Alternatively, if you would prefer to have a fridge freezer combo, read our guide on the best fridge freezers which are all in stock and available for delivery when you need it.
What is the best chest freezer?
Why you can trust Real Homes Our expert reviewers spend hours testing and comparing products and services so you can choose the best for you. Find out more about how we test.
If you want to buy the best chest freezer (in our opinion), we wouldn't hesitate to recommend the Russell Hobbs RHCF150 White Chest Freezer. It opens from the top, features a hinge to keep the lid open and it has a 142-liter capacity, as well as an adjustable thermostat.
Our best chest freezer buys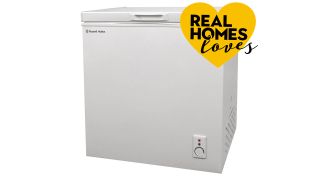 Our pick of the best chest freezer you can buy is the Russell Hobbs RHCF150. If you often buy large joints of meat or simply have lots of mouths to feed, then this freezer could be the best option for you.
Size
It has an impressive 142-liter capacity, offering enough freezing space for a medium-sized family's weekly food shop.
Inside
It has one large freezer compartment, perfect to easily find what you're looking for. Although, for those who like things organized, this might be a negative; however, there is a wire basket to store items that are most frequently required.
Lid
The freezer also features a lid top that balances on its own when opened.
Temperature
There's also an adjustable thermostat giving you complete temperature control. It can be stored outside as well as in, and has adjustable feet, handy if it's going in a shed or garage with an uneven floor. In our opinion, this is the best chest freezer you can buy.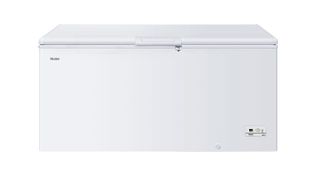 The largest and most expensive on our list, this Haier chest freezer is worth a look (and the investment) if you have a large family or like to keep stocked up with meats, vegetables and desserts.
Size
This chest freezer has an impressive 519 liter capacity which can hold 28 bags of food shopping. It's pretty mega, which means that there is plenty of space for stocking up on essentials, if that's what you like to do.
Features
A useful feature which comes with this make and model is Fast Freeze. This will lock in the flavors and goodness of fresh groceries, so all your fruits and veggies will stay fresher, for longer. It also boasts a crystal clear LED display, so you can easily see and adjust the temperature inside to suit your frozen foods.
Things to note...
To keep it working it's best, this chest freezer will need to be manually defrosted.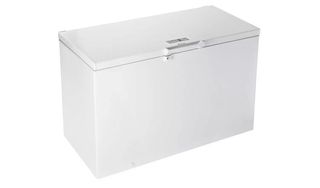 Sightly smaller than the Haier chest freezer, this choice still has a pretty generous size, but takes up less floor space.
Size

Its generous capacity means that you can pack away plenty of shopping. And, although large, this chest freezer also is highly efficient with an A+ energy rating.
Inside
Inside the freezer is a modular storage system across three levels, so you can keep meals and treats separate. The Hotpoint CS1A400FMH will also reduce ice build-up so you defrost less often, and effortlessly.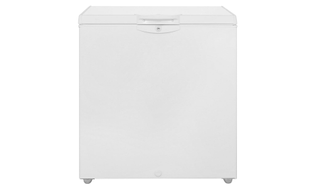 This chest freezer from Indesit is a great option for families looking for a little more freezer, or fridge, space for bulk buy items.
Size

This chest freezer has a capacity of 204ltrs – or 11 bags of shopping – making it the second largest best chest freezer on this list, and ideal for a medium-sized household.
Features

This chest freezer has an integrated dual cooling system, so it can be used as a freezer or a cooler, depending on your needs. There are also a few extra add-ons, such as a lock on the outside. There's also a temperature warning light and a fast freeze function, which locks in the vitamins of newly purchased food by dropping the temperature of the freezer once anything is added. Our only complaint? Just like several other chest freezers, this one needs to be manually defrosted. On the upside, this model, in particular, is easy to defrost as it has a screw-cork for drainage.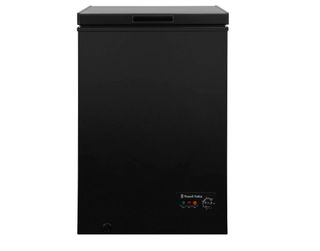 Want a chest freezer but don't have the space for a large design? This Russell Hobbs model is a compact buy at under 60cm wide, it can be kept inside or in an outbuilding such as a garage and is available in black which will compliment any kitchen.
Size

With 99 liters of space for frozen items, this fridge freezer can hold five bags of shopping – enough for a small family.
Features

Quiet for a chest freezer, it has a decent energy rating, too.
Inside

There is one large freezer compartment which is perfect for rummaging around to easily find what you're looking for, and a wire basket to store items that you know you'll want to easily get to on a regular basis. It also comes in handy when storing smaller items such as frozen vegetables.
What to consider when buying a chest freezer
Where to buy the best chest freezer
When you're looking to buy the best chest freezer for your household, there are a few elements to consider before making the commitment. They are:
Capacity

With compact models to suit smaller households and extra large ones to suit big families, choose your freezer based on its capacity first. Ranging from around 100ltrs to the 300ltr mark, those who live as a couple, or on their own can easily get away with a chest freezer that's 100ltrs; medium sized households will be able to survive with 150ltrs to 220ltrs, and anything above will be plenty for larger households.
If you want more space to store fresh and frozen foods, then don't forget that the best American style fridge freezers could be suitable option, too.
Where will the freezer live?

You've probably already nominated the corner of a large kitchen, a utility or a garage for your new chest freezer, but bear in mind that some chest freezers can't be housed in unheated spaces, so check before you buy.
Energy rating

The top energy rating is A+++; the higher the rating, the lower your utility bills will be.
Auto defrost?

A deal breaker for some, a lot of chest freezers don't have auto defrost, meaning that every once in a while, you'll have to manually defrost the freezer to keep it running at its best.
What's the budget?
As you've seen in our guide, chest freezers can be anything from $150 up to $600, so when considering your options, make sure you have a budget in mind for a cap on spending – it can be easy to get carried away! If you need some help researching the best deals around then our fridge freezer sale page would be worth a look. And if you can splurge for a pricier option, the best upright freezers are a good choice.