As the seasons change, so can our homes – from light and airy in the summer months to a cozy cocooning feel in fall. And marking the start of the season with fall decor is easy, if you know how.
The changes are simple to make, a swap of accessories, a new textured rug, or a lick of paint in a fall color. Farmhouse fall decorating ideas are all about natural elements like wood, linen and stone and using what's to hand like picking branches from your backyard tree and investing in loads of pumpkins, you can never have too many!
Corey Hudson, the creative behind Hudson Farmhouse home decor blog explains, 'Beautiful fall farmhouse decor is the perfect way to celebrate the season and any DIYer's dream. And all decor these days are not just one size fits all — there are so many unique and interesting ways to turn your home into the talk of the town.'
Fall decor for a farmhouse ideas
We've sourced 15 fabulous fall decor ideas for a farmhouse that will give you tips and tricks so you can transform your home this season.
1. Hand pick from your backyard and display in baskets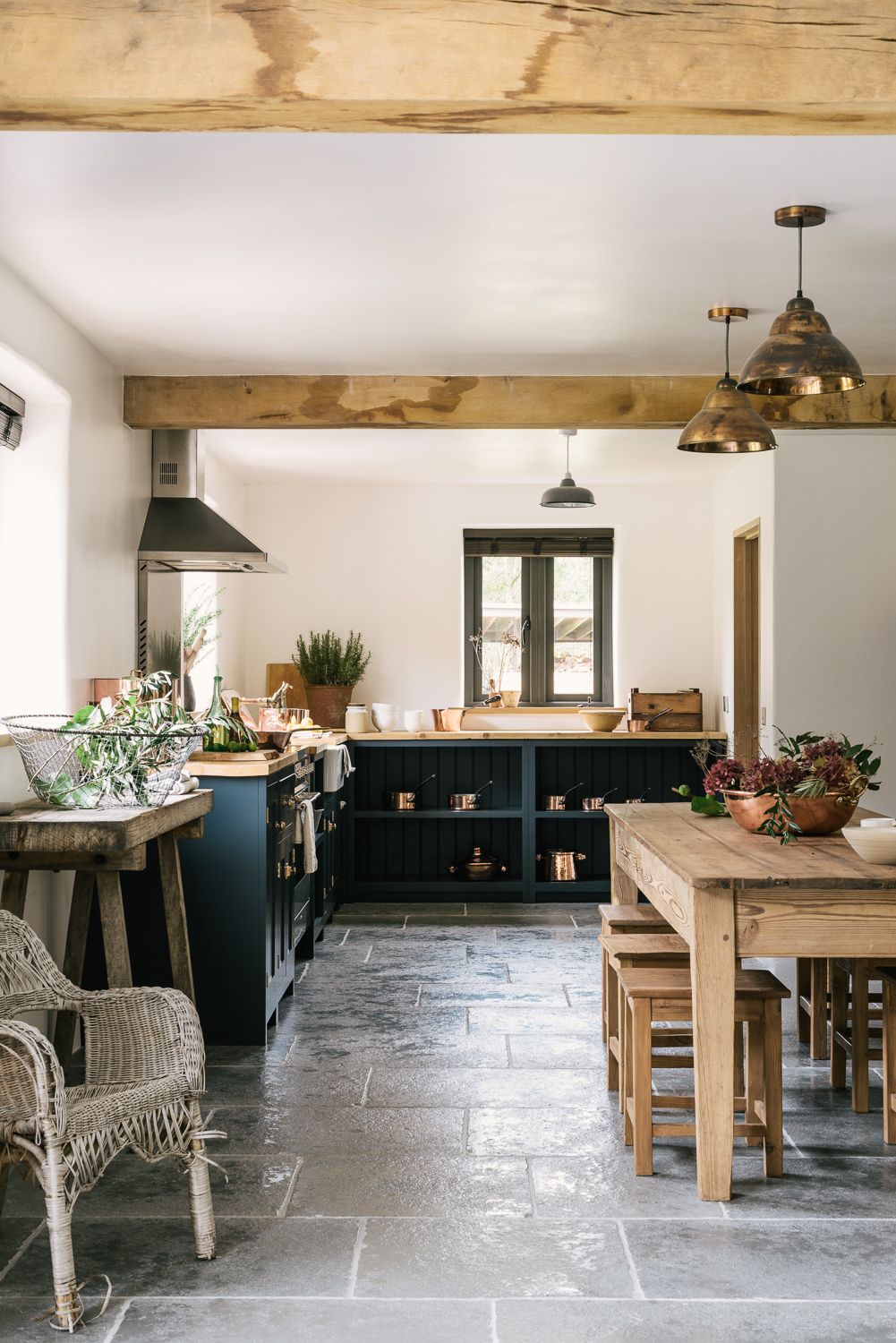 We tend to decorate our porches, hallways and living rooms but neglect the heart of your farmhouse – the country kitchen.
Yet it's a space that's ideal for creating wild displays of stems and branches that can feature on tables and windowsills to add color and texture.
2. Welcome your guests this fall with a pumpkin or two at your front door
Rather like Christmas, fall is a great time to go all out for your decor, both outside and in.
A welcoming bench with a trio of pumpkins is a great no carve pumpkin idea, make sure they are of varying heights and colors.
There's nothing nicer than sitting outside during 'golden hour', that lovely time of day when the sun starts to set, keep a blanket in a basket to hand for when it gets cooler.
3. Farmhouse dining – cozy gatherings are the best!
Farmhouses lend themselves to rustic elements like stone and wicker and corners like this are ideal for impromptu fall gatherings.
Create a fall feel by picking some orange, yellow and red leafed branches and popping them in a vase, add a bunch to a wicker wreath and hang that from a hook.
Layer up your table with terracotta tableware and provide a cozy blanket for each guest to keep them toasty.
4. Decorate your alcoves with logs
Logs are synonymous with fall and winter and now's the perfect time to get your order in, and most importantly, to keep them dry.
They can be kept indoors, and we love the idea of them becoming part of your farmhouse fall color scheme. Epitomizing the colors of fall – rust, orange and all those textures – why not create a display with them? We asked Jessica Davis, co-founder of Nashville based JL Design her thoughts:
'Adding firewood next to a fireplace in your living room creates an inviting and cozy mood by introducing warm tones and textures.'
5. Switch up your pillows and add cozy blankets
A change in season means a change of decor, and the best room to do this in is the living room, so take a look through these gorgeous fall living room decorating ideas.
George Miller, home designer at Neptune says:
'Complementing the traditional elements of the home, like exposed wood beams or brick walls, with natural wood timbers and neutral colours will also go a long way in achieving a fall farm house look.'
'Additionally, soft furnishings and extra layers will provide your living room with that snug country home feeling. Draping throws and cushions will also really help to keep the evening chills at bay as we enter the new cooler season.'
6. It's all about the colors
Really, anything you choose from your fall farmhouse decor will work as long as it's in the colors synonymous with the season. Rich russets, deep orange, burnt umber and red will all create that fall feel.
Pillows printed in leaf designs naturally help, and source some dried stems – they are so on trend now you can't go wrong!
7. Team natural elements together
Creating stylish fall decor for a farmhouse includes using as many rustic textures as you can get together – wood, stone, ceramics, coir and linen. Each plays a part in creating wonderful textures that together give that fall farmhouse feel.
Add in some small pumpkins in groups on your table top, linen napkins with coir and vintage rugs underfoot and your fall farmhouse dining room will be complete.
8. A wreath full of berries, leaves and gourds
As a Christmas wreath makes the beginning of the festive season, a fall design will signify the start of the fall season and be a welcoming addition to your front door or barn door.
Craft your own by gathering red berries, yellow and orange leaves, small gourds and mini pumpkins and wiring them to a wreath base. Then hang it on a hook in your backyard. These DIY fall wreaths will look just right and are super easy to craft.
9. Don't forget the finishing touches
The small details are as important as the big ones, and considering your table decor for your fall farmhouse is also important as California based interior designer Susie Novak advises:
'I always love and prefer a moody approach to fall decor. Blacks for candle holders, placemats, and other accents. Dark red, purple florals and fruits. We have a fig tree in our back yard so I'll add figs and their branches into my decorating scheme.'
10. Go all out with your fall table settings
To create a farmhouse fall feel with your table go all out with your textures – rustic is the key word and use all the fall colors too.
Amber glass tealight holders, pumpkins, wood table centres and a huge vase full of sunflowers - the cheeriest flower of all for fall!
This will look perfect as a show-stopping Thanksgiving table centerpiece.
11. Ditch the plain pillows for botanical prints
Simple pillow swaps like plains for botanical prints will make a big difference to your farmhouse living room idea.
Look out for prints that depict forests, leaves and foliage so you're bringing the outside in and they can be in more fall colors like deep pink, orange, stone and black.
Another quick fall update is to change your rug from a plain design to a highly textured one – it will give a more cozy feel.
12. Decorate your mantle and fire surround
Coppery toned berries interwoven with golden leaves makes for a fabulous garland that can be laid along a mantlepiece or shelf. Here's how to make a fall garland to impress your guests.
You can never have too much decor at this time of year, light candles, hang fairy lights and of course, have a roaring fire too for extra warmth and glow this fall season.
13. Feeling arty? Add some fall color to your walls
If you love DIY then changing up your walls will be a breeze. A couple of new shades like burnt umber and ginger will perk up a modern farmhouse decor idea in no time.
Who knew 'brown' could look so fabulous with these wall colors?
Remember to bring your new colors through to the rest of the scheme with your accessories for a cohesive look.
14. Create a display in your hallway
A rustic console table lends itself to a lovely fall display right? You can use real pumpkins in between faux ones to create interest and we love these from Lights4Fun that light up – an easy hallway decorating idea that creates a cozy feel.
Add in a lantern or two for extra light and layer it with autumnal branch stems.
15. Light up your front porch as the light goes down…
Light up your pathway with a fabulous array of real and faux pumpkins with scary faces ready for Halloween! Learn how to carve a pumpkin like a pro with our easy guide.
Use a mixture of sizes with the largest being placed at the back. Pop in some gourds too as their shape will add more interest and texture to your farmhouse fall porch idea.
How can I make my house autumnal?
Changing your color scheme to fall shades will be the main thing to do, and you can do this with accessories like pillows, blankets, tealight holders and rugs.
Add in the key ingredients like pumpkins and gourds and your home will instantly feel more fall-like – and will work equally well as a halloween decorating idea.
How do I turn my house into a farmhouse style?
Farmhouse style starts with adding rustic textures – wood being the number one element.
Vintage finds like old stools, sideboards and tables will do the trick and then add in pieces like linen upholstered armchairs, beautiful artisan tableware and one off finds like wire baskets that can be used inside to store items and old light fittings.
Keep the color scheme rich rather than bright for a cozy rustic living room idea.