Country farmhouse decor is up there on the dream list for many of us. These rooms tend to be practically designed, but brimming with character and period features.
And while we can't all be lucky enough to own a country farmhouse, but we can all take inspiration from the way they are decorated. And we've found some beautiful farmhouses, nestled in the countryside, both in the UK and abroad, to inspire your decorating scheme.
So, keep scrolling, and follow the links to see more of these beautiful homes – and to find ideas to help you create a wonderful rural feel in your own home.
For practical information on house renovation, don't miss our comprehensive guide.
1. Lovingly restored farmhouse in Wiltshire
Challenges are an inevitable part of any period home renovation, but Rachel and Tim Buxton certainly had more than their fair share. When they began their search for a family home in the Wiltshire countryside, they were actively looking for a project, but renovating a 17th-century farmhouse, unchanged for decades, would make even the most seasoned renovators think twice.
Despite the challenges, the property's idyllic location – set not only in an area of outstanding natural beauty, but a world heritage site – was something the pair couldn't resist, not to mention its wealth of prized original features. Be inspired by this fascinating farmhouse renovation story here.
2. A 17th-century, Grade II-listed manor farmhouse gets an inspiring makeover
In spite of numerous property viewings during the two years they were renting, Jeannie and Ross Aldridge never found a house to match the farmhouse that they now considered their home.
'We tried not to get too attached to the house, but it was impossible not to as it pulled on my heartstrings and had such charm,' says Jeannie. 'So when we heard the news that it was going up for sale, we snapped it up.'
Although the interior was in good order, Jeannie set to work changing the colour scheme to one that reflected the styles she and Ross preferred. 'I didn't want an entirely traditional feel, and I'd been inspired by a visit to friends in Long Island,' says Jeannie. 'Their home had quite a colonial style, which I liked, and Ross and I had some beautiful furniture handed down that I wanted to include.'
Take a tour of the kitchen and the rest of the house here.
3. Explore this stunning Grade II Listed country farmhouse
Home comforts were few and far between when Tim Perkin moved into Park Farm back in 1993. 'I remember Tim telling me what it was like when he first came here,' says Jill. The Grade II-listed farmhouse had been in a really poor state, barely habitable, with just three usable rooms and wires exposed and dangling everywhere. Discover their fascinating farmhouse renovation story here.
4. Extended 18th-century farmhouse in Warwickshire
Located in a quiet Warwickshire village, the roomy farmhouse was perfect for a growing family.
'I love colour,' Annabel admits, as if sharing a secret, but take a look at her paintings and, indeed, her home as a whole, and it's clear she really does have an exceptional eye for colour. Aside from the beautiful country farmhouse decor, stooped doorways, wonky beams and vast inglenook fireplaces fill Annabel Playfair's 18th-Century home with character, and there's a sense of history at every turn.
While the home had retained its charm, it was also beginning to show its age. Annabel wanted to breathe new life into it, using her creative talents to adapt the living spaces for modern family life. Discover how she put her stamp on her new country farmhouse home here.
5. A Grade II-listed country farmhouse in Devon
When the Gavin family drove down the leafy track on the Devon coast and this farmhouse came into view, they instantly knew it was for them. At the time, the children were young, but the family was outgrowing the three-bedroom house in London that they left behind.
The six-bedroom house in the South Hams is set in two acres of land. It is Grade II-listed, with older sections dating back to 1602. Other parts were added in the 18th and 19th centuries. The property was in good condition, but the Gavins still wanted to make their mark on it straightaway with sympathetic country farmhouse decor.
Take a look around the whole farmhouse in the beautiful Devonshire countryside
6. An idyllic 300-year-old farmhouse
For Tina and Martin Philpot, restoring this 300-year-old Somerset farmhouse was a labour of love. The house had formally been two separate farm cottages, built in the 1550s, that were knocked together in the 1970s. Now it is an idyllic home with beautiful views, surrounded by a gorgeous garden and set in the beautiful British countryside. Take a tour of the 300-year-old farmhouse here.
7. A country farmhouse saved from dereliction
When Wendy and Peter Blakeman bought this Derbyshire farmhouse back in 2005, it wasn't a straight transaction. Since the property had been bought by Queen Victoria in 1890, the sale would need to be signed off by the Duchy of Lancaster and the Queen herself. On top of that all of the renovation plans had to be run by the Duchy too.
Fortunately, through a passion for the house and a lot of DIY, the Blakemans managed to save the property and turn it into a beautiful farmhouse with a fantastic backstory. Find out just how much work needed doing to restore this country farmhouse here.
8. A renovated Georgian farmhouse in Yorkshire
When Ann and late husband Peter bought the house in the 1990s it still contained fittings from the '60s and '70s and was in need of modernisation, but they had no concerns about taking it on.
'We lived in it as we renovated it with the help of a builder friend,' explains Ann. 'He came to see it before we bought it and said "don't touch it", but we bought it anyway! A lot of the original features had been taken out, so we reinstated its character where we could and brought it up to date taking an ad hoc approach – there was no grand plan.'
See how these homeowners restored their Georgian farmhouse with charming country farmhouse decor and be inspired to start your own project.
9. A 16th-century longhouse built in cob
For centuries, cob has been used to build homes throughout the UK, especially in the south-west of England and Wales. One such house is Buckingham Farm — a thatched, 16th-century Devonshire longhouse bought by Suzi and Chris Carman some 20 years ago.
After almost a decade of working on the house at weekends and during holidays, in 2002 Suzi took voluntary redundancy and began to work on the house full time. Being at the house every day made the final push to finish the renovation much easier, and now the pair are happily ensconced in Devon life. Find out more about this idyllic farmhouse here
10. A listed Georgian family farmhouse
This Grade II-listed, late-Georgian farmhouse was built in 1820, with a small 1950s addition to the rear. It is set in 300 acres of glorious Wiltshire countryside and is now used by the couple for raising cattle. 'We were very lucky to inherit the house, which had been in Harry's family for years,' says Alice.
The main goal for Alice and Harry was to ensure their four-square, traditionally laid-out home could function for their 21st-century family. Yet they also wanted to retain the period property's original Georgian features and character. Finding that balance proved tricky, particularly given the limitations of listed building consent, which was required even for internal alterations.
11. A Grade II-listed farmhouse from the 17th century
Back in 2011, from the outside the house was beautiful, a great size and surrounded by farmland. 'Inside, the house in its raw state was hideous. As we wandered into the back garden, however, and paused to take in the spectacular Brede Valley views, I knew that with a lot of effort and imagination, it could, one day, be wonderful.' says owner, Sally Appleyard.
'Gaining permission to make alterations to our listed house was far more complicated than we'd imagined,' says Sally. 'Essentially, all Rob and I wanted to do was enhance the home we'd fallen in love with. Adhering to the conditions, such as using specific materials, took time and cost much more than we'd thought.' See the rest of this 17th-century farmhouse, saved from ruin.
12. A historic Dutch home with Scandi country farmhouse decor
Take inspiration from Harrie and Leny's stunning Dutch farmhouse which is decorated in traditional Scandinavian style. Passionate about vintage Swedish decorating, Leny goes above and beyond at this special time of year, filling the house with scented foraged foliage, antique decorations, and of course plenty of candles for the cosy hygge feel. Discover this beautiful Dutch farmhouse here.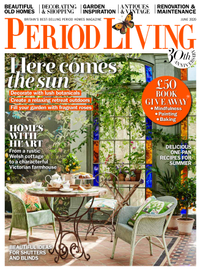 Subscribe to Period Living for more inspiration
A subscription to Period Living provides you with all you need to know about caring for and improving a traditional garden – and also how to decorate, renovate and maintain a period home.
More from Period Living: