I don't know what it is about fall, but it always puts me in the mood to create! This dainty DIY fall garland is an easy project that will add a beautiful touch of autumn to any home. It's so versatile and can be hung from a fireplace mantle, strung across a bookshelf or draped along a banister.
If you're new to DIY, this is the perfect project to start with. It's one of the quickest and easiest fall decorating ideas out there. Yep, you can finish your fall garland in under 30 minutes, it's also simple to make and looks great! Your friends will be asking where you purchased it!
Team with a fall wreath, whether you choose to make that yourself too, and you've got a timeless fall décor piece to welcome you into the season.
How do you make a fall mantel garland?
You only need a few supplies for this project and most of it should be available at your local home decor store. First you'll need a box of fall-themed potpourri. Mine had dried orange slices, pinecones, faux pumpkins, and round wood planks. You'll also need a roll of Scotch tape and jute string. Finally, you'll use a power drill and drill bit. If you don't have one on hand, you can always ask a friend!
Supplies for DIY fall garland:
1. Decide on positioning
Start by deciding where you want to hang your garland. This will determine how long your jute string needs to be. Measure your string accordingly and be sure to add some extra to the end just in case. I added an extra foot to my measurements and was glad I did because it gave me more freedom to adjust when hanging.
2. Wrap the jute ends of your garland
Use a small piece of Scotch tape, approximately 2 to 3 inches long, to wrap around one end of the jute string. This will keep the string from fraying making it easier to slide on the fall potpourri pieces.
3. Prepare your decorative pieces
Go through the potpourri and select the pieces you want to use. Decide what pattern you want your pieces to follow to make sure you have all you need. Using the power drill and bit (my bit was 3/16") drill holes in the center of each object.
4. Mount your decor
Starting on the taped end, string your objects on one at a time moving down the jute in the pattern you decided on. Space them how you prefer across the string. If the pieces slide and won't stay where you want them to, try placing another piece of tape in the desired spot and sliding the object over the top. This will give the object something to "stick" to and help keep it in place.
5. Finish up and hang the garland
When you've finished sliding your fall potpourri pieces onto the jute string, tie a small knot on either end up against the first and last object to prevent anything from sliding off. Now you're ready to hang your beautiful DIY fall garland!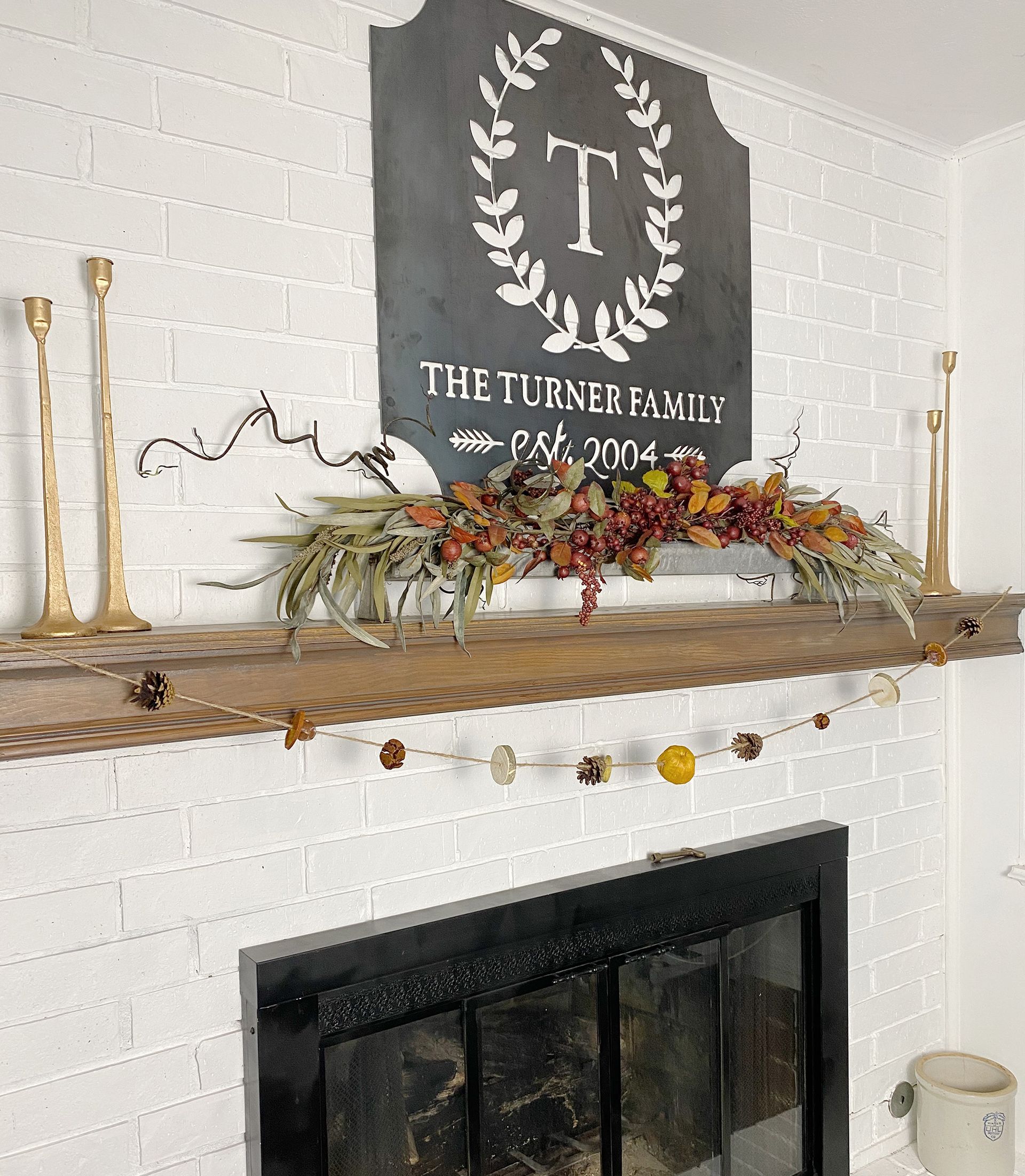 I love this simple garland! Another plus is that the project is super budget-friendly!
Here's the breakdown of cost:
Potpourri: $12
Scotch tape: $1.50
Jute String: $3
TOTAL: $16.50
For less than $20 and 30 minutes of your time, you have a beautiful fall decoration you can reuse year after year!
It's totally time for a pumpkin spice latte!