Extensions add space, interest and value to a home and, over time, these additions form part of the building's history. But extending a house will forever change its appearance, so it's critical to take the time to get it right.
A successful extension requires an understanding of how the internal spaces work, a respect for the age and history of the property, appropriate scale internally and externally, as well as a careful choice of materials.
It is important to employ architects, surveyors and builders who are used to working with old buildings of a similar type and age to your home, but who also appreciate and understand good new design.
Should I extend?
Many old properties don't suit modern lifestyles, so changes are inevitable and part of a building's natural evolution.
more from Period Living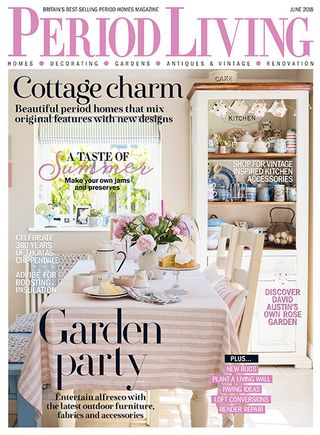 Period Living is the UK's best-selling period homes magazine. Get inspiration, ideas and advice straight to your door every month with a subscription.
However, before extending, ask yourself whether you are making the right decision for both your family and the house. Instead of trying to turn a cottage into a castle, might it be better, cheaper and less disruptive to move to a larger home?
An extension that is out of scale and context with the original building will impact on the character and history that attracted you to it in the first place. It will also make the internal proportions of the property feel unbalanced.
Before adding onto the house, it's worth considering whether it may be better to extend into the loft space or, if you have one, convert the cellar or basement.
An often overlooked means of gaining extra space is to construct a garden room. With an older building this may be the most cost-effective and least disruptive solution. Many companies specialise in garden rooms and they can serve as an office or studio, or provide overflow accommodation, complete with kitchen and bathroom.
Another advantage is that some purpose-built cabins and shepherds' huts are designed to enable you to take them with you if you decide to move, so the money you have invested is not lost.
What are the options for extending an old house?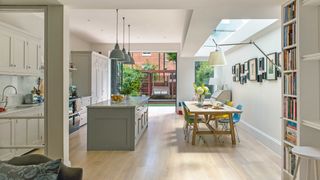 Designing an extension
A well-designed extension to a period home maintains the architectural 'rhythm' and symmetry of the main building and is subservient to it in scale and height. Above all, it must enhance rather than detract from the look of the property. Not only is this the right thing to do from a design and heritage point of view, but will also add more value.
Top tip
Some local authorities produce design guides on extension types that might be acceptable – ask the conservation officer for details
Contrary to popular belief, a good, sympathetic extension design does not have to be traditional in style. Past generations rarely tried to replicate what had gone before and instead followed the fashions of the day. When done well, a modern design works much better alongside an old building than a poor pastiche.
Key to making a contemporary extension work is using a harmonious materials palette and referencing details such as the roof pitch.
Creating a visual break between the original building and the new addition can help reduce the impact of a new extension, perhaps with a small glazed link-way that acts as a corridor.
Considerations also apply when deciding how to access the new space from the old. Making an existing window opening into a door will cause less damage than knocking through a completely new opening. Try to preserve features such as architraves, skirtings and cornices in the older part of the building, which are easily lost.
Creating good flow
The way in which a new space will be used is often overlooked when planning an extension. The room an extension is built off can easily become little more than a corridor, with the result that a comparatively small amount of extra space is actually gained.
Think about how you and your family will circulate through both the existing and new spaces, and plan how these will be used and how furniture will be located so that the spaces flow. Where possible provide a link with the outside so the extension flows into the garden, creating a greater feeling of space.
The addition of an extension can easily result in original rooms receiving less daylight and ventilation. Rooflights or sun tubes can help overcome this problem and staircases and light wells are good ways of introducing natural light.
Do I need planning permission to extend?
If your home is in a Conservation Area, in area of special interest, or listed you have to gain consent before extending. If not, you may be surprised what you can do under what is known as your permitted development rights. Permitted development allows you to make certain alterations (such as a smaller extension) without seeking planning permission.
Under the rules, the 'original' (as it stood in or prior to 1948) rear wall of a detached home can be extended (subject to the neighbour consultation scheme) within theses constraints:
You can extend by up to 8m in depth with a single-storey extension on a detached home
You can extend by up to 6m with a single-storey extension if you live in a semi or terrace
Single-storey extensions must be no higher than 4m
If your proposed new extension will be within 2m of a boundary, then the eaves height is limited to 3m
Two-storey extensions can be no higher than the house
Two-storey extensions can project up to 3m from the original wall, so long as it is at least 7m from the rear boundary
No extension can project beyond the front of the house (or an elevation that affronts the highway)
Side extensions can not make up more than half the width of your house
With the exception of conservatories, new extensions must be built of materials 'similar in appearance' and with the same roof pitch as the main house.
Do remember however that if the home has previously been extended, this will have used up some of your homes allocation under permitted development.
For more information, our guide to extending under permitted development provides all of the information you need.
Practical considerations
A new extension can rarely be constructed in exactly the same way as the original building due to the demands of modern building regulations. The foundations of a new structure are likely to be deeper than the relatively shallow footings generally found in older buildings, so care needs to be taken to ensure that any differential settlement can be accommodated at the junction between the two structures.
In addition, bear in mind that the original structure needs to breathe, otherwise damp and other problems may develop. Where an old house has suspended timber floors, ensure the underfloor ventilation is not blocked.
It is possible – and often preferable – to use traditional materials such as lime mortars, plasters, hemp lime or clay blocks for building, which have the added benefit of being eco-friendly.
If the extension is to be built of brick, old bricks are imperial sizes and new are generally metric, although traditional sizes can be sourced.
Don't overlook future maintenance and how the older building's gutters and windows will be accessed once an extension is built.
Help and advice
Prior to undertaking any work, it's worth doing some research to understand the building's history and the materials and techniques used in its construction. The Society for the Protection of Ancient Buildings offers publications, runs courses and has a free advice line, while The Georgian Group and The Victorian Society have useful guides.
More tips for extending a period home