Know how to go about cleaning laminate flooring? It might look like timber but the method definitely isn't the same.
It's important to look after the best laminate flooring properly because although it has plenty of advantages – such as being easy to lay and durable in addition to its generally lower cost – it can't be sanded and refinished in the way real wood flooring can. But there's no need to fret. Use our expert tips to find out how to clean laminate and keep this type of flooring looking its best for years to come.
We'll also let you in on what cleaning appliances and products to avoid to ensure you don't compromise the condition of your floor.
How to clean laminate flooring properly
The good news about cleaning a floor of this caliber? It is very easy to clean. Using a vacuum cleaner will get the dirt, debris, hair and fur off the floor with the smallest of effort on your part. But which is the best vacuum cleaner for the job you might ask?
A canister vacuum is a top option as one of these is a whizz on hard floors. Use the hard flooring setting for a laminate floor. But, even if you have an upright vacuum rather than a canister vacuum, it will still do the job beautifully.
Do make sure you turn off the rotating brush or beater bar, though, since this is designed to get down into carpet fibers for deep cleaning. Using this on laminate isn't a good plan as it will scatter dirt and could scratch the floor's surface. Harder work, but equally appropriate, is brushing the laminate floor with a soft broom and scooping up the grot in a dustpan.
Wondering how often you should vacuum laminate flooring? The experts advise you should do this at least once a week.
How to deep clean laminate flooring
You can give most laminate flooring a deeper clean by mopping it every so often, but there are special instructions to take note with cleaning wooden floors.
First off, using your best mop is to be avoided if the floor has V grooves or beveled edges, however, as dirt could get pushed into these. Check the manufacturer's instructions on cleaning your particular floor for guidance.
Be aware that you can't mop laminate as you would a stone tile floor as water can damage it. If you use a conventional mop, wring it out thoroughly before starting on the floor, but a better option is a microfiber mop like one of the best steam cleaners on the market. Whichever type you go for, the rule is that the mop head should be just damp, and no wetter. And if in doubt, consulting our guide on how to use a steam cleaner will save you stressing over a damaged floor.
Mop the floor with a specialist laminate cleaning product, which will prevent steaks and won't leave a residue behind. This will be sufficient to make a laminate floor shine.
Should you polish laminate floors? The answer is no. Step away from both polish and wax because these aren't good for your laminate floor and if you clean as above your floor will gleam.
Can you clean laminate flooring with vinegar?
Natural cleaning fans, you can clean your laminate flooring with vinegar if you want to (although do double check the manufacturer's guidelines don't rule it out). It's actually a fabulous way to bring back the shine to a floor that's become dull.
Make up your cleaning solution with one cup of white vinegar and a gallon of hot water. Follow the mopping rules as before when you're using vinegar, though. The mop should be just damp to avoid damage and spotting.
If you're worried cleaning with vinegar might make your place smell, don't panic. The ratio we've suggested shouldn't leave a strong odor. And it's much more family-friendly than harsh chemical cleaners.
How to remove stains and marks from laminate flooring
If your laminate flooring has become stained, there are a few strategies you can use to get it back to its best once more.
'Sometimes there are instances where things like candle wax or chewing gum get stuck to laminate. In those instances, use ice to harden it and then scrape off with a plastic scraper. Wipe clean after with a lightly damp cloth,' says David Snazel, hard flooring buyer, Carpetright.
Got a young Picasso in the house? If the laminate has been marked by crayon, ink or paint, rubbing alcohol can get rid of it. When going out stubborn stain removal, don't use too much cleaning product, as you'll want to prevent over-wetting of the floor.
How do you maintain laminate flooring?
So, you know how to clean your laminate flooring, but what else do you need to bear in mind to keep it as good as new. These are the rules:
Never use a scouring pad or abrasive cleaner on laminate flooring to avoid scratching it.
Always wipe up spills immediately. Pools of liquid can damage laminate flooring.
Check the labels of cleaning products to make sure they're suitable for laminate. Look at the manufacturer's guidelines, too.
Lay doormats at all the entrances to your home to catch dirt before it goes any further.
Sweep up any small stones, gravel or grit when you seem them as they can scratch the floor. Bear in mind that these can get lodged into the soles of shoes, which is why it's preferable not to wear outdoor shoes inside.
Lift furniture when you're moving it and put pads on furniture legs.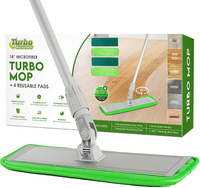 How to remove food stains from laminate flooring
Speaking again to Snazel, he explains how to get rid of grubby stains whether they're sticky, trodden-on, or just won't lift.
You will need:
A bucket
Washing up liquid
Sponge or cleaning cloth
Ammonia
Kettle (or hot water faucet)
Soft-bristled brush or old toothbrush
Method:
Mix 1 part of your best washing-up liquid with 10 parts water.
Apply the solution to the stain and rub with a sponge or cloth.
Leave to dry thoroughly.
Mix 125ml of ammonia for every 5 liters of warm water.
Pour a small amount of the ammonia mixture onto the spot and leave to set for 10 minutes.
Gently scrub the ammonia with a soft-bristled brush, such as a toothbrush.
Rinse well with water and dry.
If the stain remains, increase the ratio of ammonia to water by half and repeat.
How to remove shoe scuffs from laminate flooring
Whether it's a brand-new pair of heels on payday or trendy trainers for the kids, footwear can be a culprit for dirtying our floors. Luckily for us, Snazel puts himself in our shoes to take the floor on removing black marks from your synthetic flooring:
You will need:
Wipe the scuff mark with a wet sponge.
Take a rubber eraser and rub along the grain of the wood. Top tip: Do not use a plastic or gritty eraser, as this could damage your wood floor!
Repeat the process until the scuff is gone.
If all else fails, you can find scuff erasers at a hardware shop.
How to deal with scratches on laminate
Stones and even long pet nails are the two most common offenders for etching and causing lacerations into your laminate. But you needn't avoid the outdoors or get rid of your furry friend if you want to live in a home with laminated flooring. Knowing how to clean laminate flooring is one thing, but staying abreast of inorganic and organic debris that can be abrasive can keep your floor looking fine for longer.
'Most laminate flooring is very hard-wearing and stands up well to everyday life, but the surface can still get scratched. Some DIY shops stock laminate repair kits but prevention is much better than having to deal with scratches,' says Snazel.
Snazel's laminate flooring suggestions:
Some laminate flooring comes with added scratch guards – check the manufacturer's information.
Never use a scouring pad or other abrasive implement to clean laminate flooring.
Remove shoes before walking on laminate. Small stones can get stuck in shoes and scratch your floor. A doormat will also help.
It's also worth checking out Amazon for these maintenance kits. They look a little bit like colored filler and can be used to improve the appearance of scratches, chips, dents and chinks in the floor. Many of them, like this Coconix floor and furniture repair kit have several different colors and can even be used on your best coffee tables and other wooden furniture.
What is the best way to clean laminate flooring?
If you're afraid that natural ingredients like vinegar will make your floor smell, try using an eco-friendly cleaning product. Come rain or shine, keeping on top of your cleaning schedule is a must, and you can be kinder to the planet (and your floors) by picking a plant-derived cleaner.
The experts at Method say: 'Keep your laminate or wood flooring looking pristine by mopping once a week – just don't use too much water, as this can cause water spots or warp laminate surfaces!'
'Be mindful to avoid polishing, waxing, or doing any abrasive cleaning too, as these all have the potential to scratch the floor and damage the protective finish. For a fresh finish, use a fantastically-scented concentrated solution, like our refreshing lotus flower and sage, to make your floors smell like sunshine and sparkle!'
Using a concentrated product is better for the environment and you won't' have to lug around big bottles of floor cleaner or find a place to store it.