Canister vacuums offer the power of upright vacuums but they're far easier to use because of their adaptability to clean hard-to-reach spaces, furniture, staircases, and hard floors. They're usually compact and light, meaning they're a great fit for homeowners and apartment dwellers.
When choosing a canister vacuum, you'll want to consider what's best for you, like filter bags or dirt cups. Ask yourself questions like: Do you need a long cord? Or a built-in compartment for attachments? A floorhead that's safe on hardwood floors?
We answer these questions, and more, with our list of the best canister vacuums. Scroll through and find one that works for you then, head to our best vacuum cleaners guide for more top buys.
Today's best canister vacuum buys
Why you can trust Real Homes Our expert reviewers spend hours testing and comparing products and services so you can choose the best for you. Find out more about how we test.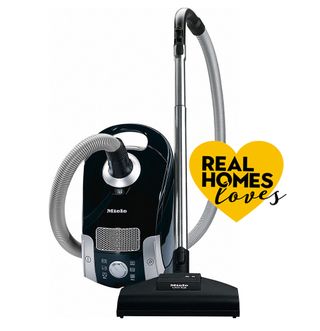 This Miele canister vacuum is like the Rolls-Royce of vacuums – smooth, efficient, and top quality all-around. With six floor settings, you can vacuum any type of floor, including low-to-medium carpet and upholstery within a 29-foot radius.
What do we like about it?
The suction power of this canister vacuum is magic, pulling dust and dirt off your floors without the loud, bothersome sound of other vacuums. Rather than a bunch of attachments lying around your home, Miele has crafted a built-in, extendable wand and included an attachable attachment holder to the machine. With a touch of a button, the cord rewinds into the vacuum, allowing you to quickly store this compact piece anywhere in your home.
What does it do well?
When it comes to hardwood and sensitive floors, the Miele Classic C1 Turbo Team PowerLine -SBAN0 is the way to go. The rubber wheels won't hurt your floors, and neither will the soft natural bristles on the parquet floor brush. Hardwood floors are notorious for being dusty but this canister vacuum removes 94 percent of particles as small as .3 microns, whilst the air filter bag traps 99.9 percent of dust. Best yet? Using this vacuum actually makes the air in your home cleaner!
Real Homes rating 4.5 out of 5 stars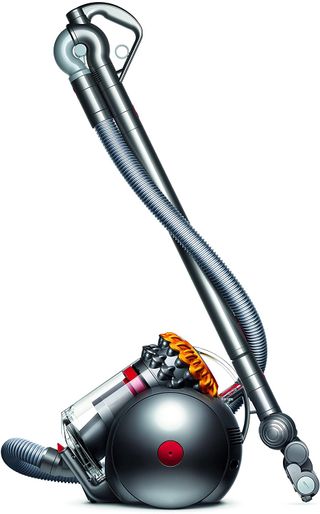 When you fall, you have to pick yourself up – which is an idea that the folks at Dyson took seriously when they created the Dyson Big Ball Multi-Floor Canister Vacuum. It's designed to literally right itself if it falls over, making it so you have one less thing to worry about when vacuuming.
What do we like about it?
The Dyson Big Ball Multi-Floor Canister Vacuum does the one thing that all vacuums should do well – clean your floors – but it does so in new and creative ways. The handle has 360-degree articulation so you can reach odd corners and spaces. Plus, the turbine brush floorhead has anti-static fiber filaments which pulls fine dust off your hard floors and stiff nylon bristles that gather even the peskiest bits of dirt from carpet.
What does it do well?
Not only do we like the mess-free, bagless canister of the Dyson Big Ball, but we were astounded to discover this vacuum has a 35-foot reach which is pretty large for a canister vacuum.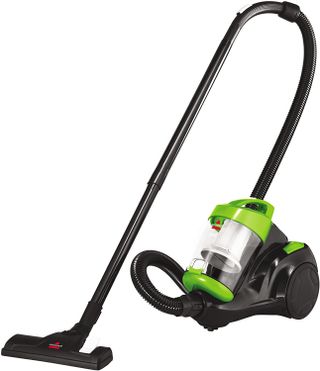 At less than $60, the Zing Bissell is in the top spot for the best budget-friendly canister vacuum on the market. When you take this baby for a spin, you'll notice it has above-average suction power and does great on tiled, linoleum, vinyl, and low carpet floors.
What do we like about it?
Can't ever remember to change filter bags? No worries; the Zing is bagless meaning it has an easy-to-remove dirt cup that you can place over the trash can, hit one button, and let all the filth that you picked up off your floors fall right in. No mess, no extra cost of a filter bag – just a vacuum that makes cleaning your house easier.

What does it do well?
The three wheels have a rubber covering so it's easy to move around your house without scuffing the floors. Plus, we're partial to the automatic rewind button for the cord, which is pretty nice for a budget-friendly vacuum.
Read our full review of this budget-friendly pick here.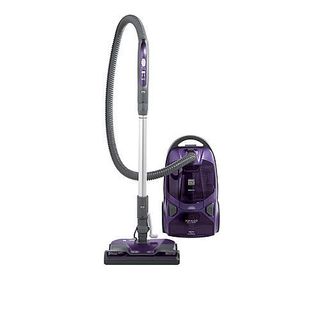 Pet hair can be pesky and cleaning it up isn't easy if you don't have the right vacuum to do so. The Kenmore 81614 is equipped to handle the job. Outfitted to clean hard floors and carpet, it also has a HEPA media filtration system that can contain dust and pet hair, limiting those triggering allergens in your home.
What do we like about it?
This canister vacuum is convenient to use from the adjustable built-in telescoping wand to the height adjust pedal, swivel floorhead, high-power suction control button, and a 'check bag' indicator that tells you when you to change your filter bag. Perhaps the best tool is the Pet PowerMate that can pull pet hair or lint from your couch, chair, or any other furniture.

What does it do well?
Hate losing your vacuum attachments? With the Kenmore 81614, you won't. It's designed with a front storage case where the Pet PowerMate attachment, crevice tool, and dusting brush fits snugly inside. When you're not using the Pop-N-Go floor bush, you can store it in the back of the canister vacuum.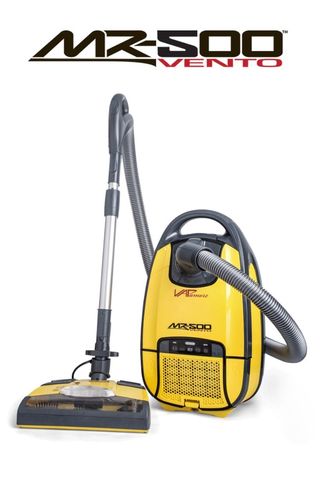 There's one thing a good vacuum cleaner needs and that's strong suction power. The folks at Vapamore spent two years working on this vacuum, resulting in a canister vacuum with 1400 watts of cleaning power and various attachments for any cleaning job.
What do we like about it?
You won't have trouble gathering up all the dirt and dust in your home with the extra-large floorhead equipped with adjustable floor height, LED lights, and a tight turn radius. The high-quality suction power will pick up dust and pollen, while the HEPA filter traps 99.7 percent of all particles.
What does it do well?
This Vapamore vacuum comes with a lot of attachments like an extension pole, electric floorhead, non-electric floorhead, small-detail floorhead, long and short crevice attachment, detail brush, and six vacuum bags. You can store some of these tools in the on-board storage compartment.
Top things to consider when purchasing a canister vacuum:
When you're looking to buy a canister vacuum, there are a few things which you'll need to consider before parting with your dollars.
1. Price
Canister vacuums can range from $60 to $1,000. Choose one within your budget.
2. Filter bag or dirt cup?
The question between a filter bag or a dirt cup is difficult to answer. On one hand, a dirt cup means you don't have to change or buy a filter bag and it allows for mess-free disposal. Alternatively, a filter bag contains the dust and particles that might otherwise float off in your home when disposing dirt from a dirt cup. Some argue it's better at deep cleaning, too.
3. Attachments
Generally, canister vacuums come with a few attachments like a dust brush and a crevice tool. Some come with a removable extender, but higher-end models will have one built-in. A canister vacuum with a compartment or holder for attachments is a nice perk that allows you to keep everything together.
4. Cleaning radius
Pay attention to the 'cleaning radius' or 'operating radius' of a canister vacuum. An operating radius includes the cord length, plus the reach of the wand, extension, and hose. The larger the cleaning radius, the less often you have to unplug and plug in the vacuum around your home.
5. Floorbrush heads
Pay close attention to the type of floor brush heads that come with the canister vacuum. If you have tile, vinyl, or linoleum, any canister vacuum will do, but those with carpet might want a floorhead that's specifically designed to pick up dirt from carpet fibers. Hardwood floor owners will want to take special care to purchase a canister vacuum that has a floor head with soft bristles so it doesn't damage or scratch your floors.
6. Extra features
Some canister vacuums are designed to clean pet hair better than others, while others have rubber wheels, a notification button to tell you when to change the filter, automatic cord rewind, or the ability to stand up on their own when they fall over. Find the features that make cleaning your home the easiest for you.
What is the best canister vacuum cleaner?
To recap... if you can foot the bill, the Miele Classic C1 Turbo Team PowerLine – SBAN0 is worth the purchase. With a high-quality brand like Miele, this canister vacuum will pay for itself time over and will make you excited about vacuuming in a way you never thought possible. The Dyson Big Ball Multi-Floor Canister Vacuum comes in at a close second and has some innovative technology that homeowners will love.
Read more: