Oh, the allure of small boho small bathroom ideas. Bathrooms are special places because, no matter how small your apartment is, your bathroom is a tiny sanctuary from the outside world. It's where we do our best shower singing, get ready for the day, and put our game faces on.
Embrace a boho style with rich, earthy tones of ochre and rust, woven materials like rattan and seagrass, and a healthy helping of lush, green plants with trailing leaves. Not only is this style pleasing to the eye, it creates a really chill vibe.
Little touches like rustic ceramics and organic patterns will elevate this look, as you can see in the examples below. Here, a few of my favorite interiors experts and influencers share their best small bathroom ideas for getting the boho look. Hope you feel inspired!
8 boho bathroom ideas for small apartments
While there are so many apartment bathroom ideas that give me life, from super colorful wall murals to Scandi minimalism, there's something about the boho style that feels so perfectly relaxing.
1. Opt for a wicker light shade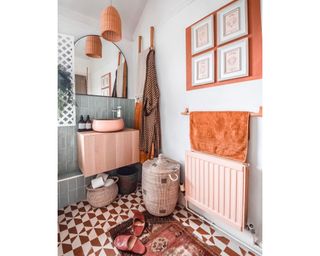 The boho vibe is all about harking back to natural elements, both materials and colors. Wicker, rattan, seagrass, and all woven fabrics bring this feel across perfectly.
I would suggest incorporating these textures anywhere you can — storage baskets are a particularly good way to do this — but light fittings are my favorite. In a bathroom, this is most likely to be an overhead light, like we can see in influencer Hayley's picture.
The great news is, that you can find wicker light fittings anywhere from Target to Anthropologie, and in a range of price points, too. I particularly like this rattan light shade available on Amazon for a statement piece.
2. Bring texture with a patterned rug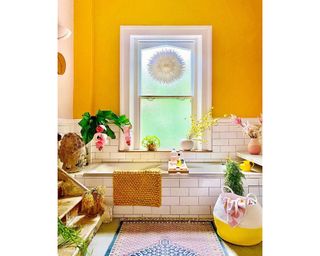 Now, rugs in a bathroom — that's an interesting one, isn't it? While you might not think of using a decorative rug in this space initially, this is actually a design-led move that will make you look like a pro. Jessica Sims-Wilson, Interior Designer and Founder of design studio House of Dawn, says that the bathroom is an often overlooked space when it comes to soft furnishings.
"A small rug in a bathroom adds that extra layer of soft furnishings which makes the whole scheme look more considered and design-led. For a boho style, go for something heavily patterned, in dark, rich colors, and with international influences."
We rounded up our favorite rugs from Target, but this jute flatwoven rug might be my top pick of the bunch.
Jessica Sims-Wilson is an Interior Designer with years of experience at brands like Soho House and Neptune, and founder of House of Dawn Interiors.
3. Use dried grasses and flowers to decorate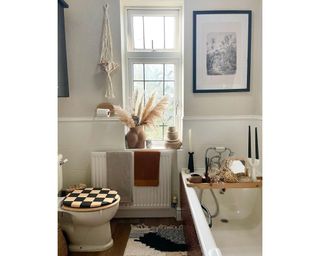 A few years ago pampas grass had a real *moment* didn't it? While we might not be in the throes of dried grasses and flowers quite as much now, these floral installations and arrangements have a decidedly boho look which fits this theme.
Plus, they're accessible and affordable, which I love! Pop in a rustic-looking vase and it will bring a chic, laid-back vibe to your bathroom. It's an easy small-budget bathroom idea to add a special touch to your space.
4. Utilize storage with woven baskets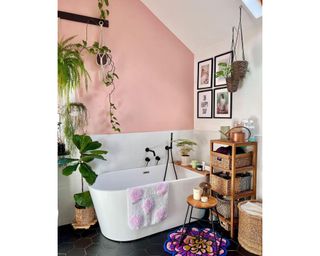 Storage is one of the most important parts of any room, but particularly a bathroom, where we're working with a lot of products, and not much space to store them.
Whether you have a cottagecore style, minimalist, or retro bathroom, I think woven baskets are a fantastic way to go, but they're even more suited to a boho style. For me, little tassels, fringe trimming, and a mix of colors make all the difference. This two-pack of storage baskets from Amazon fits the bill perfectly.
5. Pick out unfinished, textured tiles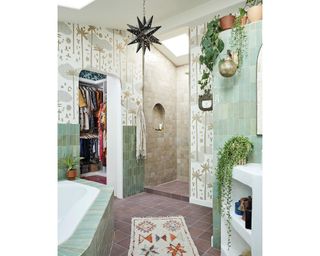 Boho style is not about looking perfect. In fact, ideally, we want to embrace rough textures, natural finishes, and some unevenness across the design. So, if you're lucky enough to be able to tile a small bathroom, step number one is to look for tiles with an organic look.
Here, we can see that the tiles slightly differ in shade, while remaining within the same color palette, and even have a bit of a wonky shape. It's what creates a relaxed, informal aesthetic.
6. Plants, plants and more plants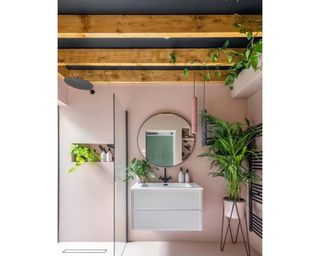 Milly Summer, interiors influencer, says that small space-friendly plants are one of the most important layers in boho styling. "Plants are important to any scheme, but because the boho look is anchored by a connection to nature, I would go even harder on your leafy friends in this instance. For me trailing leaves absolutely say boho, so hang dangling plants from the ceiling, the shower head, and the top of any windows, alongside bigger plants on the floor or positioned along shelves, too."
Milly Summer is an Interiors Influencer at her Instagram account, The House on Forest Hill.
7. Embrace a rich, earthy color palette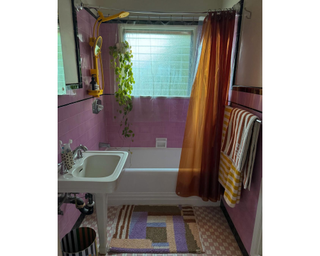 When we talk about a rich, earthy color palette, that doesn't have to mean just brown hues, you know? Think terracotta, rust, ochre, burnt oranges, dark pinks, and rich eggplant — it's a heavenly combination. This bathroom from influencer Kristina is an amazing example of how these kinds of colors can come together in the very best way. Use it as your guiding light!
8. Say yes, to wallpaper!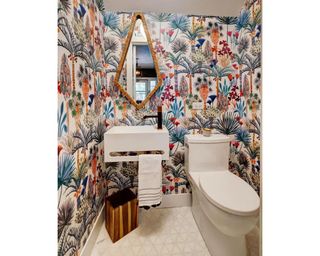 You might think that installing wallpaper in a bathroom is a bit of a tricky customer, and in some ways it is. I know, it feels like a lot of effort, and really, bathrooms aren't the most obvious places to use this decorating technique but if you can pull it out of the bag — like, wow. It packs SUCH a punch and seeing as boho lends itself really well to pattern, you can dictate the whole vibe of the room in one fell swoop.
3 boho buys for your bathroom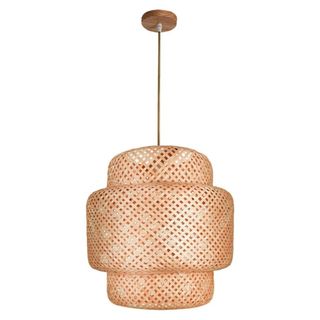 Mood lighting
Walmart NUOLUX Pendant Ceiling Lamp
Price: $41.99
This bamboo lamp is perfect for a bathroom thanks to its pendant shape and open-woven design. It's simple but stylish; the perfect buy.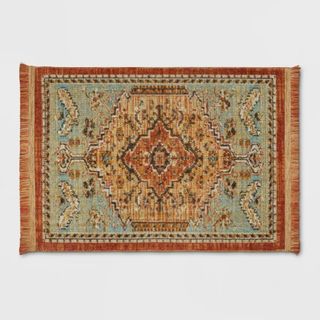 Earth colors
Target Floral Woven Accent Rug
Price: $25
This lil' rug is the perfect size for a bathroom and the vintage style offers a textured twist on the boho vibe.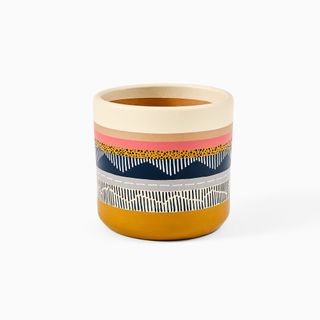 Bold pattern
West Elm Saselee Hand-Painted Textured Planter
Price: $129
This creative, colorful planter is made by independent maker Ultralight Dreams, founded by Jazzmine Jones in LA.
FAQs
So, what is boho style, anyway?
Boho decor style is inspired by the bohemian movement in the 1960s. This time was all about being unconventional and breaking away from up-tight, traditional society and instead, embracing a more relaxed, artistic way of being. In design, this means creating an aesthetic that feels laid back, is rooted in creativity, and pays homage to nature, too.
How would you best describe a boho aesthetic?
Nods to nature may come through in earthy colors and textures that feel rough and unfinished, while a laid-back atmosphere is created with layers of soft furnishings. To bring a more creative aesthetic, embrace patterns, wall murals, paintings, and handmade items, too.
---
Boho interiors are all about creating a calming, relaxed, and artistic environment to feel at home. But the good news is you can adapt other styles into your boho set-up too. You can maintain the boho look by sticking to natural silhouettes while playing with fun color palettes. Try gothic boho decor for a dark twist on this eclectic style.