Fun fact: There are currently, there are over 18k Target rugs up for grabs on site, which makes finding just the right one for you a little tricky. But fret not, dear reader, for I've done the honors of sifting through the offering with a fine tooth comb, pinpointing a dozen add-to-cart essentials.
If there's one thing you deserve, it's probably a little home decor TLC for your dorm or rental. You've heard of starting from the bottom and working your way up. Well, we're taking that literally, kicking things off with rug designs guaranteed to pep up the pad.
Whether you're embracing your inner bohemian or simply upping the interiors ante with a touch of checkerboard, you can find it right here. As you approach the colder months, your bedroom or living room will become something of a haven from the dark and cruel world outside, making those plush home comforts all the more essential. It's time to get as snug as a bug in the best area rug — minus the critters, of course.
12 of the best Target rugs to adorn your space with
Why you can trust Real Homes Our expert reviewers spend hours testing and comparing products and services so you can choose the best for you. Find out more about how we test.
Look, I'll come clean — I'm a bit of a rug buff. Rarely, a week goes by without me switching my checkerboard design out for something a little more low-key or girly. As such, I've put my heart into finding you the ultimate rug roster. However, if you'd still prefer to have a little look for yourself, you can head straight to Target's rugs on-site. My advice? Embrace the filters, and aim high when it comes to star ratings. Reviewers might be cruel, but their honesty will save you disappointment.
Round rugs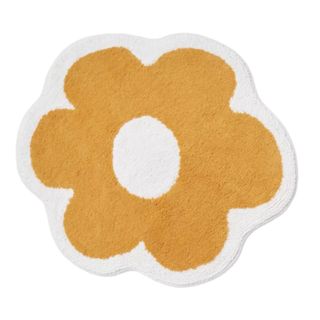 Flower power
Price: $16
Color(s): Orange and white
Material: 100% cotton
Size (in): L24 x W24
It's no secret that wavy fare is hot stuff right now, especially in the rug realm. And this Target dorm essential is no exception to the rule, ticking all the boxes for current home trends. A teeny bit hippy? Check. A little bit loud? Check. Plus, while florals for spring are hardly groundbreaking, they sure are in fall. Take that Miranda Priestly.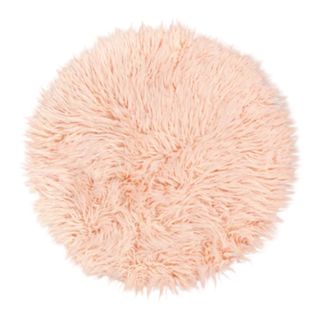 Faux fur
Price: $25
Color(s): Pink
Material: Faux suede and polyester
Size (in): L36 x L36
Hi, Barbie! This rug is giving serious girl-power, replete with a cozy plush design and the only shade of pink that matters since Mattel changed our lives. And don't panic about it getting dirty. It's a breeze to care for thanks to the easy-clean fabric. Simply spot clean and watch it return to its former glory. Use it as a bedroom rug to keep your tootsies warm when the weather turns a little crisp.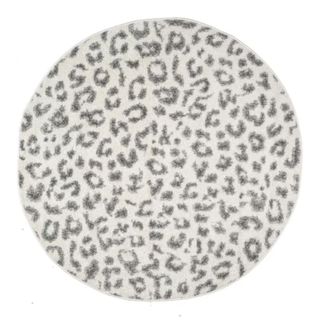 Wild child
3. Nuloom Leopard Print Area Rug
Price: $45.99
Color(s): Black and white
Material: 100% plastic
Size (in): L48 x W48
They say a leopard never changes its spots, but we're all about switching things up. If you've always stuck with low-key decor then this round rug is your sign to unleash your inner animal. With major wear-and-tear resistance, this naughty number is a surefire way to liven up a dull and dreary setup.
Boho rugs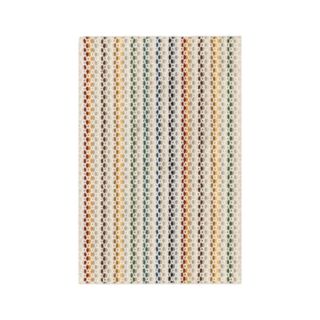 Technicolor
4. Threshold Stripped Rug
Price: $25
Color(s): Multi
Material: 100% polyester
Size (in): L46 x W30
If you want to pep up your space a little, then a generous injection of color is in order. This boho design is just the ticket, offering a soft, tufted construction and the kind of pattern that can withstand the odd spill or two. The best part? It's stain-resistant, and a piece of cake to clean. Simply spot-treat as and when needed.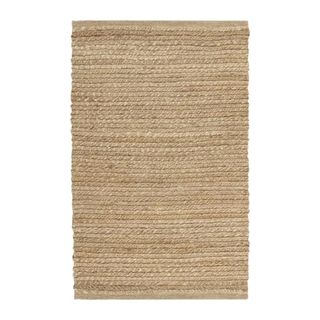 Au naturel
Price: $32
Color(s): Beige
Material: Stone
Size (in): L36 x W24
Ah, the rustic charm of a hand-woven jute rug. You don't get much more farmhouse than that. Immediately adding a warm and cozy feel to your space, this has cottage-core boho written all over it. Plus, it goes without saying that this organic material is always a smart choice when trying to shop a little more consciously.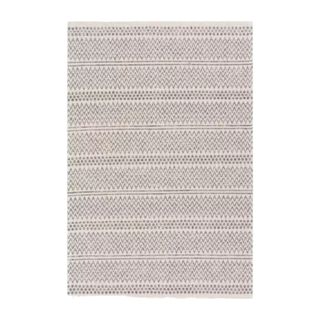 Neutral pattern
6. Mark & Day Aarau Area Rug
Price: $68
Color(s): Silver and gray
Material: 100% cotton
Size (in): L33 x W24
Keeping it classic, this machine-woven design is everything the contemporary boho girlie needs for an understated touch of coastal chic. Made in Turkey — always a good sign where rugs are concerned — it comes in a cool, monochrome palette, teaming with far-out and laidback setups alike.
Check rugs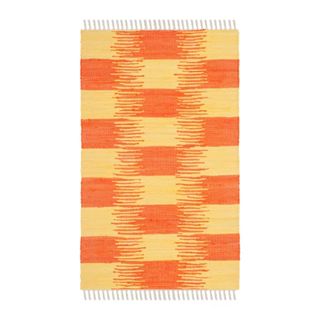 Warm apartment aesthetic
Price: $27.99
Color(s): Yellow and orange
Material: 100% cotton
Size (in): L48L x W30
Yep, there's more than one way to rock checkerboard. In this case, it's by bringing all the warmth of a balmy summer's eve, blended with city-savvy geometrics. Use this as a small entryway rug and hear the compliments flood in from guests. And yes, it's handmade.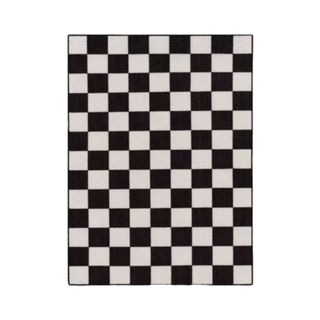 Check mate
Price: $35
Color(s): Charcoal and ivory
Material: 100% polyester
Size (in): L66 x W48
We don't need to tell you this checkered rug has been trending for what feels like ages. Offering an instantly recognizable aesthetic, this has It-girl written all over it. And sure, it's a bit gaudy, but who doesn't need something a little extra when the wintry months set in? Make a statement (without breaking the bank).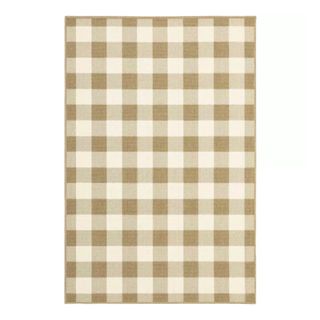 Buffalo babe
Price: $64.99
Color(s): 2
Material: Plastic
Size (in): L44.9 x W20.9
Where accent rugs are concerned, this is *everything*. Chic but eye-catching, the plaid design is built for plenty of use, promising finished edges, fade resistance, and easy cleaning (yep, you can hose it down). Plus, who doesn't love a two-tone palette?
Abstract rugs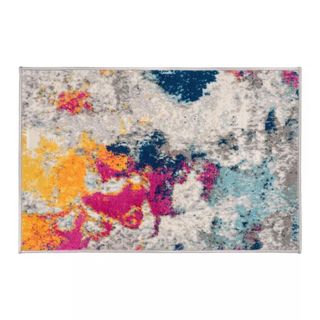 Disguises stains
10. Contemporary Area Rug
Price: $29.17
Color(s): Multi
Material: Plastic and jute
Size (in): L36 x W24
A little bit arty, a little bit party, this offbeat modern rug design is a quick and simple answer to basic (read: boring) bedroom decor. Plus, it's also an absolute trooper in terms of durability, promising shed-free cleaning, vacuuming, and blotting with mild detergents if you have any accidents. Consider us sold.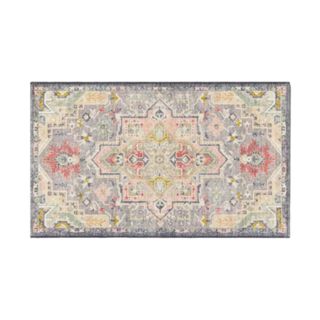 Vintage vibes
11. Opalhouse Printed Accent Rug
Price: $30
Color(s): Multi
Material: 100% Polyester
Size (in): L45L x W27
These days, vintage rugs cost more than new ones. Go figure. But, lucky for you, we've found a few handy workarounds, such as this intentionally distressed design, which comes with a lightly faded geometric pattern typical of the old classics. Add this to your pad and enjoy some old-world glamor.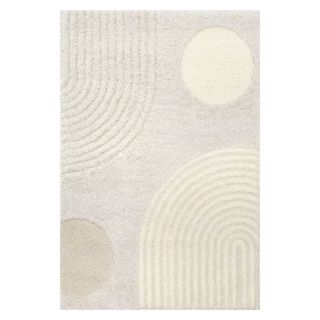 Stealth wealth
12. Gloria Abstract Shag Area Rug
Price: $44.99
Color(s): Cream
Material: Polyester, plastic, and jute
Size (in): L60 x W36
Unless you've been living under a rock, you'll know that quiet luxury is the hot topic right now. In short, looking low-key is the new way to signal status. Fortunately, you don't need a triple-figure salary to get the look. Nope, this understated number, constructed in Turkey, nails the brief on a budget.
How we chose these Target rugs
While we haven't been able to test each and every rug featured in this list just yet, we can assure you that these are all highly rated (no less than four stars) designs, all garnering positive reviews and feedback from shoppers. As well as this, we've leaned into our home interior nous, offering the money-stretched students and renters of the world a fine balance of chic and cheap. Goodbye, grizzly bedrooms. Hello, hot-shot mini pads.
---
The quest for major style on a minor budget continues. Check out the cutest Target lamps to light up your space.