An ongoing trend that's certainly got longevity, our boho decor ideas will last you well and the best bit is that they can be used in every room of your home, from the living room to the nursery.
So where does this enduring home decor trend come from? It's said that it arose from a counterculture that began in the late 18th century following the French Revolution, a 'bohemian' culture that was started by artists and has since been merged with styles from the late 60s/early 70s - 'hippy' style so to speak.
'There is a limitless appeal to boho design, a sense of being free to embrace many patterns and colors to create an interior that will bring pure joy, perhaps because at its heart, every detail has been chosen because it is loved, and this ensures that bohemian design is very individual,' says Stefan Ormenisan, creative director at MindTheGap.
It translates well into the home with natural materials, warming shades – some rich – and retro patterns and is for those who love being a free spirit. Laid back with plenty of trimmings like fringing, pompoms and tassels, boho style is relaxed with some intricate detailing and most of all, is fun.
1. Embrace all the beautiful textures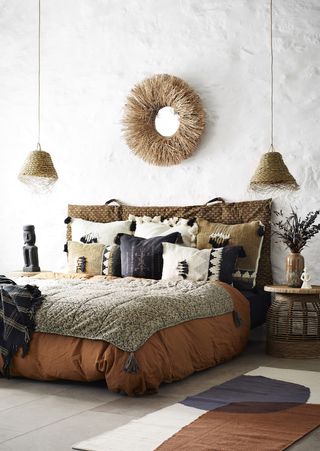 One of our favorite boho decor ideas is to use rattan to its fullest! Pendant lights (complete with wispy bits), a circular mirror and not forgetting these curvy side tables. You could even source picture frames and vases (for dried flowers) that can sit on your nightstands.
Second to that layer, and then layer again in your chic boho bedroom ideas. This look is about textures and mixing them together, and have at least two blankets on your bed – complete with tassels.
2. The old style Bohemian that's back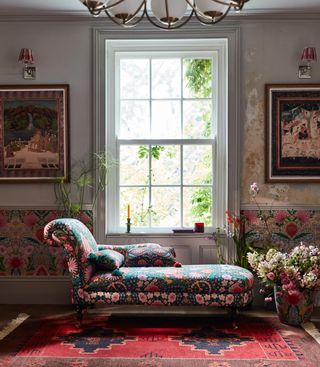 A boho style that's making a comeback is the Bloomsbury look, and it's worth checking out if you prefer a richer color palette that's got more of a painterly feel.
Formed in 1905, by artist Vanessa Bell and her sister Virginia Woolf, the Bloomsbury set was a group of bohemian artists who lived and worked in Bloomsbury, London.
Their style was very decorative and full of color, and walls were hand-painted as was furniture – including doors and cabinetry. If the current boho look is a little bland for you then consider this one, it's full of charm with more extensive wall color combos.
3. Embrace the finer, handcrafted details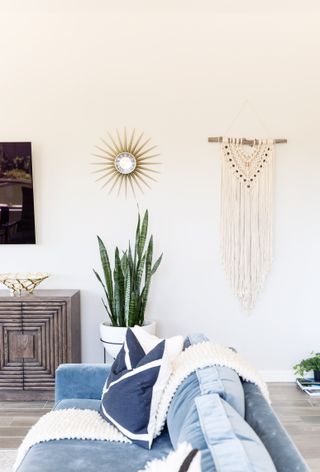 If you love a bit of crafting this boho decor idea is for you! Macramé is one of the main aspects of this charming look so pop to your local craft store and invest in some boho-colored yarn and learn how to macrame your own masterpieces with our easy peasy how-to.
Large or small, macramé wall hangings look great and they can be as simple or as complex as you like. Plant hangers are another option as are tealight holders.
4. Boho decor with a contemporary touch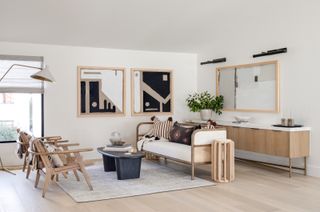 Trends that have longevity like boho style do naturally evolve, and this stunning living room idea by Lindye Galloway shows you how to make it work.
Furniture is sleeker and more refined with a nod to Scandi living room style, but you can still see the core elements – tasseled woven pillows and fringed throws for example. The wall decor idea follows those decorative lines and adds a further aspect, but the overall look is clean and modern.
5. Choose a wallpaper from the boho color palette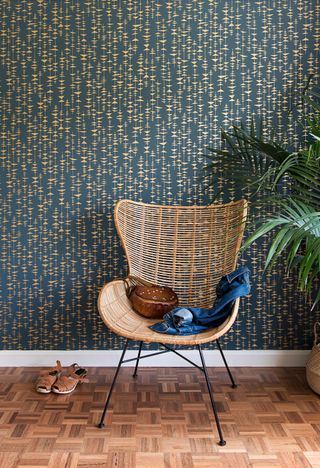 Wallpaper is a good boho home decor idea, make sure you pick a design that suits the color palette like the Ditto Glimmer design from MissPrint. It blends well with the tone of the rattan chair and wood floor, it's these simple details that make schemes work.
6. A boho style rug can transform a space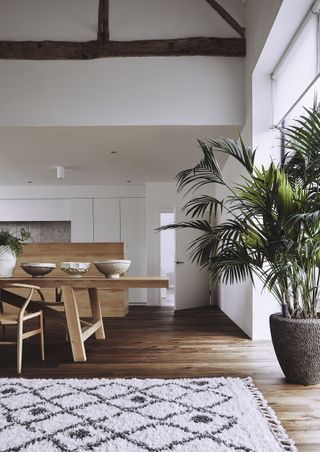 If you want to dip your toes into this trend without breaking the bank, one way to do this is to add key deco home decor like a patterned rug. Choose a design that's got a fluffy pile with fringing that's soft underfoot.
A subtle pattern like the rug above will give you a great starting point. For similar try Carpetright's Amouage cream rug or Wayfair's Nola Geometric area rug in beige.
7. And choose boho shelving for your living room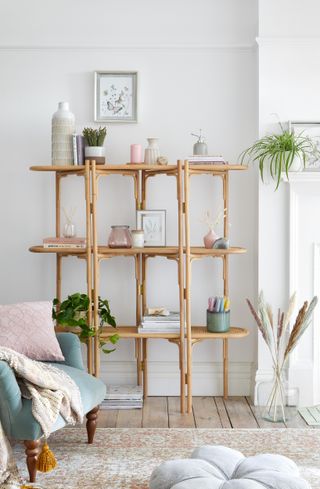 Display all of your boho-style ornaments on a shelving unit like these folding cane shelves from Dunelm. It has three foldable tiers and is made from 100% natural rattan. It's a versatile piece that will work in a bedroom too and looks great with the boho colors.
8. Gather all the textures in one place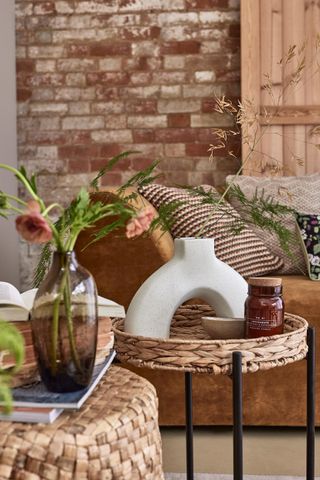 Texture is perhaps one of the most important aspects to consider when you're styling your boho decor ideas.
Think velvet, rattan (of course), but also clear glass, artisan ceramics and woven or embroidered pillows. Natural materials work best, and don't forget wood too.
9. Create a mix and match element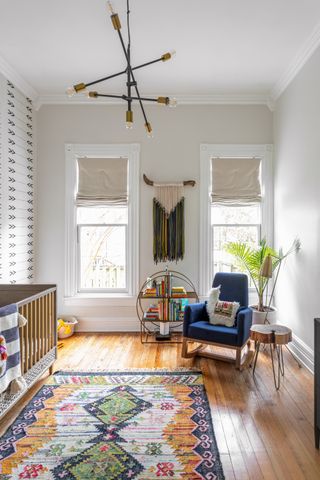 'Boho style is defined by feeling relaxed and not tailored,' says Jessica Davis, founder and principal designer of JL Design.
'The colors should vary and harmonize, there should be mixes of textures and fabrics and everything should exude a somewhat "loose" feeling.'
This also counts in a nursery idea, so apply the same elements in each room even down to the wallpaper choice – a simple yet very effective graphic design that will look great even if you change your color scheme as your baby gets older.
10. Harmonize your color scheme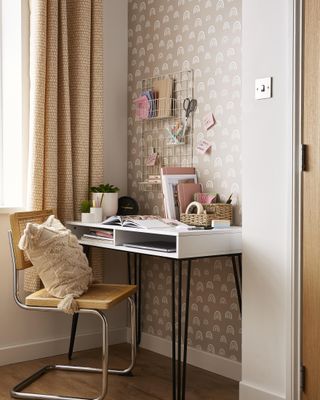 By choosing a harmonious color scheme you'll make life easier for yourself when you want to introduce different prints and patterns. Warming tones of stone, plaster, ochre and tan work together even if they are different prints – like the drapes and wallpaper idea here. It's a very versatile color palette and it looks great with blush pink and black.
11. Artisanal finishing touches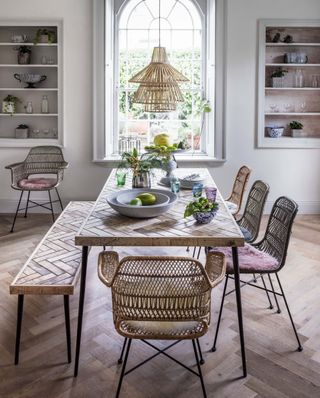 Choosing the right accessories will finish off your boho decor perfectly. Source beautiful artisanal bowls and plates for your table, and consider your furniture choices.
This eye-catching bench and table with its herringbone design creates the perfect boho look, add in some colored glass tumblers and a rattan pendant and you're ready for your guests.
12. Take your boho vibe to your balcony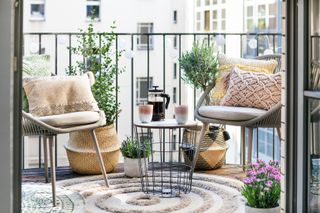 Oodles of texture with ruffly cushions, painted wicker seats, and baskets full of plants are all ideal elements for a boho chic balcony idea – or backyard. And it's definitely worth investing in an indoor/outdoor rug or two and layering them up. Add in a coffee table with a metal frame for a more spacious feel and you're set for the summer.
For a similar try this rattan outdoor set from Wayfair.
What colors are used in boho decor?
'Boho decor encapsulates a neutral and earthy color palette, incorporating natural materials, such as rattan and wicker. The look is brought to life with plenty of calm-inducing tones, chalky white, soft grey, nude and pops of rusty red. The look is complemented with lots of plants to bring the outside in, adding pops of green,' says Nadia McCowan Hill, resident style advisor at Wayfair.
'Boho decor is an exuberant embrace of many rich and colorful shades and patterns, in terms of the color palette think shades of deep plum, reds and oranges, splashes of pink against cooler blues or forest greens, often set against darker grounds such as black, which allows the brightness of the colors to truly shine. It is a palette that harks to the natural world, for example, all the many hues that we see in a field of wildflowers, taking inspiration from the beauty and freedom of nature,' says Stefan Ormenisan, creative director at MindTheGap.
What are the elements of boho decor?
'Think layered and detailed; a bohemian interior very much tells its own unique story, from the prints and patterns on the walls and soft furnishings to trimmed or tasseled lighting, embroidered and printed cushions and hand-knotted rugs, each element celebrates craft, as well as color and pattern. Bohemian design also has a strong connection to nature, and natural materiality such as wood flooring, as well as wooden and rattan furniture, are excellent for providing a harmonious grounding to the many visual elements within the space,' says Stefan.
'The beauty of boho is its free spirit and eclectic look! To recreate the scheme in your home, focus on the key elements, such as natural materials and a cohesive neutral color palette for an airy, calming boho vibe,' adds Nadia.