No room, no problem. Small budget bathroom ideas make a big impact in a tiny space *and* keep costs in check. Whoever said that renos had to be expensive and extensive?
Short of moving appliances, there are very simple ways to upgrade the aesthetics and functionality of a bathroom. In fact, interior designers have a few tricks up their sleeves that just might convince you that you're stepping into another room entirely.
For fun small bathroom ideas that feel completely transformative, without much labor or a hefty price tag, look no further.
9 small budget bathroom ideas
No sledgehammer or construction gear required, folks. (Yes, believe it!)
"It's absolutely possible to upgrade a small bathroom on a budget," says SiobhánAlvarez-Borland, DIY and lifestyle expert. She insists little changes go a long way, and with these nine fabulous ideas below, we'd have to agree.
Siobhan Alvarez-Borland is the founder of She Shines Media, the parent company behind the websites Mimosas & Motherhood (a family and lifestyle blog focusing on pregnancy, postpartum and parenting through the little years); Fun Family Meals (focused on easy, affordable recipes for families); and Budget Baby Budget (focused on empowering families towards financial freedom). Additionally, she is a postpartum doula at Fresh Starts Registry.
1. Paint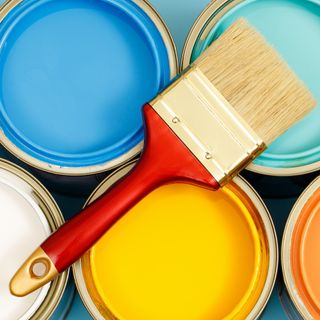 A little color goes a long way, so when you have a blank canvas to coat, why not reach for the brushes?
"A cost-effective way to improve the appearance of your small bathroom is by giving it a fresh coat of paint," says interior designer Jane Barnes. "It's simple and inexpensive, plus you can change it up often, which can be fun."
And if you're looking to play games, there are quite a few colors that make a small bathroom look bigger, while simultaneously stylish, of course. It's a win-win, folks.
"Opt for light and neutral colors to create an illusion of a larger space," Barnes adds. "The ceiling can be painted in a fun color to bring the eye up to create an illusion of a lofty ceiling."
And we'd be remiss not to warn you about the worst colors for a small bathroom, according to the pros. We're not saying those moody shades are bad, per se, but they need to be used strategically. Otherwise, overly dark, bold hues run the risk of making the space feel cramped.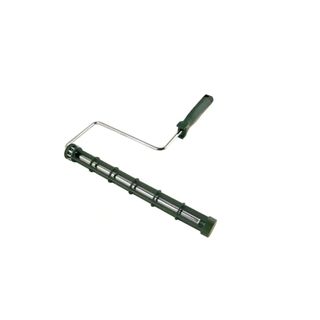 Compatible with extension pole
Sherlock Standard Paint Roller Frame
Price: $15.93
Dimensions (in.): 14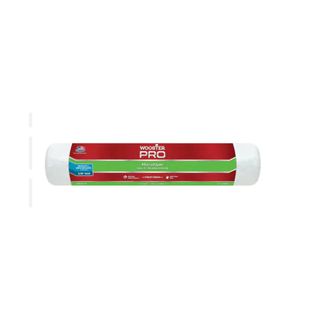 shed-resistant
Pro Microfiber High-Density Fabric Roller Cover
Price: $10.94
Dimensions (in.): 14 x 3/8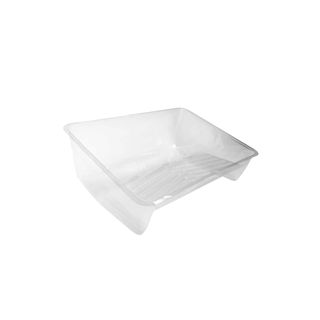 Easy cleaning
Clear Plastic Bucket Tray Liner
Price: $6.57
Dimensions (in.): 14
As an interior designer, Jane has always had a passion for creating beautiful and functional spaces. With over 10 years of experience in the industry, Jane has worked on a wide range of projects from residential homes to commercial spaces. Her keen eye for detail and ability to seamlessly blend different styles and concepts has won awards as well as praise from clients and colleagues alike.
2. Change the fixtures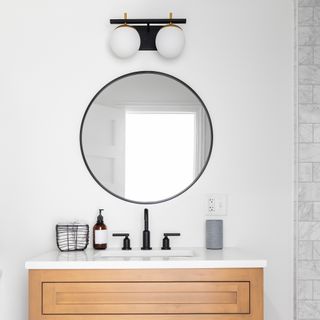 Rental renovations might seem impossible, but there are ways to temporarily alter a space, even if the changes aren't permanent.
"Consider updating the fixtures such as faucets, hand towel rings and towel racks, as these small changes can make a significant difference in enhancing your bathroom's functionality and overall look," Barnes recommends.
Added bonus? You're free to take the fixtures with you from one place to another, so there's no need to part ways with those chic brass cabinet handles when your lease is up.
3. Switch the lighting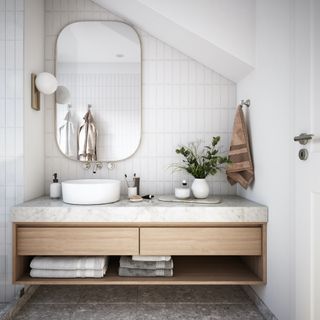 We're all for brightening up a small bathroom, but there's no need for the lightingto be stark and frightening. This is a zen space, after all.
"In the realm of bathrooms, especially the more intimate ones, layering with lighting, both overhead and task, transforms the ambiance, swinging it from mundane to modern chic," says designer Artem Kropovinsky.
Perhaps you can opt for light under the vanity mirror, add a sconce, or switch to LED bulbs to change ambiance.
Artem Kropovinsky is an interior design expert and founder of Arsight, an award-winning interior design studio based in New York.
4. Use peel and stick tiles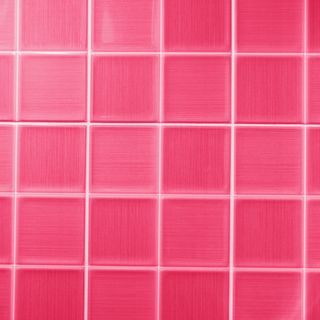 Small bathrooms can be tricky to work with, particularly when landlords aren't keen on giving their renters permission to switch things up. That's where the beauty of peel-and-stick comes into play. You can have an entirely different look that's eye-catching and durable, and all you need to do on move-out day is peel it off and toss!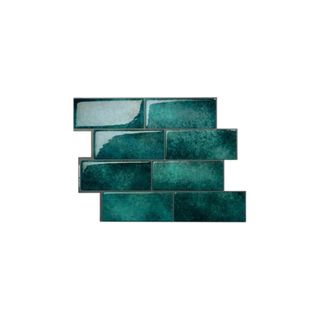 4.7/5 stars
Peel and Stick Gel Backsplash Tile Metro
Price: $32.35/box
Dimensions (in.): L12 x W8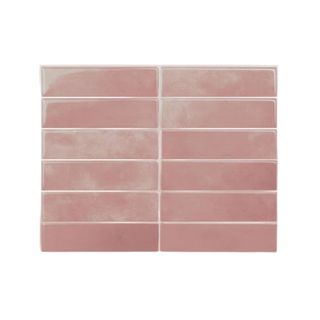 Gel component
Gel Peel and Stick Mosaic Tile
Price: $35.21
Dimensions (in.): L11.43 x W9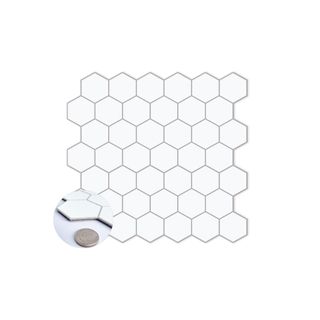 Matte
Hexagon Peel and Stick Tile Backsplash
Price: $59.99/10 sheets
Dimensions (in.): L11.42 x W 11.42
5. Raise your shower curtain rod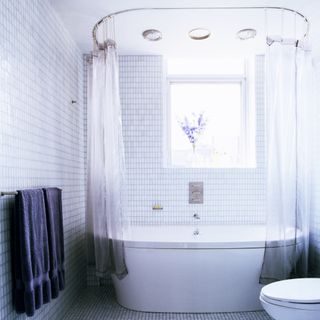 Think of your shower curtains like your bedroom curtains. The name of the game is to look up and trick yourself into thinking there's more room than they're actually is. Home decor can be pretty deceptive, friends.
"I love the idea of lifting a shower curtain pole from its normal height and more towards the ceiling to create the illusion of more space in a bathroom, says Warren Kinloch, bathroom interiors expert at Bathroom Deal. "This is an excellent budget-friendly solution to make a small bathroom appear larger and more spa-like."
Warren Kinloch is the bathroom interiors expert at Bathroom Deal, a retailer that supplies "the highest quality bathroom products at the very best price."
6. Add mirrors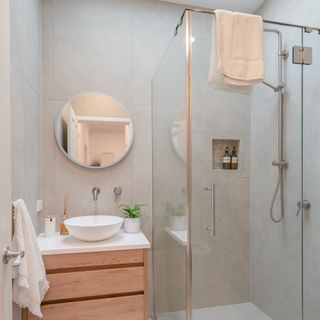 Mirrors are not only necessary, but they provide style, and at times, storage. There's a lot to love about 'em, especially when they reflect natural light. This is another deceptive rule that designers love.
"For accessories, consider a large mirror, light wall paint colors, and bright, natural lighting to make the space feel bigger and brighter," says home improvement specialist Joshua Bartlett.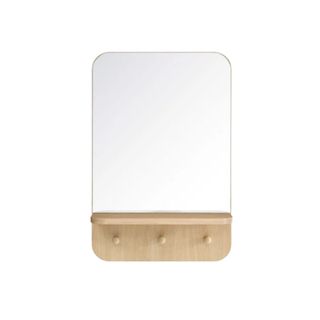 Two finishes
Modway Rectangle Wood Wall Mirror
Price: Was $112, now $59.33
Dimensions (in.): D4.5 x W15.5 x H23.5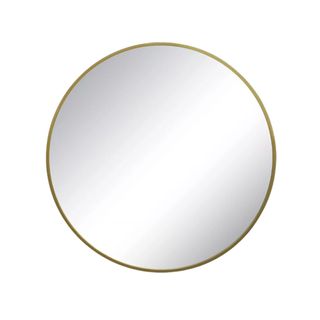 Target Exclusive
Project 62 Round Decorative Wall Mirror
Price: $60
Dimensions (in.): 28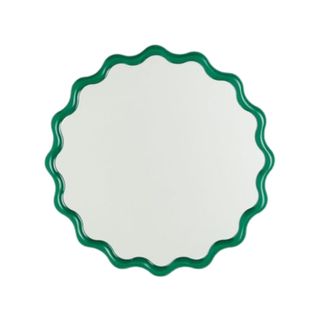 Medium Density Fibreboard
Price: $81.99
Dimensions (in.): D15 3/4
As a homeowner, you want to create a space that is comfortable, functional, and reflects your personal style. I'll Just Fix It Myself is dedicated to helping you achieve just that with expert advice, tips, and tutorials on all things home improvement, DIY projects, and home maintenance.
7. Decorate minimally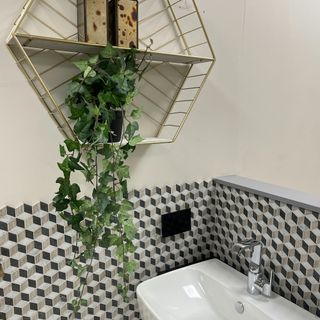 It's tempting to pick up something on a Target run or walk out with a non-essential from Marshall's when you had only gone in for an umbrella. We get it; denying ourselves wall art and accessories can be a challenge, but it's the best way to make a space look polished.
"To enhance the overall appearance of a small space, it's recommended to keep the decor to a minimum," says Alice T. Chan, designer at Freemodel. "For example, you can opt for a solid color shower curtain instead of one with busy graphics to create a more elevated aesthetic."
Over the past two decades, Alice has helped hundreds of clients efficiently transform their homes so they can enjoy living in their homes and not a job site. She created The Renovation Planner™, which is a suite of renovation guides with a simple framework for planning and managing your home renovations. This is the only planner system that guides you through the home improvement process from start to finish and empowers you to achieve the results you want.
8. Clean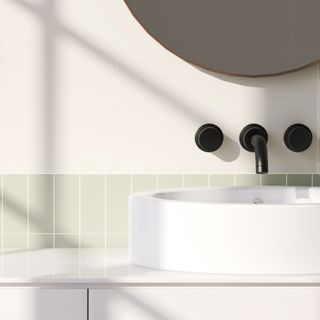 Yes folks, it's a basic item on the to-do, but you can be expected to carry out great style ideas in a messy space. Grab a glass cleaner, suds up the tub, and scrub away the grout--that's half the battle. The perfect quick and easy bathroom cleaning checklist will make things sparkle and shine in no time.

9. Declutter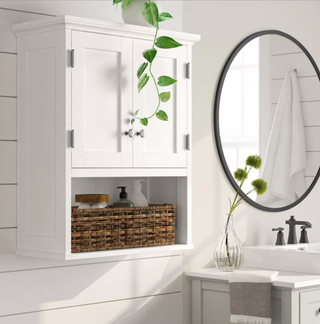 Along with a solid cleaning sched, you're going to want to find out ways to declutter a small bathroom to keep things feeling organized and (somewhat) spacious.
If you want to give your small bathroom a budget makeover without renovating, start by tackling the clutter," Chan adds. "You can install storage organizers in your vanity cabinet and drawers to streamline everything ti make the space visually more appealing."
FAQs
How to design a small bathroom on a budget — what's the secret?
It's all in the details, folks. If you want to design a small bathroom on a budget -- but might not necessarily be able to do much with a demanding landlord -- you can start with tiny details that won't cause much in the way of damage: replace fixtures, try new lighting methods, and use peel-and-stick tiles to transform the aesthetics. In terms of functionality, you're going to want to make sure you have plenty of storage space at the ready, and don't forget to look up.
What color is most flattering in a bathroom?
While you're redoing things in the bathroom, you're going to want to consider adding a new coat of paint to make things look particularly fresh. That way your small budget ideas will really shine. Stick to light, neutral tones because anything too deep will feel overwhelming, unless strategically planned for an accent wall or small corner.
---
Proceed with caution, everyone: there are small bathroom design mistakes that are red-flag worthy, according to the pros. Allow them to explain what to steer clear of during your small-scale reno.