When the first air fryer was released, no one would have been able to predict the hysteria that was coming. Over the past 18 months, the air fryer has become the ultimate kitchen gadget and we're totally in agreement. In fact, people all over the country are buying air fryers to replace their ovens, and to avoid unnecessary costly energy bills. That's not all that an air fryer is good for, however. You probably already know that air fryers are incredible for making healthy, homemade fries. But they can also cook pretty much anything you like, depending on their size.
Whether you're looking to cook cakes, roasted vegetables, entire chickens, or even bacon for your Sunday morning brunch, air fryers can cook food in half the time that your oven would take. Unlike an oven, they are also a breeze to clean as the majority have dishwasher-safe parts. So it makes sense to use them as a standalone cooker or an extra bit of help alongside your oven.
How do they work? Put simply, air fryers circulate hot air to cook and crisp your food, similar to a convection oven. The fat from your food drips into the basket, as your food usually will sit on a tray or grill plate, making things less greasy (and smelly). So, you can finally get rid of that deep fat fryer that stinks out your house, hair, and clothes after every use.
As a nation, we've gone bananas for this oven-in-a-box. So if you do see something that takes your fancy, scoop it up before it sells out. Supply issues and difficult global affairs have meant some models are hard to get hold of, so don't say we didn't tell you so! Our job is to lay out everything in a nutshell so your decision will be a piece of cake to make.
If you need any more convincing, take a look at all of the air fryers our experts have tried below and read our rave reviews. Over time, we'll add to this list and spill the beans on superior models with souped-up features.
6 money-saving Cyber Monday and Black Friday air fryer deals
Why you can trust Real Homes Our expert reviewers spend hours testing and comparing products and services so you can choose the best for you. Find out more about how we test.
If you have been waiting for Black Friday to buy an air fryer (smart idea, btw), we've listed all of our best-rated air fryers that are on sale, just below. These air fryers are listed by price, from low to high.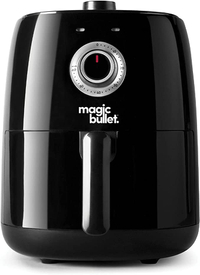 (opens in new tab)
1. NutriBullet Magic Bullet Air Fryer 2.5-qt capacity | was $62 now $34.99 (save $27.01) at Amazon (opens in new tab)
The same brand that makes the small-but-might blender has come with its own air fryer. This BPA-free model has a 60-minute timer and temperature range of 180° to 400°F for maximum flavor using minimal space on your worktop.

Real Homes rating: 3.5/5 stars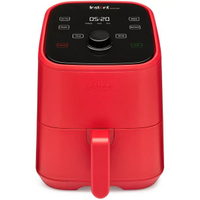 (opens in new tab)
(opens in new tab)
3. Dreo 4 Quart Air Fryer | was $89.99 now $59.99 (save $30) at Walmart) (opens in new tab)
It's chic and sleek — so why isn't it in your Amazon basket already? This is eCommerce Editor Louise's favorite air fryer, and we can totally see why in her Dreo Air Fryer review (opens in new tab). With nine presets, including a yogurt-making function, it will serve you from breakfast, all the way to dinner time.

Real Homes rating: 4.5/5 stars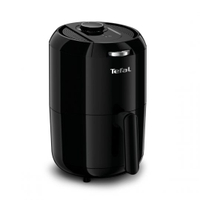 (opens in new tab)
4. T-Fal - Easy Fry Compact Duo Precision 1.6L Air Fryer (Refurbished)| Was $95.86, now $64.35 (save $31.51) at Wayfair (opens in new tab)
This diddy digital air fryer is ideal for single-person households. And, by buying a refurbished machine you're making a great eco-friendly decision. It cooks around 14oz/0.4kg of food and has six presets for popular foods including chips, cakes, and fish. It's compact and costs just 19c per hour to run! When we reviewed the T-fal Easy Fry Compact Digital Health Air Fryer (opens in new tab), we found it suited smaller families, couples, or those in the market for an easy-to-use entry-level gadget. Maybe one for the grandparents this Christmas?
Real Homes rating: 3.5/5 stars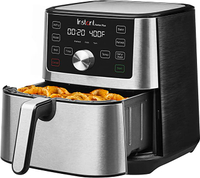 (opens in new tab)
5. Instant Vortex Plus 6-in-1, 6QT Air Fryer Oven | Was $159.99 now $97.95 (save $62.04) at Amazon (opens in new tab)
If you only make one purchase this Black Friday — make it this awesome air fryer. We adore this 6-quart Instant Vortex Plus air fryer (opens in new tab), and we're confident you'll make good use of this appliance. Makes everything from wings, roasted veggies, garlicky potatoes, cookies, cinnamon buns, and more!
Real Homes rating: 5/5 stars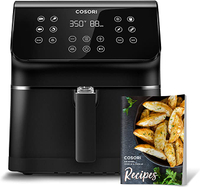 (opens in new tab)
6. Cosori CP358-AF Pro Air Fryer | Was $129.99 now $99.98 (save $30.01) at Amazon (opens in new tab)
PSA: This Amazon customer's favorite air fryer is on sale this Black Friday. So stop what you're doing right now and add it to your basket. This best-seller has a whopping 12 preset functions, a personalized shake reminder, and 100 chef-created recipes — *chef's kiss*
And, if you're a bit skeptical about ratings online, know that we've personally reviewed this Cosori air fryer (opens in new tab), and can say it doesn't blow hot smoke when it comes to functionality.

Real Homes rating: 5/5 stars
Otherwise, here's where else you can shop Black Friday air fryer deals:
The best air fryers as rated by our experts
The Instant Pot Vortex Plus 6-Quart 6-in-1 Air Fryer wowed us in testing with its generous capacity and multiple cooking modes. We're a big fan of air fryers that have a slatted insert. This one allows you to air fry and remove the insert to use the flat base of the drawer to reheat leftovers and bake anything from roasts to apple crumbles.
In review
We found that it cooked frozen chicken breast fillets in just 12 minutes, which is just over half the time it takes in an oven to ensure there's no pink meat and that the juices run clear. It also made delicious and evenly-cooked homemade fries in just 25 minutes. This is due to the alert that reminds you to shake up your food as it's part-way through cooking, ensuring that your spuds get an even browning. Also, it remembers your most recent settings and timings, so if you cook a lot of the same air fryer recipes (opens in new tab), it will save you from adjusting the timings and temperatures each time.
Energy efficiency
At 1,700 watts, this air fryer should cost approximately 25 cents to run for one hour. This is plenty of time to cook pretty much anything other than a large joint. Considering its capacity, this is pretty impressive. According to the brand, this model saves up to 80 percent energy when compared to using a 2400-watt electric oven.
Good to know
The drawer is not dishwasher-safe, but the insert is. Because it's non-stick, you can easily clean it by hand each time. This air fryer is one of the larger options in our guide (if you want something smaller, we also think the Instant Vortex Mini air fryer is a top choice) but for families and those who can spare the counter space, we think this is the best air fryer you can buy.
We adore this multi-cooker (that's also an air fryer) for its versatility. It can also bake, slow cook, pressure cook, and even dehydrate. It's one of the most affordable models in this guide to run, especially when you consider its hefty six-liter capacity. However, if you are just looking for an air fryer, then this might be too pricey for you.
In review
It comes with a basket and crisper lid to create delicious fries, fish, and veggies. It has a large footprint (the one we reviewed was the Max, which is seriously major in size), but if you can find room for it, this air fryer is ready to usurp your slow cooker and pressure cooker. It has a lid for air frying and a separate lid for other options like pressure cooking, so space might be a concern if you're short on it already.
Energy-efficiency
Bearing in mind that this is an eight-in-one appliance, it costs a mere 22 cents to run for one hour, on all modes. Just in case you were wondering "are air fryers worth it?" — the question is almost rhetorical!
Good to know
The air fry basket is large and circular. It could fit a whole chicken in theory, but the shape isn't quite right for larger, more awkwardly-shaped cuts of meat. If you did want to cook joints, your best bet is to get your butcher to secure it tightly with some twine. The controls are incredibly intuitive, and the actual air frying quality is top-notch, so you won't miss out if you opt for this multi-functional machine.
We love, love, LOVE this air fryer from Ninja. There are none of those ambiguous cooking modes. The Ninja Foodi Dual Zone Air Fryer allows you to take control of the temperature and timings with simple controls. You can sync the drawers so they finish at the same time, meaning if you take out one drawer to have a look, the other will pause too.
In review
This air fryer can also be used for cooking two foods simultaneously, making it an idyllic machine for catering to different dietary requirements. The capacity is large because it's spread across a wider space, so it cooks quickly and evenly. We've tested every air fryer in this guide hands-on, but this is the one to beat.
There are six ways to cook — Max Crisp, Roast, Bake, Reheat, Dehydrate, and Air Fry — which gives you the ultimate cooking experience. It's super quick, so you may have to adjust the cooking instructions that come with your food.
Energy efficiency
Bearing in mind how large (and family-friendly) this air fryer is, it's still affordable to run. It works out to approximately 36 cents per hour to run. With tons of capabilities, it can pretty much replace your oven, as well as your dehydrator (should you have one).
Good to know
Most air fryers have a basket that lifts out of the drawer, but you simply pull out the slatted inserts in this air fryer. This means you can use the drawers without the basket, so even "wet" dishes like pasta bakes and apple crumbles are perfectly possible (and yes, we tried both in this air fryer when testing!). So while you're enjoying your main course, you can have your dessert cooking.
The Cosori CP358-AF Pro Air Fryer is the latest release from Cosori. It has many of the same presets that we enjoyed from the original, but the digital control panel is elevated, which makes it great for ergonomic use and easy access.
In review
The controls were easy to use in testing, and we enjoyed how adjustable the shake reminder and presets were. The toast setting is a new addition, and it comes in handy for morning muffins and croissants. Another thing we enjoyed in testing was the basket. Its square shape means it is expertly crafted to fit cuts of meat and generous portions — including an entire chicken.
Cooking time was faster than in a conventional oven. So much so that our food was ready as early as 10 minutes ahead of schedule. Fries only took a drizzle of oil to cook, and they came out evenly cooked thanks to the wide basket distribution.
Energy efficiency
Costing just 25 cents per hour to run, this brilliant Amazon air fryer is affordable in price and it's cheap to run. Especially considering the fact it cooks food fast, so you will rarely end up using it for one hour in total at a time.
Good to know
This air fryer is a little larger than the earlier Cosori models. The Cosori CP358-AF Pro Air Fryer struggled to fit under our tester's kitchen cabinets, so if are short on kitchen space, it's not the one for you.
Mini by name and miniature by nature, this small air fryer left a big impact when we tested it. Not only was it small enough to sit neatly on our cluttered countertops, but it also produced some of the most crispy and evenly-cooked fries, chicken, and other snacks that we've tried. We think this is down to the EvenCrisp technology, which creates that perfect texture using 95 percent less oil than a deep fat fryer.
In review
We found this air fryer to be the best bet for smaller households. It was particularly handy for cooking frozen foods for kids. The design is smart, with a tactile touchscreen display that's easy to use especially if you're in a rush. This allows you to adjust timings and temperatures using a dial, as well as choose between reheat, roast, bake, and air fry modes. Despite being only two liters, the capacity was capable of cooking fries and a quarter chicken (enough for two). It also managed to do this very evenly, despite looking a little cramped. There's even a reminder to shake your food halfway through cooking. Our food cooked fast and came out very crispy.
Energy-efficiency
With a small capacity, this is naturally one of the cheapest air fryers on our list to run. It'll cost you around 19 cents an hour, though you'll rarely use it for more than that time anyway. It doesn't have space for large pieces of meat and it only has one basket.
Good to know
It's advisable to clean the air fryer after each use, or it will start to smoke. Cleaning this model is easy though because you can pull out the insert and place it in the dishwasher. Because it's so small, the tray also fits easily into both slimline and regular-sized dishwashers. It also comes in a range of colors to suit your home decor, including teal and red, which are great for adding an accent to a white kitchen. Aside from cooking meals from scratch, this machine does a great job of warming leftovers for lunch while maintaining taste and texture... because soggy and watery reheats just aren't it!
If you're looking for a more versatile appliance — perhaps if you have a small kitchen or simply like to maximize efficiency — the Cuisinart TOA-60 Air Fryer Toaster Oven is our top choice.
In review
Our reviewer found that the Cuisinart TOA-60 had a generous capacity, perfect for cooking for her family of five. Her kids were able to eat chicken nuggets that had been air fried for just seven minutes, and they found that pizza cooked in half the time, with crispy crusts after 10 minutes. While it was on the large side, we found that it's easy on the eyes and something worth displaying in your kitchen. The instructions were easy to use, and the air fryer even came with some recipes to get you started.
Energy-efficiency
Costing 27 cents to an hour, this is one of the most expensive air fryers to run that we've reviewed.
Good to know
Cleaning is surprisingly easy, but be aware that the bottom tray needs to be in place at all times to catch fat and crumbs. There was a slight plastic smell upon first use, but it disappeared after a couple of cooking sessions. We also found that the speedy cooking was facilitated by an elevated temperature, so this will take some adjusting. Consider turning the temperature down by about 10 degrees if you plan on cooking a familiar recipe.
Boasting an extra-large capacity, we think that this air fryer is perfect for those who want the most value for their money. The smart modes offer custom cooking times and temperatures depending on what you're cooking, which can be a big help for amateur chefs or those who want a reminder to shake halfway through.
In review
After testing what feels like a mountain of air fryers, the Cosori was one of the best when it came to actual quality results. Fries? Done in 15 minutes. Frozen food? Always crispy. The 5.8-quart capacity makes this air fryer suitable for families of up to six people, and it can fit a whole chicken, resulting in delicious crispy skin.
Energy-efficiency
Similar in size and price per usage to our first pick from Instant, if you want a no-frills air fryer that's affordable to run then this should be it. At only 25 cents an hour to run, there's no point in even turning your oven on to preheat.
Good to know
The fryer comes with a recipe book that's crammed with 100 ideas and plenty more inspiration. These really utilize the 14 cooking modes, which could feel overwhelming if they came without instruction.
If it's a smart air fryer you want, we suggest taking a look at the Proscenic T21 Smart Air Fryer. It has a range of preset modes, for fish, veggies, and even french fries, and you can control it remotely using a smart speaker or app.
In review
You can use an app to set specific timers and modes for any dish you choose, and follow the recipes in real time. The app is included with the air fryer, which is a great bonus for those who are new to air frying and want to test out some new recipes. Remote controls are convenient. You'll be notified when it's pre-heated, or when the Proscenic T21 Smart Air Fryer is finished cooking. You can even switch on the keep warm setting if you want to finish your TV show or if your side dishes are not done cooking. The air frying itself went very well. Fries were cooked through in 15 minutes and breaded fish came out crispy.
Energy efficiency
Similar to the other 5.8-quart air fryers we've featured, this one is also relatively low cost at just 25 cents per hour to run. This is a total steal considering the fact it's a smart air fryer, too.
Good to know
We weren't too pleased with the control panel, which proved fiddly and hard to get used to when compared to the Cosori or Ninja. The handle was also a little less secure, meaning the basket wobbled when we lifted it out.
Small and relatively cheap, the Magic Bullet Air Fryer is a good choice for those on a smaller budget. It would also work well for people who prefer simple manual controls to a digital display.
In review
This air fryer is controlled with two dials: one for time and another for temperature. The temperature dial turns green when it's up to the desired heat, and the timer simply counts down much like a regular cooking timer, ringing when your food is done. When testing we found that the drawer tends to stick at first, but this does loosen up over time. The whole unit is very lightweight, which makes it feel a little less sturdy but will ultimately result in a more portable machine — good for those without much counter space.
Energy-efficiency
For a smaller machine, this does cost more to run. It ends up being the same price that the five-quart air fryers on this list cost to run. That being said, it's still pretty cheap.
Good to know
Speaking of space, the Magic Bullet Air Fryer is well-sized for one to two users max. We had to fold our bacon slices back on themselves because the drawer is on the small side, so if you've hopes of cooking larger cuts of meat, look elsewhere.
The Dreo air fryer is the best you can get to help you cut down on costs, plus it looks smart and performs well. It cooks breakfast, lunch, and dinner in a way that's quicker and cheaper than your oven. In fact, it can almost replace it — unless you're cooking for more than two.
In review
Carrying this lightweight air fryer up a flight of stairs is a breeze, so if you live in a city apartment you won't need to break a sweat before you begin cooking. Though it does come with some plastic packaging, a cookbook containing 50 recipes is a nice treat for when you're feeling uninspired. Assembly is easy and given its compact size, the basket is deep. Cleaning the Dreo air fryer is simple as the removable drawer and insert are both dishwasher friendly. Handwashing these parts is equally easy if you'd rather rinse them with dish soap and a sponge.
Energy-efficiency
This machine takes the title of joint-second for energy efficiency, costing just 22 cents per hour to use.
Good to know
Out of all the air fryers we've tested, this seems to be one of the most versatile models on the market. Our reviewer was able to make three square meals, plus snacks, and sides in it without batting an eyelid!
---
What is the #1 air fryer?
Our favorite option, the Instant Vortex Plus Air Fryer (opens in new tab), has a total of six cooking modes and a drawer insert that can be removed to cook things with sauces and even make brownies. It's a do-it-all machine with a rather reasonable price tag, and it costs just 25 cents to run for one hour.
Real Homes review process
All of the air fryers in this guide have been tested hands-on for over a month by a member of the Real Homes team. When testing, there are a few recipes we always follow so that we're able to compare cooking results directly. You can read about our air fryer testing process, otherwise, one food that we always cook is homemade fries, obviously. Some of the speediest air fryers have been able to crisp these up in just 12 minutes, while others have taken as long as 20. Even then, this is much quicker than cooking fries in an oven. Other recipes will depend on the type of product and what it claims to do well. Some air fryers come with their own recipes, so we like to try these out alongside our own dishes to see if they are a good introduction to the product.
With all of the above air fryers, you can click through to read full reviews with images of our hands-on experience. For a deeper insight into how we test products at Real Homes, read our Real Homes reviews guide.
Meet our air fryer testers below:
Christina is Real Homes' ecommerce editor and has recently taken on the (big) responsibility of testing out the best air fryers on the market. Prior to this, she's had her finger in a lot of pies, writing articles on cleaning and pest control.
Her favorite air fryer has yet to be decided, but she looks forward to visiting our company test kitchen to find out. Here she'll be able to test around 10 air fryers side by side to truly examine the performance of each kitchen appliance and compare apples to apples... or in her case, fries to fries.
Though Millie Fender has passed the foodie baton, she'll be on-site to show Christina the ropes, keep her cool as a cucumber, and make sure she has fun in the process.
As a single person who often finds themselves cooking meals for one, the Dreo air fryer (opens in new tab) has become somewhat of an appliance Louise (opens in new tab) can no longer do without. Perfect for cooking just about anything in the oven (and more), she uses it for just about every meal. Think: air frying a pain au chocolat, crisping grilled sandwiches, and cooking chips, veggies, and meat. She now rarely turns the oven on, which has also helped with her energy bills.
Millie is Real Homes' head of reviews and was previously our small appliances and cookware editor. She's still our air fryer expert who has had hands-on experience with dozens of air fryers. She's reviewed all but a couple of the air fryers in our guide, so her verdict is the best you can find.
Her favorite air fryer has to be the Instant Pot Vortex Plus 6-Quart 6-in-1 Air Fryer, which is our number one pick! It's got a generous capacity and sturdy build, and it made some delicious fries while in review.
In her own small kitchen though, Millie prefers to use the Instant Vortex Mini Air Fryer. It's an excellent option for her two-person household, and she loves the color options.
Lindsey is the editor in chief of homes ecommerce at Real Homes, and she's also a keen foodie working with a smaller kitchen. Lindsey tested the Ninja Foodi Multi-Cooker, which she still uses on a regular basis after awarding it a rare Gold rating.
Ann reviewed the Cosori CP358-AF Pro Air Fryer (opens in new tab) for us and she gave it a stellar five out of five stars. She tested it in her family kitchen for a total of three weeks to make hot dogs, fries, grilled chicken, steak, and even grilled peaches for a quick and healthy dessert. Ann and her husband, along with their little one, have a single-family home with a generous kitchen but ended up storing the Cosori Pro in their upper cabinetry to spare the counter space.
Courtney reviewed the Cuisinart Air Fryer Toaster Oven (opens in new tab) for us in her family home, and she enjoyed its convenience so much that she gave it five stars. It's an air fryer, toaster, and toaster oven all in one, so it manages to save lots of countertop space. She found that it cooked food evenly, it was surprisingly simple to clean, and when it came to storing, she kept it on display for ease of use. It's quite bulky, though, and would be hard to store in a cabinet, she noted.
7 things to consider when buying an air fryer
1. Capacity
To start with, how many mouths do you have to feed? Compare the quarts with how many people are in your household. This will also depend on what you are planning on using it for. If you only want an air fryer for fries, then you can go small(er), but if it's a whole chicken that you want to squeeze in there, the bigger the better.
2. Size
With a bigger capacity unfortunately comes a larger size air fryer. Depending on where you'll want to place your air fryer, you might want to get out your tape measure as some models can be quite large. If you're planning on keeping your air fryer on your countertop, think of where it will go (preferably in a corner!) as you need to allow some room behind your air fryer for air to escape. Otherwise, a lot of the models above can easily be squeezed inside a cabinet after use.
3. Versatility
What else can your air fryer do? Some models are great little multi-taskers and have the ability to reheat, roast, or grill as well as fry, so if you're in the market for a versatile small appliance, these are a good bet.
4. How easy is it to clean?
If you have a dishwasher, then be sure to check that your new air fryer is safe to be cleaned in there. This makes washing your air fryer a whole lot easier, though they are pretty simple to clean regardless. See our guide on how to clean an air fryer the right way for more tips and tricks.
5. How much does it cost to run?
We've searched the price per usage (based on one hour) and popped those stats alongside each air fryer we've reviewed, so if your bills are at the forefront of this purchase, you can choose wisely.
6. Does it have a cooking rack?
Finally, if you're short on time but your ingredients list is long, look for an air fryer with a cooking rack included, which offers an extra compartment for cooking two different foods at the same time, or one with a mixing paddle, so you don't have to hover over it.
7. Can it separate foods?
Vegan, veggie, or celiac? Whether you've chosen to adopt a certain way of eating, or you've had strict dietary requirements since birth, sometimes it's important to separate mains and sides from what others are eating. Aside from the aforementioned cooking racks, we've checked whether any of these air fryers have drawers so there's no risk of cross-contamination.
Is eating air fried food healthy?
"Air frying allows for healthier cooking methods that don't require extra fat or oil to cook food properly — keeping them both dry on the outside while maintaining moisture within each bite thanks to its circulating hot air system," says Sarah Farquharson, senior marketing manager at Instant Brands (opens in new tab). "Healthy meals have never been so easy."
How much oil should you use in an air fryer?
Hannah Niu, marketing manager at Xiaomi (opens in new tab) explains that "the oil inside the food is thoroughly fried through the 360° heated air circulation, providing delicious food with less grease and fat." Niu also adds that the technology within an air fryer results in food that's cooked through and crispy on the outside.
The exception in our experience of testing is that if you're going to make homemade chips, a little oil goes a long way in ensuring your chipped spuds have a golden and crispy exterior.