COSORI Air Fryer: Quick Menu
The COSORI Air Fryer is an Amazon bestseller, with thousands of positive reviews across the brand's line of fryers. So, naturally, I thought It would be smart to put one to the test. Since we wrote this review (in early 2022), COSORI has expanded its portfolio. So for clarification, we're talking about the CP358-AF or the Pro II air fryer.
With similar features to other air fryers we've reviewed, this model has a handy removable drawer for cooking. This removable cooking area allows fat to drain away from your food, and it makes it easy to clean your air fryer in your dishwasher, too.
I waved goodbye to cleaning my oven and having to wait for ages for it to preheat, as this budget-friendly buy took me by surprise. Not to mention that it's affordable to run, too. When it comes to price per use, it works out at around 57p/25c an hour. If you're looking for something to cook your basics, from chips to nuggets, fresh foods, and frozen buys, then this could be it.
Just note that this air fryer has different names in the UK and the US. It's known as the COSORI Air Fryer Max XL in the US, and in the UK it's the COSORI Air Fryer XXL.
TLDR
Having reviewed countless air fryers, I can honestly say that this COSORI model is among the best I've ever used. It's a great all-around model that's perfect for anyone, no matter your living situation or house (or apartment) size. Although it requires a little countertop space, it's certainly worth it. Really, it can replace your microwave and toaster if you're tight on space.
Otherwise, it's lightweight enough to take in and out of a cupboard after and before each use, plus it's super easy to use with a generous 11 pre-set programs. Plus a keep warm function for when your timings are slightly off!
I love that it comes in two colorways to blend with your kitchen decor, while it's also dishwasher-safe after use. A lot of air fryers these days can also slow cook, pressure cook, roast... and much more to help keep your cabinets clutter-free. While that is great, some of us just want an air fryer with no other confusing functions to work around. If that's you, then this should be your number one pick.
Testing the COSORI air fryer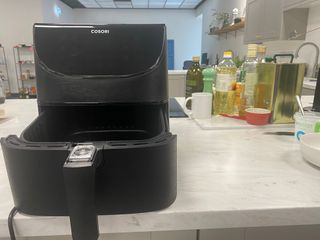 Reviewed By
Reviewed By
Millie Fender is our former head of reviews at Real Homes. Her previous role saw her specialize in small appliances and all things cooking, and she loves putting new products to the test, whether they're air fryers, blenders, or even pizza ovens, and her family and friends love eating the results. Millie has a constant stream of new products waiting to be reviewed in her kitchen. It's a little snug, so if she thinks anything deserves to stay there, you know it's something special.
She was sent this product to test in our impressive review lab in order to compare it with other air fryers. You can find out more about our air fryer testing process if you're interested.
We are not given any compensation for our reviews, but we may be gifted the product meaning that we can test it over a greater length of time and update our reviews if required. Millie used this air fryer to cook chicken wings, Buffalo cauliflower bites, and potato chip nachos.
COSORI air fryer specifications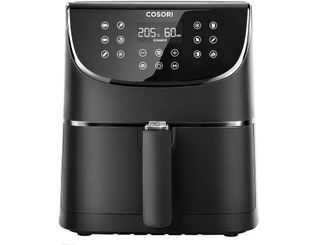 • Weight: 5.4kg/14.4lbs
• Power: 1,700w
• Dimensions: H32cm x W30cm x D30cm
• Cooking functions: 11 - steak, poultry, seafood, shrimp, bacon, frozen foods, french fries, vegetables, root vegetables, bread, desserts
• Additional functions: Preheat, keep warm
• Capacity: 5.5 litres/5.8 quarts
• RRP: $119.99
• Colors: Black, white, red
• Cleaning: Dishwasher-safe drawer and basket
• Price per use (1 hour): 57 pence /25 cents
Unboxing the COSORI air fryer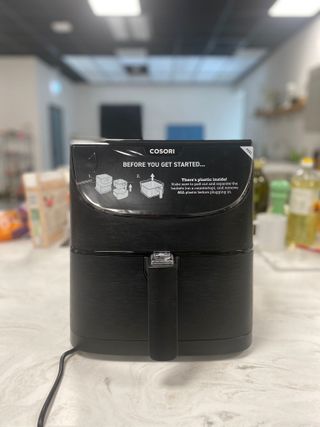 The COSORI Air Fryer arrives in a large box and comes fully assembled and ready to plug in and go. It's got a basket that sits inside a drawer on the lower portion of the fryer. You can slide forward a plastic panel to press a button and remove the basket from the drawer, which removes the basket full of your air-fried food on the attached handle. The design is reminiscent of the Proscenic T21 Smart Air Fryer, but it feels less flimsy and the basket doesn't hang off the handle quite so much.
The exterior of the COSORI Air Fryer is stylish and textured plastic, and it's available in black, white, and red. My air fryer arrived with a sticker on top that warns you not to touch the exterior of the air fryer when it's cooking because it gets hot to touch. I didn't have any issues with this when testing though and found the Cosori Air Fryer safe to use in the corner of my kitchen.
Underneath the body of the air fryer, you'll find two grooves to place your hands on, which makes it easy to carry. It's also very lightweight given how large it is, meaning it's a good option if you want to store it away from the kitchen and take it out when you need to use it.
Using the COSORI air fryer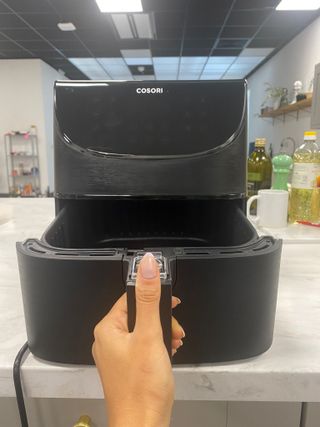 Many air fryers come with preset modes for different types of food, which is something I'm a little wary of because no two dishes are quite the same. However, the COSORI Air Fryer does come with 100 recipes that work with these 14 settings, which include seafood, bread, bacon, root vegetables, and french fries.
The controls on the COSORI Air Fryer are easy to use. It's digital and you can select from a setting and other buttons by simply pressing the touch panel. You can turn on the air fryer using the central power button. Then, it's just a case of selecting your preferred setting and adjusting the temperature and time if needed.
Every time you touch a button the COSORI Air Fryer beeps, but the panel is responsive and it's easy to start, pause, and pre-heat. The controls are responsive and show the remaining time when you start the cooking process.
When you pull out the drawer mid-cook the air fryer automatically pauses and will resume as soon as the drawer is back in place.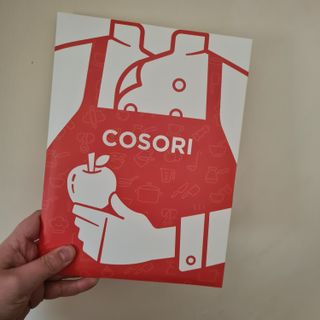 The handbook has a page on how to use the presets, which includes adjustments of time and temperature required for different food items. This lets you know which setting to use with meatballs, chicken wings, corn, frozen chicken nuggets and more.
I enjoyed using these recipes to familiarise myself with the air fryer, testing the Mongolian chicken wings and roasted cauliflower recipes, as well as the potato wedges recipe.
How good is the COSORI at air frying?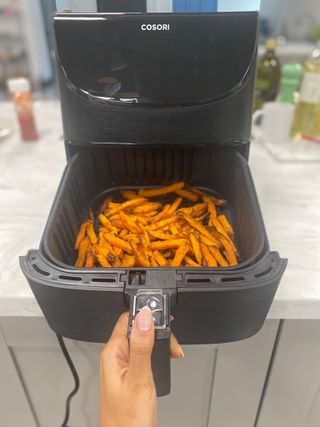 The COSORI Air Fryer is excellent at air frying. It made delicious crispy wedges from scratch and cooked frozen french fries until they were perfectly crisp. The COSORI has a "shake" setting on certain presets, which sounds a loud beep five times to remind you to shake your food in the tray. This is useful, especially for making evenly cooked french fries, but if you don't shake immediately the same sound will go off a minute later, which could be a little annoying. Everything I made was absolutely delicious — crisp and evenly cooked through.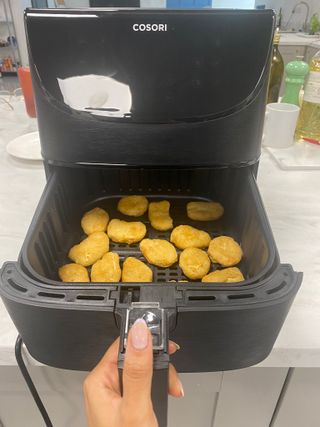 I have no doubts about the COSORI Air Fryer's ability to air fry evenly and the preset cooking modes make sense with the general classifications of different foods. Steak's default setting is 205°C for 6 minutes and the vegetable setting is 150°C for 10 minutes, including a midway "shake" reminder.
Cleaning and maintaining the COSORI air fryer
Cleaning the COSORI Air Fryer is straightforward — a big plus in the air fryer vs deep fryer debate. The exterior wipes clean and the basket and drawer can both be washed in the dishwasher.
Both items are quite large so I did find them a bit hard to fit into my dishwasher, but it was easy enough to wash them by hand thanks to the non-stick exterior of the fryer basket and the drawer interior.
Should you buy the COSORI air fryer?
If you're looking for a large and easy-to-use air fryer, the COSORI Air Fryer is the one for you. It's perfect for families thanks to its generous capacity, and the 100 recipes are easy to follow and great for those who want a source of inspiration for midweek meals.
Some of the other air fryers I've tried have a variety of modes for different types of cooking such as grilling and roasting, but the COSORI Air Fryer Max XL sticks to simply air frying. It does this very well though, cooking frozen food, meat, and veggies perfectly and reminding you to shake with the required modes.
Here are some more air fryer suggestions from us if you're not yet convinced: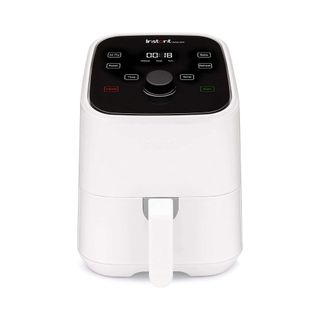 Instant Vortex Mini Air Fryer
If you're looking for something smaller
This brilliantly small air fryer comes in four colors, and it's nice and small so it won't take up much space in your kitchen. You can even place it in a cupboard. With a 2-liter capacity, it's perfect for making side dishes — or just for making air fryer chips.
Read our Instant Vortex Mini review.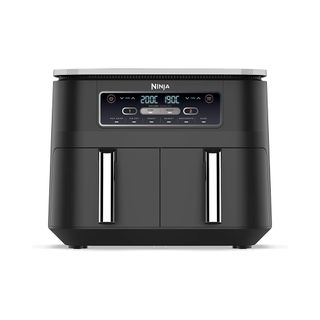 Ninja Foodi Dual Zone Air Fryer
If you want something bigger
Perhaps one of the most popular air fryers around right now, this dual-basket model is great for cooking different foods at the same time at different temperatures and without food touching. It has a combined capacity of 7.6 liters across the two baskets. One side for your chips, the other for your sausages.
Read our Ninja Foodi DualZone review.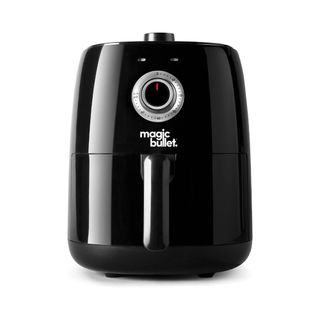 If you want something a little cheaper
The Magic Bullet Air Fryer is a brilliant size and a brilliant price. It retails at around $59.99, but you can often find it on sale for cheaper. It's super easy to use if you want something faff-free, just put your food inside, close the basket, and spin the dial for time and set the temperature. It'll beep once done!
Read our Magic Bullet air fryer review.