You may have seen the Ninja Foodi Max 9-in-1 Multi Cooker advertised on TV, or even being put through its paces by fans on TikTok. If so, it's possible you wonder what it is exactly, and why you would want one. Well, before I wax lyrical about how much I love this kitchen helper, let's explain what it does.
For those who aren't familiar with multi cookers, they are what you would expect from the name – a kitchen appliance that offers a variety of cooking functions. The Ninja Foodi Max 9-in-1 Multi Cooker was the largest model in the Ninja Food multi cooker family until they unveiled a new version with a smart lid (more on this below). This model has more cooking capabilities than the other Ninja Foodi multi cookers, and more than most of its competitors. From slow cook, to air crisp, roast and pressure cook, it means you can cook a variety of foods in it and hopefully clear a few single-use appliances from your kitchen countertops.
I tested it out to see just how good it was at the various functions and whether it would serve as a replacement for my other appliances. Before we start, I should explain that I do a lot of batch cooking, but was generally using it to cook for two of us. Also, as a vegetarian, I didn't get to put it to the test on any meat – no roasting that six-pound chicken the product description boasts about. Read on to find out how this handy kitchen assistant saved me time and effort, and whether it could be an upgrade if you were considering buying the best air fryer.
Testing the Ninja Foodi Max 9-in1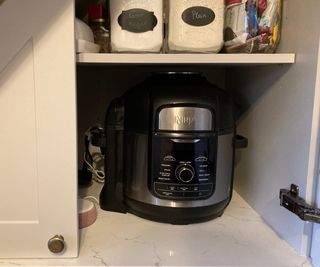 Reviewed by
Reviewed by
Lindsey loves cooking and was lucky enough to be sent the Ninja Foodi Max 9-in-1 in summer of 2020, when home cooked meals were the only option as restaurants shut in the UK. As well as testing it solidly for a few weeks, she was allowed to keep it, meaning she continues to use it and can comment on its durability. Two years on, she is still a big fan and even had a kitchen cupboard designed to accommodate it.
The techy stuff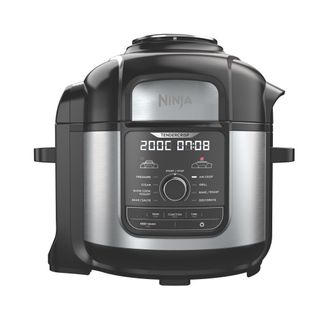 Cooking functions: 9 – pressure, slow cook, air crisp, dehydrate, bake/roast, grill, sauté, steam and yoghurt
Volume: 7.5L
Weight: 11.3kg
Dimensions: 35 x 42 x 38 cm
Cord length: 0.8m
Cleaning: dishwasher safe pot and accessories, wipe clean exterior
Colour: black
TLDR: What we thought of the Ninja Foodi Max
This appliance suits keen cooks who struggle for time, but not ideas. It is so versatile and is also great for giving you the function of several appliances, without needing the kitchen space for them all. This capacity is perfect for families and although the unit is quite big, it is a great choice for smaller kitchens if you are struggling to choose between the best pressure cooker, slow cooker, air fryer and steamer and only have room for one. You can even use it in place of your hob and oven.
Unboxing the Ninja Foodi Max 9-in-1 Multi Cooker
The Ninja Foodi Max OP500UK 9-in-1 Multi Cooker comes with all the attachments you need for the basic functions. It comes with the built-in lid (used for crisping, roasting and other functions that include browning), then there is a secondary lid to be used for slow cooking and pressure settings which is fitted to the unit when the main lid is open. You also get two racks that fit together to make a two-tier stand for grilling, dehydrating and roasting. One is reversible so you can use each alone, or paired to create a variety of levels to cook on.
The main unit includes a removable cooking pot that is used for all functions – the Ninja Foodi Max won't operate unless the pot is present. Then, you get a cook and crisp basket that sits inside the pot for 'frying' food. Ninja Kitchen accessories can be bought for the Foodi Max on their website – including a glass pot lid, loaf tin and muffin mould – plus any replacement parts you might need.
When you take everything out of the box it looks like a lot to store away, but I have kept all parts but the pressure lid and racks in the unit. While the pressure lid is quite chunky, it will go easily in a drawer or cupboard along with the racks. Overall, the Foodi Max is not a bad piece of kit to look at. Sure, it is rather imposing and quite high, but the footprint is similar to your larger slow cooker. The black and stainless steel finish will go with plenty of schemes if you do decide to leave it out on the countertop.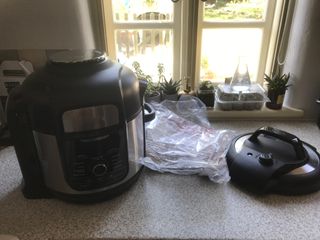 Setting up the Ninja Foodi Max 9-in-1 Multi Cooker
Before first use, the cooking pot and other removable attachments need a quick wash with warm soapy water. The pressure lid needs to be washed carefully and allowed to dry thoroughly to prevent anything blocking the vent.
To get started, you just need to fit the cooking pot, then what you do next will depend on which cooking function you are using. It is recommended that you use the pressure setting with just water to start, to get a feel for how it works, so I did that on my first use. It also gave the pot and lid a good blast of heat so I was 100 per cent sure it was fully sanitised before I started eating anything made in it.
For this test, I opened the main lid, filled the pot with some cool water and attached the pressure lid. This has an arrow to show you where to place it and a lock symbol to mark where the lid needs to be twisted to. You also know the lid is on properly when the handle is positioned side to side on the pot rather than top to bottom.
The controls are on the front. There is a dial and buttons for selecting function, temperature and time. In most instances, you click function first, turn the dial until the LED lands on the cook style you need, then you press 'temp', followed by 'time', turning the dial each go to set the desired numbers. These are displayed on the LED screen so you can easily set what you need.
Once chosen, you press the dial and it starts the cooker. A countdown timer shows how long is left for your cooking process, and this will pause when you open the lid.
Ease of use
As mentioned, the dial and buttons are easy to use once you know what order to press them in. You always need to remember to choose the function first and then you can't go far wrong.
The multi-cooker has nine cooking functions. Some use the pressure cooker lid, sauté and sear are used with no lid and the rest of the options need the main lid which has a built in grill to heat from above. There is more info on each cooking function below, but I found that once I had used a function with the pressure lid, and one without, the rest was easy to follow and the settings were easy to adapt my cooking to.
When cooking ends, the Ninja beeps to alert you, then switches to keep warm mode to stop your meal from going cold. If you find the food needs longer, you just follow the process to start cooking by selecting the function, temperature and time again.
What is the Ninja Foodi Max best for?
With so many settings, I was keen to see if the Ninja Food Max could do them all as well as it's unitasking counterparts. From slow cooking, to air crisping chips, I tried every function I could with a variety of recipes.
5 things I cook the most in my Ninja Foodi
1. Sourdough – about once a week. It gives such an even bake.
2. Casseroles – sauté your onions, add the rest of the ingredients, then pressure cook to have a stew in no time.
3. Chips/wedges – for small portions I use the air crisp basket, but chunky chips cook really well in the main pot on the roast setting. (We also reheat chippy chips in it).
4. Pasta bakes – I cook the pasta on the hob, but make my sauce on the sauté setting then add pasta and cheese for an easy meal.
5. Freezer nibbles – much quicker than cranking the oven for a few (veggie) nuggets.
The bake function has impressed me the most and I will be investing in some of the loaf and cake tins to give a bit myself more versatility while baking. It was also a relief to be able to roast without putting the oven on in the height of summer. Yes, the Ninja Foodi Max does generate heat, but nothing compared to a standard oven, so it won't turn your kitchen into a sauna.
The pressure cooker function can't be faulted, even if I can't see myself using it that often. I love how this and other functions like sauté give lots of scope for one pot meals. And as the pot is dishwasher friendly it is a real time saver in many ways.
If you enjoy lots of stews or roasted meats it is sure to get plenty of use, but for those who are less keen on cooking, it also cooks frozen foods. With the air crisp basket it has definitely been designed with chicken wing fans in mind – many online reviewers have swapped from deep frying their wings to cooking them in the Ninja Foodi. This is one of the many reasons it is great for people who are time poor, but trying hard to make healthier dietary choices.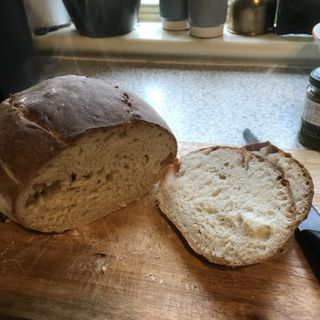 Test 1: Pressure cooking
I was slightly terrified of using a pressure cooker, having heard horror stories of them from the 50s and 60s. However, the modern pressure cooker has been designed to avoid these risks, and the Ninja Foodi Max is no different. It will only allow you to open it once the pressure has dropped and it is safe to do so. The pressure cooker was easy to use on set up and I have only used it once for cooking since. The key is remembering to close the vent (the float vent is left open for slow cooking) during cooking and then you just have to wait until it has finished cooking and depressurising for next steps.
As intended, the pressure cooker cuts cooking time by up to 70 percent, and the pasta I cooked in it for mac and cheese took no cooking time, just the time it took for the machine to reach pressure. It does this and then starts the cooking countdown so for the pasta I had to set the timer to zero.
When I cooked water in it, it let out a clean steam. The starchy pasta water was a little messier, bubbling out of the vent slightly as the pressure escaped. Nothing too arduous to clean, but the top of the cooker did need a wipe-down after.
I can see how this is really for cooking meat and would greatly reduce the time needed to cook a big joint – which you could then roast in the same pot by swapping the pressure lid for the standard attached lid. It would be perfect for making stews from cheaper cuts of meat, too.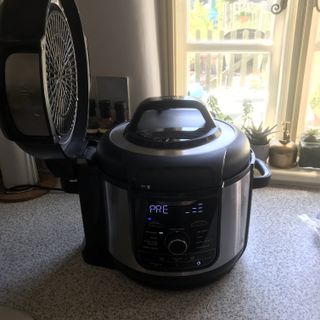 Test 2: Slow cooking
I was most excited to check the Ninja's slow cooking skills to see if this all-in-one could be a replacement for my existing slow cooker. While I would say a dedicated slow cooker is better as they have a thicker pot that retains heat more effectively, the multi cooker does a fab job of slow cooked veggie chilli, soup and casseroles – good enough for me to put my Crockpot into storage. The low temp is a bit too low for what I needed though, so I cooked everything on high and the results were great.
Test 3: Steaming with the Ninja Foodi Max
If you love steamed fish and veggies then the Ninja Foodi cooks them quickly at high heat, maintaining nutrients. You just have to put a bit of water in the pot, place the rack in and put your food on it – out of reach of the water – then add the pressure cooker lid. I have used this a couple of times and recommend setting the timer for slightly less time than the instructions recommend if you like a bit of crunch to your veg. Again, a nice function to have that saves the need for steaming baskets or a steaming appliance.
Test 4: Searing and sauteing
I have used this setting a lot and it is great for softening onions and garlic before adding the rest of the ingredients to the main pot for a casserole or chilli. It can also be used for browning meat for your stew. You can choose from low, low-medium, medium, medium-high and high heats offering you almost as much control as your standard hob. It distributes heat evenly and doesn't make the room as warm or steamy as cooking on the stove top would. Used in conjunction with the slow cooker, this is a time-saving way to cook that cuts washing up, too. Win win.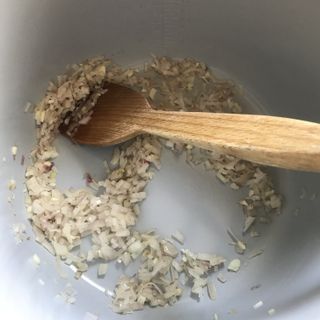 Test 5: Roasting with the Ninja Foodi Max
The Ninja Foodi Max can act as a small oven, managing temperatures up to 200ºC, so gas mark 6–7. You can preheat it for a bit before adding ingredients if you like, but it comes to temperature really quickly. I used to it to roast parsnips for a soup, and made potato wedges in it, but the thing it surprised me with the most was how good it is for cooking bread.
Others sing its praises for cooking joints of meat too – tender on the inside but crispy and well-browned on the outside.
Test 6: Baking sourdough bread
Like everyone else, lockdown turned me into a sourdough-obsessed baker and the Ninja Foodi does a great job of baking bread. There are no cold spots in this multi-cooker, so the bread came out evenly baked every time. It was just a bit tricky to get it into the preheated pot, so a loaf tin would be handy.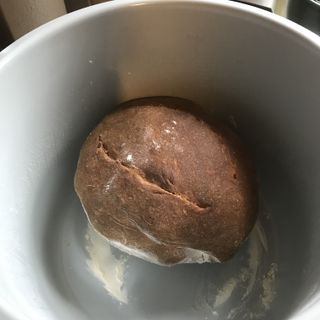 Test 7: Air frying using the Ninja Foodi Max
The Ninja Foodi Max 9-in-1 Multi Cooker comes with an air crisp basket and air crisp setting for healthier fried food. It should be noted that unlike a specialist air fryer , this won't turn your food automatically. That is not a major problem however – it is very easy to put your chosen ingredient in the air crisp basket and open every few minutes to give them a stir with a wooden spoon. Chips and sweet potato fries turned out great, though the chips were more similar to when you oven bake them. That said, for a healthier option they were great and we also found the air crisp setting was perfect for cooking frozen chips. Top hack though? The air crisp is amazing at re-crisping chip shop chips that have gone a bit soggy in the chip paper on the journey home.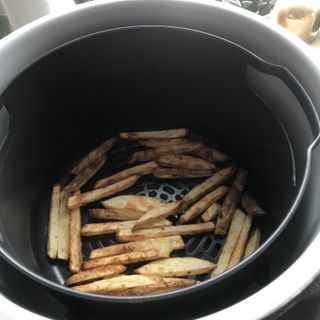 Test 8: Using the Ninja Foodi Max to dehydrate
It took me a while to find something to test this setting, but some slightly-past-their-best cherry tomatoes ended up being the perfect candidate. Again, this feature is so easy to use. You just need to finely slice your chosen food then sit on the racks and set to dehydrate. My cherry tomatoes took about five hours, but I was left with lovely, intensely tomato flavoured treats to add to pizzas, pasta or just eat as a snack.
Test 9: Grilling / broiling with the Ninja Foodi Max
As mentioned before, the main lid has a built-in grill that heats the food from above. This is great for meat and fish, but I found it was brilliant for finishing anything with a cheesy topping like a pasta bake. The heat is more focused and intense than you might get from a grill in an oven so it really doesn't take long at all. You can use the grill rack for cooking things like steak closer to the heat source or just brown the top of whatever you have in the cooking pot.
Test 10: Yoghurt... TBC
I admit I let out a bit of a snigger when I saw this listed as a 'cooking' function. I am yet to try it but the instructions show how to take a yoghurt starter and make several litres of the stuff. A great option if you eat a lot of it and want to save money.
Anything it doesn't do so well?
For slow cooking you really need to do everything on 'high', as low is not hot enough to get large volumes of food simmering away. I think the low setting is designed for yoghurt, so that is why it isn't as hot, but if you cook on high everything comes out as well as it would in an actual slow cooker.
It is also quite heavy so if you don't want it staying out on your counter (it isn't the prettiest, let's be honest) you will need to consider how easily you can move all 25lbs/11.3kg of it. I keep it in a cupboard at waist height between uses. It also has the spare lid and racks to store, so factor in space for these.
The other thing I would flag is that the Ninja Foodi Max comes with a recipe book – great if you are new to multi cookers and need ideas of things to cook in there and cooking times. At the end of the cookbook there are grids showing the settings and times for a load of common foods and this was really helpful.
However, I would suggest exercising caution with the actual recipe section and use your common sense. I made the mac and cheese and I am not sure if it was a typo, but it called for three tablespoons of salt. Now I love salty food, but I thought that may be a bit much, especially after the recipe asked me to pressure cook the pasta on a mix of bicarb, lemon juice and water.
I decided to only put two tablespoons of salt in, still sure that was too much, and I was right. It was inedible. And, I had already been slightly put off by the foamy liquid left from the pasta. We ended up chucking it all away, but I will definitely try it with my own recipe because being able to do a one pot mac and cheese – and grill the top to crispy loveliness – is a winner for me.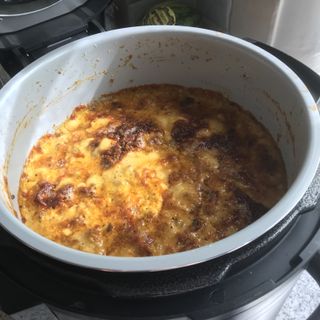 Cleaning the Ninja Food Max 9-in-1 Multi Cooker
Everything but the actual cooker is dishwasher friendly. The racks, crisper basket, pot, pressure lid and many of the accessories that you can buy as extras can all be cleaned in a dishwasher. The pot and basket have a non-stick coating so clean up is pretty easy. The exterior should be wiped as soon as any spillages occur, then a once over with a damp cloth every week is sufficient.
What I have found harder to clean is the grill inside the main lid. This gets quite sticky with fat after use of the air fryer and can be hard to clean as it can't be soaked. However, a quick Google search led me to a video of a woman cleaning hers with nature's favourite cleaner – lemon. Just half fill the pot with water and throw in a halved lemon, squeezing the juice as you add it. Switch the cooker to sauté or slow cook (anything to bring the lemon and water to a boil), then turn off and leave the lid closed as the steam works its magic. It didn't get rid of all of the fat, but doing this after every few uses is a good way to keep on top of burnt on fat.
What accessories can you get for the Ninja Foodi Max 9-in-1 Multi Cooker?
You can find a wide range of Ninja Foodi Max 9-in-1 Multi Cooker accessories on the Ninja Website. Many parts are actually compatible with the Ninja Foodi Max 7-in-1 which is also 7.5L. Prices start from £4.99 for spares, to £24.99 for a replacement lid or send cooking pot. These could be worth the investment if your pot is in constant use so that you have a spare while the others are being washed.
It isn't just about the spare parts however. Ninja have some affordable tins and racks to aid your cooking. For example, you can get a Ninja skewer stand to cook up to 15 kebabs at once, a roasting sling to easily lift meat in and out of the pot and a crisping rack that can be used to hold things like taco shells and bacon.
I am a keen baker so I opted for a silicone muffin mould and the tube pan which is like a bundt tin for round cakes. I have used both and they are great quality and also dishwasher friendly. The muffin mould is rounded underneath so rather than a flat bottomed muffin, you get a slightly odd half egg as shown in the image below. It doesn't affect taste, but might not be the aesthetically pleasing muffin some home bakers are used to. I think this mould is great for things like eggs or omelet muffins, though.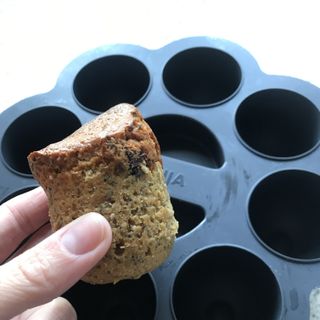 The tube pan has a removable base that makes it easy to get your bakes out of the pan. I have made cakes and share and tear breads in this and was very happy with the results. However, I would like Ninja to offer a standard loaf or cake tin, suited to more traditional bakes.
How does it rate online?
The Ninja Foodi Max 9-in-1 Multi Cooker gets an average rating of 4.8 stars out of five on the Ninja site. Reviewers agree it cuts time spent cooking and is very easy to use. Here I found reviews from people who had roasted whole chickens and joints of meat in it, all agreeing the multi cooker leaves meat crisp yet juicy. Being able to make a stew in less than half an hour is great, and many use it for cooking everyday.
It was just shy of five stars on Amazon too, where users said it did everything they needed and loved the large capacity. A couple pointed out something I hadn't considered initially – it needs a lot of head height for use in sear/sauté with the lid open and should not be too close to wall units as the steam release will damage them. I have a worktop with nothing above, so have used it there, but you will need to consider placement before you buy.
How does it compare to other multi cookers?
There are several well known multi cookers available for about half the price of this model, including those from Crockpot, Tefal and Instantpot. However, most are lower capacity and have lower star ratings that the Ninja Foodi Max. Some claim to have more cooking functions with a few boasting 12-in-1 but they seem to be as flexible with what counts as a function as Ninja in this case, with soup and risotto counting – both of which the Ninja can do with its sauté, pressure and slow cook settings.
Finally, very few have the grill, roast and air crisp options built-in, meaning they can cook by methods of conduction and convection, but not radiation. So, you can make a casserole, but not give it a crispy potato topping like you can with the Ninja Foodi Max. For the wider range of things you can cook in the Ninja – and the fact it acts as hob, oven and pressure cooker in one – I think it is definitely a good investment.
Ninja Foodi OP450UK vs. Ninja Foodi OP500UK multi cooker
Ninja does two 7.5L multicookers with similar names, so what is the difference? There is the Ninja Foodi MAX 9-in-1 Multi-Cooker 7.5L OP500UK then the Ninja Foodi MAX 7-in-1 Multi-Cooker 7.5L OP450UK. You guessed it – one has two more cooking functions (and the 9-in-1 also has a smart stainless steel casing and is slightly bigger).
The two cooking functions that the 9-in-1 has that the OP450UK doesn't are yoghurt and dehydrate. If you are wondering how you will live without these extra functions you might be interested to know that on the OP500UK the yoghurt function is selected with the slow cooker function. Only side-by-side testing would tell us how different yoghurt is in the 9-in-1 versus the 7-in-1, but as we know you can make yoghurt in most slow cookers, we reckon you can still live out your dairy culture dreams with the 7-in-1.
Dehydrate on the other hand is its own function on the 9-in-1 so the multi cooker will be optimised for this. If this is something you want in a multi cooker, definitely go for the 9-in-1. At present they are the same price, too, so we can't see a reason to go for the 7-in-1 unless you need a model a fraction smaller (but there is only 5cm in it). Here are the measurements:
Ninja Foodi MAX 9-in-1 Multi-Cooker 7.5L OP500UK – 35 x 42 x 38 cm
Ninja Foodi MAX 7-in-1 Multi-Cooker 7.5L OP450UK – 35 x 39 x 33 cm
You get the same accessories (crisp basket, lid, cooking pot and reversible rack) with both, so it really does come down to size, one extra function – we are still arguing 'yoghurt' is not a cooking function – and whether you want an all black, or silver and black unit on your worktop.
How does the Ninja Foodi Max 9-in-1 compare to the newer OL750UK 15-in-1 with smart lid?
I was excited to hear about the new kid on the block. Shhh don't tell my Ninja.
It has six additional functions that you don't get with the OL500. They are prove and five steam variants of the other settings, including steam meal; steam air fryer; steam bake; steam bread; and steam roast. These settings claim to lock more moisture into your cooking than the regular settings for delicious results.
Having not tested this model, I can't confirm if they meet that promise, but what does appeal to me is the smart lid. Instead of having to switch between lids for steaming/pressure cooking and air frying, there is one lid for all. A smart space saver for sure that would work much better in my small kitchen.
It is not a lot more expensive than the 9-in-1 either so once we have tested this, we will let you know if it beats it. But looking at the specs and design, I would buy the newer model instead.
Is the Ninja Foodi Max right for you?
If you want the functionality of several appliances but only have room for one big piece of kit, the Ninja Foodi Max 9-in-1 Multi Cooker should definitely be it. It needs a fair bit of worktop space but can replace your slow cooker, air fryer, pressure cooker and can be used in place of a rice cooker and even your hob and oven too.
And, the space it takes up will be worth it, as this versatile appliance is sure to get a lot of use. Our top tip? Buy a second pot online so you never have to wait while you wash it, and it may well replace many of your oven or hob cooked meals.
All in all, none of the negatives (even the dodgy recipes) are enough to mark it down, so it gets full marks from us.
About our reviews and our reviewer
We conduct our reviews in the home where they face the usual demands of daily life. Each appliance will be used for at least a fortnight, and we try to test every function and setting it has to offer. Where we are able to keep the appliance for longer, we update our reviews over time with any new features we have found, or issues that may arise. In this case the reviewer was allowed to keep the product.
Lindsey Davis who tested the Ninja Foodi Max 9-in-1, is Content Director of Home Ecommerce and spends her working day making sure people can find the right products for them. At home, she loves to cook (and bake) so is always keen to test out the latest kitchen gear. She has a small kitchen, so finding products that are big on impact but will save space in some way is key.