Many of our favorite foods can only be made in the best deep fryer, from seasonal treats such as apple cider donuts, to classic french fries and chicken. Deep fryers are a must-have for those who like to make takeout-style food from home, and if you enjoy baking or working on your culinary skills, opting for the best deep fryer will instantly expand your repertoire.
Deep fryers come with safety features like stay-cool handles and locking systems to keep splatters away. These features also minimize mess, which means you won't have to worry about wiping down the stove after your meal is done. Simply dispose of your fat and put your deep fryer away for another day. Some of the best deep fryers even come with dispensers that separate the fat from the burnt scraps, meaning it can be re-used a few times to save you money and resources.
In our best deep fryer guide you will find top brands like Cuisinart, De'Longhi, T-Fal and Breville. There are a few more expensive options, but you'll find that it's perfectly possible to find a great deep fryer for under $50. And if you like the idea of opting for something with less oil, take a look at our guide to the best air fryers.
The best deep fryers for your home
Why you can trust Real Homes Our expert reviewers spend hours testing and comparing products and services so you can choose the best for you. Find out more about how we test.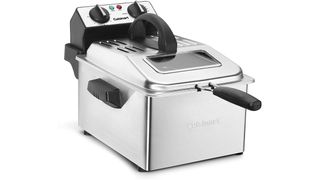 The Cuisinart CDF-200P1 looks the part for a high-level home deep fryer. It comes in at under $100, making it incredibly reasonably priced.
What we love
The oil container has a pouring spout, which makes it easy to remove your frying oil without spilling. It also has a cool-touch handle which makes adding and removing fries and chicken safe and easy.
The 1800 watt heating element is capable of speedy heating, so you'll be eating your meal in record time.
Things to know
You may not need a four quart capacity for your home. It is definitely best suited to large households, and while the sub-$100 price makes it attractive to all buyers, make sure you have the space to store it.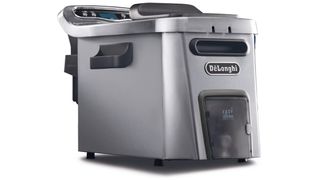 The De'Longhi Livenza Dual Zone Easy Clean Deep Fryer tackles one of the least popular parts of home deep fryers; the cleanup. It's large and has a generous capacity, and the wide base means your oil will heat evenly.
What we love
What makes the De'Longhi Livenza Dual Zone Easy Clean Deep Fryer so popular is the EasyClean drain system. Simply twist to release the oil and store it for later use.
This keeps your home mess-free, and because most parts are dishwasher-safe, it speeds along the whole cleaning process.
Things to know
Because it has an oil capacity of one gallon, this isn't one of those fryers to keep stored away under a cabinet. Only invest if you have the space.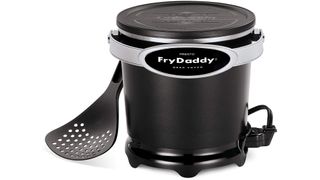 The Presto Fry Daddy 4-Cup Electric Deep Fryer has a 4-cup capacity, making it well-suited to smaller families. It is also one of the most affordable deep fryers on the market.
What we love
Designed to cook four cups of fries in four cups of oil, the Presto Fry Daddy 4-Cup Electric Deep Fryer is designed to cut back on the amount of oil needed in deep frying.
The lid snaps on for easy transportation with no spills, and both the inside and outside are non-stick and convenient to clean.
Things to know
The Presto Fry Daddy is preset to one temperature, so it's not one for experimentation but can take the guesswork out of frying. The capacity is good for some households, but it won't cater to a crowd.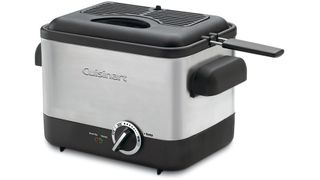 The Cuisinart CDF-100 is perfect for smaller homes. It has side handles for easy transportation, and its compact size makes it perfect for storing away when not in use.
What we love
It has a removable charcoal filter, which is designed to limit odor in your kitchen. The temperature can be adjusted up to 375°F.
A light indicates when the oil is heating up, and then when it's at your desired temperature, which takes the guesswork out of the deep-frying process.
Things to know
While the Cuisinart CDF-100 has a one liter capacity for oil, it can deep fry three quarters of a pound in one go, which is best suited to two-person households.
Draining the oil is easier with the De'Longhi Livenza Dual Zone because of its spout, but there is a tight lid with the CDF-100, so storage should be fine.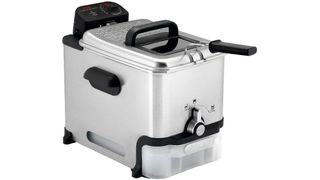 Looking for an easy to use deep fat fryer? The T-Fal EZ Clean FR8000 offers no fuss and no mess whenever you fancy some crispy fries.
What we love
The T-Fal EZ Clean FR8000 has an accessible thermostat that allows you to adjust the temperature of the oil, up to 375°F. With a generous capacity, you can deep fry 2.65 pounds of french fries in one go, making this a great choice for large families.
The oil bin, basket and lid can all go in the dishwasher.
Things to know
The T-Fal EZ Clean has an oil filtration mode. The filter works by allowing the oil to cool and then pressing the oil filtration button. Clean oil will flow into the bottom container for the next time you deep fry, while dirty oil stays in the main container for convenient cleaning.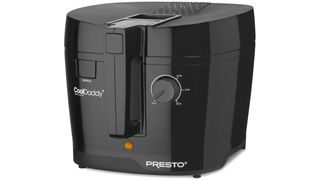 The Presto CoolDaddy Cool-touch Deep Fryer has a very sturdy cool-touch handle that lowers your food into the frying oil with minimal splatting.
What we love
You can remove the frying bowl when cool to empty it out. The temperature is adjustable, which is great for triple-cooked fries and crispy chicken skin.
There is a removable odor filter which works to reduce that frying smell from your home.
Things to know
The viewing window is a little small, which could prevent you from getting a good look at your food as it deep fries. People also report that the temperature readings are a little off, so you may want to use your own thermometer for exact readings.
How to buy the best deep fryer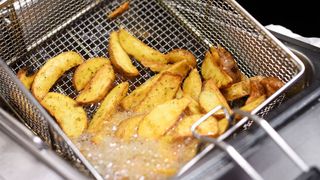 Where to buy the best deep fryer
Now that you've read our deep fryer reviews, it's time to help make your decision a little easier.
Brands
There are plenty of well-known brands on the market that all offer some great home deep fryer options. Keep an eye out for the likes of Cuisinart, T-Fal, De'Longhi and Presto Fry Daddy.
Capacity
The capacity of the deep fat fryer is one thing to look out for. Most standard sized fryers can cook between 1 and 2 pounds of food, and will need up to 3 liters of oil to cook. This is usually enough for a family.
Features
Safety features, such as a lockable lid to stop spills, and dishwasher safe parts for easy cleaning and maintenance are worth looking out for.
What is the best deep fryer for home use?
To recap... the best deep fat fryer you can buy is the Cuisinart CDF-200P1. It has a medium-size capacity, it's easy to clean and store, and it features a viewing window so you can see when your food is cooked.
How to deep fry safely
Deep frying is actually very easy, but there are a few things you can do to make it a bit less daunting. Many fear splatters of fat, which can be very painful if they catch you, so the most important thing is to not drop your food into the deep fryer. This will create a splash that is more likely to spatter. Lower food in slowly and gently, which will give the fat time to surround it and prevent any splashback.
When lowering items into a deep fat fryer, such as chicken or fish, hold one end and make sure you lower the item away from you. Dip the end you're not holding into the fat, and then pull the end you're holding towards you as you continue to lower it in. This will mean you are not holding your hand over your food as it's started frying, which will prevent any burns.
Should I buy a deep fryer or an air fryer?
In our air fryer vs deep fryer article, we put this very question to the test. Although the deep fryer won on texture, we found that the air fryer had more time to bake in the flavors of the seasonings, which lead to a tastier result. However, when it comes to battering your food in a wet coating, there is no substitute for deep frying. Whether you want to make tempura vegetables or a battered fish, a deep fryer will give you crisp results whereas an air fryer will leave you with a soggy mess that slips through the grate at the bottom of the drawer. If you prefer breading, an air fryer will be more suitable,
You've reached the end of the page. Jump back to the top ^