Are you on the hunt for the best vacuum cleaner? Perhaps your old vacuum cleaner has broken down on you (sad times) or you could do with a second vacuum for another floor of your home.
Either way, there's a load of choices out there. All the important factors such as suction power, weight and maneuverability, and the range of tools that arrive with today's vacuums have all been fine-tuned and the latest models offer an efficient clean that's nothing if not rewarding.
That said, all the makes and models of vacuum cleaners tend to do the same thing: vacuum. So, we took it upon ourselves to try and test a range of vacuums—from the best models for large homes to lightweight stick vacuums and robot vacuums better suited for routine cleans— to save you the time researching every type from every store. Different brands have carved their own niches in the world of vacuum cleaners, so we have reviewed the best vacuums from Shark, Bissell, Dyson, Miele, and more to showcase the best choices available.
Keep scrolling to see our top best vacuum cleaners — and their rankings:
Have pets at home? Then you'll need the best vacuum for pet hair to tame those stray hairs left behind on the carpets, sofa, and car seats. Curious about the ever-expanding array of cordless vacuums? They seem to get more powerful and last longer on a single charge every day. Or put your feet up, and let the best robot vacuums take on the heavy work. All about a good deal? Our vacuum cleaner sales hub is frequently updated with the best savings around.
The best vacuum cleaners of 2021
If there's one vacuum we come coming back to, and perhaps our new golden standard: it's the Dyson V15 Detect. Combining a powerful cleaning with innovative tech, and your cleaning session feels almost gamified. The real allure of the V15 Detect is the addition of a green laser on its fluffy floorhead that can reveal what your naked eye can't. While this particular feature only works on hard floors, it's so eye-opening as to what has accumulated on our floors, that we'll gladly switch between brush heads for hard floors and carpets. Meanwhile, a Piezo sensor lets you track just how many particles have been collected—we're talking hundreds of millions.
Supreme clean
As well as high suction, the HEPA filter captures allergens with ease, offering as thorough a clean as traditional uprights. It has a good range of attachments and is well-designed. In fact, it's designed to be your own and the only vacuum you'll need. It will hit the floor running providing up to 60 minutes on a full charge ( and its nifty LCD screen will let you know just how much running time you have left, so you're not left out on a limb.)
Lightweight
This vacuum is under 7lbs, perfect for those with a lot of stairs or mobility issues. It actually replaced another Dyson favorite, the Dyson Outsize, which has a dust bin capacity over double the size but is also noticeably heavier to maneuver. Both offer the same suction performance, however.
Max power
The Dyson DLS technology automatically senses and adapts to changes in floor type, but if you want to control the cleaning, you can work in Eco, Auto or Boost mode. It works fantastic in standard mode, but you will need to switch it to max power for tougher jobs. Plus, this gives it super suction but does result in a couple of drawbacks. Firstly, it cleans so well you find yourself emptying the bin and cleaning the filter very regularly. Secondly, max power does decrease the battery life, so you will only want to utilize it in short bursts.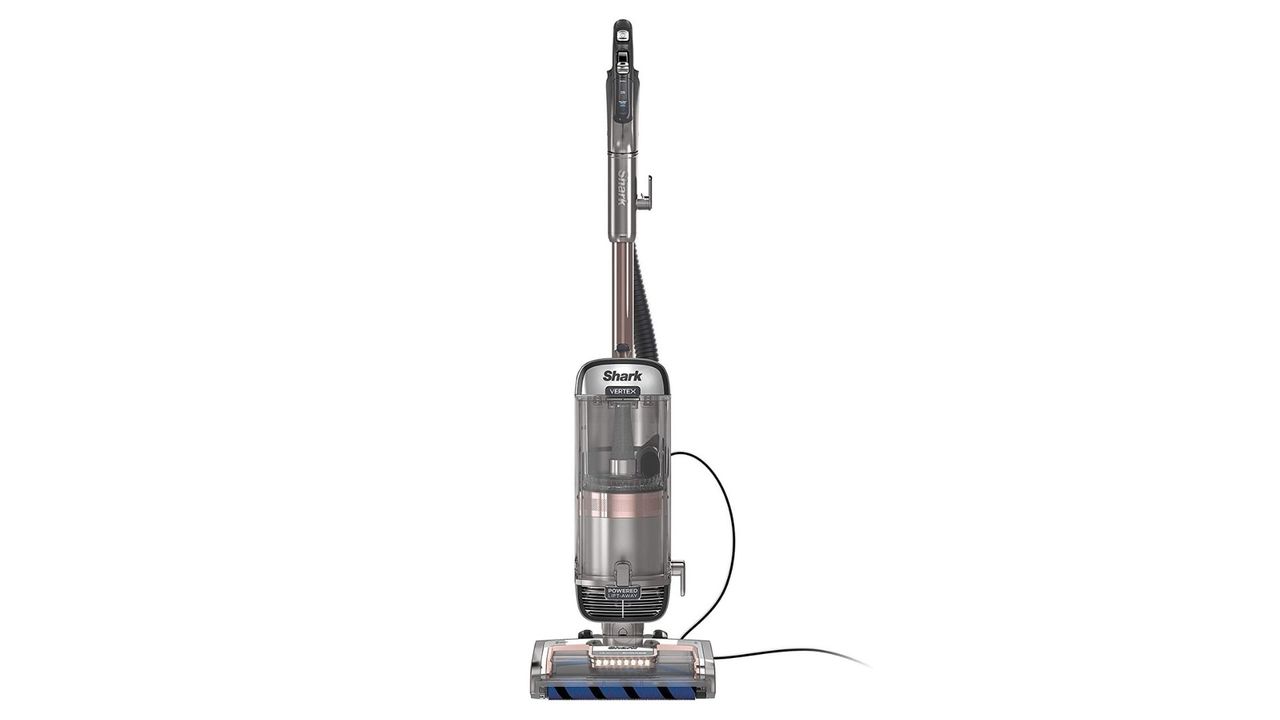 If you and/or your furry friend tend to shed around the house, the Shark Vertex Upright Vacuum is the vacuum for you. Not only does it suck up everything in its path, but it features Shark's signature anti-hairwrap and self-cleaning brush roll constantly eliminates hair from the brush roll (so no more time spend snipping your strands from the bottom of your vacuum). Billed as Shark's most powerful vacuum, the Shark Vertex upright is also Shark's most premium offering, with design features like Powered Lift-Away, DuoClean Powerfins, a Self-Cleaning Brushroll, Hypervelocity Accelerated Suction, and Anti-Allergen Seal Technology.
DuoClean Powerfins
Double the contact, double the clean, with the latest in Shark's vacuuming tech: DuoClean Powerfins: two rollers suck up dirt and dust to maximize floor contact for continuous cleaning. The silicone PowerFins roller and a soft roller uncover dust and debris from carpets, directly engage floors, and pick up more in every pass.
Powered Lift-Away
This Shark vacuum features the brand's Lift-Away system, which means the canister detaches to provide a longer reach.
Bonus features
Besides the fact that it sucks up hair, this vacuum is packed with other handy features, including LED headlights for seeing under the furniture, a crevice and upholstery tool for specialty cleaning, and on-board tool storage. It also has a built-in HEPA filter to remove allergens while it cleans.
If our top pick, the Dyson Outsize, hasn't whetted your appetite for a cordless. Tineco's Pure One S11 is primed to compete, and at a fraction of the cost.
Easy to use
With the option to choose from a trigger style or continuous operation, you can use the way that's most comfortable to use, and at about 4 pounds, it's super lightweight to use. It also comes with all the attachments you could ever want to get a customized clean including a mini-power brush, two-in-one dust brush, crevice tool, and a filter cleaner. The LED screen also keeps you on track as to how much time is left in your battery as well as any malfunction alerts and wifi-status. Yep, it's wifi-connected too, for you tech-obsessed, but you can get the same benefit whether you activate wifi or not.
It also easily converts into a handheld for tackling quick messes and above floor clean ups.
Powerful suction
It's got the power you crave, so you can cut down on repeated passes. The 130 air watt produced from the motor conquer ground in dirt in moments.
iLoop Smart Sensor
The real star of the S11, is the iLoop Smart Sensor technology, which effectively detects hidden dust and debris and auto-adjusts suction power in real time, which also optomiszes battery life. The level of clean is indicated by the LED circle around the rim changing from red to blue, and this feature is like nothing else we've seen before.
Expect an expert clean in bagless format from the Miele Blizzard CX1 Cat&Dog PowerLine. This vac shows that you don't have to join team Dyson to enjoy going bag-free and it is super easy to empty. It did not score quite as highly as the Miele Complete C3 in our review, but if you don't want to be tied to buying vacuum bags, it is for you.
Ease of use
As well as a great clean, this vacuum has been designed for a super easy clean, too. As with nearly all Miele vacuum cleaners the tools are stored in the body of the vac so you shouldn't lose them as you go. While it isn't the smallest of models (or the lightest), the unit is efficiently designed and won't take up too much space either.
You flip the foot control to adjust the brushes and the cable retracts at the push of a button so using the machine is quick and low-labor. It works really well on all surfaces, but like other super-suction models, you might want to turn it down to make the carpet easier to clean.
Pet hair and allergies
Pet hair is no problem for the Miele Blizzard CX1 Cat&Dog. And, if you have a dirty pup you will be pleased with how it copes with dried mud, too. A maintenance-free HEPA lifetime filter makes it a good choice for asthmatics or allergy sufferers, and while a bagless model can be a worry for these users, emptying the bin was mess-free. The model also has a self-cleaning function that can be activated when you've tackled a dust storm. The dust tank is also an impressive size for a bagless at just over a half-gallon capacity.
Maneuverability
Easy to move with a telescopic tube, people with back problems won't find this vacuum hard to use. However, it is on the weighty side, so if you have lots of stairs, you might prefer a lighter model – for a large ranch though, it would be perfect.
Click through to our full review to read how the Miele canister vac can perform in your home.
While the Shark Navigator Deluxe Upright Vacuum is designed for both hardwood floors and carpet, it reigns supreme on the latter. If you want a deep clean on all that pile, you will not be disappointed. It's also an excellent value pick, frequently found around the $150 price mark.
Conquers carpets
The key to finding a great vacuum for carpet is that it needs to strike a balance between suction and maneuverability. Too much suction and you sacrifice the latter, but not enough suction and the job won't get done. The Shark Navigator is an excellent balance of both. It's lightweight, at 12.5 lbs, and features smooth-glide wheels that easily move over the carpet. The dual-motor makes for strong suction, but if it ever becomes too much (say, if it starts to eat an area rug), there's a handy suction release valve. Although it is not marketed for pet hair, it does a great job on that too.
Easy to use
From the floor head that gets flush to the baseboards to the 25ft cord, this vacuum has been designed to get everywhere with ease. It comes with a number of tools for tackling various jobs, including pet tools, a dusting brush, a 5.5" Crevice Tool, and a wide upholstery tool.
Reviewers also described it as responsive and straightforward to operate. It is light and narrow, which makes navigating between furniture easy, too.
Reviewer highlight
While this is one of the few vacuums on our list that we haven't tested ourselves, we did read through dozens of reviews on Amazon, Walmart, and The Home Depot to get a feel for how it worked in IRL situations (and we hope to put it to the test in person soon). One reviewer, from Boston, summed it up the best, saying: "This is the Tom Brady (G.O.A.T.) of vacuums." Can't argue with that.
For a large, family home filled with a high chance of accidents and spills, and maybe a few pets, we highly recommend the Dyson Ball Animal 2. Its clever brush heads pick up all the hair our furry friends leave behind, without getting tangled up, and the motorized brush bar gets out stubborn dirt embedded in carpet.
Powerful suction
This vacuum cleaner is a top pick all-around that delivers on hard flooring, carpet, and stairs with ease. Our reviewer found it handled both normal and deep pile carpet but did mention that the strength of the suction can make it an effort to push.
This vac handles mud and light debris without scattering it around, leading to a quick and thorough clean.
Tools
The Dyson Ball Animal 2 comes with a two-in-one tool for dust and cobwebs, a stair tool, and a turbine tool that is tangle-free – perfect for handling all types of pet hair. The latter will help get fur (and other debris) off upholstery, too.
Ease of use
The cleaner head reaches right to the edges of the room. It is also low profile so it fits under furniture with ease. Its signature ball design means you can maneuver around obstacles with ease and the generous cord (at 35ft) speeds up the process as you do not need to keep moving the plug to different sockets. The handle allows for ease of use in high corners and makes cleaning the stairs an easy job.
See our full review on the Dyson Ball Animal 2 for more candid thoughts on this reliable vacuum.
Looking for an effective, versatile vacuum but don't have hundreds of dollars to spend? The Bissell CleanView Vacuum with OnePass Technology is lightweight, nimble, and features onboard storage for its included cleaning tools. All for under $100.
Lightweight and easy to move
When it comes to the sheer ease of use, this vacuum is hard to beat, with a roomy 13-inch cleaning path to pick up more in less time. It's considered lightweight for a traditional upright, and its compact design is easy to carry, even if you're navigating stairs.
Versatile
The vacuum comes with a turbo brush tool, dusting brush, crevice tool, and extension wand designed to clean your house top-to-bottom. And they're all stored onboard the vacuum for easy access.
Best for hardwoods and tile
This vacuum is great for sucking up dirt and pet hair on hard surfaces like hardwood, tile, and laminate, and deftly navigates its way around low-pile carpet and area rugs. However, it can get stuck around higher pile carpeting and shag rugs, so if you've got a lot of fluffy carpet at home, you might want to skip this pick.
The iRobot Roomba i7+ deserves that plus mark with its lifesaving Clean Base to create the most hands-off robot vacuuming experience possible. It empties itself which is amazing, but its cleaning power is pretty impressive too, handling all flooring (apart from shag rugs) and all debris (apart from feathers).
Clean Base
This robot vacuum cleaner not only cleans with little input from you but also empties itself. When its dust tank is full, it returns to the Clean Base to unload the dirt into a bag in the base. This needs emptying by you but our reviewer found it held about 30 loads of dirt and in her six-week test, it took just two bags – even after having been used to clean every day.
Comprehensive cleaning
The criticism of most vacuums is that they can only really keep on top of light dirt and small amounts of fur. This model handled all of the flooring types in our reviewer's home (from carpet to concrete) and also tackled the dust and dirt that has come with her ongoing renovation project. She set it to clean once a day while she was out and on the few occasions it got stuck it would message her for help. It also alerted her to a blocked tank – note to self, robot vacuum cleaners should NOT clean up renovation rubble.
While it could not get right into corners, it got all the way up to baseboards and the only hurdles (aside from ledges of course) it couldn't overcome were deep pile rugs and feathers stuck on carpets. Pet hair, dust, and even lentils were no problem.
Easy to use
Setting the iRobot Roomba i7+ up is quick and simple. Plug-in the base, put the dust bag in the tank, and connect the robot to your home Wi-Fi. It took our reviewer less than two minutes to get going.
The i7+ also has great room mapping. After a few trips around the house, it creates a virtual map of your home and allows you to select particular rooms for cleaning. It also has a Virtual Wall that can be used to create an invisible barrier between rooms, or for a halo effect when placed by pet bowls, for example, to keep the vacuum away.
Roborock is primarily known for its tech-forward robot vacuums, but call us considerably impressed with its super lightweight and powerful H7 cordless vacuum. It has a lot going for it.
Easy to use
First, you'll find a lengthy run-time of 90-minutes in Eco-mode or 10-minutes on full blast. And the handle-mounted OLED screen will display just how much run time you have remaining, alongside other helpful notifications. Plus the option to choose from the continuous or trigger-style operation.
It's also one of the lightest weight, full-size vacuums we've used, with the full-body weighing under 4 lbs. It quickly converts into a smaller handheld so you can tackle the pet hair (and crumbs) on the car seats or dust in the higher levels of the home. For added convenience, all the accessories are equipped with MagSafe to magnetically attach to the charging base or any other magnetized surfaces for easy access. Oh, and the battery fully charges in about 2.5 hours, so there's minimal downtime here.
Powerful suction
Yep, it boasts plenty of power, too, and automatically adjusts as needed. A 420W multi-layer impeller will easily lift direct and fine particles from those furnishings and floorings, with up to 160 Air Watts.
Pet hair and allergies
Combined with the five-layer filtration system are twin washable HEPA filters which capture 99.97% of particles, including pollen and dander, this handheld vac would make a great choice if you're a pet owner, or suffer from allergies. You also have the option to load in a sealed dust bag to truly minimize contact with dust, as when overfilled, the dust does not easily fall out of the bin. However, the dust bags will be a recurring cost.
The Oreck XL Commercial Upright Vacuum is meant for commercial spaces but works wonders at home, too. Don't be fooled by appearances: What it might lack in the style department, this vacuum more than makes up for in substance. It's reliable, lightweight, and straightforward thanks to its one-speed design. At under $150, it's also a top vacuum cleaner if you're on a budget.
User friendly
It doesn't get much more intuitive than the Oreck XL. It comes free of bells and whistles (literally, it has no attachments), and its one-speed design and exclusive Microsweep feature switches seamlessly from bare floor to carpet and back. Combined with an ergonomic handle and low-profile design made for sweeping under furniture, it's not hard to see why this vacuum has racked up more than 5,000 5-star reviews on Amazon.
Expert cleaning on a budget
There is a reason Oreck vacuums are so widely used by professional cleaners. They can clean for hours and hours before they need emptying, and the bags are easy to insert and empty. Combined with a price tag of around $150, it's hard to beat this vacuum in terms of value.
Simplicity
One of the great things about a vacuum as simple as the Oreck XL is that there are fewer things that can go wrong. Reviewers have cited owning this vacuum for years without issue and making any necessary repairs themselves. Or, as one Walmart reviewer put it: "I love not having all these gadget accessories falling off all the time. I love being able to get underneath stuff. I love the lightweight. I love the switch on the handle in case I suck up a sock or shoelace so that I can shut the motor off before I burn up a belt."
How to choose a vacuum cleaner
If you're not sure where to start when choosing a vacuum cleaner, here are a few things that you'll need to look out for.
Which type of vacuum cleaner should you choose?
Cordless is a good buy for small homes; they're often lighter and smaller, so easier to store and whip around than bulkier models. Their battery life is much better than a decade ago and they make quick cleaning very convenient.
Larger, more powerful vacuum cleaners tend to be corded, and these are what you want to choose for larger homes or if you need a really powerful vacuum cleaner (you have, for example, kids who tread biscuit crumbs into carpets or dogs that shed like you wouldn't believe).
Upright vacuum cleaners are usually heavier, although there are lightweight models available, they tend to have a larger capacity, meaning you have to empty them less frequently than a cylinder or, of course, small handheld vacs. They are therefore best for:
Prolonged use in larger spaces;
Easy use – you push the whole unit, rather than needing to tug the canister along after you
Quick use – the larger head (often with rotating brushes) makes quick work of cleaning up pet hair and dust.
Stick vacuums, most resemble a broom with their slender body, are what you'll commonly see in cordless versions, but they do not sit upright. They are known for being lightweight and easy to maneuver, but you'll need to find a place to lean it if you pause while you clean. They'll usually come with some sort of wall dock for easy hanging in between cleaning sessions.
Bagless vacuum cleaners can be messy to empty (we'd advise doing so outside, near the trash), but the ongoing cost of bags for traditional bagged models will make them more expensive in the long run, so this comes down to preference and budget.
Handheld vacuum cleaners are great for picking up quick messes, but many of today's stick and cordless models convert to easy hand-held designs.
Canister vacuums, (aka cylinder vacuums) although occasionally less energy-efficient, are best for:
Small homes lacking storage space to keep an upright (canisters can often be taken apart so the base can be stored in a low cupboard and the pipe and foot stowed elsewhere if needed);
Getting into corners or under beds;
Easy use on stairs and landings.
On top of all this, you should also look out for the following special features:
HEPA filters for allergy sufferers
Advanced filtration systems for pollen and dust
Vacuum cleaners for pets (extra powerful suction and a non-tangling brush)
Deep clean: some models specialize in this
How to clean your vacuum cleaner
This might sound like an odd one, but don't forget that to maintain max suction you need to keep your vacuum cleaner clean. Emptying the bag or tank regularly is key, so you may prefer a larger capacity that allows you to clean more of the house before this needs to be done.
Most vacuums also come with a filter that may need washing every so often. This needs to be done well in advance of use so that the filter is completely dry in time. If this sounds like too much work, check out filterless vacuums.
Not sure where to start when buying the best vacuum cleaners?
Use our guide on how to vacuum like a pro before you buy to ensure you choose the best vacuum cleaner to suit your cleaning needs. For more cleaning advice, tips, and buys, check out our hub page.
What is the best vacuum cleaner?
To recap... the best vacuum cleaner by far (in our opinion) is the Dyson V15 Detect. It gives you the freedom of a cordless vacuum cleaner yet the power of an upright model, which is a great choice if you want to get the most out of your vacuum cleaner. It comes with an awesome selection of tools plus automatically adjusts suction power according to your floor type.
You've reached the end of the page. Jump back to the top ^