If you're in the market for a new vacuum cleaner, then you've landed in just the right place. Our expert reviewers have tested a total of 63 vacuum cleaners, so it's safe to say that their floors are sparkling clean, and now we've managed to narrow it down to the eight best models out there.
With Shark, Miele, iRobot, Dyson, and many more popular brands offering endless features in all their latest models, it's easy to feel a little lost in the world of vacuum cleaners, but we can help. When reviewing vacuum cleaners, we look for a few main features to determine their star rating: affordability, suction power, tools (or lack of them), ease of use, and how easy they are to store. Owning the best vacuum cleaner will make a much easier job of cleaning your floors — solid wood, lino, or carpet — and investing in quality means you won't have to replace yours year after year avoiding unnecessary spending and waste.
In this list, we've featured everything from cordless vacuums to pet-friendly vacuum cleaners, as well as a robot model. In short, there is something for everyone, whether your budget is $800 or $250. Keep reading for our top picks to help you battle dust and dirt in your home.
The best vacuum cleaners to buy in 2023
Why you can trust Real Homes Our expert reviewers spend hours testing and comparing products and services so you can choose the best for you. Find out more about how we test.
Pet owner or not, this one is for you! Real Homes' mascot, aka Annie's pug called Doug, gave this new Shark vacuum a run for its money. It works wonders in collecting pet hair from everywhere including your floors, your couch, and even on your stairs. Better yet: It's the easiest vacuum cleaner we've ever used. A big claim that we don't say lightly. We know that it's pretty expensive at $499.99, but it's a lot cheaper than our top-rated Dyson and its quality will last for years of cleaning.
What are its best features?
We are currently testing the UK version of this vacuum, the IZ420UK. In the US, this is the IZ862H. It offers total ease of cleaning thanks to Clean Sense IQ technology, and it automatically controls its power based on what you are cleaning. If you're cleaning up a mess, it will boost its suction, or if you're going over already mostly clean floors, it'll work on its lowest mode to save energy. Super clever and it means you don't have to press lots of buttons — just the power button and you're off. It also has an anti-hair wrap brush roll, making it one of our best vacuums for pet hair. Plus, it offers anti-odor technology, but we'll speak about that later.
In review
As we've already said, this vacuum is so simple to use. We did test it in a (spacious) two-bedroom apartment, but even then we found it great for whizzing around in 10 minutes. Its battery life is also amazing, considering its suction power. It picks up dirt on the very first sweep, while its LED lights make it easy to see what you've not yet managed to get to. Another feature we love: It works with recyclable pods to emit a (rather pleasant and non-artificial) smell as you clean, to rid your floors of any lingering pet smells. And how can we forget about its Flexology stick that bends underneath your furniture to catch dust that may be out of sight and mind? It also arrived in fully recyclable packaging, which is a total win in our eyes.
Storage
It stands upright but is top-heavy so it will fall over if you don't fold it down or lean it against something. It doesn't have onboard space for tools, unfortunately. But, being a stick vacuum that also folds, it's effortless to store in a cupboard. It also came with a Shark bag for keeping tools and instructions together.
This vacuum is currently in review by our head ecommerce editor.
Looking for a cordless vacuum that won't let you down when it comes to battery? The Tineco Pure One S12 excelled during our review process, impressing when it comes to suction, controls, and crucially, battery life. It's a brilliant buy for anyone who lives in a smaller home or in an apartment, and it's totally easy to use for a quick clean every couple of days.
What are its best features?
The cordless design of this pick makes it so easy to reach for in a cleaning emergency, with no time needed to plug in your vacuum. Instead, you'll find super powerful suction at your fingertips, as well as a very sleek interface that shows the user exactly which areas of their house need more attention using a color wheel. The crevice tools and hair cleaning tools make this vacuum even more useful and are all held very neatly in a charging dock. At the most, you can get 100 minutes of cleaning power from this sleek cordless vacuum, which is likely to be enough for most homes.
In review
We reviewed this vacuum in a busy family home, and even then it impressed us. It makes cleaning really easy and the fact it automatically senses when it needs a power boost makes the job a lot faster. It's easy to maneuver around corners and on different floor types. We'd probably recommend that you avoid it if you have pets or if your hair is frequently falling out on the floors inside your home, though. Our reviewer Courtney found that she had to manually detangle her hair from its brush. Otherwise, the tools are handy too and for most homes, the Tineco Pure One S12 cordless stick vacuum is an absolute winner.
Storage
Nice and slim, this vacuum is a breeze to store in a cupboard. It also has a charging dock that holds its tools neatly.
The truth is that we LOVED the Dyson V15 Detect while it was in review. Its Piezo sensor tells you the real-time dust particle collection. Gross, but cool. Why is it not higher on the list? Though it scored full points during testing, look at the price! It is a high-end buy, so we wanted to profile a few products that give you a fab clean for a bit less, first.
What are its best features?
Dyson wanted to give customers proof that the vacuum really was cleaning their homes, even if the dirt isn't always visible. Their solution? A Piezo sensor and LCD screen give you a dust particle count. This works in tandem with a green laser, which illuminates the dust on hard floors to show how well the V15 Detect works. In our experience, that's very well indeed. Also, pet owners really have reason to rejoice with Dyson's new anti-tangle conical brush bar. This works like a screw, gathering hair and filtering it up and towards the bin, preventing it from getting tangled around the brush roll itself.
In review
We (obviously) had someone with a fluffy dog review this vacuum for us, and they were very pleased with the results. Jaclyn has been using this as her main vacuum since March 2021, and she found it super easy to use with a generous battery life to match. You press the trigger (there's no continuous mode) to activate the Dyson V15 Detect. It's minimal in its controls, which makes cleaning straightforward. The only downside she noted was its price tag and the fact that it might be better suited for those who want to be a little more scientific with their cleaning. If you just want something that's cheap, cheerful, and does the job, then this isn't it. In saying that, the 60-minute runtime was sufficient to clean our space, but as you'd expect, the Boost mode shortens battery life.
Storage
Dyson stick vacuums are known to be simple to store thanks to their slim design. The V15 Detect comes with a docking station to make storage easy peasy.
This vacuum has been reviewed by one of our writers.
If you need a new, high-performing vacuum but don't want to spend upwards of $500 (understandably) then we've got just what you're looking for. Especially if you and/or your furry friend tend to shed around the house. The Shark Vertex Upright Vacuum is rated highly, and not only does it suck up everything in its path, but it features Shark's signature anti-hair wrap and a self-cleaning brush roll that constantly eliminates hair from the brush roll (so no more time spent snipping your strands from the bottom of your vacuum).
What are its best features?
This Shark model offers plenty of features to make you say wow while you clean, including Powered Lift-Away that allows you to reach into corners and under furniture. It also has DuoClean Powerfins, a Self-Cleaning Brushroll, Hypervelocity Accelerated Suction, and Anti-Allergen Seal Technology. Besides the fact that it sucks up hair, this vacuum is packed with other handy features, including LED headlights, a crevice and upholstery tool for specialty cleaning, and onboard tool storage. It also has a built-in HEPA filter to remove allergens while it cleans.
In review
While in review, this Shark vacuum cleaner proved itself to be truly powerful when it came to collecting dust, debris, and hair. It was also quite pleasant to use, once you get used to it. For its price tag and bearing in mind that it's often on sale, this is a great vacuum cleaner. It also makes cleaning underneath furniture a little easier, and it comes with tools to help clean everywhere else. Just note that it's a little heavy, so you won't want to be dragging it up your staircase a couple of times a week. And remember that you're tethered to a cord as it's not cordless.
Storage
Opt for this vacuum if you've got a little more storage space to spare as it's not as slim as the others on our list, nor does it fold away like other Shark models. You can store two out of its three tools on board, however, which does make life a little easier.
Expect an expert clean in bagless format from the Miele Blizzard CX1 Cat & Dog PowerLine. This vac shows that you don't have to join team Dyson to enjoy going bag-free and it is super easy to empty. It did not score quite as highly as the Miele Complete C3 in our review, but if you don't want to be tied to buying vacuum bags, it is for you. We recommend this vacuum cleaner to anyone with a large family home to clean. Just be aware of its high price tag (the reason why it's not higher on our list).
What are its best features?
As with nearly all Miele vacuum cleaners, the tools are stored in the body of the vac so you shouldn't lose them as you go. While it isn't the smallest of models (or the lightest), the unit is efficiently designed and won't take up too much space either. Pet hair is no problem for the Miele Blizzard CX1 Cat & Dog. And, if you have a dirty pup you will be pleased with how it copes with dried mud, too. A maintenance-free HEPA lifetime filter makes it a good choice for anyone with asthma or allergy sufferers, and while a bagless model can be a worry for these users, emptying the bin was mess-free. The model also has a self-cleaning function that can be activated when you've tackled a dust storm. The dust tank is also an impressive size for a bagless at just over a half-gallon capacity.
In review
As well as a great clean, this vacuum has been designed for a super easy clean, too. You flip the foot control to adjust the brushes and the cable retracts at the push of a button, so using the machine is quick and low-labor. It works really well on all surfaces, but like other super-suction models, you might want to turn it down to make the carpet easier to clean. Easy to move with a telescopic tube, people with back problems won't find this vacuum hard to use. However, it is on the weighty side, so if you have lots of stairs, you might prefer a lighter model — for a large ranch though, it would be perfect.
Storage
This might be a little difficult to store if you don't have a lot of cupboard floor space. We suggest anyone in an apartment avoid this vacuum because of its size. As we've mentioned, the tools can be stored on board.
For a large, family home that's prone to accidents and spills, and maybe a few pets, we highly recommend the Dyson Ball Animal 2. Its clever brush heads pick up all the hair our furry friends leave behind, without getting tangled up. The motorized brush bar gets out stubborn dirt embedded in carpet, too.
What are its best features?
The Dyson Ball Animal 2 comes with a two-in-one tool for dust and cobwebs, a stair tool, and a turbine tool that avoids tangles — perfect for handling all types of pet hair. The latter will help get fur (and other debris) off upholstery, too.
In review
As we found in our Ball Animal 2 review, this vacuum cleaner is a top pick all-around that delivers on hard flooring, carpet, and stairs with ease. Our reviewer Sarah found it handled both normal and deep pile carpet but did mention that the strength of the suction can make it an effort to push. This vac handles mud and light debris without scattering it around, leading to a quick and thorough clean. It also has a long cord so you'll rarely notice that you're tethered to a plug. Otherwise, it's quite heavy so bear this in mind if your home is on several floors.
Storage
Expect that you'll need the usual amount of storage space an upright vacuum would require. A corner in a cupboard would be enough.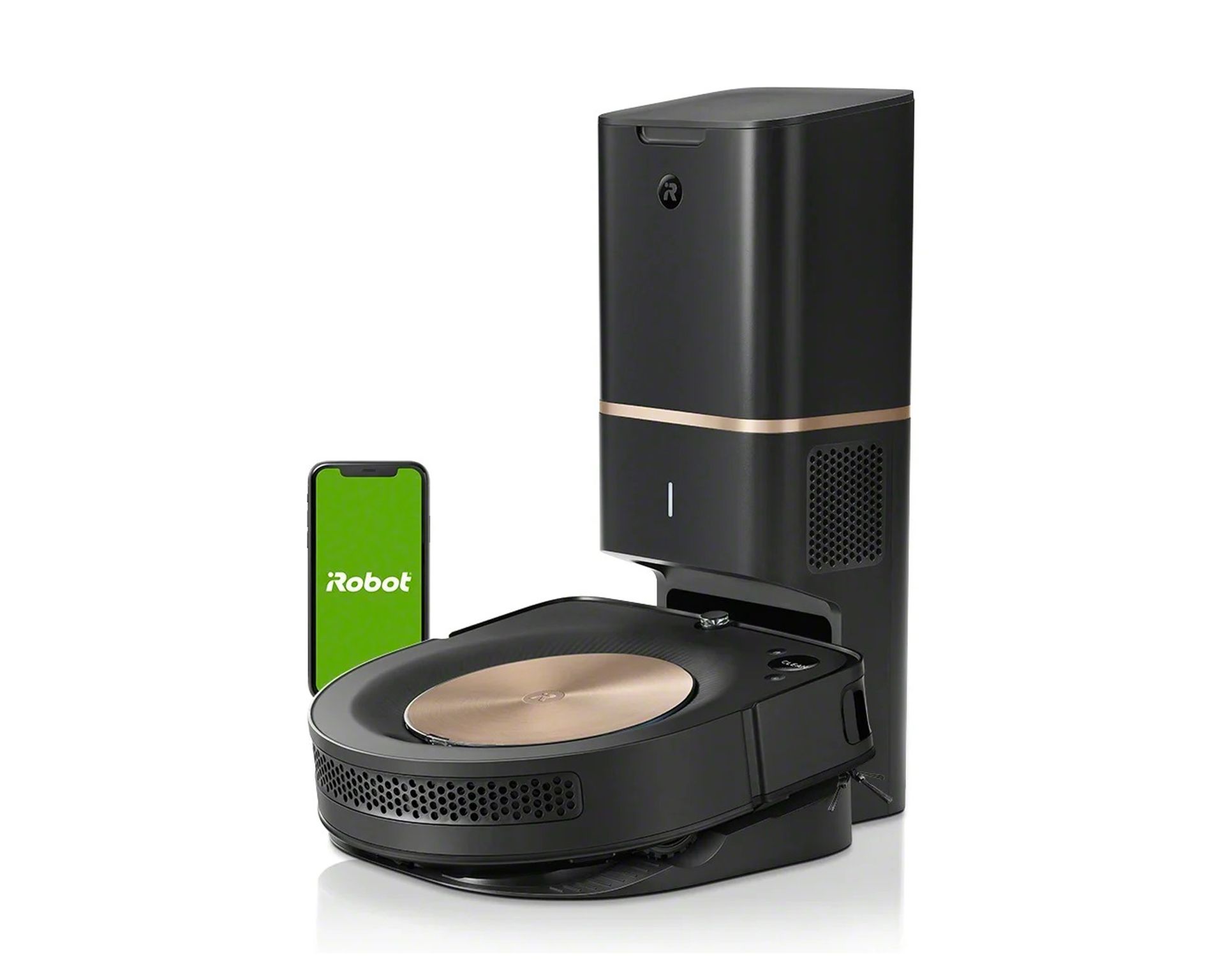 The iRobot Roomba S9+ is a self-emptying, automatic vacuuming delight. It is great at picking up around the house, and it's even good at navigating corners, making it the king of the best robot vacuums. Now, we know we rated it five stars in our review, so it should be higher on our list. The only reason it isn't is that lots of people would prefer a vacuum they can control, and it has quite a hefty price tag.
What are its best features?
Seeing as you won't be doing the vacuuming yourself, the most important feature of a robot vac is the ease of use. It also won't miss a thing thanks to its unique design allowing it to get into corner spots, plus it has a protruding brush to make sure it's gathering up all of the dust it should be. Like many of the most high-tech robot vacs on the market, this bot will scout out your home in order to create an accurate map. Then it'll follow the same path every time it operates, giving you the chance to set out no-go zones and highlight areas that need a little more TLC.
In review
Linda found that this iRobot pick was a breeze to get along with, with a great app or the option to use the manual controls on top of the unit if you'd prefer. It manages to collect an incredible amount of dust and can get right into the corners. When it's done cleaning, it takes itself back to empty its bin and charges when necessary. You don't really need to do anything. Though this vacuum scored an incredible five stars in our review, we haven't ranked it as an essential purchase, as its price is pretty astronomical.
Storage
It sits on its own charging dock so you will need to dedicate a space (not in a cupboard) in your home for this vacuum to live. This also needs to be near a socket for continuous charging.
If you're after a cheaper vacuum cleaner to zip around your apartment, or even to buy with your roommates, then this could be it. We rated this stick vacuum four stars in our review, mostly because of how convenient it is to use, and because it's super apartment-friendly.
What are its best features?
The vac is super lightweight and comes with a bunch of handy tools, which is impressive considering its price tag. It's easy to maneuver from hard floors to carpets and overall it's just convenient. It has a touchscreen display and an eco mode to save energy. Our favorite feature is that after you've finished cleaning, once you pull the trigger to turn it off, it automatically switches to the most powerful mode to ensure everything it has cleaned is in its bin before emptying.
In review
This lightweight vacuum cleaner is very easy to use thanks to its touchscreen LED display. It has three modes, one of which is auto mode. Its battery life on the most powerful mode will last just 15 minutes, so it's not the best choice for a larger house. While it's definitely not one for family homes, it can cope with pet hair pretty well. Our reviewer, Annie, tested it in her two-bedroom apartment and she has a pug. It's not the most impressive vacuum you'll ever use but it is great when you consider its super affordable price tag. We found its smart feature to be pretty pointless, however, as it shows only cleaning history. Also, its bin is sometimes tricky to empty when full.
Storage
This vacuum can't stand upright on its own, so you need to find a cupboard in which it can lean. Otherwise, it can be mounted to the wall, which takes up zero floor space.
---
Real Homes review process
We're always testing a vacuum, and we make sure to review the latest, trendiest, and most innovative models out there. We're talking about everything from the best cordless vacuums for those who like stick models to robot vacuum cleaners for hands-free cleaning, so we can help you find the most suitable make and model.
We have always judged vacuum cleaners not just by their price tag but also by what you get for your money. We look for how well they lift dirt from deep pile carpet, if they can easily maneuver around furniture, whether or not they can be easily carried up and down the stairs, and how they perform on hard floors. We also take into account the attachments, packaging, and delivery so you get a complete overview of what you can expect.
The majority of the vacuum cleaners which you have seen featured in this guide have been tested in our homes for up to two months. After this time, they are either returned to the brand or we are gifted them so we can continue to use them. Should this happen, we will update the relevant review about how the vacuum cleaner has performed over time and if we've had any issues. This is the same process we follow every time, for each of the robot vacuum cleaners, cordless vacuum, or handheld vacuum cleaners we've managed to get our hands on.
Multiple team members have reviewed the vacuums in this round-up, meaning that this guide is a true reflection of what Real Homes thinks is the very best. In total, we've tested 63 vacuums.
Meet our vacuum cleaner testers below:
Sarah is a freelance journalist and editor writing for websites, national newspapers, and magazines. She has tested a number of vacuums for Real Homes to determine if they are worth your money. Within this round-up, she has first-hand experience with the Miele Blizzard CX1 Cat&Dog PowerLine (opens in new tab) and the Dyson Ball Animal 2 (opens in new tab).
Linda is a freelance journalist who has specialized in home tech, interior design, and fitness for more than two decades. She has tested plenty of vacuums for Real Homes, including the iRobot Roomba I7+ vacuum (opens in new tab) on this list. She tests out vacuums in her Devon home to find out how well they perform across various floor types and how well they cope with busy family life and her three super-fluffy, world-class-molting dogs.
Jaclyn was our sleep editor at Real Homes, but now she works on our sister brand Homes & Gardens. She has also tested a number of vacuums for us within this list, including our standout top pick, the Dyson V15 Detect (opens in new tab), and the Shark Vertex Upright Vacuum with Powered Lift-Away vacuum (opens in new tab), which means she's well informed to tell you which one to invest in for your home.
Annie is our head ecommerce editor and she has been reviewing products for us since 2018. These products include everything from vacuum cleaners to grills and even mattresses. Annie lives in a spacious two-bedroom apartment in South London with her husband and her pug, and she reviewed the Shark Stratos Cordless with Clean Sense IQ (opens in new tab) and the Proscenic P11 Smart.
---
Which type of vacuum cleaner should you choose?
If you're not sure where to start when choosing a vacuum cleaner, here are a few things that you'll need to look out for.
Cordless is a good buy for small homes; they're often lighter and smaller, so easier to store and whip around than bulkier models. Their battery life is much better than a decade ago and they make quick cleaning very convenient.
Larger, more powerful vacuum cleaners tend to be corded, and these are what you want to choose for larger homes or if you need a really powerful vacuum cleaner (if you have, for example, kids who tread cookie and cracker crumbs into carpets or dogs that shed like you wouldn't believe).
Upright vacuum cleaners are usually heavier, although there are lightweight models available. They tend to have a larger capacity, meaning you have to empty them less frequently than a cylinder or small handheld vacs. They are therefore best for:
Prolonged use in larger spaces;
Easy use: you push the whole unit, rather than needing to tug the canister along after you
Quick use: the larger head (often with rotating brushes) makes quick work of cleaning up pet hair and dust.
Stick vacuums resemble a broom with their slender frames. They're what you'll commonly see in cordless versions, but they do not sit upright. They are known for being lightweight and easy to maneuver, but you'll need to find a place to lean it if you pause while you clean. They'll usually come with some sort of wall dock for easy hanging in between cleaning sessions.
Bagless vacuum cleaners can be messy to empty (we'd advise doing so outside, near the trash), but the ongoing cost of bags for traditional bagged models will make them more expensive in the long run, so this comes down to preference and budget.
Handheld vacuum cleaners are great for picking up quick messes, but many of today's stick and cordless models convert to easy handheld designs.
Canister vacuums (aka cylinder vacuums), although occasionally less energy-efficient, are best for:
Small homes lacking storage space to keep an upright (canisters can often be taken apart so the base can be stored in a low cupboard and the pipe and foot stowed elsewhere if needed)
Getting into corners or under beds
Easy use on stairs and landings.
On top of all this, you should also look out for the following special features:
HEPA filters for allergy sufferers
Advanced filtration systems for pollen and dust
Vacuum cleaners for pets which offer extra powerful suction and a non-tangling brush
Deep clean, which some models specialize in
How to clean your vacuum cleaner
Don't forget that to maintain max suction you need to keep your vacuum cleaner clean. Emptying the bag or tank regularly is key, so you may prefer a larger capacity that allows you to clean more of the house before this needs to be done.
Most vacuums also come with a filter that may need washing every so often. This needs to be done well in advance of use so that the filter is completely dry in time. If this sounds like too much work, check out filterless vacuums.
Otherwise, there are no general instructions that we can give you on how to clean a vacuum, as they're all different. If you have a Dyson or Shark, see our top tips below.