Current life may have started to look a little more normal lately, but spontaneous trips to the movie theater or music venues are still off the table for many of us. This is why it makes sense that people have started looking at how they can upgrade their at-home sound systems.
The best soundbars are an incredible way to do this, offering convenience and quality that can instantly make watching a movie on the couch much more of an experience.
But you've already done some shopping around, you'll know that prices for the best soundbars can vary wildly, and it isn't easy to decide which one to go for. Of course, you'll also find more extensive, often more pricey, systems, and, if you're tempted, then check out our guide to the best surround sound systems.
To help with your decision, we've identified some of the top offerings from leading brands at various price points to find which soundbars offer the most 'bang for your buck'. In addition, we consider additional features such as internal speakers, smart connectivity, subwoofers, and more.
Scroll down to see what we thought and for more buying advice below.
The best soundbars: tried and tested by us
Why you can trust Real Homes Our expert reviewers spend hours testing and comparing products and services so you can choose the best for you. Find out more about how we test.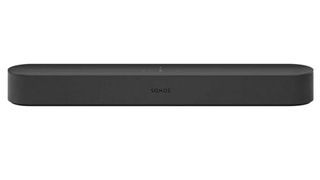 After Sonos' previous compact soundbar proved successful, the company has released the next-gen version of its Sonos Beam with faster processing and support for Dolby Atmos.
What we like
Testing the Sonos Beam (Gen 2) is a breeze due to the simplicity of its design. Of course, some would complain about the lack of connections, but it's ideal for those who don't like their technology to be overly fussy. Simply connect the power cable and HDMI (to the HDMI ARC input of your television), and you're ready to go.
Of course, connecting the speaker to your TV is just the tip of the iceberg, and you'll want to fire up the Sonos app to get the most out of your Beam. You can access the EQ presets and - if you happen to have an iPhone - Trueplay tuning. This ensures that you're getting the best sound for your space and involves walking around the room while waving your phone in the air for a few minutes.
While the overall sound from the Beam is excellent, we can't say we noticed a difference after Trueplay was tuned. Perhaps that's a testament to how good the quality is straight out of the box, before any fiddling around.
What could be better
The new design replaced the fabric grille with a new plastic one, but the matte black body tended to collect dust and fingerprints while we were testing. Be prepared to clean it daily if you care about it looking pristine. We also noticed that, because of how narrow the speaker is compared to traditional soundbars, the mess of wires behind our television was obvious. Wall mounting the bar will create the best aesthetic.
Real Homes rating: 5 out of 5 stars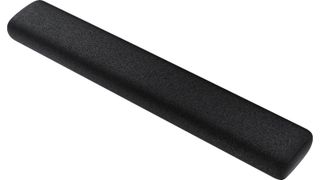 This all-in-one soundbar from Samsung is probably the most attractive on our list, with our testing alongside the Samsung Frame TV only enhancing this aspect.
What we like
The Samsung HW-S60T Soundbar looks excellent, but audio performance has also been paid attention to. Unfortunately, there are no Dolby Atmos or upfiring drivers. Still, Samsung has tried to compensate for this with so-called Acoustic Beam Technology that utilizes interior speakers placed on each end to approximate a surround sound.
The soundbar also operates as a Bluetooth speaker for playing music, podcasts, or audiobooks from your device, and the built-in subwoofer gives everything the oomph you want. But, of course, it works with Alexa, too, so if you already have an Amazon smart speaker in the home, then connecting them is a doddle.
What could be better
The wraparound fabric covering and slightly squashed shape look great, but its drawbacks include slightly blocking the screen if both are placed on the same stand. For this reason, we highly recommend mounting the soundbar, and luckily everything you need to do so is included with the purchase.
Real Homes rating: 4 out of 5 stars | read our full review of the Samsung HW-S60 soundbar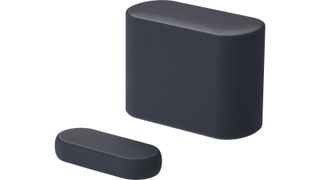 The most compact soundbar option, the LG Eclair QP5, aims to be a tiny speaker with colossal power, designed for apartments and other smaller spaces.
What we like
Setting up the Eclair QP5 was easy, which isn't surprising given that you can do it one-handed. You can connect it to your TV using either the HDMI ARC cable or Optical, with the latter included in the box. The LG app communicates with the soundbar via Bluetooth, so you don't even need your WiFi password handy.
The sound quality is a mixed bag, but overall impressive considering the size LG is working with here. Dolby Atmos and a pair of upfiring drivers ensure it does its best to create a surround sound experience, but sadly there's no compensating for lack of physical heft.
But those interested in the QP5 are likely tempted by its unique size and shape, and it's a winner in the looks department. Available in black or white (we tested the black model), the wood grain body and fabric wrap add to the pastry-shaped aesthetic.
What could be better
Despite the relatively high-end price of the LG Eclair QP5, it's pretty basic with modern features like smart home compatibility. For example, there's no WiFi capability, and controlling the bar is fiddly if you don't want to use the remote control (either through buttons on the rear of the device or via the app).
We were also surprised by the subwoofer size when you consider that the main selling point of the soundbar is its compact size.
Real Homes rating: 4 out of 5 stars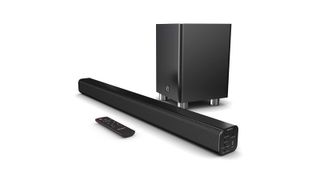 If you're looking to upgrade your TV's sound but don't have much money to play with, then the Majority K2 Soundbar could be the answer.
What we like
The K2 doesn't look high-end, but it doesn't look particularly cheap, either. The plastic and mesh grille make the speaker blend into our TV set-up, and if you want something that will make more of a statement, it's also available in white. The subwoofer is equally neutral in design, with silver legs that give it an aesthetic boost.
It's worth noting again what a bargain the K2 is and how it could be the perfect entry soundbar for those yet to immerse themselves in the home audio world. Another bonus is its eco-friendly credentials, as Majority promises to plant a tree for every soundbar sold (don't worry, our sample carried the same promise).
What could be better
Performance-wise, Majority's offering certainly marked an improvement over the in-built speakers of our Hisense Roku TV, but audiophiles won't be impressed. The system lacks bass - so much so that we ended up disconnecting our subwoofer to make space, noticing only a slight difference in the overall effect.
Real Homes rating: 3.5 out of 5 stars
The best soundbars: more top picks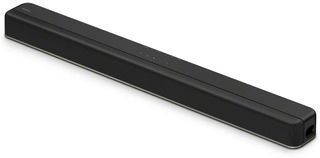 An affordable Dolby Atmos option from Sony, the HT-X8500 Soundbar packs everything in to ensure that it produces excellent sound at less expense.
What's good
Promising 7.1.2-channel audio upscaling, Dolby Atmos, and sound processing from Sony's Vertical Sound Engine technology, if the HT-X8500 compromises anywhere, it's not with its audio. So while the claims might not match reality (we haven't had hands-on experience with it yet), anyone looking for a mid-range Atmos bar is in the right place.
There are five EQ presets to choose from, including cinema, music, game, news, and sports, and a night mode that reduces those loud noises that threaten to wake up the whole household.
Those with a Sony BRAVIA TV will also be pleased to hear that the soundbar has been specially designed to look great with their set and can be connected wirelessly.
What could be better
While the HT-X8500 certainly puts a lot behind its claim for a surround sound effect, the fact remains that the speaker doesn't have upfiring drivers and so can't create authentic spatial sound.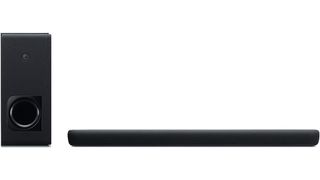 A good upgrade from the Yamaha YAS-207 is the YAS-209, which adds built-in Alexa smart tech and a sleek redesign.
What's good
The slim profile of the central unit is perfect for fitting under most TVs, and inside is 3D DTS Virtual:X for a surround sound effect for a much more affordable price. The bottom-end beef comes from the dedicated subwoofer unit. It connects wirelessly with the main bar, which means you can squirrel it away somewhere unseen. All it needs is a nearby power outlet, and you're set.
One significant benefit of the Yamaha speaker is the presence of the Clear Voice mode, which promises to boost dialogue and speech, making it easier to hear. But, of course, that's alongside the dedicated movie, music, TV, sport, and gaming presets.
What could be better
The lack of Yamaha's MusicCast multi-room technology is slightly disappointing but not surprising, and it's hard to complain about the lack of top-end touches like upfiring drivers and Dolby Atmos with a soundbar that packs in so many audio-boosting features.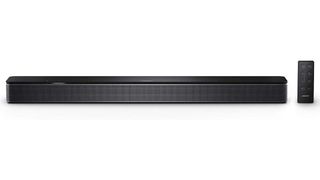 One of the smartest options on our list, the Bose Smart Soundbar 300 includes not just built-in Alexa and Google Assistant but also Bose's Voice4Video technology.
What's good
Voice4Video allows you to use the Smart Soundbar 300 to control your sound and your TV or cable box with voice commands. The speaker also works with Apple AirPlay 2, Chromecast, and Spotify Connect, so it's a handy device to have in the house if you like your music and movies easily accessible.
Audio is entirely acceptable with four full-range drivers and a central dome tweeter. Still, adding a subwoofer or additional speakers down the line is also straightforward if you find it lacking. However, Bose promises that its soundbar analyses what you're watching to fine-tune center vocals and treble to make things like dialogue sound as clear as possible.
What could be better
The emphasis that Bose puts on the ability to expand your sound system is a sign that the soundbar itself won't blow anyone away. The price tag is high for a soundbar lacking Dolby Atmos, and the company has since released updated (even more pricey) models.
How to choose the best soundbar for your home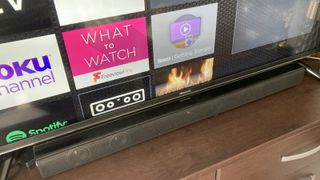 Are soundbars worth the investment?
Sound needs space, and the trouble with modern, flat-panel TVs is that space is precisely what they don't have. There's no room for lovely, ample speaker cabinets to create room-shaking audio. Instead, the best way to get that is for your TV to outsource to an external box, and the most accessible and most convenient is the soundbar – a boxed speaker array that sits underneath or near your TV and pumps out the audio.
HDMI
You'll need to consider how you're planning on connecting your soundbar to your TV, and one of the easiest ways to do that is with an HDMI cable. Look out for TVs and soundbars which support HDMI ARC or eARC. It will often have this written next to one of the HDMI sockets on your TV. Plug your soundbar into this port, and you'll be able to use your TV remote to control your audio.
Apps
One exciting differentiator with soundbars is that some are smart – i.e., Wi-Fi-connectable – and come with a selection of apps for your TV. Usually, music or video-based, these could well fill some crucial gaps that your TV doesn't already manage on its own. No access to Google Play Movies & TV or Spotify? It's worth looking out for a soundbar with some smarts, then.
Channels
The specs of some soundbars will describe how many channels it has, e.g., 2.0, 2.1, 3.1, etc. These numbers refer to the divisions of speakers inside it. For example, a 2.0 soundbar has two channels – one for the left and one for the right. A 3.0 set-up will be left and right, plus a center channel as well—the 0.1 after most often refers to a bass channel.
Dolby Atmos
There is another channel that is popular at the moment, and it represents height. So, if you want your soundbar to produce effects of objects flying overhead, then be on the lookout for one which supports Dolby Atmos. These will often have speakers on their top surface and front or rear, and you may see them described in the specs as having 2.1.2 channels, for example, where the final '2' represents two Atmos speakers.
Dimensions
Arguably the most critical piece of research to do is sizing. Take a look at the dimensions of a soundbar and check it's going to fit where you want to put it. The classic position is at the feet of your TV, but some TV stands don't offer much clearance, and there are plenty of soundbars that are taller than they should be. You don't want to end up with the soundbar blocking your view. If this looks like a problem, it's worth considering wall-mounting your TV, soundbar, or possibly both.
Multi-room
A soundbar offers more than just audio potential for your viewing. For example, it can be a music speaker for your lounge listening even when your telly is off. For that reason, you might decide that you want one that fits into your home's multi-room audio system so you can stream all of your favorite tunes just as you would elsewhere. The best functionality on this front is, of course, Sonos. Fortunately, Sonos does a rather good line in soundbars.