Many of us have learned from being at home far more than we expected over the last few years that having a great viewing experience from our at-home set-up can be an excellent investment.
If you're still settling for an old or sub-par television, it may be time to bite the bullet and invest in a brand-new set. Of course, most of us dream of getting the largest screen possible to enjoy our next Netflix binge. However, a 40-inch TV can be the perfect combination of function and appearance - not overwhelming for your space but still capable of offering a theatre-worthy experience. Usually measuring between 40-43in, it's a solid option if you want to upgrade.
The other features you need to consider will depend on your priorities. For example, image quality needs to be measured by color intensity, blacks' depths, and whether your set has 4K resolution, among other things.
Then there's design, with Samsung recently winning our vote with The Frame Art Print that fades into the rest of your décor. Scroll down to see what we thought. And if you're unsure about which size to go for, check out our ranking of the best TVs for a guide on the best screen, size and features.
The best 40 inch TVs: tried and tested by us
Why you can trust Real Homes Our expert reviewers spend hours testing and comparing products and services so you can choose the best for you. Find out more about how we test.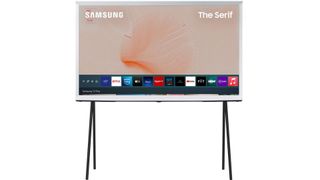 The Serif and the Frame, which you'll find below, will offer very similar performances to each other.
Representing the lower end of Samsung's excellent QLED range, they score very similarly on PQI (Picture Quality Index) rating. Instead, the significant differences are aesthetic, and that's down to what you're looking for in your home.
What you get with the Serif is a set designed to sit on tall, freestanding legs anywhere in a room, independent of any other furniture. A different approach is to balance it on its frame on any flat surface – such as a sideboard – without its legs.
The Serif looks excellent, but you definitely pay for the privilege. It comes in 43in size and features an Ambient mode to turn the panel into a series of attractive images instead of just a black rectangle, and you can connect your phone to it using NFC by resting your device on its top edge.
Real Homes rating: 4 out of 5 stars | read our full review of the Samsung The Serif (2020)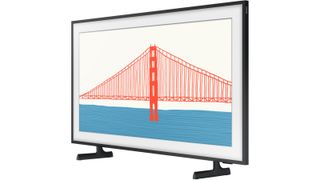 A TV for true design enthusiasts, The Frame from Samsung hides your set in plain sight with its Art Mode displaying photos and artwork that fit in seamlessly with the rest of the room. Basically, it's a smart picture frame that you can use as a 4K television whenever you want!
Another of The Frame's key selling points is its no-gap wall mounting, which basically means that the TV sits absolutely flush to your wall with only enough space for a tiny near-invisible cable to run discreetly down to the One Connect box.
This box is where you'll plug in all your other devices - like a set-top box, Blu-ray player, or external speakers - and can easily be tucked away in a cupboard. The best 40-inch TV for those who want chic living! This is also one of our best smaller TVs, also making it on to our guide of the best 32-inch TVs.
Real Homes rating: 4 out of 5 stars | read our full review of the Samsung The Frame TV (2020)
The best 40 inch TVs: more top picks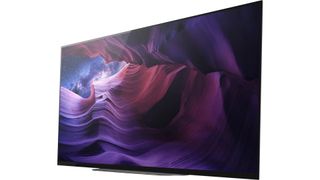 The most expensive TV on our list, the Sony Bravia A9, offers superior OLED visuals and sound with Dolby Atmos and DTS Digital Surround. Audio is boosted further by Acoustic Surface Audio - creating the illusion that sound is coming from a particular place on the screen.
This makes it an excellent choice for gamers, with X-Motion Clarity tech also helping things to run smoothly. So switch to the HDR game mode and get playing!
The OLED screen is the star here, offering those tell-tale deep blacks and bright colors. Of course, there are cheaper models, but this may be the superior choice if optimum immersion is something you want from your TV.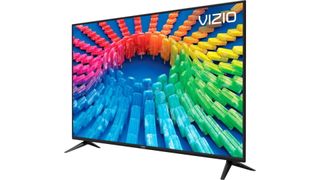 This may be a value-priced TV, but this set still boasts some savory tech and plenty of great features. It offers full HDR support, including HLG and Dolby Vision, and is compatible with every type of smart home, whether you use Amazon Alexa, Google Home, or Apple HomeKit.
The Vizio V-Series also incorporates features typically reserved for higher-end models, like Dolby Vision, hands-free voice control, Ultra-Bright 400, an Octa-core processor, and Clear Action 180, which supports fast-moving scenes.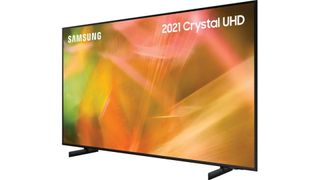 A great TV with a smaller price tag, the Samsung TU8000 benefits from its top image and sound quality that wouldn't be out of place in a higher-end TV. In addition, the 2021 model has rectified one of the biggest complaints about the set, adjusting the stand so that it doesn't lift the TV too far off its surface.
Samsung's Tizen platform has an excellent reputation for ease of use and navigation. The TU8000 makes it super-easy to find your favorite content across services like Netflix, Disney+, Amazon Prime, and countless others.
The TV is also one of the lightest on our list, so it's perfect if you want a set to move around easily. While some may still complain about the bulkiness of the stand, it can easily be wall-mounted if you're short on space.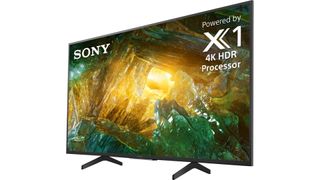 This Sony TV gets our vote as one of the best 40 inch Android TVs, although it sits about midway through the company's TV range.
It's an edge-lit model but one of the better performing sets of this type you'll find. There are no patchy backlight issues and the picture is nice and strong, thanks to Sony's X1 processor which runs the show.
Ever noticed any judder when you're watching TV and the camera pans across a scene? Well, one of the things Sony does particularly well is motion processing. So, you can guarantee that the action on this 4K HDR set will be the smoothest you'll find on this list.
How we test the best 40 inch TVs
All reviews on Real Homes are based on the expertise and experience of our team, and we try to have as much hands-on experience with the products we recommend as possible. The items on this list have been chosen based on a combination of industry knowledge and at-home testing. Although it's not always possible to review every product, those we have tested ourselves will be clearly marked in the copy. For more, take a look at our how we test page.
How to choose the best 40 inch TV for your home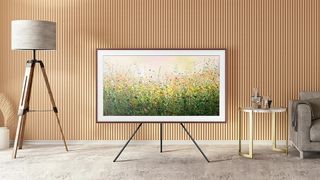 How can I get the best possible image quality?
Make sure whatever you choose has a 4K resolution for the best possible resolution. Look out for 40-inch TVs which are HDR-compatible to get the best from dark and light areas of the image on your screen. If possible, those which support HDR10+ and/or Dolby Vision are also preferable to HDR10.
OLED or LED?
Even though you're not likely to find an OLED panel at this size, LCD TVs still come in enough different flavors to make it worth knowing what you've got on your wish list. Those edge-lit LEDs can be much thinner and often more aesthetically pleasing, but their direct or back-lit LED counterparts can produce a more subtle and nuanced picture even if their frames aren't quite as easy on the eye.
Does my TV need to be smart?
Anything you buy nowadays should be a Wi-Fi-enabled smart TV with at least three HDMI sockets around the back. You should also be sure that your favorite streaming services are available on its app platform. Very few TVs cover all of the bases but remember that you can always add an Amazon Fire TV Stick, Google Chromecast, or NOW TV Smart Stick, etc., to plug those missing gaps.
How much should I spend on a 40 inch TV?
Even though all of the best 40-inch TV options on our list are of a similar size, you'll notice that the prices vary wildly. This could be for several reasons, including image quality, extra features or even just the brand, so it's crucial to ensure you're getting all the features you want for the best price. You probably won't be able to go any cheaper than £400-ish, but our top-rated choice will set you back close to £1,500.
Of course, the best 75-inch TVs (the larger end of the scale) will likely set you back at least £800, so 40-inch TVs are still considerably cheaper.