Autonomous SmartDesk Core Standing Desk: Quick Menu
What made me want to try the Autonomous SmartDesk Core you ask? Perhaps it's my constant searches for "why does my back hurt?" or "how to fix lower back pain," but the TikTok algorithm is really onto me. And by that I mean, I've been targeted by dreamy WFH setups for the last few months while perched uncomfortably at my home desk. The star of all of these setups? A standing desk.
While I'll admit, the Autonomous SmartDesk Core lacks the vintage charm of my old desk, it makes up for it in spades with its high-tech features and the fact that it's large enough to actually fit my monitor and my laptop and my many planners. I also got to pick from one of six different finishes and two frame colors, making it considerably more discreet than a lot of the standing desks I looked at when picking the right one for my home.
As one of the best standing desks, I can also share it with my partner because it has a range of buttons to allow you to pre-set different desk heights depending on the user. There are four buttons in total. We've got a standing one for me (tall), him (super tall), and for both of us when we're sitting. And my back pain? Well, it's not gone, but it's an awful lot better.
Testing the Autonomous SmartDesk Core
Millie Fender used to be Head of Reviews at Real Homes. She's now Head of Ecommerce at sister site, Woman&Home. Millie has been reviewing home products for nearly five years and will continue to test the Autonomous SmartDesk Core and keep us updated on how she finds it.
Autonomous SmartDesk Core review
What I thought of the Autonomous SmartDesk Core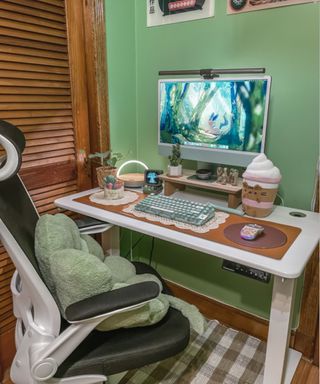 I opted for a walnut desk top on white legs. At my heart, I'm a midcentury girlie, and while I don't think West Elm will be selling any faux-walnut standing desks any time soon, it did fit in well with the rest of my interior style.
Assembly was pretty easy. And by that I mean, my boyfriend did it almost entirely himself. The desk is heavy, so if you live in a walk-up you may need to enlist a friend or two. Ultimately, the heaviness is a good thing because the finished result is insanely sturdy and can hold 250 lbs in weight. That's enough for any desk setup I can think of.
The desk height ranges from 29.3 to 48.5 inches. When changing height, it's super quiet. Saying that I'd still put myself on mute if I want to switch to sitting mid-call, but it won't distract any housemates.
My main gripe is that my wires dangle down the back of the desk when it's in standing mode, and I have a lot of them, so it's not the most aesthetically pleasing. This was easily fixed with an under-desk cable management system from Amazon though, and I'm thinking of buying some IKEA Alex under-desk drawers or one of the best desk organizers to keep my desk clutter at bay.
Autonomous SmartDesk Core information
Size (in.): L53 x W29 x H29.3-48.5
Weight: 51lbs
Colors: White, Black, White Oak, Walnut, Bamboo, Dark Bamboo
Power: 110-240 outlet voltage
Settings: 4 pre-settings, up and down buttons
What I love about this Autonomous SmartDesk Core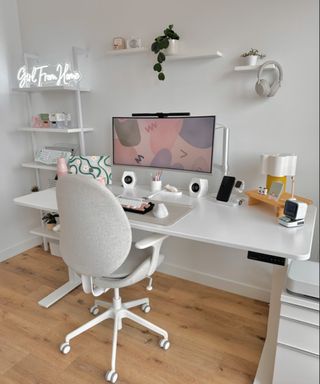 Assembly was a breeze — Everything we needed to build it came included, which is a win for IKEA girlies everywhere. I'm putting off that toolbox purchase for as long as humanly possible. The brand claims it takes about 15-30 minutes and that's true. It was more on the 30 side, but my partner didn't get much help from me (I was on moral support duty), and it would probably have taken less time if I'd gotten involved.
You can have multiple users — Because who has the space for two desks? Ok fine, I have the space for two desks, but sometimes my boyfriend gets to take a break from his desk when I'm in the office. And he enjoys the standing life too! You can set four buttons into place, but this works best for two people IMO. That way you can set your ideal seated desk height as well as your ideal standing desk height.
It's really quiet — Like, a mild whirring at most. I do put myself on mute if I'm going to go from standing to sitting in a meeting, but most of the time I don't do that because it probably looks super weird.
You can buy lots of (reasonably priced) extras — This includes an under-desk drawer to keep your keyboard in, a filing cabinet that fits perfectly under the desk in matching colors, or a cable tray. Or even an attachment to turn it into a corner desk, if that's what you're into.
It has so much space — If anything, it possibly has a little too much space. My old desk kept me restricted on clutter, but I can leave all manner of things strewn around this bad boy.
It's a miracle for back pain — The main reason I decided to make the switch. A lot of my back pain comes from bad posture, so the ability to switch to standing mode forces me to straighten out my back. I also think my old desk chair didn't give me the support my back needed, so sitting on it all day would've had a detrimental effect on the discomfort I felt when I stood up. Even going from sitting to standing forces helpful muscles to engage, which can take the train off your lower back when it comes to supporting your posture.
It's good for your health — I'm really not one for calorie-talk, but it does help you expend a bit more energy which, when you're working, can also help you zone in on a task. According to Healthline, "even an hour of intense exercise may not make up for the negative effects of an entire day spent sitting." So basically, sitting all day without that commute to start and end that day is no bueno.
What I didn't love about the Autonomous SmartDesk Core
It's not the most stylish — It's not ugly either but yeah, no prizes for interior design. Or at least in my home. If you've got a bit more of a minimalist or modern approach you may feel differently, and it does come in a really good range of colors.
Cable city — Phone charger, monitor, keyboard, mouse, laptop charger, HDMI cable... I've got a lot of cables and I try my best to hide them with the best cable management buys. The Autonomous SmartDesk Core does allow you to buy a cable-tidy and I'd definitely recommend it. Without it, things got a bit messy.
The price — Let's be honest, it's not cheap. The RRP is $549. If you don't know for certain that you want a standing desk you can definitely get cheaper, but if you do want a standing desk it's not outlandish compared to the other desks on the market.
How to use the Autonomous SmartDesk Core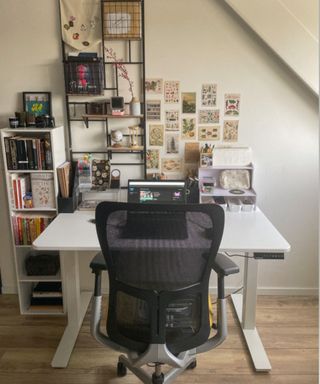 Once assembled you've only got to determine your pre-set heights and you're good to go. There are four buttons, as well as an up and a down button.
To lock your optimized height into place, you just press the button you want to set down for three seconds. The lights will flash, meaning you've saved the current height into place.
For something that calls itself a SmartDesk, it's actually not too smart. I've seen alternatives on the market that have USB ports or wireless charging, and those are off the table with the Autonomous Core model. On the plus side, it makes control and setup totally painless.
Is the Autonomous SmartDesk Core right for you?
Para to sum up everything above - positives, negs, considerations etc. A bit of copy to introduce altetnatives if this standing desk isn't right for you.
The Autonomous SmartDesk Core is one of the more expensive smart desks on the market, but it's capable of supporting hefty gaming and WFH setups without any difficulty. Assembly is easy, and it comes in a range of colors to suit just about any space.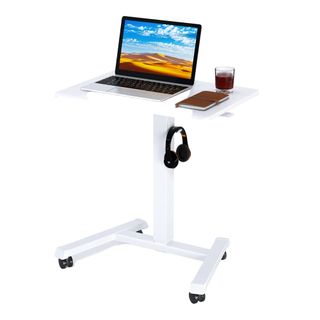 Storage-friendly
1. Bontec Mobile Standing Desk
Size (in.): H28.3–44 x W25.6 x D17.7
Made from: Engineered wood
Price: From $131.99
This compact desk is easy to maneuver and great for smaller spaces. It's also a lot more storage-friendly for those who can't commit to a permanent desk in their space.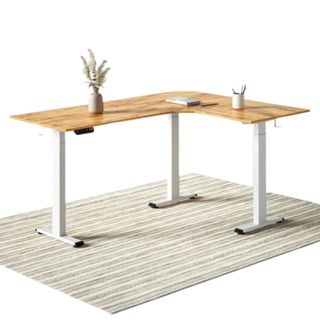 Corner desk
2. Inbox Zero Christeena Desk
Size (in.): H27.6–47.06 x W47.3 x D63
Made from: Manufactured wood, solid wood, and stainless steel
Price: From $539.99
Featuring three pre-set heights, this corner desk is easy to use and great for those with multiple monitors. Complete with cable-management trays, desk hooks, and wheels, it's ideal for quick feng-shui makeovers.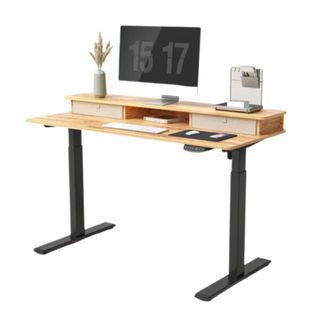 In-built storage
3. 17 Stories Paulien Standing Desk
Size (in.): H27.36–46.06 x W60 x D24
Made from: Manufactured and solid wood
Price: From $389.99
With two tasteful drawers and a cubby between them, this is the perfect pick for anyone after a little extra storage space to keep their pens, pencils, and workplace essentials, all while elevating their computer or laptop above the keyboard and mousemat below.
Where to buy the Autonomous SmartDesk Core
You can buy direct if you want some of their add-ons, but we've also got more retailers listed below:
How we reviewed the Autonomous SmartDesk Core
I reviewed the Autonomous SmartDesk Core from my very own office. In fact, I am writing this review on it. I've had it for a few months now, and I'll keep this review updated if anything changes, but so far it's been immensely sturdy and a breeze to use.
I also tried an Autonomous desk chair alongside the desk (that's right, my back is thanking me!) and I'll be writing that review imminently. As someone who works from home and has intermittent (cough, monthly) back issues, I felt like I was really well placed to test the benefits of an investment like this. When you think about it, many of us spend as much time at our desks every day as we do in bed, so it struck me as an investment that would pay off over the years. And with a five-year warranty, I'm confident it'll continue to keep my aches and pains at bay.