When looking through her Insta stories, Vanessa Hudgens' De'Longhi coffee maker was not the thing that I expected to catch my eye. Usually, it's her fabulous outfits or her gorgeous hairstyles that have me frantically searching how to get her look, but this time it's her stunning luxury coffee machine.
The actor is known for her breakout role in the High School Musical series, as well as starring in the Christmas film franchise The Princess Switch and the musical film Tick, Tick, Boom. She has 51.1 million followers on Instagram alone and is also known for serving high-fashion looks on the red carpet.
As well as this, she's the co-founder of the drinks brand Caliwater (yes, her talents seem to go no bounds!). In an Instagram reel for the company, she can be seen taking a delicious can of it out of the fridge — but it's the luxe coffee maker on her countertop that has me drooling. If you want to know the exact model it is, you can bet that I've found what it is.
Vanessa Hudgens' De'Longhi coffee maker revealed
Why Vanessa Hudgens' coffee maker is one of the best out there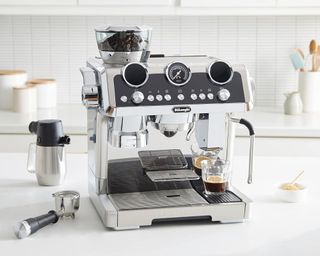 Ready to work this out? I've hunted down the exact bean-to-cup coffee maker that Vanessa has, plus spoken to our in-house experts who have tried the machine about what makes it so great and why they love the brand. Spoiler alert: You're going to want your own bougie espresso coffee maker after learning all about it.
The coffee maker that Vanessa Hudgens has in her kitchen is the De'Longhi La Specialista Maestro. While the Real Homes testing team hasn't tried this model due to its large size and high price tag (we specialize in smaller coffee makers), our sister brand Homes and Gardens has. "As a former barista, the De'Longhi La Specialista Maestro speaks my language," says Laura Honey, ecommerce editor at Homes and Gardens.
Laura Honey is an ecommerce editor at Homes and Gardens. She is a former barista and has tested plenty of coffee makers — including Vanessa Hudgens' De'Longhi La Specialista Maestro.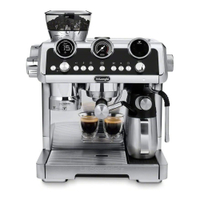 De'Longhi La Specialista Maestro Espresso Machine | Was $1,399.90 Now $1,100 (save $299.90) at Amazon
Size (in): H18.5 x W16.5 x D14
Coffee type: Ground coffee, espresso, and whole beans
Homes and Gardens' Laura Honey says that Vanessa Hudgens' machine makes the best coffee she's tested, as well as saying it's easy to use and has an excellent grinder. You can find out more about her thoughts in her De'Longhi La Specialista Maestro review for Homes and Gardens.
This model also has 21% off right now on Amazon, so if you have the budget for a luxe coffee machine, this is a brilliant one to go for.
Having tried it herself, she confirms that it has all the technology to create the perfect coffee: consistent grinding, auto-tamping, and impressive milk texturing. "While this sounds highly technical, the machine deals with all the coffee geekery and talks you through the whole process, so I think even a beginner could jump into using La Specialista," Honey explains. This is brilliant news for those of us who love the taste of store-bought coffee, but don't have the know-how to make one ourselves.
Our head of ecommerce and coffee expert Christina Chrysostomou agrees that it's a machine that's a great entry point for those wanting a sophisticated coffee. "This model has all the features you'd expect from a professional machine you'd see at a coffeehouse," she says.
Christina Chrysostomou is our head of ecommerce and our resident coffee expert and customer advisor at Real Homes. While she hasn't tried this specific model, she is a fan of the De'Longhi brand, having the Rivelia fully automatic coffee maker on her worktop and even having been to the De'Longhi factory in Treviso, Italy.
However, she explains that the smart tamping, pre-infusion, and auto milk frothing functions mean that it's not going to intimidate someone who is buying their first 'proper' appliance. Though marketed as an espresso maker, the De'Longhi La Specialista Maestro does so much more, including americanos, cappuccinos, and cold brews.

If you grab one and get used to using it you've had a bit more coffee-making experience, Chrysostomou highly recommends experimenting with the coffee strength settings. "Aesthetically, I like the combination of the modern LED interface, with knobs and buttons that allow you to have that quintessential, hands-on barista experience," she adds.
Honey also loves how much of a statement this makes on the countertop. "It's a substantial machine and, if your kitchen is up to it, the La Specialista will look beautiful and elicit comments and admiration from every visitor."
However, if you're short on space or shopping on a budget, she does say this isn't the one for you, as it won't maximize space on your countertop. Luckily, there are plenty of budget-friendly small coffee makers that might work better in your space.
Three budget-friendly bean-to-cup espresso machines
Want to get the look of Vanessa's machine, without spending too many dollars and taking up too much of your countertop space? While bean-to-cup coffee makers aren't known for being super cheap, these alternatives are all a lot less expensive than the De'Longhi La Specialista Maestro.
The prices below were correct at the time of publishing this article.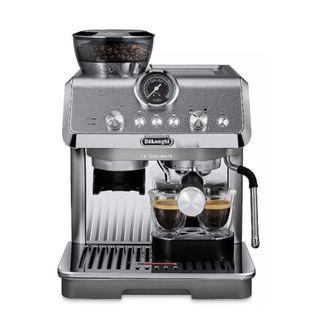 Smaller alternative
1. De'Longhi La Specialista Arte Evo Espresso Machine
Size (in): H15.87 x W11.22 x D14.37
Coffee type: Ground coffee, espresso, and whole beans
Price: Was $749.95 Now $549.95 (save $200) at Amazon
This is the little sister of the Maestro machine that Vanessa has, which is half the price and takes up much less space. It has many of the same features, including the commercial-style wand, cold extraction technology for cold brews, and eight grinding settings. The sleek design is also very similar and looks super luxe.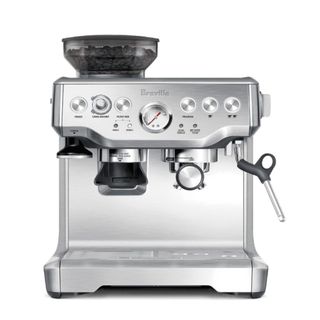 Tested by us
2. Breville Barista Express Espresso Machine
Size (in): H13.5 x W11 x D12
Coffee type: Ground coffee, espresso, and whole beans
Price: Was $749.95 Now $699.95 (save $50) at Amazon
This Breville Barista Express that we have reviewed is a splurge, but it is $300 cheaper than the De'Longhi and is our most highly-rated coffee and espresso machine. Christina Chrysostomou says that it's simple to use, creates delish frothy coffee, and has a useful temperature regulator.
Real Homes rating: 4.5/5 stars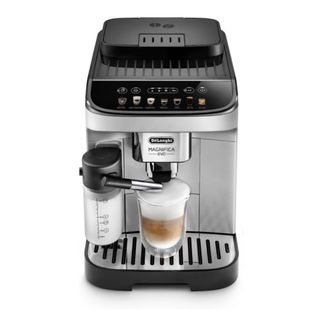 One-touch recipes
3. De'Longhi Magnifica Evo with LatteCrema System
Size (in): H14.17 x W9.45 x D17.32
Coffee type: Ground coffee, espresso, and whole beans
Price: Was $899.95 Now $599.95 (save $300) at Amazon
Don't want to think too much about making coffee, but want your drink to taste amazing? It's programmable, so all you have to do is press the coffee button you want and let it do its magic. Amazon shoppers love the 13 grind settings, the detachable milk container, and that the coffee tastes utterly delicious.
---
Vanessa's coffee machine is absolutely a top choice for those wanting barista-style coffee. That being said, choosing the right coffee machine should always come down to what's personally going to work for your lifestyle and your kitchen.
Want even more celeb home inspo? It turns out that Vanessa isn't the only HSM star with a stylish cooking area. Ashley Tisdale's dark green kitchen is absolutely fabulous, according to design experts.