We have a confession to make: Ashley Tisdale's kitchen is our current culinary crush. The star and lifestyle expert decided to upload a clip on Instagram where she's baking lemon poppy seed muffins in her abode, but we completely bypassed the sweets and honed in on her open shelves and restaurant-worthy oven instead.
The space is a mix of industrial and cozy vibes, and though we've been told to stray away from deep colors, particularly in tiny spaces, we couldn't help but fall in love with the combination of olive green, marble, and copper. (That KitchenAid mixer, though!)
Yes, small kitchen ideas from the experts would probably not include the deep-toned hue, but instead something lighter and airier to open up the space. But we're nothing if not home decor rebels, so we're going to tell you how to nail the look — even if your space is much tinier than Ashley's.
Take a look at Ashley Tisdale's kitchen
What'd we tell ya? You're green with envy, aren't you? Not only is the space eye-catching and worthy of an Instagram series all its own, but it's functional. Tisdale has seemingly nailed smart ways to maximize countertop space and knows exactly how to organize a kitchen. Plates and other necessities are easily accessible (and neatly stacked) and she has plenty of room to make enough lemon poppy seed muffins for the whole neighborhood.
We're not sure if the backsplash is our favorite aspect or if it's the convenient light above the counter (a great way to brighten a kitchen). Actually, strike that: we are totally obsessed with the copper accents. Have a look below and see what you love most about it! (Oh, and the muffins do look good, too.)
How to recreate the look of Ashley Tisdale's kitchen in your place
Even if you're not quite working with the same equipment as the former Disney star, you still have ways to channel her style and make your space functional, according to the experts. Here's how:
1. Focus on lighting
"Dark kitchens can be sophisticated and elegant, but proper lighting, natural or artificial is crucial for the space to not feel overwhelming," says Soledad Alzaga of Soledad Alzaga Interior Design.
Where possible, create a light source so that you're not only making the space feel a little more lively, but you can see what you're doing. What if the recipe called for 10 chocolate chips and you added 110 because you couldn't see what was in your cookbook? That's not going to work in the long-run.
"Ashley Tisdale's kitchen has light countertops and a patterned backsplash, making the space layered and lighter," Alzaga adds. "Her use of gold hardware, and a white ceiling, help brighten the space."
Even if you have to make the overall feel lighter through textiles, kitchenware, and hardware, every little bit counts!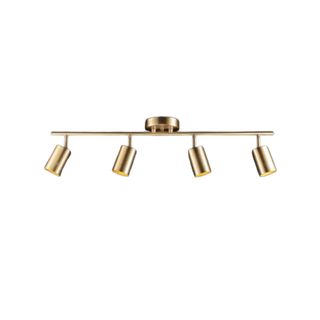 Four lights
Pratt 30'' Fixed Track Lighting
Price: Was $79.99, now $61.69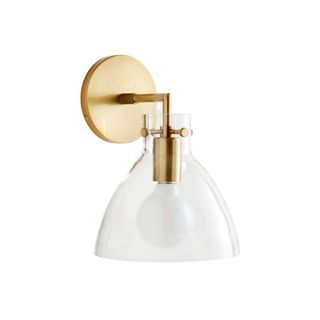 Five shades
Dakota Brass Sconce Light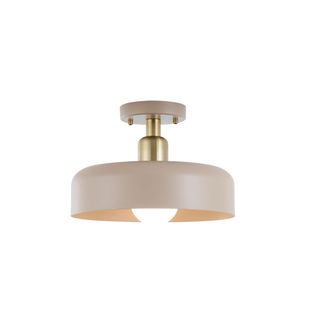 Easy Installation
BISAMIYA Contemporary Semi Flush Mount Ceiling Light
Soledad Alzaga is the founder of her eponymous business, a boutique residential and commercial interior company based in San Francisco, which was named one of the top 15 best interior design companies in the city. It assists in all aspects of the design and build process of residential and commercial properties from start to finish including consulting and working with architects, builders, and engineers
2. Mix things up
Sure, you can play with dark colors, even if you think the hue of your dreams has landed on the list of the worst colors to paint a small kitchen. That just means you'll have to mix things up.
"This is a good opportunity to add something matte, something shiny, something with texture and something with pattern," says Melony Huber, designer and co-founder of La Peony. "It helps add contrast to the space while sticking to the theme."
If you noticed, Ashley's counters are very bright, beautiful marble and she complements the overall aesthetic with her copper decor and brass hardware.
Melony Huber is a global travel fashion, textile, and exclusive interior design stylist/buyer and co-founder of ethical lifestyle collection La Peony.
3. Choose open shelves
Now is the time to figure out how to organize pots and pans — chances are, if you go for a similar method to Ashley's, your cookware will be on display. But trust us, that's a good thing.
"Open shelving breaks up having lots of dark cabinets and allows room for the backsplash tile to show more, which is a great way to add contrast and patterns," Huber adds.
Keep things neatly stacked and add a decorative item or two for good measure and you're set!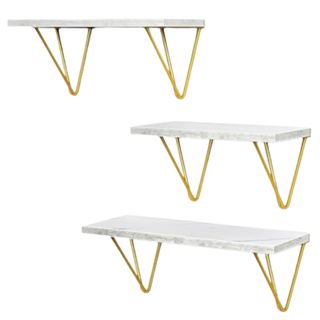 Three pieces
Everly Quinn Floating Shelf
Price: Was $33.99, now $27.99
Dimensions (in.): D6.1 x W11.41 x H6.1, D6.1 x W13.77 x H6.1, D15.74 x W6.1 x H6.1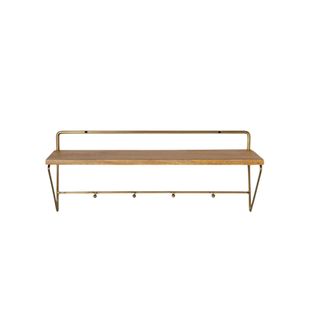 Hearth & Hand
Wood & Brass Wall Shelf with Hooks
Price: $59.99
Dimensions (in.): D24.2 x W10.1 x H10.1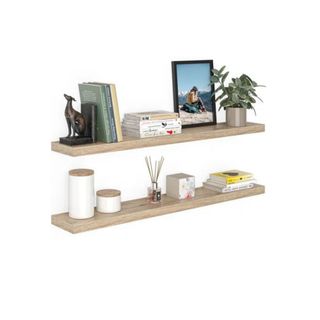 holds 17lbs
Price: Was $94.99, now $66.99
Dimensions (in.): W48 x D8
4. Choose one light-colored feature
While yes, the color palette is definitely moody, Ashley doesn't it keep it entirely green, and that's the key.
"She has a lot of dark choices for features, but the island is bright and white, which is a great contrast," Huber adds. "I would recommend choosing one element like this to add some light contrast to the dark so it's not all overwhelming."
Even if you're not going to marble route (or perhaps choosing the peel-and-stick type of marble), this good be a good way to throw in some cozy vibes.
---
Kitchen crazed? You've come to the right place, Foodies. Our edit of the best tips for designing a small kitchen will help you bring your space to life.