On the hunt for fireplace ideas to get yours looking lovely for fall and winter? Hey, it's October now, we are definitely allowed to get excited about the change in the seasons! We love decorating our homes at this time of year, making them cozier, comfier and warmer. And nothing says cozy, comfy and warm like a fireplace, so whether you have a fireplace you want to spruce up or you're looking to add one to your home, here are our fave five looks to get you inspired...
For more living room ideas head over to our gallery.
1. Make a focal point of an used fireplace
Just because your fireplace isn't actually in use, doesn't mean you can't make it a lovely focal point of your space. Our go-to for blocked-up fireplaces is to pile up the logs – they don't look out of place, they don't draw the eye too much and yet they perfectly fill what would otherwise be a great gapping hole in your lounge!
2. Keep your fireplace minimalist and chic
If you prefer a more contemporary look in your space, opt for a fireplace that lies flush to the wall. You can still add a mantle if you want to have somewhere to decorate, just install a floating shelf or wall mount a reclaimed beam for a more rustic living room.
3. Be bang on trend with white exposed brick
Exposed brick walls are a classic and we can't see them going out of style any time soon, but there is a new trend emerging for white brick walls. They are cleaner and less of a feature than raw brick and can modernise a fireplace instantly using just paint.
4. Build log storage under a fireplace
We love this simple, fussy free fireplace and the log storage underneath is not only a handy addition but looks really stylish too. This living room is on the traditional side, but this style of fireplace would look amazing in a modern, minimalist space, with the logs adding some warmth and texture.
5. Paint a fireplace to contrast your walls
If you have more of a traditional fireplace that is looking on the tired side, give it a fresh new look for fall with a coat of paint. Pick a color that's going to contrast your walls so it becomes more of a feature in the room. That doesn't have to mean going for a bold color – here this clean, bright white still pops against the light grey of the walls.
6. Decorate your mantle with the seasons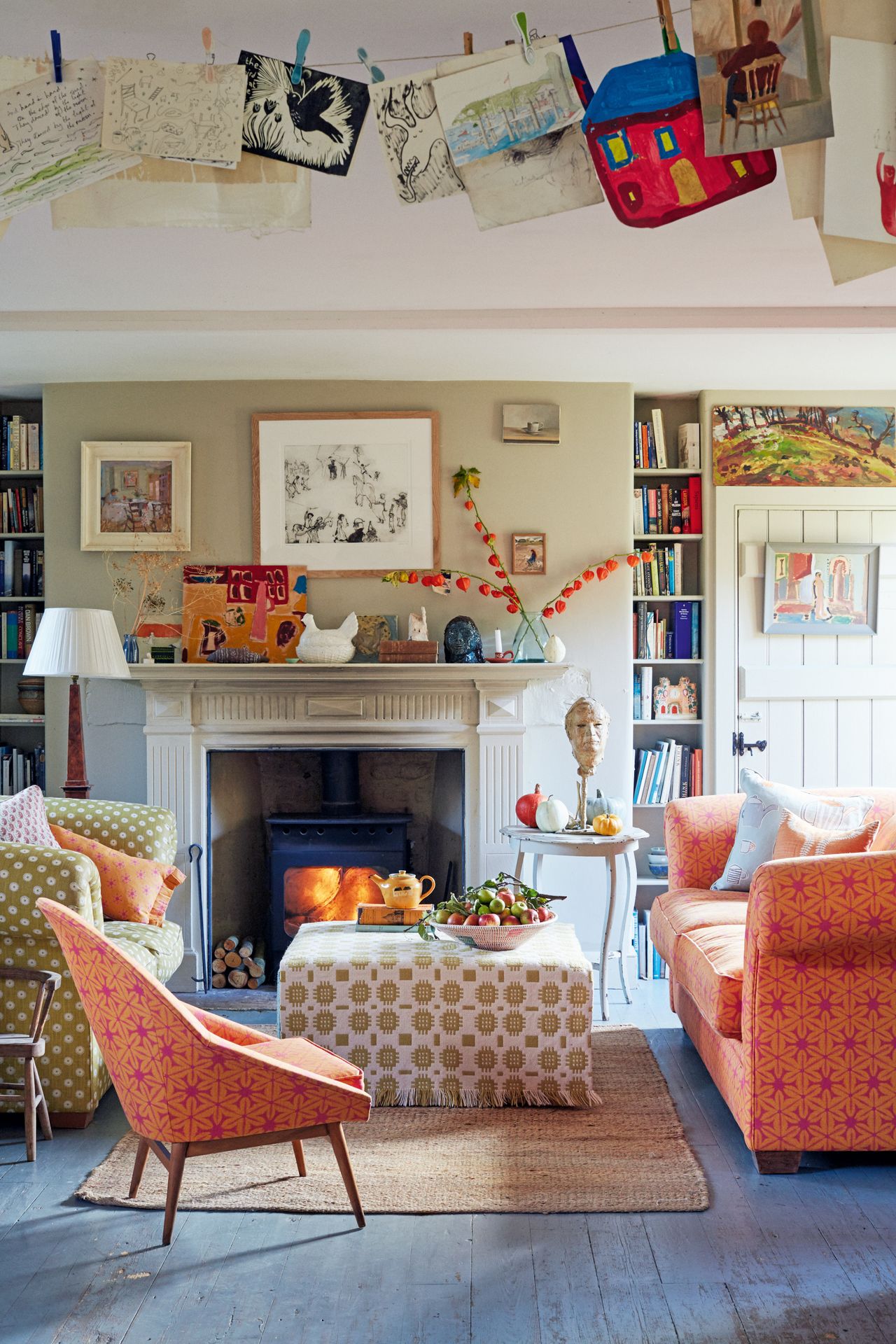 An empty mantle is a sad mantle. That's prime decorating space that could be put to use, bringing color, texture and personality into your room. Change up the decor with the seasons too – for fall you obviously want to go for warm hues, dried flowers and even the odd pumpkin and for Christmas go with all the greenery, berries and glowing candles.
7. Keep your fireplace chic and simple
If you prefer a cleaner, more minimalist look in your home keep your fireplace design really simple. This fireplace almost blends into the wall and the black marble brings some interest but still looks sleek and modern. Keep the mantle decor to a minimum with just a few houseplants to add some color.
8. Give your fireplace a DIY update
If you want a quick, cheap DIY fireplace update, check out Negi of @negi.at.home's transformation. This is all done just using paint, stencils and apparently a fair bit of patience, but the result is SO worth it.