Starting to think about Thanksgiving decor ideas? Us too! Sure, Thanksgiving celebrations might look a tad different this year but that doesn't mean we won't be decorating our homes for whoever shows up. We have kept things really easy here, just quick and effective looks that won't have you crafting all weekend to achieve – most of these could easily be done in under an hour.
So keep scrolling if you want to feel just ever so slightly festive and for more fall decor ideas head over to our gallery.
1. Hunt in your own garden for Thanksgiving decor
It doesn't get easier than going into your back yard and finding a load of leaves and branches to bring inside and whack them in a jar. So effective though! Pop a vase of foliage anywhere in your home to add some fall vibes and subtle Thanksgiving decor.
2. Adorn your home with foliage
A similar easy Thanksgiving decor idea, just taking it a bit further. You could use your back yard findings to create garlands that you can hang over pictures, fireplaces or mirrors. You can buy really realistic garlands too if you aren't blessed with a load of nature on your door step. And once Thanksgiving is over, add some berries and some holly and you can take this elegant look all the way up to Christmas.
3. Give your porch a subtle seasonal makeover
Porches come into their own during fall and Thanksgiving and this year. It doesn't take much effort to turn your porch into a hommage to fall either, just use the pumpkins left over from Halloween to decorate the steps, add some candles and if you are feeling really extra you could add corn stalks and hay bales. Check out loads more fall porch ideas in our gallery too.
4. Or just make a very easy fall wreath
And if you just want to add some subtle Thanksgiving decor to your front door, this asymmetric fall wreath would be really easy to make yourself. Create the shape using a flexible wood like wicker or willow – you could again find something in your garden – and the weave in leaves and dried flowers.
5. Hang up wreaths indoors too
And wreaths aren't reserved for outdoors online, bring one indoors to hang at the window, on a mirror or above a mantle and your space will instantly feel more festive.
6. Decorate your Thanksgiving table
Sure, we might not be throwing the Thanksgiving dinners of 2019 but you can still go to town on the Thanksgiving table decor you and your family. This might look like an impressive set up but it's really simple to recreate – start by laying down sprigs of eucalyptus (you can use any greenery but we live the contemporary look of eucalyptus) and then dot in some pumpkins and some candlesticks. For all the fall feels and more decor ideas check out @the_canary_cottage on Instagram.
7. And buy some last minute fun crockery
Even easier than decorating your table is to just pick up some Thanksgiving-themed crockery, sure these World Market turkey plates are technically made for kid's but we think they would be super cute as a side plate to add some fun decor to the table.
8. Throw up some quick paper decs
Paper decs are such an easy Thanksgiving decor idea! Get the whole family involved and get cutting out pumpkins, making traditional paper garlands and adorning your house in as much orange as possible. Or, if don't trust your own craft skills, just order a load of cute decs from Amazon.
9. Switch out your doormat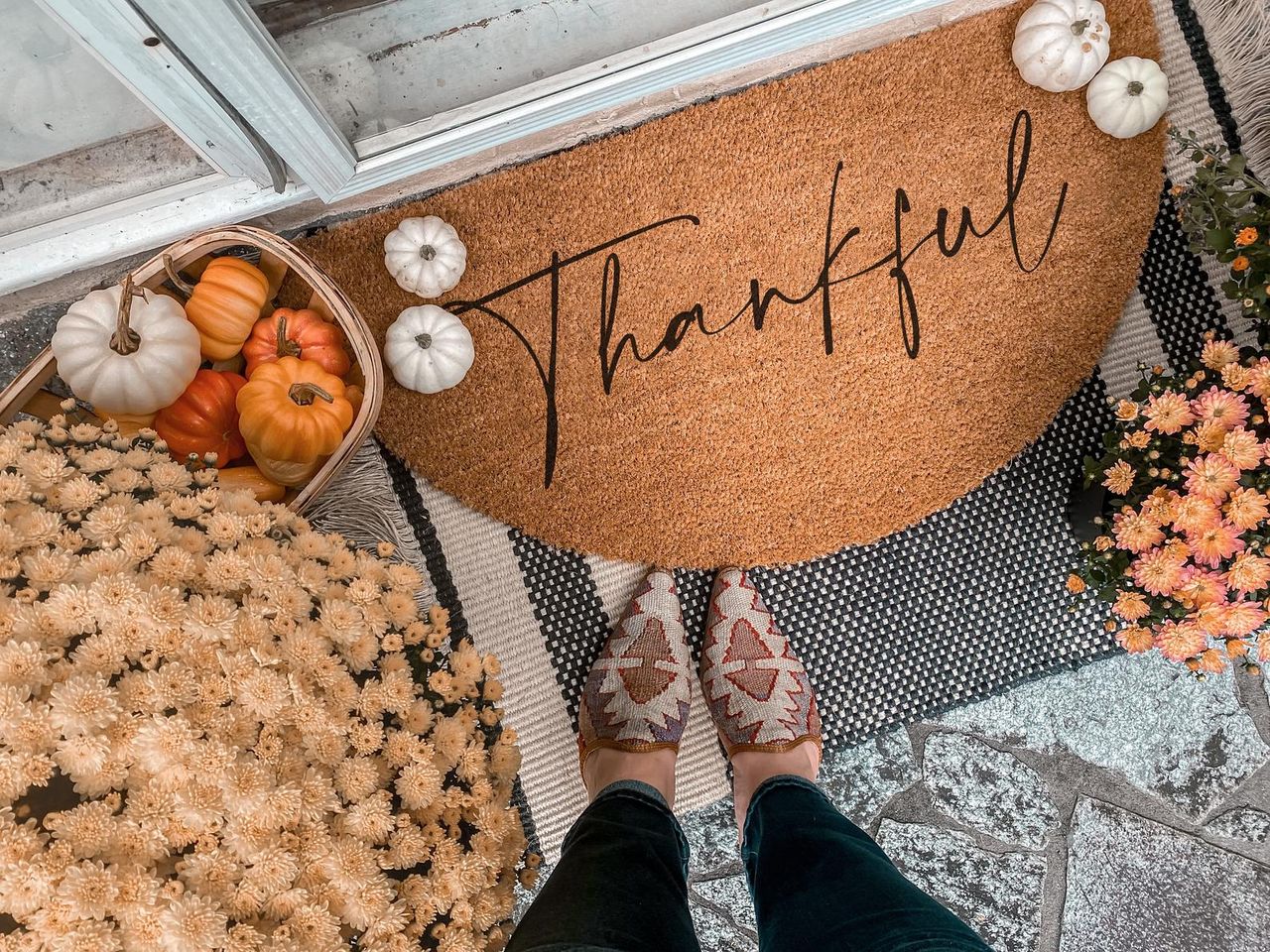 Oh yes, it's a bit cheesy, but we think as far as holiday-themed doormats go this one from Etsy is actually pretty cute and a very easy Thanksgiving decor idea too. Style it up with a couple of pumpkins and there you go, some instant holiday decoration that everyone will notice (and no one need know it only took you a couple of minutes).
10. Create a quick Thanksgiving display in your hallway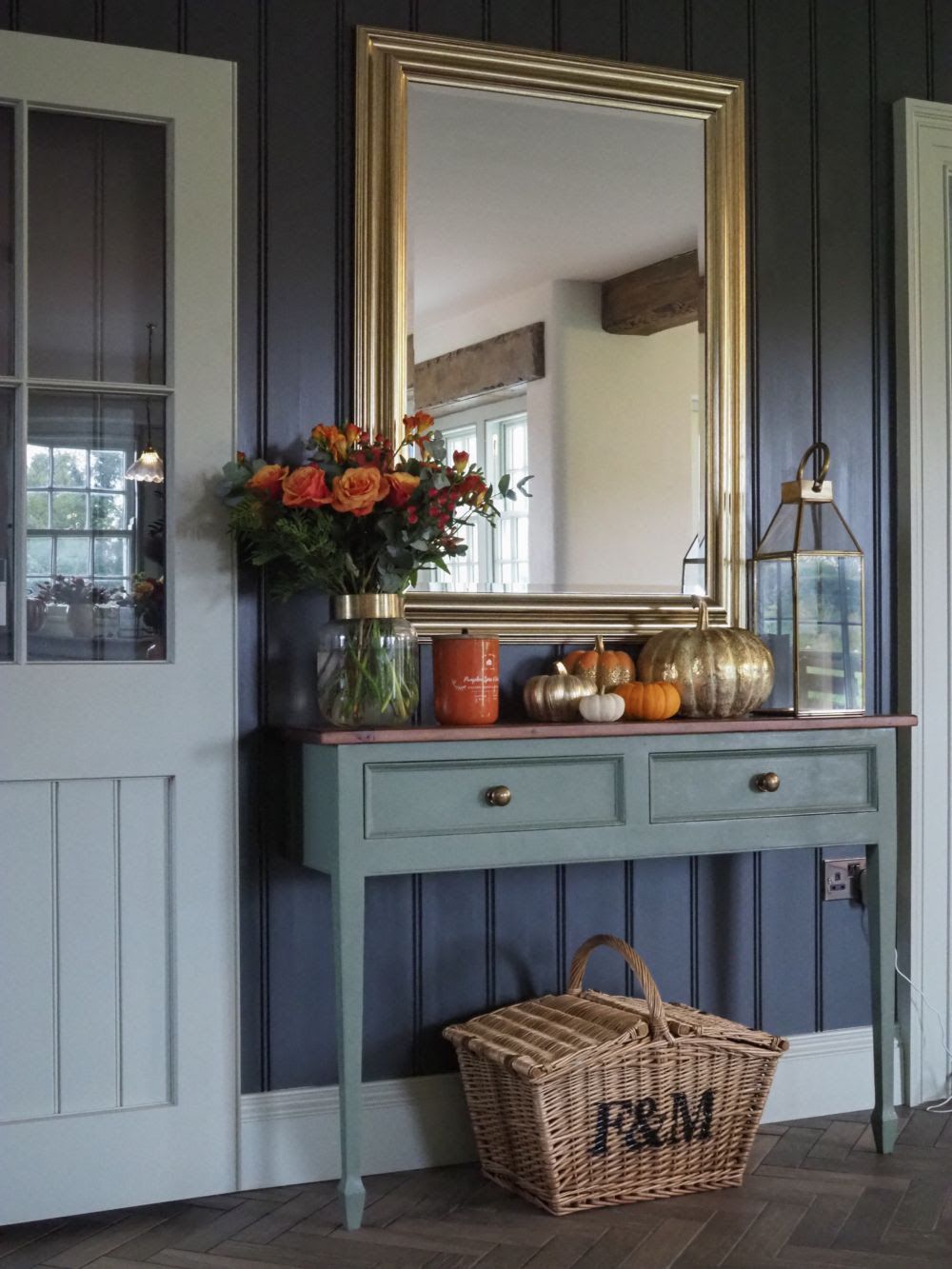 A couple of pumpkins, a bouquet of orange hued blooms and a candle called something like 'Crisp Leaves' or 'Fall Breath' could be all you need to make you home feel like it's dressed for Thanksgiving. Prioritise places your guests are going too see too – the hallway is a given, if you want everyone to think you have totally decked our your place just add plenty of decor to the hallway.