We've uncovered delightfully spooky and creative pumpkin painting ideas to help unleash your inner Picasso. Sipping a glass of mulled cider on the side is not required for any forthcoming creative pursuits, but encouraged.
We might be partial, but we firmly believe that Halloween is the most wonderful time of the year, and it's a particularly suitable season to get creative juices flowing. Whether or not you're opting for the spooky route, there is something worth celebrating on October 31st.
While you peruse the frighteningly adorable myriad of DIY Halloween decorating ideas, be sure to have your paintbrush at the ready. We know we do!
Pumpkin Painting Ideas: Quick Menu
7 Super-cute pumpkin painting ideas
Bloggers and crafters gave us a few ideas about trendy design ideas to pursue this Halloween, and we have a feeling your pumpkins are going to be the coolest gourds in town. A word to the wise: Make sure to put down the proper coverage as things will get messy.
1. Paint-pouring pumpkin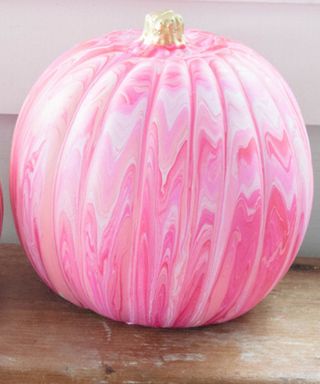 For a super-simple, no-painting-required psychedelic accent, might we recommend crafter Elizabeth Jones' paint-pouring pumpkin? All you need to do is get roughly four shades of the same color and manually pour them into a disposable cup one at a time. From there, place your pumpkin atop a paper cup and pour out the paint.
"I love choosing non-traditional fall colors to decorate pumpkins with," Jones tells Real Homes. "I personally prefer to choose a pink, purple, and mustard yellow color palette. The ultimate goal is to fill your space with colors and designs that make you happy!"
Honestly, we'll try one of these designs in every color.
2. Floral pumpkin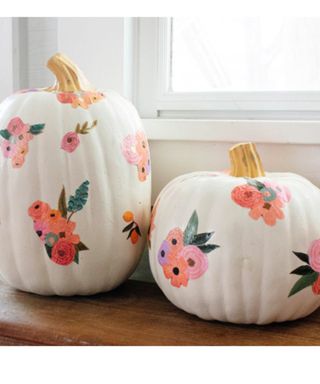 Who doesn't appreciate a few fall florals? If you'd like to go for a botanical twist like Jones, she cuts out the styles from paper napkins that she most appreciates and applies them to the gourd with glue.
"I always have Mod Podge on standby," she admits. "Plus a great gold craft paint to accent the stems. And, foam brushes to apply paint and Mod Podge."
3. Black and white pumpkin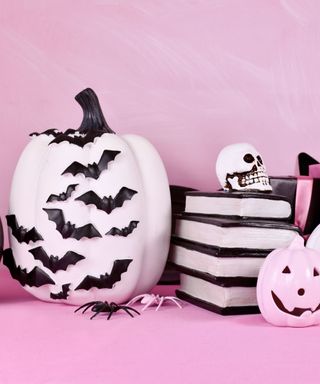 Gothic Homemaker Aurelio Voltaire loves a classic color palette but does away with the kitschy element.
"The black and white color scheme is very elegant and a nice alternative if you want something stylish and different and wish to avoid the usual orange," he says.
So, how does he make it happen? This is where things can get a bit intricate.
"I like to spray paint a pumpkin a flat black color and once dry, add clay to the pumpkin in the shape of bats," he notes. "You can use a bat-shaped cookie cutter to start off your bat shapes if sculpting is not your strong suit. I then spray paint a flat white over the black pumpkin and clay. When [it's] dry, I remove the clay and I'm left with a white pumpkin with a black bat motif."
4. All-over motif pumpkin
Ghosts, goblins, gourds — whatever your heart desires, try painting them all around your pumpkin. It's a cute and subtle nod to the spooky season, and if you told us the pumpkins in the TikTok video above were from Target, we'd believe it. (Speaking of which, have you seen these Target fall decor picks?)
5. Pastel pumpkin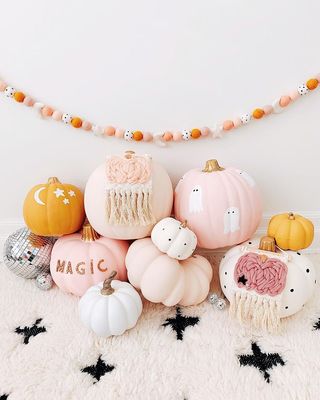 Nod to a pastel color theme for your painted Halloween pumpkins this year for more decorative and less spooky vibes. Grab star and moon stencils, get creative with fabrics and we're sure you can freehand that ghost!
6.Taylor Swift pumpkin
We'll be honest: It's Taylor's world, we just happen to be living in it. Pay tribute to one of the songstress' best eras with a fun Swiftie-themed pumpkin.
For a Taylor Swift lover, I would paint the pumpkin in bold colors with glitter and add beads and feathers for a fun look," Chantelle Hartman Malarkey says. "Any color works great depending on your vision and theme but I recommend sticking to a color scheme or theme to give a cohesive look."
We love the pastel beauty that is Lover but you can't blame us if we're feeling more Red this time of year.
7. Freehand fall art pumpkin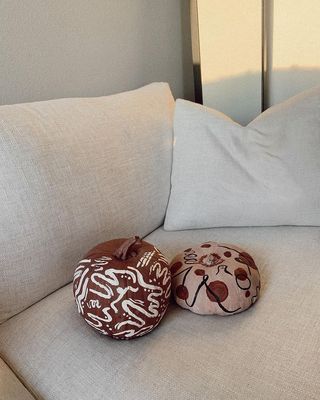 Bright colors and spooky designs are Halloween classics but you don't have to opt for traditional design if you plan to keep your pumpkins and gourds for the entire fall season. Consider looking to current trends for patterns and colorways that will pack a punch while blending into your existing decor.
Meet the experts
Since 2013, Elizabeth Jones has been blogging at Country Peony and inspiring others to craft a happy life! After her professional stint in PR and events, Elizabeth ventured back to a farmhouse in Texas and has been keeping crafty ever since.
Chantelle Hartman Malarkey, a.k.a. the Lifestyle Alchemist, is an interior designer, photographer, home chef, hosting expert, and blogger who shares ideas about family travel hacks, beauty must-haves, delicious recipes, among other topics, with her followers.
Coined the "Martha Stewart of the Coffin Crowd" Aurelio Voltaire has spent years turning his studio apartment in New York City into a Gothic lair. The musician and craftsman is in Halloween mode 24/7/365
Supplies to buy
Time to start painting, but first, a few housekeeping tips.
"Wipe down the pumpkin with a wet paper towel before painting to get any dirt off the surface," Malarkey suggests. "Acrylic paint is the best paint to use! Other than the colors, make sure you have a brush and container to put the paint on. I also recommend using old newspapers or magazines so the paint doesn't get everywhere."
FAQs
What kind of paint should I use?
Acrylic paint is a go-to but lots of people find it easier to use a spray paint to create ombre designs or bold block color finishes. Here are a few tips from the pros:
Ombre effect: Using spray paint, start with the lightest color you'd want to see on top. Apply spray paint according to the directions on the can and spray paint as high up on the gourd as you'd like. Then, apply a darker color on top of that gradually lightening the amount of paint applied as you go up. A third color could be applied the same way, only not as high up on the gourd.
Chalked: Apply Chalked paint over the entire gourd or a portion of the gourd with a paint brush in an even coat and let it dry for 1 hour. For full cure, please wait 24 hours.
Stripes and shapes: Apply vinyl shapes or painter's tape in your choice of designs on the gourd. Spray paint according to the directions on the can. While the paint is still slightly wet, remove the tape and let the gourd dry for 1 hour before handling, and 24 hours for full cure.
Is it safe to paint pumpkins?
Always check the information on the paint to see if it's non-toxic. If you're unsure, keep the paint away from kids and pets. Do not eat or cook a pumpkin that has been painted or treated with any other material.
---
Now it's time to figure out where to set up your perfectly painted pumpkin display. See our favorite Halloween decorating tips for the best ways to make your place extra spooky.