We're convinced that these genius small bedroom layout ideas will give your space a new lease on life. It might require some heavy lifting, both literally and figuratively, but it'll be well worth it.
We spoke to designers about the way in which they would choose to physically arrange an itty bitty bedroom, and it turns out, there isn't one be-all, end-all solution. And a lot of times, it isn't about locations — it's about designing smarter. (Don't worry, we'll explain.)
You've mastered organization and decluttering. Now it's time to take your learnings one step further with a blueprint and incorporate those adorable small bedroom ideas you've long admired. Drumroll, please. It's go time.
Small bedroom layout ideas, according to designers
While yes, you're probably wondering where to put a bed in a small bedroom — you're going to want to take the layout process one step further. Now more than ever, you're going to have to utilize that creativity and ingenuity when styling a small bedroom.
"Space is at a premium in small bedrooms, so I recommend a layout focused on pieces that add functional storage without a large footprint," says Todd Saunders, the CEO at FlooringStores.
Similarly, Alison Lange, owner of Honey Mercantile, suggests going with essentials and measuring things out before you get rocking and rolling.
"Make sure the pieces you choose are essential and sized correctly for the space. This will preserve a sense of openness," she says.
Now that we have the necessities taken care of, let's get to it.
Todd Saunders is the CEO at FlooringStores, which will help you find the appropriate products for your new flooring projects, as well as storefronts near you.
With Honey Mercantile, Lange has been able to curate a destination that resonates with people looking for an authentic shopping experience where every item has a story. Honey Mercantile focuses on recirculating vintage treasures and highlighting quality makers and artists.
1. Replace a nightstand with a desk
In an ideal world, we'd have room for a little bit of everything in our place. But as those first-time renters and dorm-dwellers know well, square footage isn't always in ample supply. Sometimes, we have to forgo one piece and replace it with a more functional alternative.
"One clever way to maximize space is by placing a desk directly next to the bed," says interior stylist Vivianne Chow. "This way, the desk doubles as a nightstand surface and saves space by eliminating the need for a nightstand."
While you're at it, you might want to consider nightstand alternatives — adorable *and* space-saving!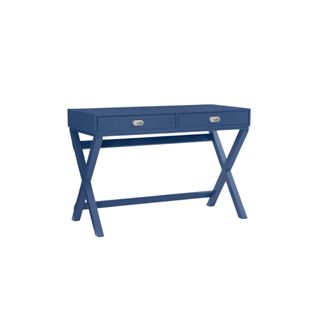 2-Drawer
Price: $269
Dimensions (in.): W44 x D20 x H30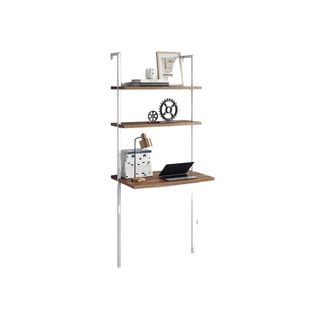 Industrial
Nathan James Wall Mount Ladder
Price: $179.99
Dimensions (in.): W30 x D20 x H72.5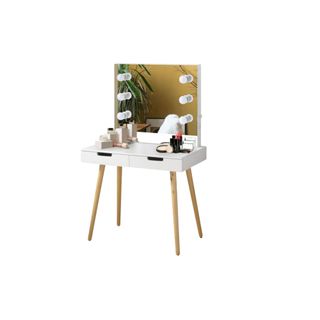 Lit-up
Organizedlife Vanity Table Dressing Desk
Price: Was $159.99, now $139.99
Dimensions (in.): H52.95 x L31.4 D19.6
Vivianne Chow is an interior stylist and founder of the home decor blog, VivandTimHome.com. She's passionate about sharing the best modern home decor to buy and recently built a dream custom home with her husband Tim. Together they're tackling decorating room by room and sharing design tips and ideas along the way!
2. Utilize wall space efficiently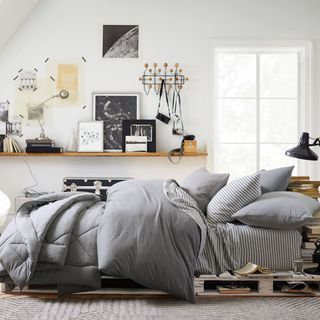 The jury's out and everyone's in agreement: wall space, and particularly vertical space, is of the utmost importance. Whether you're using the wall for storage purposes or positioning mirrors to amplify light, designers believe they should get a lot of love.
"Vertical elements guide eyes upwards — it's a dance between space perception and character infusion," says interior expert Artem Kropovinsky. "Mirrors, positioned with intent, they're game-changers, amplifying light and room dimensions."
Perhaps a few floating shelves could replace that bulky dresser you were trying to find space for. (Speaking of which, the jury's out on where to put a dresser in a small bedroom, if you're in need of a few ideas.)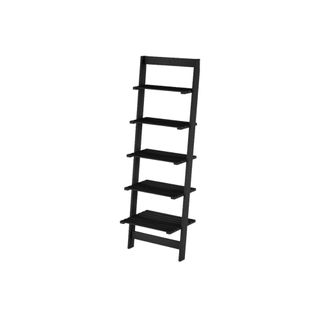 Leaning
Lavish 5-Tier Ladder Bookshelf
Price: Was $69.99, now $63.99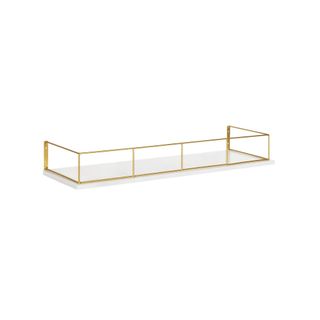 Luxe look
Benbrook Decorative Shelf
Price: $57.99
Dimensions (in.): D8 x W24 x H4
Artem Kropovinsky is an interior design expert and founder of Arsight, an award-winning interior design studio based in New York.
3. Section off your desk space
We're living in hybrid times, my friends, and it seems work-from-home positions aren't going anywhere. Speaking as a hybrid employee who sets up shop at the dining room table, with a chair that feels like a rock, having adequate desk space is crucial. However, be sure you're divvying up your "office" from your bedroom.
"We usually recommend that if you have a desk, some people will use some type of area rug or side runners — something that says, 'This is my zone for work and this is my zone for sleep' and then everything will shut down," certified Feng Shui expert Laura Cerrano previously told us.
Laura Cerrano is a certified feng shui expert and the founder of Feng Shui Manhattan. She is a first-generation Certified Usui Reiki Master within her family. Laura graduated from SUNY New Paltz with a double bachelor's degree in art education and fine arts.
4. Place your bed against the wall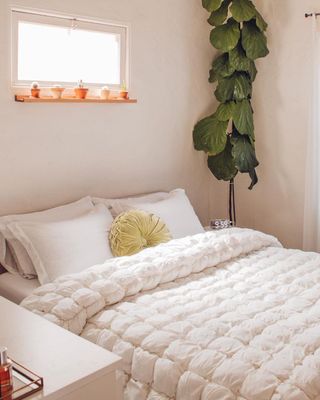 One of the biggest Feng Shui mistakes is placing your bed improperly. In order to feel rested and safe, Cerrano said that we should consider moving it against the wall and away from the window. (When the colder months swoop in, you'll be glad you're not feeling the draft.)
If you're following the rules of Feng Shui and anxious to soak up all of that positive energy that's destined for your li'l oasis, be mindful about where the bed is in relation to the door. What type of vibes are you inviting in if you're so close to the entrance/exit? If possible, don't position the bed directly in line with your door.
And, our final piece of advice — which is sure to throw feng shui followers for a loop — is to consider under-the-bed storage so that your floor is clutter-free. Though it's not ideal for the practice, as energy gets stuck under the bed, if you make it neat and tidy, you'll be redeemed! While you're at it, there are a few small bedroom storage mistakes the pros want you to quit ASAP!
5. Create a statement wall
Though it might seem a little off-putting to have a loud color or ornate wallpaper all over a tiny bedroom. When you want something to spice up your sleep area, you can opt for one dark-colored wall or one wall of renter-friendly peel-and-stick wallpaper.
"A more effective way to style a small space is to apply bold color strategically to balance the eye," Lindsay Viren, IKEA US interior design leader, previously told us. "If you're feeling brave, painting the ceiling a bright color, or adding an accent wall behind the bed will create depth within a small room."
Lindsay Viren is an IKEA US interior design leader. Her goal is to use her creative talent and project management experience to create compelling, inspirational, and functional spaces for clients
6. Ditch a headboard for shelves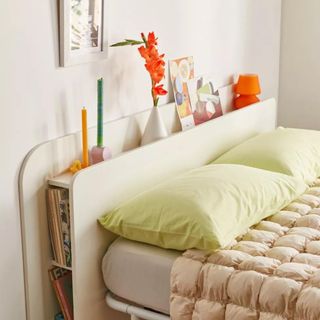 We know you'd appreciate ample room for your book-lover-approved displays, but your #BookTok collection can't possibly stand alone in your tiny bedroom. But luckily, there's a tricky way to make your library-inspired system work.
"Instead of a headboard, try placing bookcases or a wall-based storage system behind your bed," Viren suggests. "This is a creative way to style a wall and gain storage."
Compartments
Price: $180
Dimensions (in.): W55 1/2 x D11 H44 3/4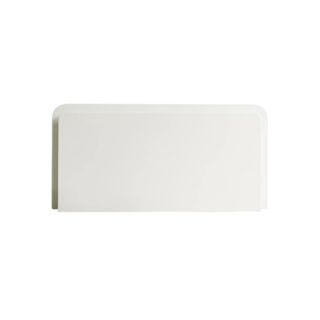 Minimal
UO Ruby Queen Storage Headboard
Price: $699
Dimensions (in.): L72 x W6.75 x H35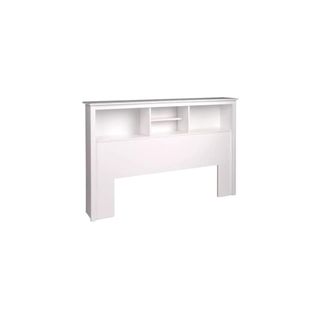 Sleek
Price: $139.99
Dimensions (in.): D11 x W65.75 x H43
7. Replace floor lamps with sconces and desk lamps
If you're wondering how to brighten a small bedroom, the trick is to not rely solely on the overhead lamp that likely is already in the room. Use a mixture of sconces and desk lamps to brighten the space rather than a floor lamp, as it's likely to eat up square footage.
8. Take advantage of closet space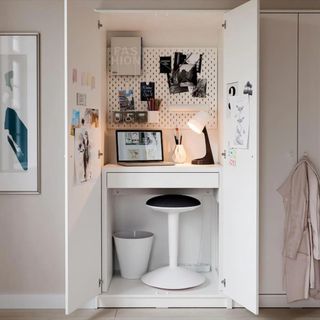 No, we're not talking about ways to organize a small closet (as much as we're all about staying neat). We're talking about utilizing closet space for your desk or vanity. This allows you to keep larger necessities in the space, but close the door when you're done using them. Plus, you'll have room to move about with a larger piece out of the way.
9. Use a large rug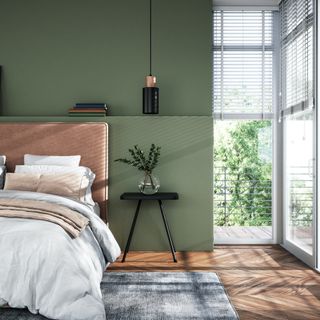 Though it might seem counterintuitive, layering with a rug in a small room actually has its benefits, according to Viren.
"If you layer a double or a queen bed over an 8' x 10' rug or larger, it will elongate the room," she says.
FAQs
What is the best way to lay out a small bedroom?
While there's no one-size-fits-all answer (pun intended), there are a few basics you need covered before you can get your bedroom blueprint in place. So if you're wondering, "What is the best way to layout a small bedroom," look no further—we're eager to help.
First, you want to make sure your space is clutter-free. Then, think about the items you absolutely need and how you want your room to function for you. From there, start measuring and mapping out a plan.
Once you have the basics down pat, you'll want to use tips and tricks to make the most out of the small square footage: adds mirrors for brightness, utilize alcoves when need be, use vertical space, consider putting larger items like a desk or vanity in the closet, etc.
Figure out the non-negotiables first, like the bed, and go from there. Make sure the accents complement the style you want to achieve. If you need inspo, these small bedroom must-haves will make life a lot easier.
How do you style a small bedroom?
Start by honing in on an aesthetic. What style speaks to you? Then, go from there. (But don't forget to stay organized.)
Before an aesthetic is dreamt up, it's important to ask yourself how the space needs to function for you," Lindsay Viren, IKEA US interior design leader, previously told us. "What activities do you need prioritize and what do you need to store to perform those tasks? From there, design a functional floor plan. You can't have a beautiful aesthetic if everything is scattered on the floor because there's no allocated space for storage."
---
Personally, I always like to arrange my bed and major furniture and then go from there. It gets all the heavy stuff out of the way and leaves room for creating fun accents!
Need a bit more inspo? We have the best small bedroom hacks to give you a few ideas!