These bookshelf ideas are sure to inspire a few ideas in your own abode if you appreciate a good #shelfie on #BookTok. As a bookworm myself, I'm running out of ways to show off my favorite titles, so I browsed around for some unique inspo.
It's important for anyone who loves their books to also love how they're displayed. From arched yet minimalist bookcases to dark and moody libraries, social media is a fantastic place to find design inspiration.
All you need for a show-stopping display is a little love—let these living room bookshelf ideas show you how it's done.
Bookshelf ideas courtesy of #BookTok
Ready to organize your bookshelf into a work of art? Drumroll, please!
1. Plants and Accessories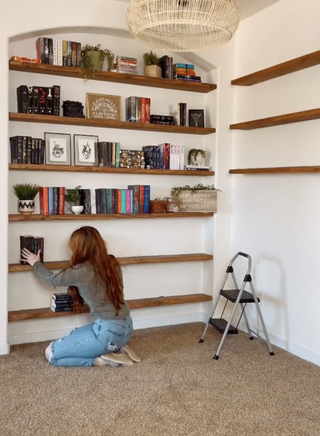 TikToker Bookbabedesigns.shop understands how to decorate a bookshelf with plants and other accessories in order to break up the design. In their reading nook, they started with a clean slate and assembled their books in an organized, yet accessorized way. By adding a plethora of different types of plants in various-sized plant pots, they create an art-filled space that feels warm and inviting, the perfect feeling to have from a reading nook.
2. Maximalist shelves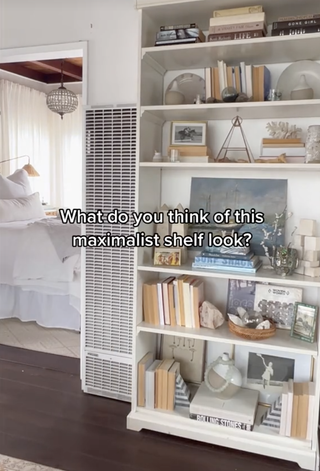 3. Colorful designs
Tiktoker Sarahchappellhorton gives a masterclass in creating a maximalist bookshelf that doesn't overwhelm a room. Starting with a variety of art, from photographs to paintings, she assembles the art along with plenty of objects, including crystals and seashells. The bigger pieces, mainly the art, serve as the foundation of the design while the objects and books are balanced to create an all-encompassing look.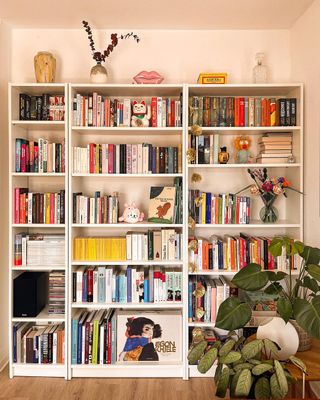 For those who prefer a colorful design in their living room, opting for a white-painted bookshelf can make all the difference. A great way to allow your colorful books and objects to stand out, pairing a white bookcase with a colorful room also allows the pieces in your room to shine. This bookcase, arranged by @peachyhome, is proof that you can have a bookshelf that feels colorful without being overwhelming, as well as put-together and (perhaps most importantly) fun.
4. Rolling Carts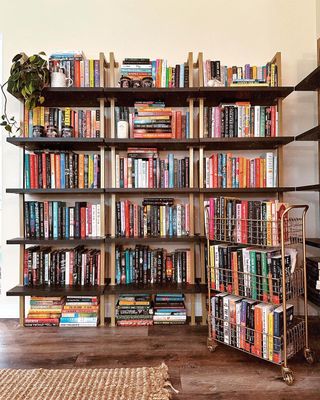 Sometimes a great bookshelf is all about being sturdy enough to handle your books. Made from materials like real wood and metal, some bookcases can handle a hefty load and allow you to pile up on the books. Another great way to handle a large collection of books is by using a bar cart or rolling cart to separate out all your new books. Take it from the librarians — having a rolling cart makes it easier to keep large collections organized.
5. Whimsical Shelves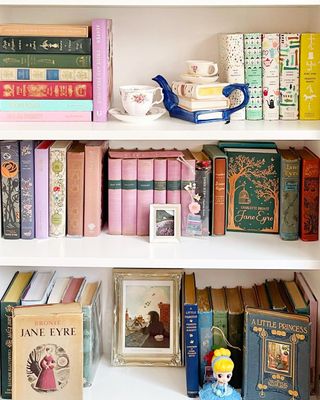 If you're young at heart, injecting some whimsy into your bookshelf is always a good idea. By incorporating the characters of the books on the shelf, you can create a fantastical bookshelf that sparks imagination. On this shelf, fantasy and other fiction books are spaced with figurines and art, a whimsical yet organized approach to design.
6. Minimalist Designs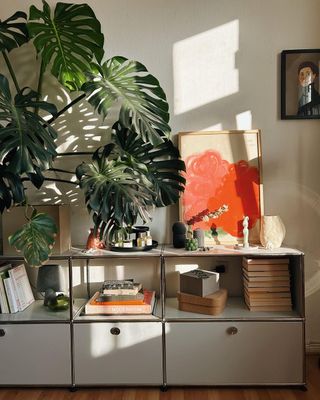 For a more minimalist approach to organizing your book collection, consider decorating your shelf with larger pieces of art or large plants to create a balance. When it comes to the spines of books, organizing them can be a challenge, especially if you want to stay away from word clutter or bright colors. Instead of arranging them in a classic way, consider turning the books around to create a more serene and mysterious element.
7. Leaning Bookshelves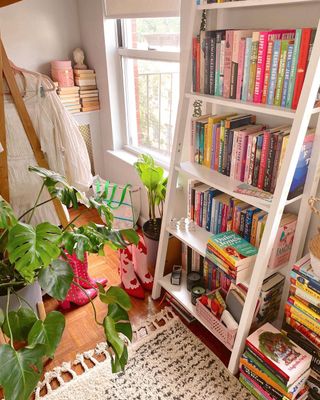 In the world of highly organized interiors in social media, great design choices (like using a diagonal-leaning bookshelf) are a great reminder that things don't always have to feel perfect in order to look great. This fun, whimsical corner features a stand-up bookshelf filled to the brim with colorful books that seem to blend in with the use of color in the room's design.
8. Closet Collection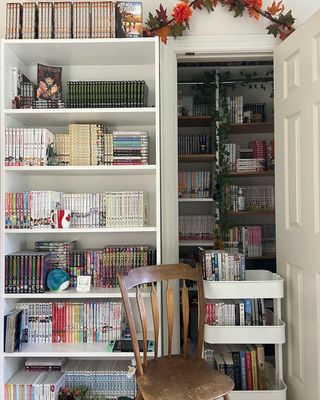 For the very serious reader, a storage or wardrobe closet can make the ideal location for a personal library. By creating a method of organizing that makes sense for your space, even large amounts of books can look like a part of the interior design. Creating a dedicated space also gives you the chance to carve out a little reading nook, the best spot in your house for quiet and comfortable reading.
9. Horizontal Shelving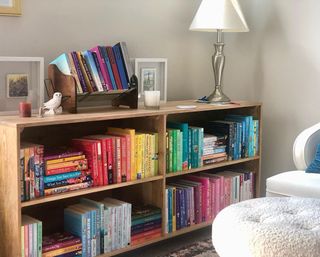 Shelves don't always have to line up vertically. By using horizontal shelving, you can free up wall space and make more space in your living room. Horizontal shelves or low-lying cabinets give a sense of more space and can even provide tablespace to display your favorite items (or more books). They also look great under windows to allow for more natural light. By understanding how you want your space to function, you can choose the right bookshelves or bookcases for your room.
Shop bookshelf ideas for your own space
It's time to find the measuring tape and see what type of storage works best for your space—and your collection! Where to buy a bookcase and how to style it is entirely up to you, but make sure you have your measurements written down accurately!
All prices were accurate at the time of publication.
FAQs
How do I make my bookshelves look nice?
In order to make your bookshelf look nice, the first order of business would be to measure the space you're working with at home and figure out which type of storage possibilities would be most beneficial to your collection. For example, if you're forced to use up vertical space, a ladder bookshelf might be a better idea than a horizontal bookshelf.
From there, it's all about the way in which you plan to store your bestsellers: will you place them in height order or arrange them by color? Perhaps you'll turn them inside out. Additionally, you can get creative by adding your favorite plants for apartments onto the shelves, as well as other trinkets and pieces of art.
How do you decorate a bookshelf without it looking cluttered?
In order to decorate a bookshelf without it looking cluttered, you need to be realistic about your collection's needs. For example, if you have the space for a horizontal shelf and have a ton of reads, then utilize what you have to the fullest. Consolidate your collection and what you want to be easily accessible. From there, consider how you want things to appear on the shelf, but leave room for a few decorative options to add diversity.
---
If you're a bibliophile in need of a project—after you've finished that last chapter, of course—the experts will guide you in how to build a bookshelf in just eight steps.