Things can get ~complicated~ when space is scarce, but these small bedroom hacks from designers will help you see your abode in a whole new light — however tiny it might be. (We promise!)
There's nothing quite like finding a place to call your own, especially for the first time, and you want it to be a complete representation of who you are. Pesky things like awkwardly placed walls, minuscule closets, and oddly shaped alcoves can make settling in particularly challenging, but fear not.
Whether you're attempting to maximize space in a small bedroom or completely re-style a space, these quick tips will make your space feel livable, stylish, and functional. We have a feeling you're going to enjoy many a Netflix marathon from the comforts of your quarters now!
Designer-approved small bedroom hacks
If you think you've tried every trick in the book in your small space — think again. We spoke with experts to gather up some helpful hacks to make your small bedroom even better.
1. Ditch the closet doors
So...you have a closet. Lovely! It's always a welcome feature. But the problem lies when opening the door becomes impossible, lest you'd like a scratched dresser or disheveled bed.
Use issues like closet trouble to your advantage. This means you can get a little creative and opt for something non-traditional, be it a curtain or a sliding barn door. The pros at Masonite say their barn door installation doesn't even take two hours, and we're totally on board with a quick DIY. Buh-bye door hinges and headaches!
2. Double up on closet storage
When it comes to clothes, we simply cannot be tasked with keeping a capsule wardrobe. The restraint is far too much to ask of us, which is fine until it comes time to store the garments. According to Todd Saunders, CEO at FlooringStores, it's a good idea to utilize vertical space as much as possible.
"If you hang most of your clothing, try installing two closet rods instead of one," he says. "This allows you to store two rows of short-hanging garments, doubling your hanging space." Additionally, try to rotate your seasonal clothing. There are plenty of handy ways you can both store summer clothes and winter clothes without taking up all of your storage space.
3. Place rugs strategically
We're just as inclined to add all of these playful and Y2K-friendly rug trends to our homes, but before cashing in on the checkerboard shag number, think wisely. Where will it go? How will it break up the room? Will it make the space feel more inviting, or closed off?
"Rugs can redefine your space," says Artem Kropovinsky, an interior design expert and founder of Arsight. "Even in a compact room, a well-placed rug can create visual boundaries, making the area seem more defined and spacious."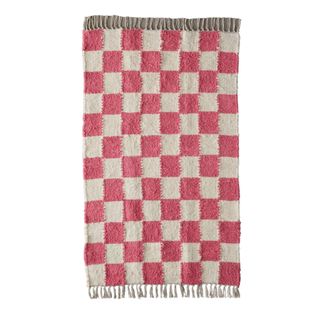 Made with recycled materials
Checkerboard Woven Shag Rag Rug
Price: $199
Size (ft.): W5 x L7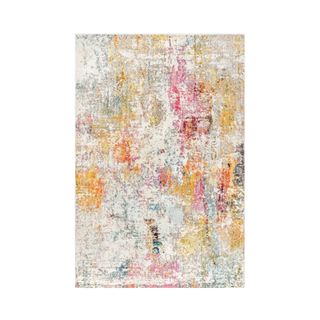 Great to disguise mess
RugMulticolor Modern Cezanne Rug
Price: $44
Size (ft.): W3 x L5
Handmade
Price: Was $159.99, Now $135.99
Size (ft.): D5
4. Pay attention to your color palette
"Light hues are your friend," insists Kropovinsky. "Pale palettes or even monochromatic schemes, can open up the space and make a room feel airier." This is especially true if your room feels more cramped than cozy.
More than likely, you're looking for your room to feel inviting and safe — a cocoon to wrap yourself in after a long day at the office. Even if you can't control the color of the walls, you can improve it with accents or warm lighting to cast a different tone.
5. Hang mirrors to attract light
Though we'll warn you, a well-known feng shui mistake is hanging a mirror over your bed, but if you're looking to play with the depth of the room, it might be necessary. Take it from Mark Buskuhl, the founder & CEO of Ninebird Properties.
"Hang a large mirror above or across from your bed to reflect light and give the appearance of a larger room," he says. "You can also incorporate mirrored furniture pieces or smaller mirrors strategically placed throughout the room to further enhance the effect."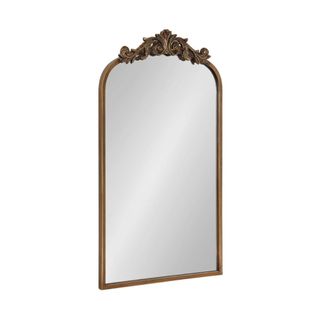 Anthropologie alternative
Kate and Laurel Arendahl Arch Mirror
Price: $117.99
Size (in.): W19 x H30.75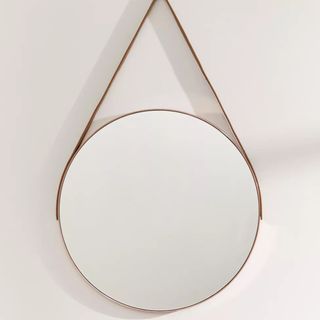 Faux leather strap
Carson Leather Strap Mirror
Price: $89
Size (in.): D16 x W0.4 x H24.8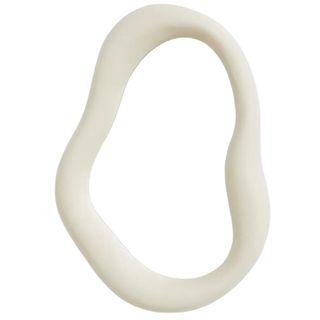 Blob mirror trend
Price: $67.99
Size (in.): Approximately W11.5 x H16
6. Think vertically in a small bedroom
We're typically so busy worrying about wall space that we forget all about the wall itself. Know that plenty of options abound from a vertical standpoint.
"Consider installing floating shelves or using a bookcase as a room divider to create extra storage space without taking up valuable floor space," Buskuhl says. "You can also opt for tall dressers or stackable organizers to utilize the often overlooked vertical space in your bedroom."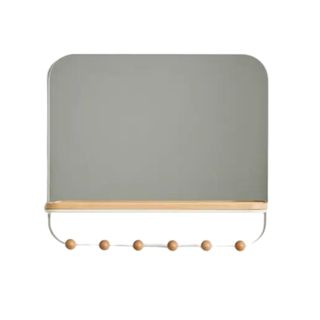 Easy to clean
Estique Multi-Hook Mirror
Price: $119
Size (in.): H17.88 x W5.75 x L19.63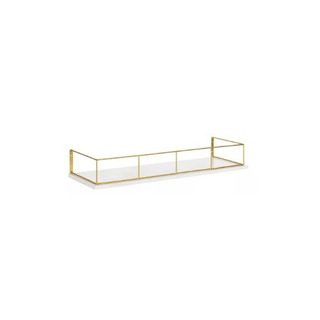 Fully assembled
Benbrook Decorative Wall Shelf
Price: $57.99
Size (in.): L24 x W8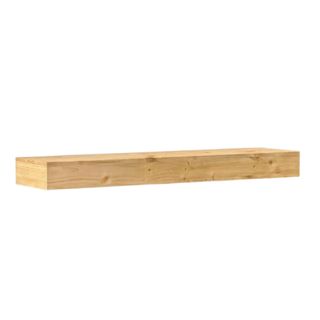 Scandi chic
Price: $30
Size (in.): W24 x H2.3 x D6
7. Don't fear large pieces
We have to dispel the notion that small rooms can't feature large items (provided they can get through the door, of course). "One statement piece, like a bold art print can make the room feel thoughtfully designed without feeling cluttered," Kropovinsky notes.
Buskuhl is on board with the sentiment and has a few ways to personalize the trick. "Consider adding a bold headboard with intricate designs or a unique bedside table that showcases your personal style," he adds. "These carefully chosen elements not only add visual interest but also draw the eye, giving the illusion of a more spacious and inviting room."
8. Let your bed act as storage
Again, although it's a big feng shui no-no, if you're completely out of space, under-the-bed storage is a great way to save space and still keep things accessible.
"Homeowners with small rooms seriously underestimate the amount of storage that is at your fingertips underneath the mattress, and under-bed storage can be great for those items that only come out once a year," says Ashley Woodyatt, founder of Woodyatt Curtains.
Meet the experts
Ashley Woodyatt if the founder of Woodyatt Curtains, which has been specializing in window dressings since 2003.
Todd Saunders is the CEO at FlooringStores, which will help you find the appropriate products for your new flooring projects, as well as storefronts near you.
Mark Buskuhl is the founder & CEO of Ninebird Properties, which specializes in buying, renovating, and selling dozens of houses every year. Ninebird Properties takes on the most challenging projects including fire-damaged homes and transforming them back to a beautiful space.
Artem Kropovinsky is an interior design expert and founder of Arsight, an award-winning interior design studio based in New York.
FAQs
How can I make my small bedroom look nice?
Your first focus should be settling on a color palette and design style you personally love. Then, start purchasing furniture and decor that fits in but provides some functionality, too. Aim to keep the place tidy and keep clutter at a minimum. These ideas will all help create a small bedroom that's stylish and usable.
What small bedroom decor mistakes should I avoid?
There are a few small bedroom design tips worth following to make the most of your space and not ruin the look. Try avoiding overly loud accents if your personal design style isn't maximalist. It's also important to separate your work zone from your sleep zone. Additionally, try investing in multifunctional furniture pieces so you can have extra storage space and fewer items crowding your bedroom.
---
You're now an expert on small bedroom hacks! If you're still looking to brush up on your design knowledge, there are some small bedroom feng shui mistakes worth knowing about and avoiding, too.