Are you a property owner looking to make improvements that'll really make your house a home? If a cushion scattered here and there or a new couch isn't cutting it, you might need to think outside of the (decor) box.
A few strategically placed spotlights and pendant lamps might offer ample lighting, but if your aim is to really make a statement with an airy atmosphere and floor-to-ceiling slim sightlines — look to Korniche.
Its multi-award-winning, quick-to-install aluminium bifold doors, roof lanterns, and flat roof lights will make your self-build, renovation, and extension projects come to life. In short, these products will improve heat retention, security, functionality, and aesthetic appeal. After all, everybody wants to feel safe, warm, secure, and stylish!
Read on for five reasons why you should trust its engineering expertise and portfolio of high-quality and innovative glazed products.
5 reasons to choose Korniche
1. Bathe your home in natural daylight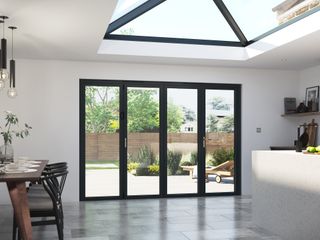 As well as letting sunlight pour into your space 365 days a year, a roof lantern can also provide ample ventilation in the summertime and lock in warmth to insulate your scheme come the colder months, saving you money when it gets chillier.
2. Customise the space to your exact needs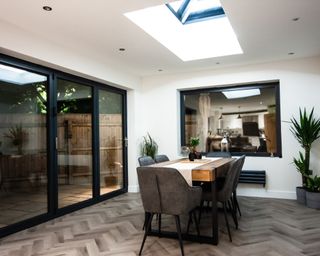 Korniche doesn't cut corners and it doesn't provide your standard cookie-cutter design. On the contrary, its roof lanterns and bi-folding doors come in a versatile range of configurations and an almost endless number of colours, so you do not have to compromise on a single detail.
3. Ensure safety and security with bi-fold doors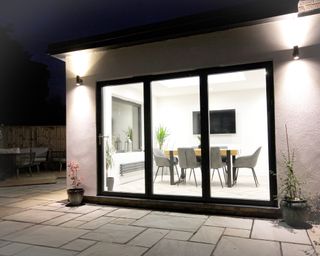 Korniche bi-fold doors come rigorously tested to keep your home fully protected. Certified to the advanced PAS24:2016 standard, its strong, durable, powder-coated, aluminium frames come with enhanced security that includes a three-star attack-resistant Yale locking barrel, high-strength shoot-bolts, and multi-point FUHR locking systems, so you can rest assured that your family can stay safe from environmental elements and deter potential intruders from gaining access to your property.
What's more, sealed bearings prevent debris and moisture and don't degrade your bi-fold doors, ensuring a durable product that's built to last. So whether the kids have brought mud in, or you've got sludgy, autumnal leaves that threaten to stick to your garden door, you don't have to worry about damage. But the best bit? The coating on the glass has self-cleaning and solar control properties for fuss-free maintenance.
4. Installation is quick and easy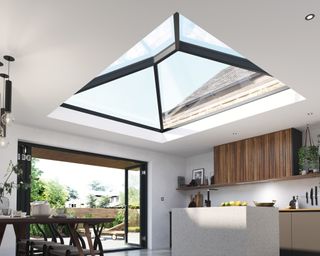 Self-build and renovation projects can be an exciting way to put your stamp on your property. There are, however, a lot of decisions to be made, including whether you're looking to do the work yourself or pay for a builder's labour and expertise. Thankfully, Korniche has cut out most of the hard work with its roof lantern design. It's the only one on the market that requires no cutting, trimming, or silicone sealant to be assembled. In fact, it can be fitted in under an hour and glazed in seconds, making it the speediest and simplest install in the industry.
5. Products designed for progression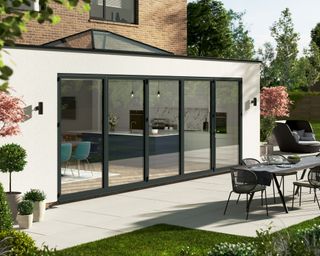 Just like people, every house has a personality too. Although planning permission may have stopped you from going gung-ho on adding unique features to your home in the past, (in most cases) you won't need authorisation from your council to install flat glass, bi-fold doors, or roof lanterns.
Where to buy
No need to look at a vague map with pins dropped on a part of England you've never heard of. To find your nearest Korniche stockist, simply enter your postcode on the 'where to buy' page and it'll do the rest.
Note that while you can't buy directly from Korniche, its trusted stockists will sell straight to you or via your builder. If you do choose to go through your tradesperson, they may be able to source your materials with a 10% first-order discount via KwikQuote.
If you're not quite ready to take the leap of faith, or you're just a little traditional, visit Korniche at the next Homebuilding & Renovating Show for a no-obligation chat about how it can make your vision a reality.