Learning how to make a small entryway look more expensive will make your place look way more glamorous. Even if you're living in a tiny rental and have a small budget, the right tips can completely transform how it looks.
This is the first area that guests will enter, so if you want them to feel like they're walking into a bougie space rather than a budget space, styling it in a luxe fashion is a fab idea. You really don't have to spend a lot of money to do this, either — spoiler alert, it's all about picking the right details.
Have you been looking through small entryway ideas, and think making your place look expensive is the way you want to go? I've spoken to experts to find out how you can do just that, with ideas that are suitable for renters and for those who are looking to save some dollars.
7 expert-approved ways to make your small entryway look more expensive
Ready to make your small space feel luxe affordably? These tips are all stylish and budget-friendly. As well as speaking to design experts, I've also rounded up buys to help you get the look at home.
1. Add a mirror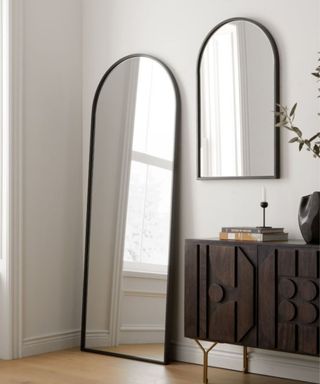 Mirrors are a useful decor buy for small entryways, as their reflections can make a small entryway appear bigger than it is. As well as this, it can add serious style. "A mirror is a great addition to any entryway as it not only makes the space look bigger but also adds an element of luxury," explains David Mason, interior designer and founder of Knobs.co. Choose a mirror with an interesting frame or shape to add a touch of personality, such as a metallic full-length mirror.
David Mason is an interior designer and the founder of Knobs.co. He has 10+ years of experience in home improvement, architecture, and interior design.
2. Play with color and texture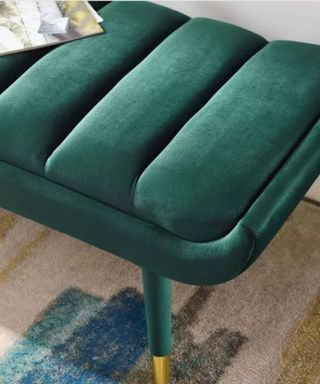 Even if you can't paint your entryway walls, there are still plenty of ways to add luxe colors to your small entryway. "Choose a sophisticated color with rich, deep tones such as navy, emerald, or charcoal," says Andra DelMonico, lead interior designer at Trendey. "You can also add texture using a velvet entryway bench or textured wallpaper." Layering various materials will result in depth and visual interest.
Andra DelMonico is the Lead Interior Designer for Trendey, which proves home design inspiration and ideas for decorating every room in the house.
3. Add a statement light fixture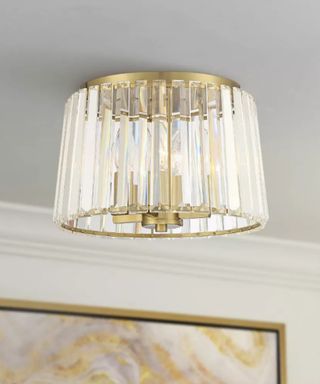 The right lighting can add ambiance to your small entryway — but the right lighting fixture will add chicness. "This will not only provide necessary lighting but also act as a focal point in the entryway," explains Mason. "Go for fixtures with metallic finishes or intricate designs to give off an expensive vibe." If you're renting and can't change the whole fixture, go for a metallic lampshade instead.
4. Choose stylish storage solutions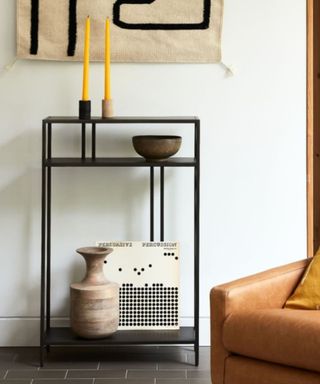 Clutter will make your small entryway look messy, which is definitely not a chic look. Instead, choose multifunctional furniture which you can store all your clothing items and trinkets on. "A sleek console table with drawers or baskets below it can hold keys, mail, and other essentials while keeping the place clutter free," explains DelMonico.
She adds that decorative hooks or a wall-mounted coat rack can result in functionality. Before hanging anything up in your rental, be sure to check that your rental agreement allows it.
5. Hang up wall art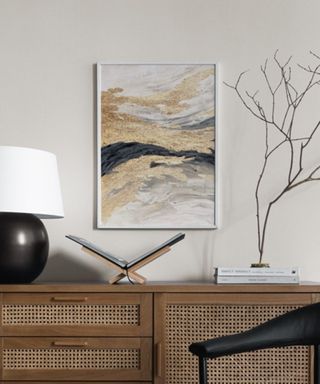 Wall art is an easy way to showcase your style and personality, as even just one statement piece can make a serious impact. "Make sure to select artwork that works well with the color scheme and style of the place, as this will quickly boost the aesthetic and create a lasting impression," says DelMonico. My go-to stores for wall art are Desenio and Fy, as they have lots of styles at affordable prices.
6. Decorate your console table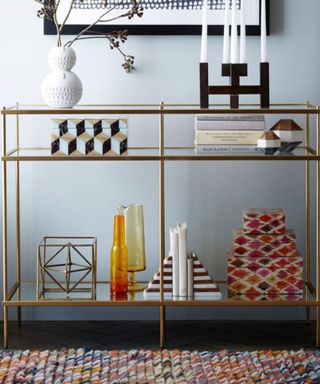 It can be easy to just throw your keys on your console table and just use it functionally, but in a small entryway, every bit of decorating space counts. "Make sure to top your console table with a tray full of small luxuries like a scented candle and chic decorative objects that tell a story," says interior design expert Kathy Kuo. Adding stylish mementos will make your space look personalized and refined.
Kathy Kuo is an interior design expert and founder of Kathy Kuo Home, which is a premiere e-destination with a beautifully curated collection of luxury furniture and decor. Kathy Kuo Home also offers an interior design services menu.
7. Add a rug onto the floor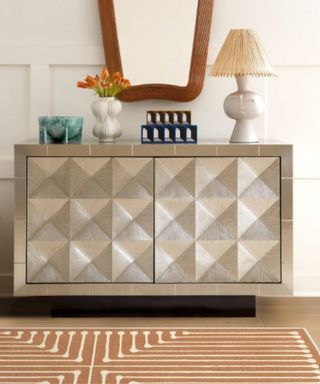 There's nothing luxurious about taking off your shoes and hitting cold flooring or scratchy carpets. Instead, choose a small entryway rug, as this will add both color and texture to your space. Faux fur rugs and velvet rugs will both add vibrancy — especially when colored with rich jewel tones. "I recommend adding a luxe, richly textured runner to the floor," says Kuo. A runner rug will stretch across the whole space.
Make your small entryway look more expensive with these 6 buys
Want to get started on decorating your small entryway with expensive-looking touches? These six buys will help you follow our experts' advice.
The prices below were correct at the time of publishing this article.
FAQs
How do you make a small entryway look more expensive?
In a small space like an entryway, be sure to focus on the little things. "Making a small entryway look expensive is all about subtle details that make a big statement," says Kuo. These can include decor like wall art, lighting, and mirrors.
What piece of furniture will make a small entryway look more expensive?
Multi-functional furniture such as a console table with storage will make your small entryway look more expensive, as this will allow you to hide away your clutter and create a polished finish.
---
Now that you've made your small entryway look more expensive, you might want to make the other rooms in your home look sleek and stylish, too. These affordable luxe picks for small living rooms will elevate any place.