Want or rather, need to know the cost to replace a roof? For most homeowners, the question of a new roof will be a daunting one. After all, roofs are rarely cheap, even if you go for a relatively inexpensive material. But if yours has suffered storm damage or is very old and not doing its job properly, this can't be avoided.
You may only have had to deal with the cost of roof repairs in the past, but with a roof one thing is certain, this isn't a job you keep on the backburner. So if yours is past the point of no repair, it's best to bite the bullet and invest in a new roof once and for all.
Fortunately, you do have quite a bit of choice when it comes to different roof types and their associated installation prices – to help you stay on budget. Making it a worthwhile home improvement project.
How much does it cost to replace a roof?
You probably anticipated this answer, but the cost to replace a roof will vary widely depending on several factors including the size of your roof and the materials used. Ray Brosnan at Brosnan Property Solutions, a hugely experienced roofer with over 20 years experience in the trade, advises that, 'generally speaking, most people can expect to pay between $6000-$10,000 for a total overhaul.'
However, this figure can be a lot higher, as much as $24,000. If you want an easy tool for calculating a new roof cost, David DaVeiga, Project Manager at American Home Contractors, a GAF Master Elite Roofing Contractor in NJ, recommends calculating the cost 'by the Square (1 SQ = 10' x 10' = 100 Sq Ft) of surface area which includes material, labor, debris disposal, and company overhead.'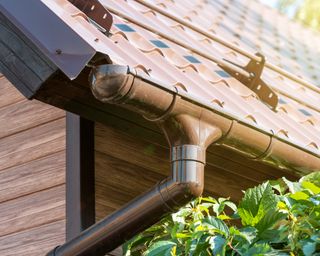 If you feel like you're getting bogged down in too many details and steps, Scott Dawson, senior contractor trainer at GAF, North America's largest roofing and waterproofing manufacturer, offers an easy-to-use step-by-step for working out your new roof costs:
Measure the roof: Most measurements are obtained digitally, using satellite imagery or drone technology, and include the slope, peaks and overall complexity of the roof.
Do an inspection: With a thorough roof inspection, contractors are able to assess the condition of your roof and determine the project scope.
Recommend products: Next, your contractor will outline the best roofing system materials for your project (shingles, ventilation and accessories) and warranty options.
Calculate costs: With the information above, your contractor can bring all the costs together: labor, materials, warranty, and applicable fees and services (permits, preparation, clean up).
New roof costs by material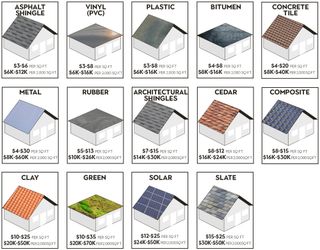 As you've probably guessed, your choice of material will play a key role in how much it will cost you to replace your roof. Adam Graham, a Construction Industry Analyst at Fixr.com, has several helpful tips for figuring out how the material choice will affect the cost of a roof replacement:
The more commonly used materials are cheaper: case in point, asphalt shingles. It's 'one of the most affordable materials. They cost an average of $3-$6 per square foot, installed'.
Replacing the roof material with the same or a lighter one will cost less than replacing with a heavier material - this may require structural reinforcements for the extra weight, raising costs.
Some materials are made with features such as prevention from hail damage or algae, energy efficiency, or rainwater management, all of which can increase costs.
Generally speaking, asphalt shingle is the cheapest material for a roof replacement. Slate is the most expensive material, while metal and other materials are somewhere in between.
How the size of the roof affects roof replacement costs
The size of your roof is the other crucial element in working out the cost of a new roof. While some of these points may seem obvious, but they need to be kept in mind when budgeting for your project:
The larger the roof, the longer it will take to complete the project, which will raise the labor costs. Roughly, 60% of the total cost of a roof accounts for the labor and 40% for the material.
For a 1,000 sq.ft. roof, the average cost range is $3,500 to $9,000, while for a 1,500 sq.ft. roof you'll pay around $5,250 - $13,500, including both labor and materials.
A roofing contractor will be much better a measuring your roof than you are. However, to get a rough idea of how much material you will need, a rule of thumb is that your roof square footage is roughly 1.5 times the square footage of your home.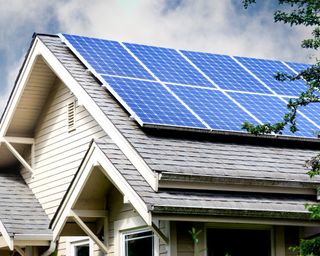 How your roof pitch and shape affect roof replacement costs
Of course, there's a bit more to roofs than just the size. Some roofs are flat while others are pitched. Some homeowners have gabled or hipped roofs (featuring two or four sloping sections respectively), and these structural differences will affect the cost. Graham's top tips for factoring in the pitch and shape of your roof are:
The most common roof falls into the category of 'conventional pitch', which costs an average of $3.50 to $9 per square foot.
The shape of your roof will also impact the total cost of a replacement - the more complex a roof is, the more difficult the installation becomes, and the higher the total costs. Likewise, some roofs will use considerably more material than others.
A hipped roof will use more material than a gable roof. If you have a 2,000 sq.ft. home with a hipped roof, you will pay considerably more to replace it than if you have a 2,000 sq.ft. home with a gable roof. And neither of these roofs are particularly complex.
Add in dormers, a steep pitch, or a complex design like a mansard roof, and your costs will increase even more.
Other considerations when working out new roof costs
You've worked out the material you want to use, the size, shape, and pitch of your roof. All good to go? Not quite. There are a few more variables that will affect the grand total for your roof replacement project. They are:
Regional differences: your overall project cost could fall above or below average depending on where you live.
The time of year that you undertake the project could also result in cost variations. Winter projects will be more expensive in cold climates as snow buildup and storms will cause delays to the building and installation schedule
The pandemic has made roof replacement projects more expensive: costs of materials and labor have risen.
Location is easily the biggest variable here. Josh Lewis CEO & Founder of Retex Roofing & Exteriors, gives an example: 'let's consider a standard, single-level ranch style house with 2,000 square feet. This style of home usually has about 2,400 square feet of roof. In this scenario, at $4.50 per square foot, an asphalt shingle roof replacement would cost about $10,800. Take that roof in a more expensive metro area like Seattle, though, and you may be at the higher end of $7 per square foot, making that same roof replacement cost around $16,800.'
The moral of the story – do your research! Understanding your local roofing market is essential for working out the cost of a new roof correctly.
The importance of balancing quality and cost
You want to replace your roof in the most cost-effective way. That's understandable. However, as with all other home renovation projects, it's important to balance the cost of saving with getting the best possible quality. This goes both for the material of your new roof and the quality of labor during installation. As Lewis points out, 'you could choose the cheapest quote you receive, but it may cost you more in money, time, and energy ultimately if the roof is improperly installed, if communication with your roofer is poor, or if the material you choose is of a cheaper quality.' When balancing quality and costs, Lewis recommends considering the following points:
A 3-tab, flat shingle, for example, is less expensive upfront than its architectural shingle roof – the ones you see with a dimensional, textural look - and metal roof counterparts. But that upfront cheaper material will also require you to replace your roof more frequently.
It's wise to get at least three quotes so you can compare the estimated project costs
Do some "local market" research - ask a neighbor or two who have recently replaced their roofs if they would share how much the project cost and about their overall experience.
How often should a roof be replaced?
According to Lewis, 'The material you choose for your roof is a main factor in how often you need to replace your roof. The 3-tab, if installed correctly, should last you anywhere between 15 and 20 years. Meanwhile, architectural shingle roofs typically last between 20 and 30 years. And, if it's within your budget, a metal roof will last more than 75 years with proper maintenance.'
And if you go for the (expensive) slate roof option, you can expect yours to last 200 years – enough to last you and your kids.
The age of your current roof should also tell you whether it's at least time to inspect it for damage. Lewis advises that 'if your roof is 15 years or older, it's smart to have it checked out every other year to assess its condition. If your roof is under 15 years old, we advise a roof check-up every five years or so to repair any potential problem areas before you experience a leak inside your home.'