Entryway rugs may seem like a minor aspect of your home décor, but they're far more than that. They provide the first impression of your style and space, and-bonus-they catch the dirt and grime that comes in with you when you enter your home, especially in the winter months when we're all contending with snow, salt, and mud.
We've pulled together a list of our favorite stylish rugs in a variety of fabrics and designs. Whether you need something neutral and simple or you want a pop of color, fun boho designs, something modern and chic, or a hardworking doormat to content with snow boots, we've got some wonderful picks.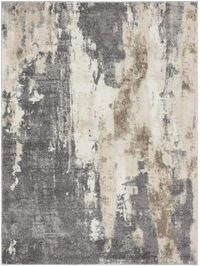 (opens in new tab)
Luxe Weavers Euston Gray Abstract Modern Rug |$20.00 (opens in new tab) at Amazon
The abstract design of this rug means that it'll add a modern touch to your home, while also camouflaging dirt. With multiple color options, from beige to black-and-turquoise or multi-colored tones, you'll be able to choose one that matches your décor.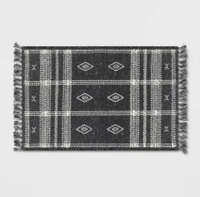 (opens in new tab)
Southwest Plaid Accent Rug Gray | $19.99 (opens in new tab) at Target
The tassels, Southwestern print, and gray-and-white color mix come together perfectly to create a doormat that's homey with a touch of upscale design. Plus, it's an indoor-outdoor rug, making it a perfect pick if you live in a damp climate or need a rug for a high-traffic entry.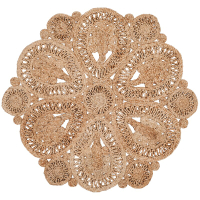 (opens in new tab)
Amberboi Fiber Handwoven Jute/Sisal Brown Area Rug |$55.99 (opens in new tab) at Wayfair
This natural-fiber handwoven rug will have visitors stopping to exclaim over the intricately coiled rope design. With a neutral color, it's sure to match all types of interior decors from cottage-chic to farmhouse. You can order it in sizes from 3' - 12' round, too, so you can choose the perfect size for your space. We'd use this one as a base for a round entryway table.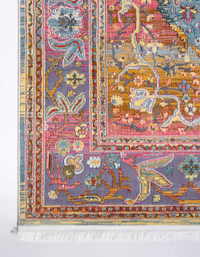 (opens in new tab)
Unique Loom Baracoa Collection Bright Tones Vintage Traditional Light Blue Area Rug |$26.47 (opens in new tab) at Amazon
The elegant design on this Baracoa rug provides any vintage or traditional home a pop of color in the entryway. But note: it only looks like an antique. It's made or durable polypropylene, a material used on indoor-outdoor rugs, making it a great pick for a high-traffic entry.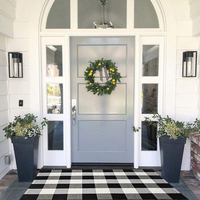 (opens in new tab)
MUBIN Cotton Buffalo Plaid Rug Black |$26.47 (opens in new tab) at Amazon
This entryway rug has been everywhere this year, especially layered with a doormat on the porch. We love it for inside the house, too, since it's classic, eye-catching, and machine-washable.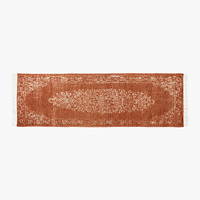 (opens in new tab)
Portrait Copper Runner | $212 (opens in new tab)at CB2
This Persian-style runner in an on-trend copper hue is great for entries that open to a narrow hallway or a set of stairs. It's a hand-knotted cotton/poly/wool blend, so it'll offer mid-range durability.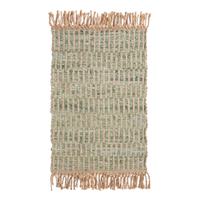 (opens in new tab)
Green and Natural Geometric Leather And Jute Area Rug |$19.99 (opens in new tab) at World Market
If you have a small entryway, this 2' x 3' rug is great choice. It's a combination of recycled green leather and textured jute and cotton so it's durable, and the tassel fringe and contrasting texture will offer a stylish first impression.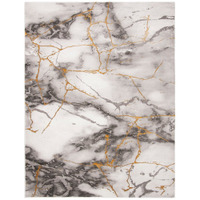 (opens in new tab)
Safavieh Craft Margaretha Modern Abstract Rug |$39.59 (opens in new tab) at Overstock
Add this Margaretha abstract rug to your gray or black color scheme and watch as the white marble-like design pops in your entryway.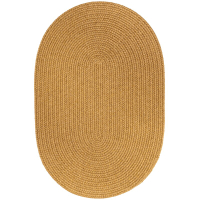 (opens in new tab)
Smyth Handmade Braided Wool Area Rug |$56.99 (opens in new tab) at Wayfair
The Smyth braided wool rug may have a simple design, but with a wide array of color options and styles -- oval, round, and runner -- it's a great choice for an entryway rug as it won't overwhelm or take away from your room design. Choose one of the deeper tones to camouflage dirt.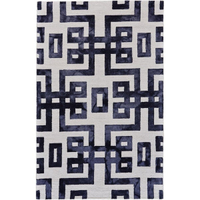 (opens in new tab)
Grand Bazaar Marengo Area Rug |$42.79 (opens in new tab) at Overstock
What's chicer than a black-and-white rug? Perhaps the Grand Bazaar Marengo Rug for its square-like design that'll look great in an Art Deco space. Since it has a white background, and it's wool, this rug is ideal for a formal entry that doesn't get a ton of use, but this isn't one we'd stick in the mudroom.
Which rug is right for you?
If you're having trouble choosing an entryway rug that fits your home design you'll want to read our online guide! (opens in new tab) And when the time comes to clean the filth and grime from your coming and goings, know that we have you covered. In another article (opens in new tab), we share two ways to turn your rug from "meh" to marvelous.
Read more:
Best Amazon rugs: 9 top buys to update any room cheaply
5 Ikea rugs that we love (and are the perfect autumn update)
10 fancy indoor doormats to spruce up your hallway or back entrance