A Henry hoover or Henry vacuum is somewhat a household staple across the UK, after the likes of Heinz Beanz and PG Tips, of course. Numatic (the brand behind the friendly face) manufactures some of the best vacuum cleaners in the world, and we've tested a whole bunch of them to make your buying decision 10 times easier. You're very welcome.
Other than the fact that our floors are now sparkling, we've officially come to a verdict on which Henry hoovers are the best models. Some are fit for families while others are ideal for flat owners, and we've even thrown an eco-friendly Henry in, too. In short: there's something for everyone. Henry vacuums don't just offer incredible suction but they are also surprisingly budget-friendly, with prices in this guide starting from £139.99 RRP.
Your new Henry vacuum is within arm's reach, and you'll find the best vac for your needs below.
The best Henry vacuums to buy in 2023
Why you can trust Real Homes Our expert reviewers spend hours testing and comparing products and services so you can choose the best for you. Find out more about how we test.
We raved about the new Henry Quick in our review, and honestly: it might be our head ecommerce editor Annie's favourite vacuum she's ever tested. Its suction is second-to-none, plus it offers dust-free emptying. As a flat owner, she claims it's more than easy to store away, too.
What are its best features?
This vacuum is mighty strong for a stick vacuum. It offers two modes, one being a Boost mode for spillages or for whizzing around your home fast. You can use this vacuum with scent pods to make your home smell nice as you vacuum. We also love the tools that come with the vac for cleaning everything from your sofa to your skirting boards.
In review
Annie tested this vacuum for us in her two-bedroom South East London flat, which she shares with her husband and her pug (who loves to moult). This vacuum never failed for suction, in fact, it did the opposite. Annie found that it's best to use it on Boost mode when cleaning hard floors, but when you're working with softer spaces switch it to Normal mode and don't forget to turn off the roller brush if the suction is still too strong. She loved the attachments that came with it, and although the fact it's bagged makes it not as eco-friendly as we would hope, this does offer total dust-free emptying. All for less than £300!
Storage
Just like any other stick vacuum, this one is a breeze to store. You can even make use of the wall mount that comes in the box and save on cupboard and floor space. Just bear in mind that it annoyingly doesn't stand up on its own.
The Henry Xtra HVX200 vacuum cleaner is a powerful, highly-rated model that gives our number-one choice a run for its money. The downside? It's a little heavier. It has just been reviewed by Lindsey, who has been using it to clean her quaint cottage in the north of England. It was rated five out of five stars in our review, meaning it's our best Henry canister vacuum. That's bearing in mind suction, price and features, of course. Why isn't it in first place? Well, it isn't cordless which makes it a little more difficult to use and store over the Henry Quick above. That's not to say it isn't brilliant, though!
What are the best features?
A 9-litre capacity ensures your time will be spent cleaning rather than emptying this machine. Like other corded Henry models, this has a generous 10-metre cable that lets you keep going rather than switching sockets. The onboard tools mean there's no need to go back to the cupboard to get what you need for every job. Plus, it comes with two extra tools for deeper cleaning where you need to the most.
In review
If you have a big home, messy occupants, or want to save time, this is the Henry model to go for in our opinion. Its design features will keep you cleaning without pause, and it'll cope admirably with all the dust, debris, and fur you need to remove from your home or car. In our review Lindsey gave it top marks for cleaning power and versatility, but bear in mind that it's heavy to lug up the stairs.
Storage
Just like other Henry canister vacs, you'll need to carve out some storage space for this one. But, as we've said, the tools can be stored on board which is a bonus.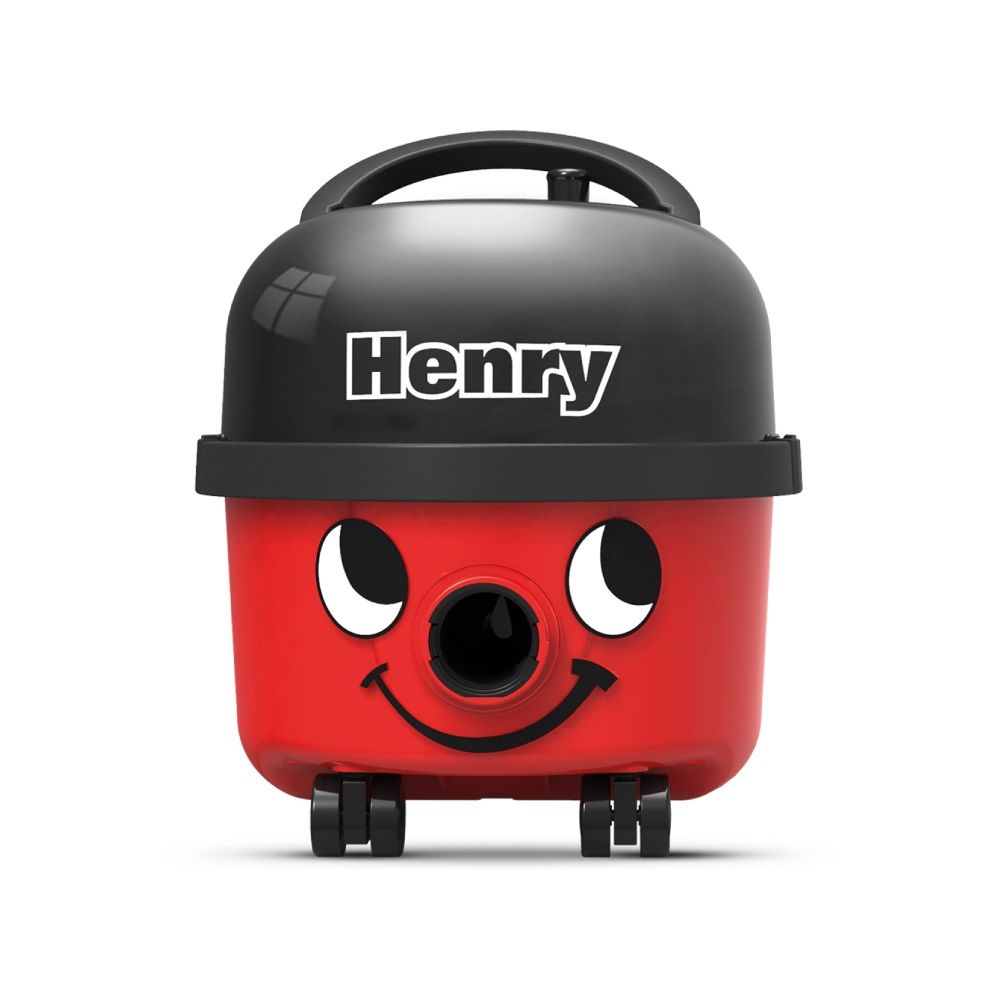 The Henry HVR160 was our former appliance editor Jen's favourite vacuum cleaner. It's robust, versatile, and easy to move around to clean up messes big and small. It also comes with an affordable price tag.
What are its best features?
The suction. Hands down. It lifted up the biggest, heaviest rug Jen has in her house. That means it can get deep into carpet pile, which is reassuring and satisfying at the same time.
Although it isn't the biggest Henry vacuum, the 6-litre capacity was more than enough for Jen's family home too, even with ongoing DIY projects.
In review
In our review, the Henry HVR160 proved itself to be a good all-rounder that would be a nice fit in almost every busy household. The vac feels like it's made of good, solid material, so it's one model that will last you. However, Jen did find that getting up the stairs with the Henry HVR160 isn't easy. And it was tricky to make an attempt to clean her car too, since it's got a power cable and 7.5 kg of weight to it.
Storage
Storing it does take a fair bit of space since the Flo-Max hose is rather long — especially when connected to the stainless steel tube set which connects it all together. You can clip the floorhead to the back of Henry HVR160 on the onboard tool storage, but this does feel a little flimsy when challenged with the weight of the floorhead, etc. The onboard storage can only store two out of the three accessories, too, so you're going to be left with a rogue accessory. It's not really one for those with limited storage space.
Love a Henry but want to go for one of the best cordless vacuums? The Henry HVB160 cordless vacuum cleaner is well worth a look. Our reviewer Sarah gave it 4.5 stars and thinks it's great for smaller homes as its battery life only lasts for 30 minutes.
What are its best features?
Henry fans who want to go cordless, this vac has your name on it. You don't have to turn your back on that smiling face, but you can bid farewell to plugging in. The battery charges in a station, so you won't be tripping over the machine as it powers up. Dust capacity is still generous at 6 litres, however, so frequent emptying will not be your fate.
In review
We were impressed by this cordless number after giving it a whirl for our Henry HBV160 review. As with his plug-in mates, our tester Sarah found this Henry was capable of cleaning carpets, hard flooring, car interiors, and the aftermath of DIY projects. While our fave corded Henry HRV160 was a bit of a pain to use on the stairs, Sarah found that the HVB160 was comparatively stress-free, with ease of use thanks to the 2.2 m hose which could reach every step with no trouble at all.
When it comes to battery life, the Henry HVB is equipped with two batteries that have 30 minutes of charge respectively. Sarah found that those 60 minutes of cleaning time were more than enough for dealing with all of the messes her home threw at her.
Storage
Much like other Henry canister vacuums, this one requires a little more space for storage. Moving it around is relatively simple as it has a handle for carrying. There's also an onboard tool kit with all the attachments your home requires, too.
If you love Henry (the vacuum) and you have pets, then the Henry Pet 200 would be an excellent shout for you since it has all the great features of a Henry with the added bonus of extra pet-friendly features. Our tester Jen found that it excelled as collecting hair left behind by her adorable guinea pigs. It's for sure one of the best vacuums for pet hair.
What are its best features?
The EcoBrush came in handy during testing for giving upholstery and stairs a once over, according to our vacuum expert Jen. Another standout feature is the impressive suction that works well on carpet and hard floors, part in thanks to the universal floorhead.
In review
If you're looking for a bagged cylinder vac to take care of pet hair on a budget, then the Henry Pet won't disappoint. After using this vacuum for a number of weeks, Jen was sure that this could easily become her family vac, and loved the simplicity of cleanly disposing of the dust bag rather than being met by a cloud of debris when it came to emptying the tank. A good bagged, canister vacuum can be hard to find, especially if you don't want to spend a fortune, and the 10-metre cleaning range and attachments definitely go far enough here to make this vac worth your while.
Storing
It's pretty much the same as the others when it comes to storage. It has onboard space for holding its tools, but there is one head that can't be stored on board. You can just pop it on top of the vacuum when in a cupboard, however. It has a handle and a retracting wire, obviously.
The Henry Allergy HVA160 vacuum cleaner is our pick of the best Henry vacuums if you have a moulting pet or are a sufferer of sniffles thanks to your allergies.
What are its best features?
This Henry vac has a HEPA filter to trap common allergens, such as pollen, pet dander, and dust mites. The three-stage filtration system stops them from escaping from the machine, and it's approved by the British Allergy Foundation. The HepaFlo bags also have a self-seal tab, keeping dust in when the machine's emptied. The cleaner comes with a combination floor head — put brushes down for hard floors, and lift them for carpet — and includes a special hard floor tool as well.
Our verdict
Our reviewer Linda was the perfect candidate to try out the Henry Allergy vac. Her busy family home has three dogs and a family member who suffers from allergies. In her testing quest, she discovered that the HEPA filter at work here is good for keeping dust at bay and that the large capacity and bagged design mean you're more likely to keep allergens out of social spaces. In terms of performance, Linda found that the Henry Pet aced the tests she set out for it, whether that was taking care of spilt flour or getting behind her radiators to banish dust.
The Henry Pet faltered slightly when it came to its floorheads. Linda found them to be lacking the sophistication of other vacs she has tested, with no motorised head or LED light to really manage dust and debris. She also found that, like the Henry HVR160, cleaning the stairs is not simple due to the hefty design. She had to attempt to keep the vac in place with one leg after wedging it onto a stair as she cleaned.
Storing
You guessed it: this cylinder vac goes by the same rules as the others on this list when it comes to storage. It's large, so you need some in-cupboard floor space to work with.
The Henry Eco is one of the newest kids on the block. It will save you money on rising energy bills, whilst being perfect for tidying up all kinds of messes. Linda, our reviewer, tested this vacuum whilst renovating, and it managed to keep up with the dust and debris just fine, whilst using less of her precious electricity.
What are its best features?
Driven by an advanced, high-energy efficient motor, the Henry Eco delivers a 30% reduction in energy usage without dropping in any power. It also comes with a handy EcoBrush which easily picks up stubborn dust, dirt, and pet hairs from carpets and stairs. Moreover, we also loved it because its packaging was eco-friendly, which is hard to find these days.
In review
We loved the Henry Eco whilst it was in review, even more so because of the fact it guzzles less electricity, so you don't feel the need to whizz around your home on a timer. The proof is in the pudding that it works after keeping up with renovation dust and pet hair. However, after testing the Henry Allergy just before this one, Sarah did note that this one is not as powerful. There's also the fact that when we worked it out, this vacuum costs only 14 pence an hour to use, which is a total steal in our eyes. Don't forget about the £40 price difference between this and the Henry Allergy, too.
---
What is the best Henry vacuum?
To recap, there are two brilliant Henry vacuums that we consider to be the best of the best. The Henry Quick (opens in new tab) is great for compact homes and smaller families, and it's super easy to both use and store, though it comes in at £299.99 RRP. Otherwise, if you do have space to store a larger cylinder model, then we can't fault the Henry HVR160 (opens in new tab) as it can withstand literally what life throws at it, even house renovation dust. This particular model is also very quiet and tames pet hair incredibly well, too. It's also just £149.99 (RRP price).
Real Homes review process
We've had hands-on experience with every single Henry vacuum in this guide. We test them in our own homes for several weeks or months (sometimes longer) in order to put these vacs through real-life situations. We use these vacuum cleaners on our hard floors, rugs, carpets, stairs, and car interiors. Our experience with each of the products we test is then shared with you, our Real Homes readers, to help you find the perfect vacuum cleaner.
Between us, we must have reviewed almost 100 vacuum cleaners by now so we know what to look for. The factors we like to test the vacuum cleaners on include important things such as suction, length of cable, battery life, ease of manoeuvrability, ease of storage, and maintenance needs. Price is also considered, too. Everything in this guide is less £300 at full price.
Meet our Henry vacuum cleaner testers below:
Jen is now the homes editor for TechRadar. Previously she has written for Ideal Home, Real Homes, and Homes & Gardens as the appliances editor. She is a big fan of Henry vacs, and thinks they make the perfect reliable and robust appliance for cleaning at home. From this list, she's tried and loved the Henry HVR160 and the Henry Pet 200, and has compared their performances side by side in reviews too. The Henry HVR160 tops this list and is one of Jen's favourite vacs ever (and she's tested a lot of them).
Sarah is a freelance journalist and editor writing for websites, national newspapers, and magazines. She tried out the Henry HVB160 cordless vacuum cleaner for us to see how it contended against the classic Henry HVR160 model. Her experience of the HVB160 was good. The vac is a seriously useful appliance with a strong battery life.
Linda is a freelance journalist who has specialised in home tech, interior design, and fitness for more than two decades. She has tested plenty of vacuums for Real Homes, including the Henry Allergy and the Henry Eco from this list. She tests out vacuums in her Devon home to find out how well they performe across various floor types and how well they cope with busy family life and her three super-fluffy, world-class-moulting dogs.
Annie is our head ecommerce editor, and she reviewed the new Henry Quick vacuum for us in her two-bedroom flat that she shares with her husband and her pug, Doug. Annie loves this stick vacuum and truly rates it as one of the best she's ever used, and it managed to deal with the copious amount of pet hair Doug sheds, too.