Keeping clean countertops is not as hard as it may seem. One thing's for certain though, and that's that you need to know exactly what you're cleaning to make sure you tackle this chore correctly. From how to clean quartzite countertops to granite, and other modern countertop types like concrete and laminate, this is our guide to help you clean all types of kitchen countertops, removing stains and all for pristine results.
What can I use to disinfect countertops?
We spoke with the hygiene experts over at Lysol also, 'Countertops can host food-born bacteria and trigger cross-contamination. Disinfect countertops with Lysol® Kitchen Pro Antibacterial Cleaner. Spray until wet, wait 2 minutes to disinfect and then wipe. Then rinse surfaces with potable water after use.' Be sure to check the compatibility with your countertop material by spot testing products in a small covered area.
How to clean quartzite countertops
Quartzite designs are crafted from natural stone and it's often mistaken for marble or granite due to its similar delicate veining and coloration. It makes a beautiful choice for countertops and has been gaining in popularity during the last few years. It's not as high maintenance as marble and it is very durable so will serve you well so long as it's cleaned and maintained properly.
What to clean quartzite countertops with
The best cleaner is non-acidic with a low pH, so consider a mild dish soap with warm water. It is always worth double checking with your sales rep if you had your countertops installed, if you acquired them when you bought your home then be mindful and use the most gentle cleaners you can find. The reason for this is because not every quartzite has the same makeup.
You can use stone specific cleaners that you can buy from the store but if you're managing fine with what you have at home - dish soap and warm water then carry on with that.
Quartzite countertops cleaning and maintenance
Use a soft wipe cloth or paper towel to wipe the sides down on a daily basis. If you can get into the habit of regularly wiping quartzite countertops after every use, stains will be far less likely to happen.
How to remove stains from quartzite countertops
One of the advantages of quartzite is that it's rock hard. This is good in terms of chipping and etching, though it can mean that darker stains like wine and sauces can stain because it is porous - and this is why sealing it is so important. Once you have stains - especially those that are acidic like lemon juice, wine and vinegar and those that are darker, the best course of action is to make a poultice from baking soda and water, spread this paste thickly over the stain and cover it with plastic wrap for two days. Wipe the surface clean and hopefully your stain will have gone - if not, repeat.
What should you not use on quartzite countertops?
Never use heavy duty scouring pads, bleach or scratchy cleaners. Acidic cleaners that have a vinegar or citrus base are also a no as they will slowly eat away at the seal making it look dull and prone to stains.
How to protect quartzite countertops
As with any countertop surface, preventative maintenance is key. Always keep on top of spillages instantly, and use coasters and trivets instead of placing pans directly on to the surface. Cutting boards are also a good option - this is due to quartzite being extremely hard, in fact, so hard that it can blunt your knives!
Sealing
Sealing will protect your quartzite countertops from everyday use and more importantly - from stains. If you're having quartzite fitted then your supplier may apply the seal for you. If you've inherited the countertops then look out for signs that it may need sealing. Key areas to check are around the sink - if the stone looks darker from continual splashing then it's time to re-seal. You can buy sealant from a stone supplier or check out your local DIY store. They are easy enough to apply - make sure your countertops are clean and bone dry and follow the instructions. Sealing is best done on a yearly basis to keep your quartzite countertops looking tip top!
Polishing
Quartzite is super tough compared to other countertop materials, but over time it can discolor, get scratched and show general signs of wear and tear. Polishing will give your countertop a glossy revamp that will restore it back to life especially if some areas have got dull. It will wear away any defects that have appeared over the years and will reveal the smooth and perfect natural stone underneath. For this, we recommend you employ a quartzite professional who will use their restoration expertise without damaging the surface, find one via your local installer.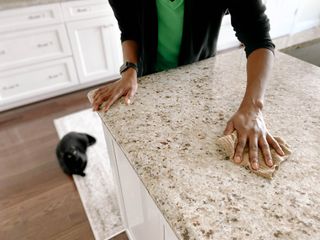 How to clean granite countertops
With a color range of flecked whites, speckled grey, black, greens, blues and reddy tones, granite is a fabulous choice for your kitchen countertops. Each color will of course have the classic swirls and patterns in it that are synonymous with granite. It has heat-resistant qualities and is unlikely to get scratched or chip, and each slab is unique, so you really do end up with something special for your countertops. One of the best things about granite is that it adds value. But like anything, the more you look after it, the better it will perform. So looking after it is key, and learning how to clean granite will mean your countertops serve you well for years to come. Granite is very dense which means it's less likely to scratch than softer stones like marble, but this does mean it still needs care.
What to clean granite countertops with
Simply wiping over the surface with a damp cloth or mild kitchen detergent will be enough for everyday cleaning.
If you'd like to make a basic everyday homemade cleaner you can pour one-half cup of rubbing alcohol, one-half teaspoon of dish soap and one and a half cups of warm water into a spray bottle. The combination of the alcohol and dish soap will create a natural anti-bacterial cleaner that's safe to us.
To ensure a shiny finish, we recommend using an appropriate granite cleaner once a week to get a deeper and more effective result,' says Naomi Dean, Kitchen Designer at Harvey Jones.
Granite countertops cleaning and maintenance
Use a soft material like glass and stainless steel cleaning microfiber cloths as they are gentle and will also remove smears.
As we've mentioned above, a mild soapy detergent will be fine for a general clean on a day to day basis. If you want to give your countertop a shine and don't have a specialist cleaner to hand, then using a household spray polish will do the trick as long as the surface is clean and dry beforehand.
How to clean granite countertops stains
Make up a mixture of baking soda and water into a paste if it's an oil-based stain and if it's water based, add in some hydrogen peroxide to your paste.
If the stain is super stubborn, reapply your paste and leave it on overnight covered with plastic wrap, then in the morning rinse off with clean water and a soft cloth. But mostly, do remember that your granite countertop is unique to you, this means that any deep stains you haven't been able to remove most likely won't be seen amongst the individual veining that yours has.
Speed is always of the essence and spills need to be wiped up as soon as possible to prevent them from seeping into the stone and staining in the first place.
What should you not use on granite countertops?
Don't use vinegar, it can dull the natural sheen of the granite and doesn't tend to work well with sealants.
How to protect granite countertops
It does pay to seal granite too, because by doing this you will make the cleaning and maintenance easier. Granite can be porous, so sealing them will stop the stone from absorbing liquids like water, wine, juice or even oil. These could permanently stain your countertops. And not forgetting bacteria that could get into the pores. It's definitely worthwhile getting your countertops sealed yearly to avoid these issues. Another top tip is to be careful with heat - it's best to invest in a couple of trivets or use wooden chopping boards for placing saucepans and dishes on. Whilst your granite can withstand a brief minute of heat, you risk weakening the sealant and causing permanent stains and cracks. The same goes for cutting food, the knife could damage the sealant which then allows bacteria and liquids in which might cause deep staining.
How to clean laminate countertops
Laminate is a great choice of worktop due to its easy maintenance and great price point. The glossy finished material is made from tightly pressed layers of paper and it comes in a range of designs meaning that you can go for a marble finish on your countertops without the high maintenance clean!
What to clean laminate countertops with
Daily you can polish up laminate using a clean microfiber cloth and a mixture of dish soap and water. Simply wipe, rinse clean and dry.
What should you not use on laminate countertops?
Avoid using abrasive cleaners which can leave scratch marks, including steel wool or scrubbing tools.
How to remove stains from laminate countertops
You can easily remove grease and other stains from laminate countertops using baking soda for more lift. Start by cleaning the surface as above, then make a paste from baking soda and water. It should be fairly thick, then apply this to the stained area for a few minutes. Scrub down a little with a clean microfibre cloth, rinse, dry, and repeat if necessary.
How to protect laminate countertops
One of the downfalls of laminate countertops is that they aren't as damage-proof as wooden or butcher block countertops and are susceptible to burns. To avoid delamination and having to replace your worktops altogether be sure to not place hot pans and trays directly onto their surface.
To ensure that your laminate countertops stand the test of time, you'll want to clean them daily to lift grime and avoid stains. You can also consider using even just a small can of acrylic, resin or polyurethane sealant for a added protection and shine.
How to clean concrete countertops
Concrete countertops and not only a very cool feature for every modern kitchen but they are also super durable, strong and lightweight. How easy your concrete countertops are to clean and maintain depends on whether yours have been sealed, or not. If they have been, you're looking at a cleaning routing as simple as for laminate countertops, if not you need to clean with a little more caution.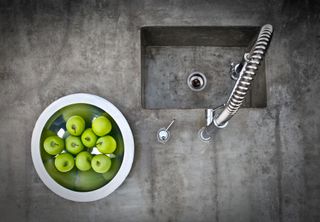 What to clean concrete countertops with
You'll want to use a pH-neutral cleaner. Then take a microfiber cloth, some hot water to rinse the surface and dry it. To disinfect sealed concrete surfaces, you can mix a 1/4 cup rubbing alcohol with two cups water in a spray bottle. Spritz on and let it sit for five minutes, then wipe with a damp cloth and dry thoroughly. You can also use dish soap and hot water, scrubbing with a sponge then drying thoroughly.
What should you not use on concrete countertops?
Abrasive scrubbing pads or harsh commercial cleansers will eat away at the sealer so avoid these at all costs and stick to a microfibre cloth.
How to remove stains from concrete countertops
Although bleach isn't pH neutral and not recommended to clean cement worktops entirely, you can spot treat grease and acidic food stains with it as the contact will be limited. Simply soak a small amount of bleach int some folder paper towel or cotton wool and place it onto the stained and discolored area. Apply pressure using a heavy cup or pan and the stain should lift. Rinse and dry.
How to protect concrete countertops
Concrete is long-lasting but porous, especially if not sealed and, and vulnerable to stains. To avoid discoloration you'll want to reapply sealer and wax the surface regularly. Then be sure to catch spills immediately.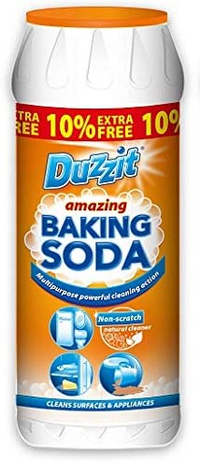 Our favorite liquid soap to use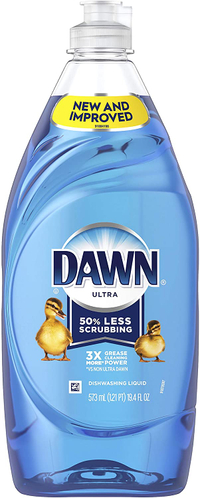 Food prep area looking great from all angles.