Cleaning baseboards is an easy – if not slightly boring – job, so we've five different hacks to make it even more breezy and satisfying. Because those tasteful little trims that disguise the join between the bottom of the wall and your flooring are oh so easy to forget about. The thing is, they only look good when they're clean...
While yours may serve mostly as display shelves for your impressive collection of dust, they are actually there to protect your walls. In doing so, they get bashed by toys, toes, shoes and more meaning that it doesn't take long before they are covered with smears of dirt and scuffed with marks.
Noticed dirty walls too? This is how to clean painted walls to perfection.
In terms of how often we should be cleaning baseboards – not our favorite job right? – Melissa Maker of Clean My Space (opens in new tab) says 'You don't have to do it all the time, but when it becomes a little bit obvious, pay attention to your baseboards.'
To avoid being judged as the hostess (or host) with the leastest cleaning skills, we have some expert tips* on how to take care of your baseboards for fuss-free, exceptional results.
How to clean baseboards easily
There are several methods you can use, depending on how dusty or dirty your baseboards are.
Maker says that In terms of method, you should 'resist all temptation to clean them with a normal mop and run it along the bottom of the baseboard as this will result in the dust sticking, leaving you with this gross, sticky streak of dust that will look horrible and make it so obvious that you did it the wrong way!'
1. Dusting & vacuuming baseboards
A feather duster and a long vacuum attachment are recommended so there's no need to bend or kneel down. Use the vacuum to get rid of any dust build-up along the baseboards, then grab a damp duster to clean any awkward spots and angles. Do this every few weeks to prevent a large dust build-up and to cut down your cleaning times.
Maker's method: 'Get the brush attachment of your vacuum to quickly brush up any of the dust along your baseboards. If you want to wipe down your baseboards, take a dry microfibre cloth in one hand to dust, and have a damp microfibre cloth in the other hand to give that a quick wipe and that will clean your baseboards!'
2. Use a baseboard mop – specifically
This handy device will save you having to get down on your hands and knees to scrub. The long-handled tool (opens in new tab) has a cleaning head specially designed to fit into the grooves and curves of the skirting and clean them while you're standing.
3. Cleaning baseboards with soap and warm water
Fill a bucket with warm water and add fabric softener as 'soap'. Dunk a cloth or sponge into it, wring so it's slightly damp rather than wet, then use to wipe away dirt, grime and scuff marks until the skirting is clean and shiny. It'll smell fresh, too. Clean your baseboards this way every few months, or as needed if yours get particularly dirty.
4. Use dryer sheets to clean baseboards
Yes, we mean those papery, sweet-smelling sheets you normally throw in with your just-washed laundry. It's an unconventional method, but if you rub down the boards with a tumble dryer sheet it'll prevent dust and debris from sticking thanks to the anti-static effect it creates. This can be done every couple of months to reduce build-up of dust and prolong in-between cleaning times.
5. Clever cleaning hacks for super dirty baseboards
Magic Erasers (opens in new tab): A brilliant, particularly tough marks; these reusable magic sponges should rub them away and leave your boards looking like new.
Vinegar: Add 1/2 a cup to warm water with a few drops of Dawn and use this to wipe down super dirty baseboards.
Qtips: For those hard to reach spots, cotton qtips are perfect for getting into tight corners or decorative folds and picking up a lot more grime than you expect.
Paintbrushes: Like the cotton bud, a small paintbrush can get rid of dust in those tricky places that your fingers can't reach. Run along the top of the baseboards to get the dust off, like a tiny sweeping brush.
*Hacks courtesy from MyJobQuote (opens in new tab)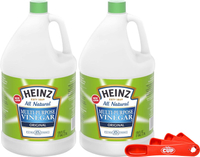 (opens in new tab)
Our favorite liquid soap to use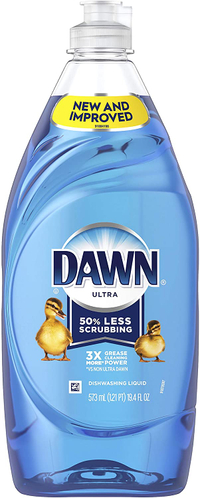 (opens in new tab)
What beautiful baseboards you have 🙌