Are you looking for advice on how to improve your bathroom? Whether it's easy changes that anyone (and we mean anyone) can make, ideas for revamping your room, or the know-how to design a bathroom from scratch you're searching for, we've got all the know-how you require right here.
Check out our bathroom ideas page for lots more tips and inspiration.
1. Upgrade your hand basin
If your budget doesn't stretch to a total bathroom refurb, consider upgrading just one statement piece – we'd recommend the sink or the bath. Opting for a standout sink is a great way of creating a focal point within a bathroom and enhancing the feel of a space. For more guidance on choosing a bathroom sink check out our (awesome) feature.
2. Add mirrors to create the illusion of a lighter and larger space
Create the illusion of a lighter, more spacious bathroom with the addition of large, space-enhancing mirrors. Long and tall mirrors work equally effectively in exaggerating the size and feel of a space, so opt for a shape and style that suits your bathroom. We've popped some of our favourite bathroom mirrors, in one convenient article so make sure you go and check that out.
3. Opt for stylish lighting solutions
A change in bathroom lighting can dramatically enhance an environment and atmosphere, and is a great options if you are look for how to improve your bathroom. For more ideas, take a look at our guide to choosing bathroom lighting.
This stylish Pillar Wall Light, available at Original BTC, makes a stylish, industrial inspired addition to a contemporary bathroom.
4. Experiment with contemporary paint ideas
If you're looking to make a more significant way to improve your bathroom, consider experimenting with some of our contemporary bathroom paint ideas. From deep, moody greys to warm, spicy tones, colour blocking and ombre, there's a style to suit all.
This combination of Bastille and Coral Shadow, both from Sanderson, is an attainable example of on-trend colour blocking. See more colourful bathroom ideas in our design gallery.
5. Go bold with a beautiful botanical wallpaper
Combining paint and wallpaper can be an effective way of improving a bathroom, giving it a new lease of life. If you're concerned about a bold print overwhelming a small space, consider opting for paintwork of a similar hue to your wallpaper.
This Camellia wallpaper is paired with Smalt Paint, both from Little Greene, for a modern floral feel.
If this blue botanical wallpaper has caught your eye, we have plenty more botanical wallpaper designs to inspire you.
6. Use patterned floor tiles to make a design statement
Improve your bathroom with a stylish geometric floor. Using bathroom tiles on the walls, too? Go for plains rather than patterns, picking one of the accent shades from the floor tiles to create a cohesive look. Have a read of our guide to choosing bathroom tiles if you need more advice.
7. Maximise space with storage solutions
The first step to improving your bathroom should be decluttering; which means getting rid of scratchy old towels and donating unused 'bath and body' gift sets (check they're in date first). Once that's done, prioritise maximising space with clever bathroom storage solutions – our guide will help you find the best option for your bathroom.
8. Add life (literally) and texture with house plants
In addition to their zen-enhancing properties, well displayed house plants make a timeless design feature in a bathroom, adding texture and personality to a space.
Whether your preference is for small succulents or more statement species, enhance the calmness-inducing feel of your space with the addition of house plants. Read our full guide to common house plants if you're not sure where to get started.
9. Incorporate trends with your choice of towels
If you'd like to incorporate seasonal trends into your bathroom but are concerned that doing so will mean a scheme that ages quickly, towels could be the solution. Affordable and easily replaced, new towels will not only refresh your space, but allow you to incorporate a new style or trend into your bathroom on a seasonal basis.
We love the idea of keeping towels at-hand with the addition of a stylish bathroom stool – we love this Skagerak Fionia Stool available at Nest. We've put together some great towel storage ideas if you are after more inspiration.
10. Switch up your bathroom window treatment
And this really needn't be as big a job as it sounds. Sure we love the look of shutters in a bathroom, but if you are on a budget or just want a quick update, changing out your roller blinds or adding a window film is a great way to make a bathroom feel fresher. We have loads of ideas in our best bathroom window treatments to get you inspired.
11. Create a focal feature
Any bathroom, however large, like this one below, or small, like the majority of the country's, can benefit from a focal feature. This might be a large roll top bath, a wall decorated with a stunning wallpaper or a beautiful window dressing. Or, it could be something as simple as a large picture. Whichever you choose, it will give your room a decorative edge that most bathrooms lack.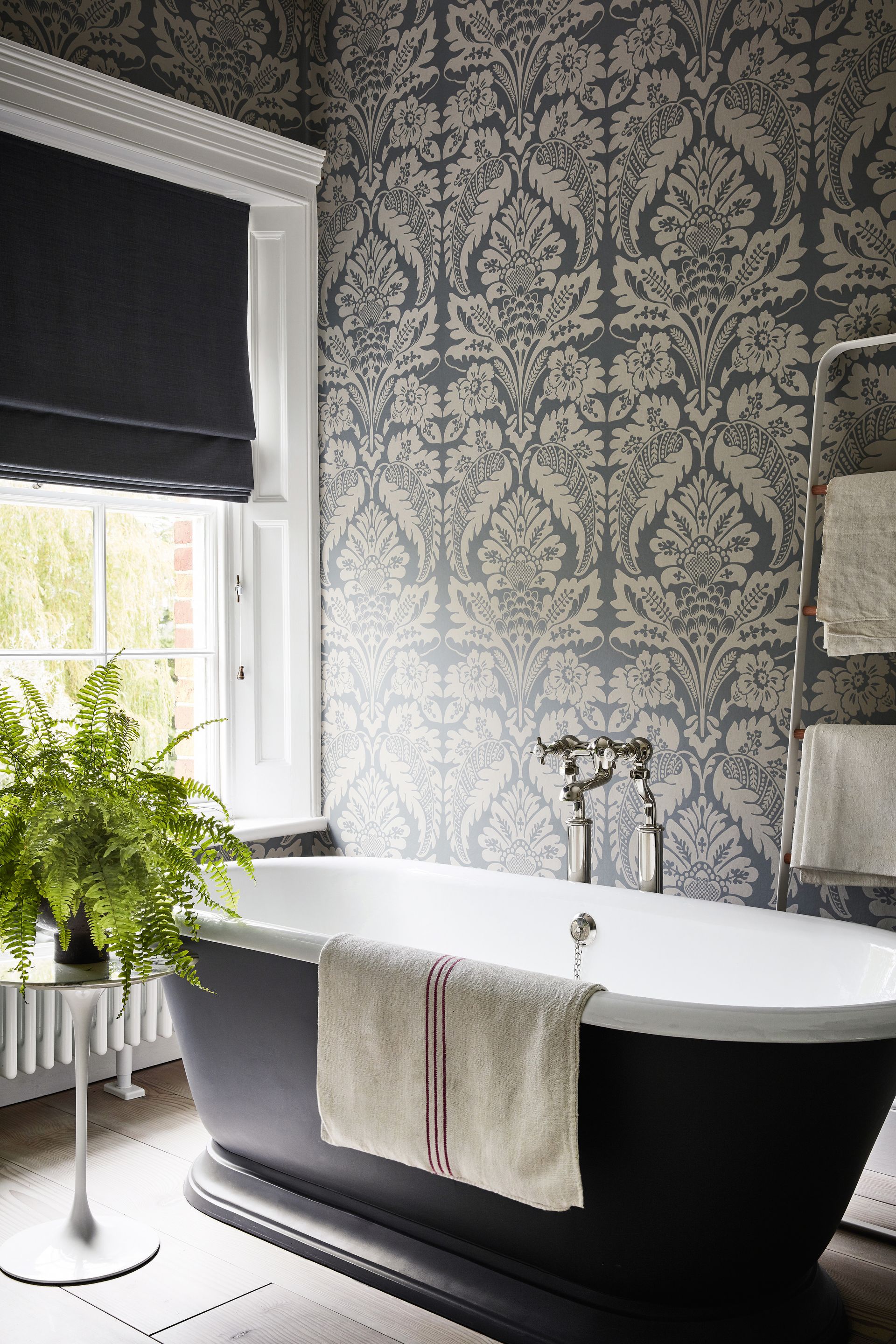 12. Improve your bathroom with wallpaper
Wallpaper? In a bathroom? Yes, it can work, but your bathroom needs to be well ventilated, and the room's users shouldn't be prone to splashing the walls either. You can find wallpaper made specially for bathrooms; B&Q has a range, for example, and there are lots of designs to choose from. If you want to go with standard wallpaper, make sure you use extra strong wallpaper adhesive.
13. Don't forget the final touches
When it comes to improving your bathroom, you'll be amazed by the dramatic difference small, final touches can make. The addition of a stylish toothbrush holder and expensive-looking soap dispenser can really elevate the feel of a space.
More bathroom inspiration? Yes please...