You may want to check out all the things people who WFH always have in their small office if you're not feeling productive at home. As workplaces become more flexible, it can be difficult to navigate all the various furniture, organizational products, and 'must haves' when it comes to creating your own small home office.
From finding how to incorporate personal touches to shopping for the right office chair, creating your work-from-home environment can seem overwhelming.
When you're limited on square footage, learning which items are necessary in your home office becomes even more important. Instead of crowding your office with clutter, unnecessary items, and bulky furniture, consider these six expert-approved small office ideas and hopefully, your work life.
All the things people who WFH always have in their small office
Thoughtfully considering the layout and flow of your home workspace can have a huge impact on how well you work. From getting comfortable to improving your rental-friendly lighting ideas, here are six ways to transform your small home office.
1. Comfortable furniture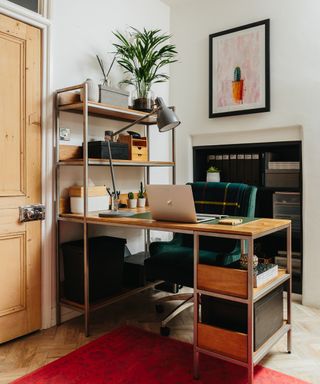 First and foremost, you want to be comfortable enough in your small office to sit for long hours. CEO and founder of the lighting company Luminesy, Reinis Butka recommends focusing on finding the ideal version of one piece of comfortable furniture in particular: your office chair.
"An ergonomic chair is essential for anyone working long hours at a desk. It provides proper back support, promotes good posture, and reduces the risk of developing back or neck pain," he advises.
We personally love this selection of Amazon office chairs, selected by the Real Homes team. This mesh ergonomic office chair available at Amazon provides plenty of support.
Reinis Butka is the CEO and founder of Luminesy, an e-commerce lighting company.
2. Good lighting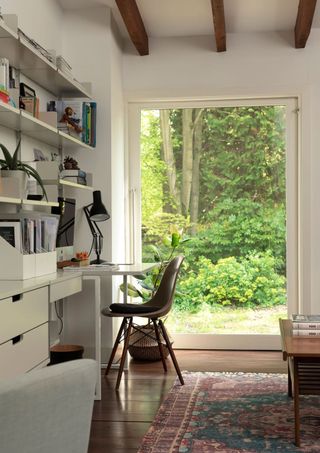 Of course, as the CEO of a lighting company, Butka also considers lighting to be of the utmost importance in a great home office environment. "Good lighting is crucial for a home office to avoid eyestrain and promote focus," he explains.
His suggestion? "Adjustable task lighting, such as a desk lamp with a flexible neck, provides direct light where it's needed and allows users to customize the lighting to their preference".
Luckily for you, we've reviewed plenty of options in our Target lamps and Urban Outfitters lamps round-ups. My personal favorite is this cute mushroom lamp from Target with variable multi-head settings.
3. Standing desk converters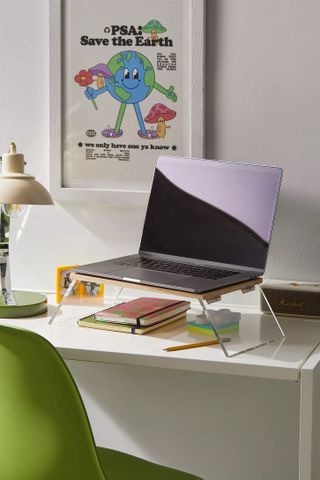 An adjustable desk can also keep you from straining yourself when working. "An adjustable desk allows people to switch between sitting and standing positions while working. This can improve productivity, reduce discomfort, and prevent the negative health effects associated with prolonged sitting," Butka says.
For those who don't want to completely swap their old office desk for a new adjustable one, interior designer Raf Michalowski has a solution. "Ergonomic standing desk converters," Michalowski says.
"You can easily find different designs and sizes of standing desk converters to fit your budget and space. I would recommend looking for a converter that is sturdy, adjustable, and has enough surface area to accommodate your work essentials".
If you're unsure where to start looking, this standing desk converter available on Amazon has over 12k reviews with 4.7 stars. Clearly a fan favorite!
Raf Michalowski is an interior designer. He is also the founder of Meble Furniture, which is one of the largest leading furniture retailers within North America.
4. Noise-canceling headphones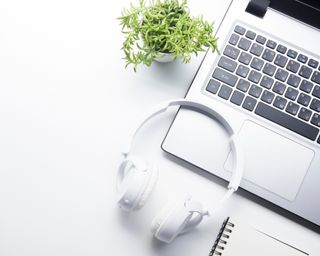 When it comes to working from home, noise-canceling headphones can keep you from losing your focus when others invade your work territory. It's worth investing in a good pair that really works and lasts for ages. I personally love the Bose QuietComfort Headphones available to buy from Amazon, and with 19k reviews it's clear other customers do too!
"Noise-canceling headphones can be especially useful if you have pets, kids, or partners at home during your working hours," Michalowski explains.
"You can opt for wireless ones to avoid tangled cords, and choose a design that is comfortable enough to wear for long periods."
5. Houseplants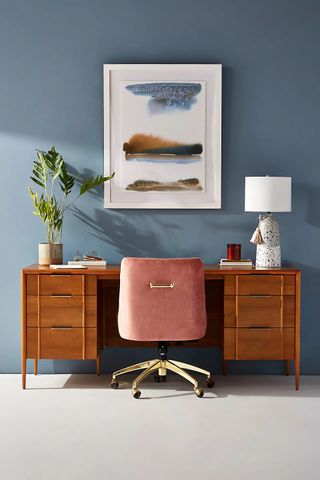 Blogger and interior designer Yuuna Morishita suggests injecting some life into your workspace. "I recommend houseplants. Greens really warm up a small space and improve air quality," Morishita says.
"I have a few low-maintenance plants, like Pothos and Zz plants, scattered around my desk area." If you're worried about maintaining them, look into the best houseplants for apartments to find some easy options.
Yuuna Morishita is an interior designer and blogger born in Japan and raised in the US. Their unique upbringing fuels their passion for blending Japanese artistry with global design trends.
6. Desk organizers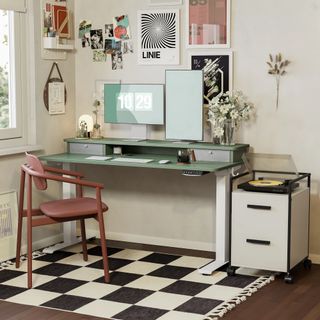 In a small office, your desk is the center of everything. It's where you spend the most time and because of that, it's where you should have the least amount of clutter. Yuuna Morishita suggests keeping all your desk accessories in one place.
"Pens, sticky notes, chargers, keeping all these desk necessities tidy is key," Morishita says. "Personally, I use woven baskets and trays to corral the clutter."
There are so many places to buy desk organizers, you just have to find which option works best for your workload. I personally love this desk cube from Walmart because you can see through to what's inside.
Must have small office products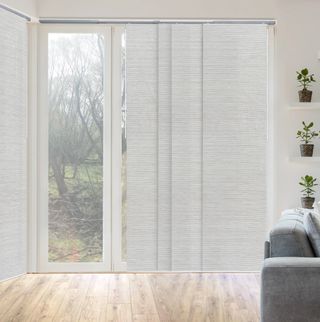 Privacy
1. Orren Ellis Semi-Sheer Vertical Blind
Price: $199
A simple way to declutter your Zoom background or separate your home office space from your bedroom space, these vertical blinds are a great upgrade for any type of home office.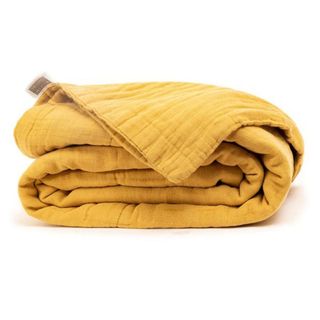 Cozy
2. The 365 Throw by Muslin Comfort
Price: $79
For maximum comfort, consider adding a throw blanket to your home office. A great way to get comfortable or to add a pop of color, a throw blanket can keep your mood up, even on those long work projects.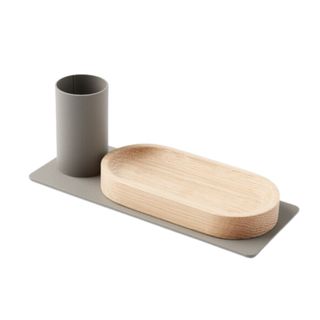 Modern
3. Most Modest Cody Desktop Organizer
Price: $65
The ideal desk organizer can be difficult to find. This one by Most Modest is both useful and minimalist, keeping your desk free of clutter.
FAQs
What are some ways I can add more personal touches to my space?
For office workers, everything from adding framed family photos to a few houseplants can transform their office. You can go a step further by including a bookshelf of your favorite books to reference throughout the day or decorate with your favorite colors (we rounded up our favorite places to buy bookshelves if you're not sure which retailer is best).
By infusing your space with your favorite items, you can feel more at home in your working space, leading to happier and healthier work days.
What is the ideal Zoom or video background for professional calls??
For remote workers that need to jump from video call to video call, having a clean, blank background is typically the best route. If that's impossible in your home office's layout, consider decorating with a bookshelf or a single piece of art.
By removing as much clutter as possible, and situating yourself under the best lighting, you can tackle every meeting without having to check your background.
---
Instead of overthinking your small home office's design, consider a very simple goal: to create a workspace that's both reflective of your own unique style while also keeping you in a productive mood.
Whether your home office is a dedicated bedroom space or a makeshift area of your home, like a small bedroom office, you deserve a space that's going to help you be more productive as well as comfortable.