Cleaning studio apartments or small spaces could be a hassle at times, especially if you have way too many pieces of furniture, home decor items, and more. Sustaining a small apartment takes dedication, as it's a whole different ball game when it comes to cleaning and organizing compared to a larger space.
Spring cleaning provides an opportunity for getting up to speed on the cleaning you didn't get to do or have been wanting to do for a while. Rather than ruminating on the last time you cleaned your studio's alcove, gearing up for the spring provides you with the motivation to start cleaning and not feel bad about that last deep clean you did for the new year. Once your spring cleaning is complete, your apartment will feel delightful yet fresh, which will provide you with peace of mind.
If you are looking at your small apartment or studio and are on the fence about what to even add to your spring cleaning agenda, then our guide is here to assist you! We spoke with organizational experts, Chantal Mila and Morgan Flores who provided impactful tips on how to spring clean even cluttered small living spaces.
1. Start with an apartment Spring Cleaning Checklist
Flores recommends you start planning and spring cleaning around early March. Then to really nail those fresh spring clean feels in your space, you're going to want to make sure you tackle every single little area in your home and not miss a beat. Flores says that a list can help with that.
Here are the designated areas to focus on deep cleaning in your home this spring, along with products to use for the process, according to Flores.
Areas to clean:
Bedroom
Windows/window sills
Fan blades in bedrooms and living rooms
Under the living room couch
Kitchen cabinets are last but not least on the list for sprucing
Flores also recommend her favorite cleaning products to stock up on before you get stuck in!
1. Sprayway Glass Cleaner: it's often available for curbside pickup at Walmart
2. Bissell Little Green Machine, we haven't tried this at Real Homes but we have tested the Bissel Spot Clean pro and it's pretty great for smaller homes and for getting rid of stains asap.
3. Bar Keepers Friend Cleanser is simply a longstanding home favorite
4. Dawn Dish Soap is another must-have product.
2. Focus on decluttering
We often have so many items that we don't actually need or use, so by decluttering and donating those items, you can reduce the amount of things you need to clean around your home, reduce dust and increase storage space in your apartment. Start with clothes and shoes and work your way around your home. A great rule of thumb is "if I saw this item at a thrift store, would I buy it?". If not, it may be time for the item to go.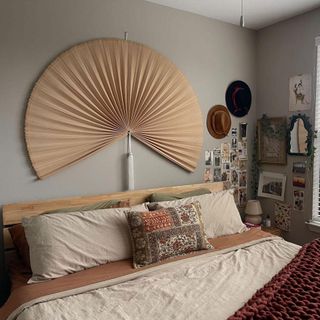 3. Don't underestimate vertical storage
When cleaning and organizing a smaller space, don't overlook the amount of vertical storage you have. There are a ton of cute organizational home buys around now and plenty of clever ways to incorporate them into your surroundings to max out the room you do have.
You can add a second shelf to your cabinets to double storage space, hang a second rod under your existing wardrobe rod to double your hanging space and get your closet super organized, hang a shoe rack on the back of your doors, or invest in some expandable shelves to increase space around your apartment.
4. Reset for 15 minutes, every single night
Creating a routine is a simple way to stay on top of cleaning your space. Taking 15-minute nightly resets, including loading the dishwasher and spot vacuuming the home can make a big difference to your week. Allocating one day a week to a deeper clean is a great way to avoid mess piling up, as well as keeping your space manageable.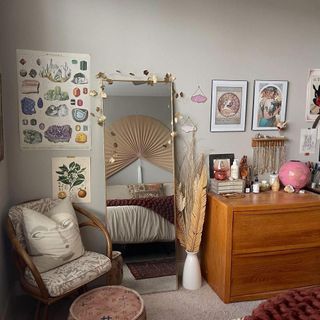 5. (House)work smart
When it comes to cleaning, work smarter, not harder! For example, your shower curtain could be placed in the washing machine to make it look brand new! Also, cleaning doesn't need to be expensive, there are so many do DIY cleaners that can be made by using simple pantry items, such as white vinegar, baking soda, and dishwashing liquid — making some of the most eco-friendly cleaning products of all.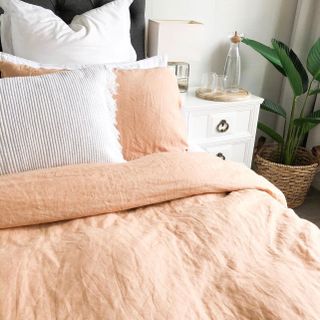 How to keep your apartment feeling spring fresh forever
Flores also shared some quick tips to help make spring cleaning super easy in the moment, and going forward!
Keep a running list on your phone notes of the areas that need to be cleaned and check them off as you go.
Clean in small sections to make it less overwhelming.
Clean from top to bottom.
Do one small area a day to stay on top of it all.