Incorporating some small kitchen Feng Shui tips will give your kitchen the best energy and flow. If you're feeling overwhelmed or cramped, Feng Shui may be the answer, even if you're a beginner.
With small kitchens in mind, cooking peacefully while in good spirits, results in a meal made with love. And what better way to cook peacefully than by incorporating some good Feng Shui into your small kitchen?
I spoke to experts who provided us with ten Feng Shui practices and small kitchen ideas that'll have you loving your space more than ever!
Small kitchen Feng Shui tips
Exuding good energy in your overall living space is a must, especially if you live in a small studio or one-bedroom apartment. Of course, everything in your small living space should feel peaceful to the point where you want to spend time in every single little nook, even if it's just sitting on top of your kitchen counter drinking a glass of wine.
1. Let your countertops breathe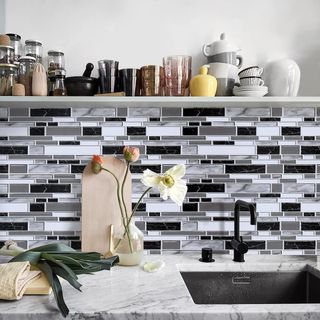 "In Feng Shui, we consider how energy moves through or across a room," explains Feng Shui practitioner and interior decorator Amanda Gibby Peters. "So, think of any horizontal surface (like those kitchen counters) as a 'landing zone' for the energy of new ideas, opportunities, or creative solutions."
If the available surface area is limited, there is no room for clarity or "inspirational" refreshments.
On another note, it's worth noting that counters and horizontal spaces in a home can quickly morph into clutter havens. It seems everything is drawn to them, right? These spaces are also what we notice almost immediately when we walk into someone's home or office.
Strive to keep your kitchen countertops clear and organized. A quick effort here leaves the kitchen feeling more spacious immediately!
2. Clear the clutter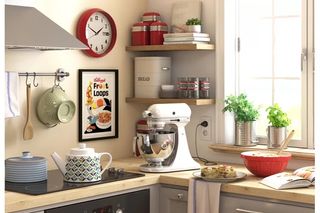 In Feng Shui, a kitchen represents prosperity, so clutter here mutes that financial flex.
"I suggest people go for quick wins first when clearing clutter, especially near and around the oven," said Peters. "Throw away expired cans and spices, and edit the refrigerator of any tired magnets or menus."
"Since the kitchen has a deep connection to your health and nourishment, I encourage clients to remove anything that doesn't align with or support that. It might seem like a daunting challenge, but one well worth your time and attention.
Feng Shui practitioner Julia Sarasola says we need to maximize storage in small spaces, which can mean storing things in weird places or using bins like these storage baskets from Target. Since the kitchen has a deep connection to your health and nourishment, she encourages clients to remove anything that doesn't align with or support that.
"It might seem like a daunting challenge, but one well worth your time and attention," said Sarasola.
3. Make sure your stove and oven work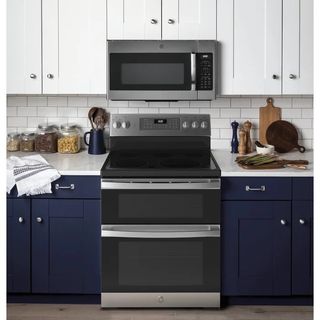 "There's a popular piece of Feng Shui advice that I'm asked about often, this idea that the more burners your stove has, there's more wealth potential within your reach," stated Peters. "The idea here is that the stove and oven represent our ability to provide nourishment for our loved ones."
Peters continued, "If our loved ones are healthy and strong, they are able to work and provide for the family, and so the circle continues."
Whether you have four (or more) burners, there's one important caveat: to really "stoke" those prosperity opportunities, you have to actually use your burners and keep your stove clean. What Peters typically sees (and hears from clients) is one favorite burner being used all the time (if at all). The rest suggest untapped prosperity, so get into the routine of using and rotating through yours regularly.
On another side note, a "cold" kitchen (one where the stove/oven isn't used) can sometimes be disruptive to finding a relationship (if someone is looking to partner up).
"So, commit to using your stove/oven more frequently, and if that's not possible, try leaving a light on instead!" she said.
Sarasola also mentioned even if you just boil hot water for tea or coffee you're still tapping into the power that your stove represents in your life.
4. Clean the oven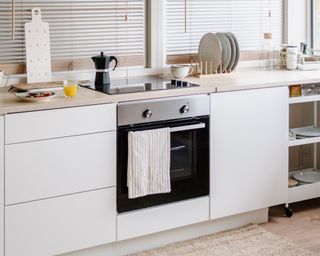 As Peters just mentioned, it is a symbol of financial energy and physical nourishment, so to further that "support", you want to keep your oven clean.
The kitchen and stove and oven are considered the seat of health and wealth, so it is worth the elbow grease to keep them gleaming!
5. Fresh fruit & flowers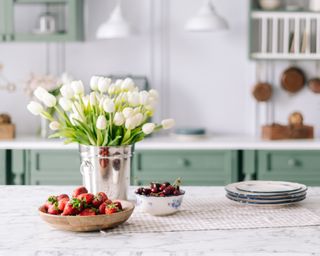 Peters suggests keeping fresh fruit out in the kitchen as a symbol of abundance. Oranges are a great option as they are bright and eye-catching. They are also associated with "the sweet life," so they're great company to have in the kitchen.
Another "fresh" alternative: flowers! A recent study showed that flowers somewhere in the mix of our morning routine have perk-me-up potential. It makes a strong argument for keeping those blooms in the kitchen, where everyone tends to gather before heading out into the day! You can even get fresh flowers delivered on a subscription so you'll never be without them.
Either way, the kitchen is synonymous with prosperity and fortune, so introducing any fresh and living chi (or energy) into our homes regularly suggests abundance is at home in our house. It also reminds us that the opportunity to celebrate life is now.
6. Double the abundance with mirrors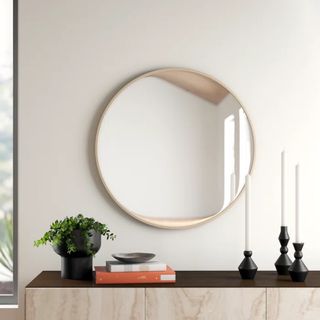 "If you want to "double" the abundance of energy on tap in the kitchen (and you've tended to any clutter on the counters), a mirror reflecting the kitchen table (or where you eat) can be the perfect accent in the kitchen," said Peters.
Again, the Shui at play here is when we feed others, it suggests we have abundance available to us. In ancient China, it was believed providing sustenance for others meant they would be strong and healthy, and this would allow them to work hard and earn money.
"So, hang a mirror, like like this versatile Beautypeak round mirror available on Amazon, and gather family and friends around the kitchen table for a meal, games, or even conversation," she said.
7. Light It up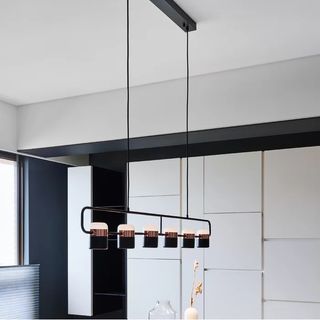 Lighting can make a huge difference in a small space like a kitchen. Try changing out the brightness (lumens) or color temperature (kelvins) of your lightbulbs, or even installing battery-operated, or motion-activated strip lights, like this pack of two strip lights available on Amazon, under the counter.
"These small kitchen lighting ideas could make all the difference in how you feel and function in the space," explained Sarasola.
8. Apply a fresh paint coat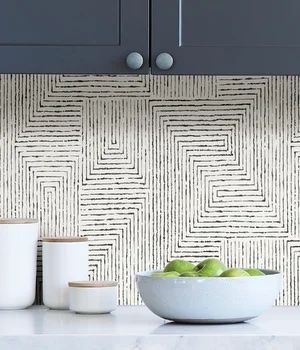 If you want to spend more time in your kitchen, Sarasola recommends refreshing the space with a coat of paint or even peel-and-stick wallpaper for a renter-friendly alternative.
Think about what colors inspire you or ignite your creativity, and invite those tones into your kitchen! Or think about the best colors for a small kitchen to maximize space and lighten up the room.
Meet the experts
Amanda Gibby Peters is the founder of Simple Shui — a modern-day, mission-driven, love-based practice of Feng Shui. She's been teaching Feng Shui techniques and tips for nearly two decades, witnessing the life transformations of her readers and clients. You can listen to her on the weekly podcast, House Therapy, or learn more simple ways to work with Feng Shui from her book, Simple Shui for Every Day. She is Dallas-based with an international clientele, where she lives with her husband, twin daughters, and their rescue dog, Ruby.
Julia Sarasola is a certified interior decorator, feng shui practitioner, and vintage shop owner based in the NY Metro Area. Trained as a visual designer, Julia has professional experience as a creative director, wardrobe stylist, and producer. She founded Sarasola Interiors after achieving great success while designing and producing experiential events, interiors, and environments for renowned international brands. These included the likes of New Balance, Salvatore Ferragamo, SoFi, Goop, Moda Operandi, Wall Street Journal, and Elle Magazine, to name a few.

FAQs
Will a dirty kitchen affect its Feng Shui?
Yes, keeping your kitchen neat and tidy will help improve flow as mess can block energy. "Once a year, I encourage my clients to give their kitchen a "salty" wipe-down," said Peters. "This cleansing ritual clears any lingering negative chi that might have settled here, and it also keeps you from carrying that with you into the new year!"
Do I have to makeover my kitchen for better Feng Shui?
Try and find harmony with your space in the present moment.
"We tend to lust for newer, bigger, and better overlooking and undervaluing what we have available to us now," said Sarasola. "Consistent future tripping can leave us feeling empty, angry, and dissatisfied, which are not emotions and feelings you want to foster in the kitchen, let alone bake into your food."
See how this subtle awareness affects your ability to nurture yourself and those around you — not only in the kitchen but in your daily interactions.
---
Feng Shui will make your kitchen into a calm and peaceful place you want to spend cooking a meal. If you're looking to improve both the look and feel of your space, try these small kitchen trends to update the decor.