Staying on top of the latest small kitchen trends can really make over even an amateur chef's cooking space. If you're a city dweller, your studio or one-bedroom apartment will most definitely have a small kitchen, which may look dull if you aren't living in a recently built modern condo.
With this in mind, redesigning your space with the latest trends will make your time in this space worthwhile. Although a small kitchen could be a challenge to design, it can also be incredibly functional and stylish.
I had the pleasure of speaking with two top-tier interior designers, who provided me with small kitchen ideas for our readers to follow for giving their small kitchens a revamp.
1. Dual-Color Cabinetry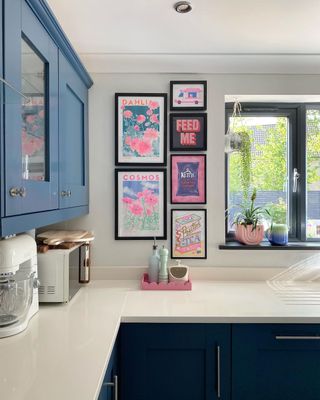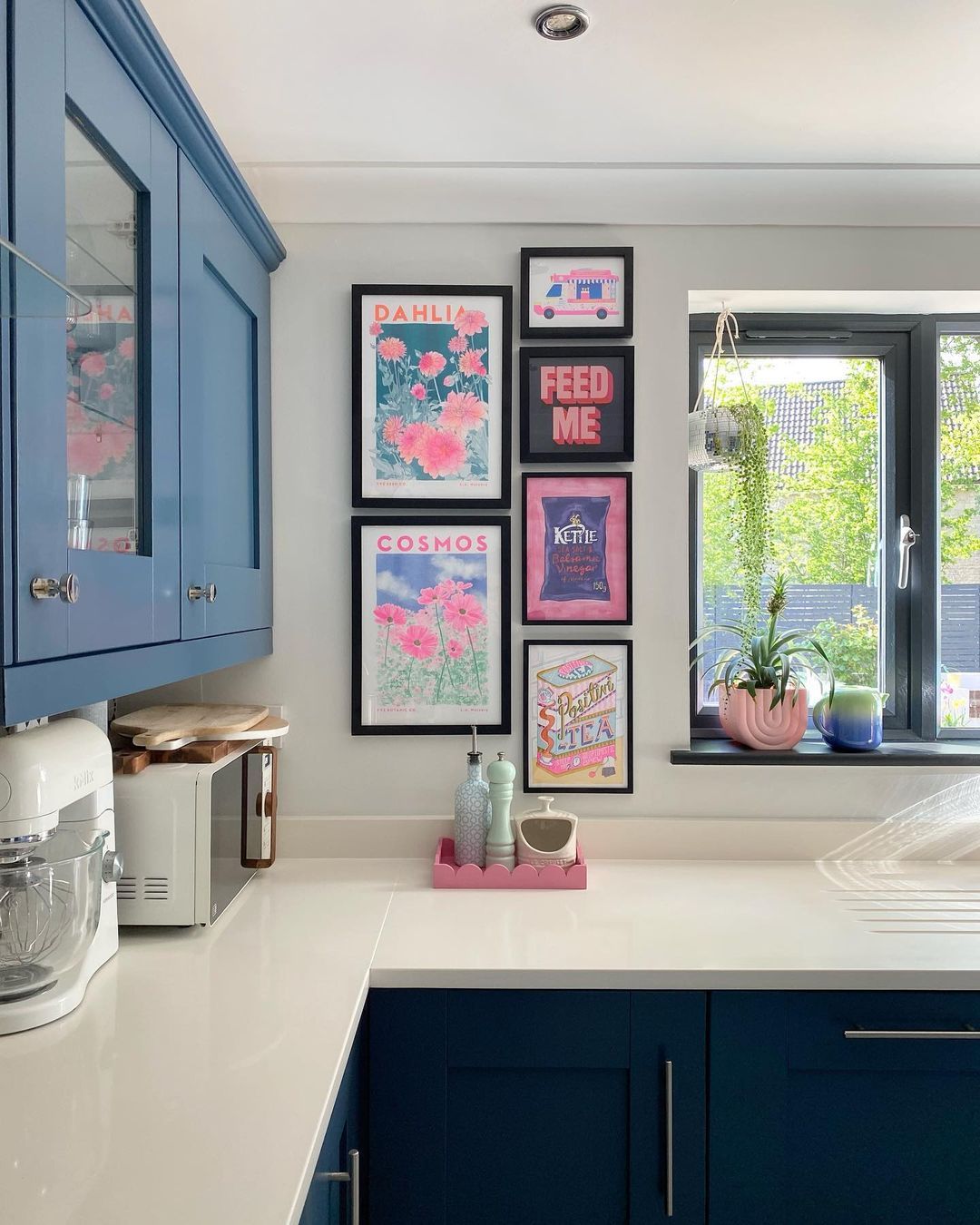 Sofia Naranjo explained that dual-color kitchen cabinets are a design trend that involves using two different colors or finishes for kitchen cabinets.
"This approach is gaining popularity because it adds depth, contrast, and visual interest to the kitchen's overall look," she said. "It's important to note that when using dual-color combinations for kitchen cabinets, a common approach is to pair a neutral color such as white, beige, gray, or wood with a more vibrant or intense color."
The contrast between a subdued, neutral tone and a bold, vibrant hue can create a visually striking and balanced kitchen design.
2. Open-plan designs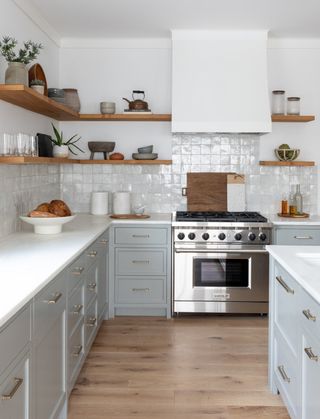 "If you have an open floor plan the space can flow into another space, such as a dining room," explained Vanessa De Leon.
De Leon mentioned that kitchen designs are constantly changing and depending on the floor plans, could capture other rooms in the home. If your kitchen is small, there may be a possibility of encompassing other rooms into your kitchen area by connecting the space to blend in naturally.
With this in mind, she states this is where you would want a curio cabinet, like this Amber Lewis cabinet from Anthropologie to store your dishes, tablecloths, and even some holiday accessories.
"We have come a long way from yesterday's small kitchen and the plethora of ideas for the small kitchen today," she said.
3. Continuous Counters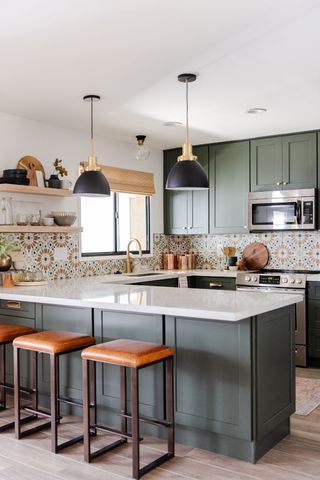 Naranjo spoke about integrating a continuous counter with a seating area, which can provide additional cabinetry for both storage and preparation purposes. When dealing with smaller kitchens confined to two available walls, the incorporation of extra cabinetry is a reliable strategy, whether it's intended for storage or housing appliances.
Elevating the style of these kitchens can be achieved by introducing a splash of color to the lower section of the extended counter. This can be further accentuated by contrasting it with counter stools, like these Threshold wooden bar stools available at Target, that harmonize with the chosen color palette for this space. Pendant lighting suspended above the counter area not only enhances aesthetics but also optimizes functionality.
"To make the most of the newfound corner space, incorporating open shelving is a strategic design choice," said Naranjo.
4. Sliding garbage cans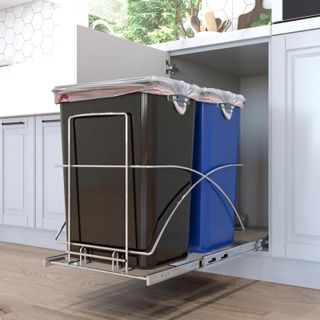 "When following the trends, you don't have to compromise space to incorporate the latest kitchen craze," explains De Leon.
The most important thing in small kitchen trends is to be clutter-free, and have enough space to fit all pots, pans, and stand-alone appliances. De Leon suggests using sliding garbage cans, like these dual garbage cans from Wayfair, that can be placed under the sink instead of having a garbage can in full view and compromising much-needed space.
5. Open shelving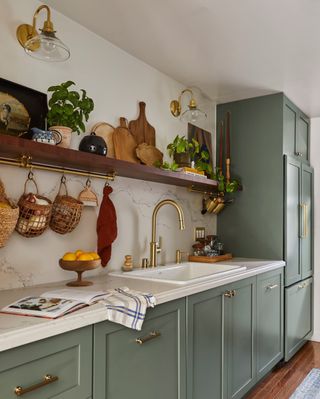 "The open shelving concept in small kitchens offers a practical and visually appealing way to maximize storage and display items," explained Naranjo.
She stated this involves substituting traditional closed cabinets with open kitchen shelving, allowing you to showcase glassware, dishes, and decorative items for easier access. Nonetheless, maintaining organization is important to prevent clutter in the absence of cabinet doors.
6. Stackable appliances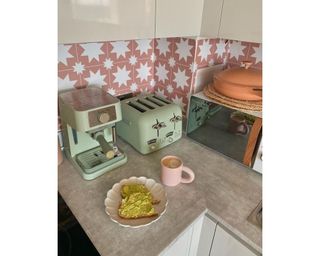 Stackable small kitchen appliances are a clever solution for areas where space is at a premium. These appliances are designed to be vertically stacked on top of each other, which helps maximize the use of limited counter and floor space.
Common examples of stackable appliances include washer-dryer combos, compact ovens, and microwaves, and mini-fridges with a microwave on top.
7. Arches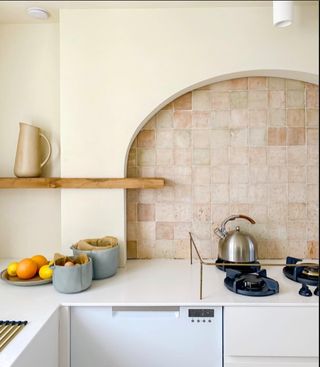 Arches in kitchens are a design element that can serve both functional and decorative purposes. They can be used to frame doorways, windows, or entrances to other areas of the home, creating a visually striking and classic look.
Arched vent hoods, in particular, serve a dual purpose as both functional and decorative features. They often take center stage above the stove or cooking area, making a stylish and eye-catching statement. When incorporated with renter-friendly shelving, they can further enhance the kitchen's aesthetic appeal.
"Whether you choose to highlight cookware, dishes, or decorative items on the shelves, the combination of arched vent hoods and shelving accents can transform the kitchen into a visually captivating space," stated Naranjo.
Meet the experts
Vanessa De Leon is a New York-based interior designer, product designer, blogger, brand ambassador and lifestyle expert. Vanessa's innovative sensibility combined with a keen eye for detail helps her clients inspirations and ideas come to life.
With over 6 years of experience, Sofia Naranjo is an Interior Designer based out of Northern New Jersey. Sofia brought her passion for helping remodel homes from her native Ecuador. Sofia has begun her own operation under the Sofia Naranjo Interior Designs banner, with the hopes of continuing to provide exceptional service to her clients. Sofia has worked with developers, restaurateurs, and celebrities to provide exceptional designs and help make dreams into reality.
FAQs
Where else can I find small kitchen trends?
You can find a ton of inspiration everywhere from Pinterest to trendy restaurants. I like to look at celebrity kitchens for more ideas, like Olivia Rodrigo's on-trend small kitchen.
---
Personally, I love following small kitchen trends to make my place feel modern and fresh. But don't get bogged down by things you can and can't do — there are plenty of outdated rules to ignore when decorating a small kitchen. All that matters is that you're happy with your space!