With the right lighting ideas for small kitchens, you can give your tragic apartment kitchenette a complete makeover. Let's face it, the most gorgeous decor scheme falls instantly flat without layers of soft lighting for an all-around cozy glow. In short, this translates to lamps — lots and lots of lamps.
Yes, this rule applies in the kitchen, too, but with the added need for overhead lighting to ensure you can chop, cook, and clean up without stumbling around in the dark. You're in a real pickle (no cooking puns intended).
There are loads of ways to pull off a cozy look and feel, from candlelight and table lamps to under-counter strobes and pendants hanging above. Here, I've rounded up some of the best lighting solutions and small kitchen ideas to upgrade your space.
8 lighting ideas for small kitchens
Matilda Martin, home decor brand Lick's Trend Specialist, sums it up perfectly: "When it comes to lighting in small kitchens, ensure your space is well-lit. Overhead lighting is a must but layered lighting works a charm here too. Guiding your eye to different levels and pockets of warmth throughout the space can help demarcate zones and break up a boxy room," she explains.
"In the evenings you may choose to switch on a table lamp on the countertop for a cozy cocooning feel, whilst in the mornings you may wish to switch on the overhead lights to wake you up. A pendant light hung above the kitchen table can also help frame that area and separate it from the cooking space, giving it its own moment and cozy appeal".
1. Plenty of table lamps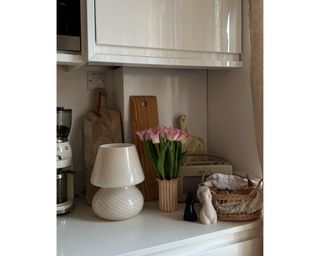 Yup, just your average, ol' table lamp can look amazing in a small kitchen. I particularly love this mushroom-style lamp that influencer India has used in her space.
The good news is you can get your hands on these for a budget price all over the internet, like this neutral mushroom lamp available on Amazon. Simply position in a nook or corner of the worktop, near a plug.
2. Embrace candlelight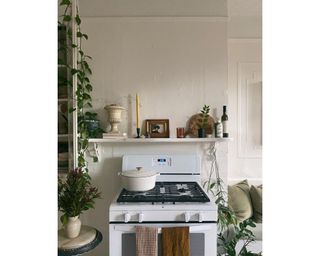 Don't underestimate the power of candlelight. Of course, you wouldn't want this to be your main light source, or you'd probably end up chopping a thumb off! But, it can be a lovely, lovely addition.
In the kitchen, light, cleansing smells like citrus and herbs work really well if you're looking at a scented candle. Or, a long dinner candle like this pack of 20 unscented taper candles available on Amazon, works best, preferably with a holder that catches any drips.
Position on a shelf or island, but don't place the flame underneath something that could burn, like overhead cupboards.
3. Try pendant lighting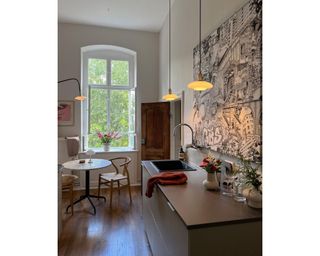 Pendant lighting is actually one of the most popular lighting sources in kitchens overall as what you really need in this space is a direct beam of light over whatever you're doing with your hands.
It's called 'task lighting' in the biz, so you'll find these are also used in studios and home offices.
Pendants are also great because they take up no counter or floor space, plus they look chic AF. My advice? Lean into the Scandi style and opt for a minimalist-looking pendant light with a mid-century modern twist.
4. Don't underestimate wall sconces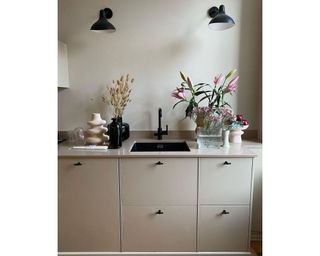 Wall sconces can sometimes be overlooked, viewed as outdated, or a bit of an 80s thing. But, actually, not only are they incredibly practical, but they're making a comeback, baby!
Wall sconces look great in vintage (like these gold sconces with beige shades from Wayfair), mid-century, or super-modern styles. I love this industrial pair used by influencer Michelle. They look amazing together, like this, but also can be popped above a shelf in the center, over the sink or even to highlight a piece of artwork.
Like pendants, these lights offer a singular beam which is perfect for cooking.
5. Create some sparkle with fairy lights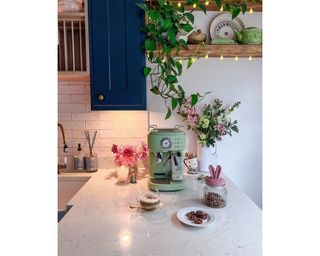 This is one of my favorite ways to light a small kitchen because it's such an easy, accessible, and versatile method. Fairy lights may not be quite right if you're doing some intense chopping, but they will overall illuminate the space and bring atmosphere, which is still super important, right?
Fairy lights can be bought from almost anywhere (like the budget-friendly lights from Amazon), are generally pretty cheap, and can be moved around the space with ease, every time you fancy a switch-up!
Pin along the bottom of a shelf like Amy has done here in her beautiful kitchen, or bundle together and store in a clear, glass jar.
6. Add a wow factor with neon lighting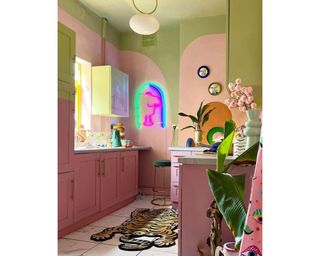 How amazing does this kitchen from Richard look?! I am absolutely obsessed with the neon light he's mounted on the wall which gives the space a unique, fun look as well as bringing the vibes come night time.
Imagine having your friends around for some drinks in the evening, with a cute li'l neon sign on the wall. It's basically like having your own bar. You can either get custom signs online or pick up a set design, like this Champagne neon sign from Dormify.
7. There's always spotlights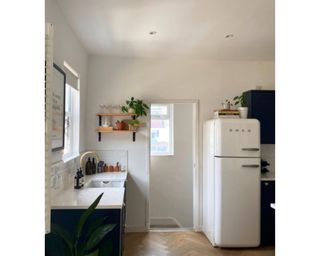 Spotlights are one of the most common ways to light any kitchen. Spotlights have their positives and negatives — they're clean-looking and provide great task lighting, but they can be a little unflattering and un-atmospheric.
The best thing to do is pair them with other softer lighting sources around the room like candles, table lamps, and other renter-friendly lighting ideas.
8. Under-counter lighting for practicality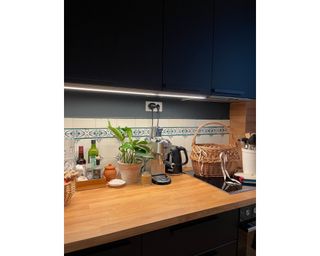 Undercounter lighting is a no-brainer in a small kitchen when there's not enough space to have a longer pendant or fill the worktops with table lamps.
It's easy to fit and usually means you can light different parts of the space when you need them. Plus, practically speaking it's great for using your hands, preparing and cooking food.
Meet the experts
Matilda Martin is the Trend Specialist and Editor of In Good Taste magazine and Lifting The Lid' monthly newsletter at home decor brand, Lick.
FAQs
How can I light up my kitchen at night?
Personally, I tend to get up in the middle of the night to wander to the bathroom or grad a glass of water. I'd really rather not try to explore my apartment in pitch black, so I like to use a cute nightlight in the kitchen for a small source of light that won't be too bright.
Where can I put string lights in the kitchen?
There are plenty of places to add string lights in your kitchen from under the counter to in a window or on top of the fridge. We found some string light styling ideas to give you some more inspo.
---
So, it turns out there are a lotta ways you can light a small kitchen and it's all about being creative. I recommend using a mix of techniques, bringing in fairy lights and a neon sign for girls' night, but stick with classics like under-counter lighting for practicality, too.
If you're looking to get even more creative with your set-up, we found some genius IKEA hacks for a small kitchen to try.