Some rules are made to be broken, but not rules for small bathrooms. If you're unconvinced, just ask interior designers.
Yes, we're policing the situation, but it's for your benefit. A bathroom can only look nice and function well when certain things are in place. When you're working with minimal space, you have to be thoughtful in your approach, folks.
It is possible to achieve HGTV-level looks and functionality with these small bathroom ideas—promise.
12 Designer-backed rules for small bathrooms
Want the W.C. to look chic and stay functional? Here's where to start.
1. Stay organized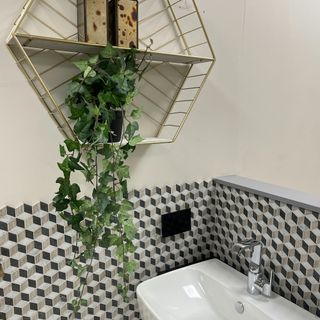 It's hard to execute a decor theme—or at the very least stay sane—when crowded rooms are overflowing with clutter. Learning how to organize a small bathroom is the first step to creating a calming environment. Start by concentrating on the vanity.
"Less is more," insists designer Chantelle Hartman Malarkey. "Only keep on your countertop what you use daily. Everything else can be stored away in cabinets and drawers."
Small bathroom must-haves, including over-the-toilet shelving or the increasingly popular utility cart, are convenient ways to keep your toiletries accessible yet orderly. Plus, you can easily find one that fits in with the room's aesthetic.
Chantelle Hartman Malarkey, a.k.a. the Lifestyle Alchemist, is an interior designer, photographer, home chef, hosting expert, and blogger who shares ideas about family travel hacks, beauty must-haves, delicious recipes, among other topics, with her followers.
2. Use containers for storage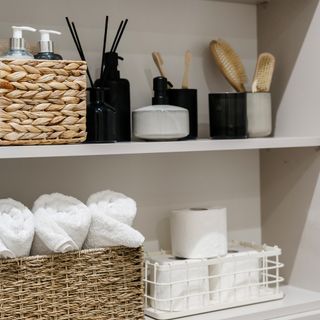 Even if you're utilizing vertical space or managed to fit all of your necessities underneath the vanity, you still have to keep those essentials tidy. When bottles and accessories look overwhelming, find a way to keep them out of sight.
"Separate and contain your bathroom categories so your shelves don't become jumbled," says Laura Price, the founder and director at The Home Organisation. "It's easy for categories to merge in a small bathroom if they aren't separated by containers, so investing in matching storage boxes is the best way to keep the space organized and stylish."
Plus, let's be honest: your shelves look a lot cuter with storage baskets than they do with tubes of toothpaste and bottles of moisturizer.
Laura Price is the founder and director at The Home Organisation. After a career in PR for national events and with three young children, she realized that creating organized spaces brought her moments of calm in a busy life. With a vision to help many others experience the benefits of living an organized life, The Home Organisation was born.
3. Choose calming colors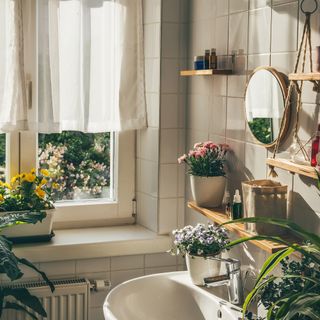 When it comes to the worst colors for a small bathroom, it's been proven that dark shades can make things feel cramped and a busy wallpaper pattern creates a hectic ambiance. Neutral tones not only make for a zen environment, but they're in line with the proper practices for small bathroom feng shui.
So, once you pick your shade of choice, make sure it aligns with your accessories and the bathroom's furnishings.
"Simplify with two to three complementary shades, it reduces visual clutter and adds sophistication," says design expert Artem Kropovinsky
Artem Kropovinsky is an interior design expert and founder of Arsight, an award-winning interior design studio based in New York.
4. Add a statement wall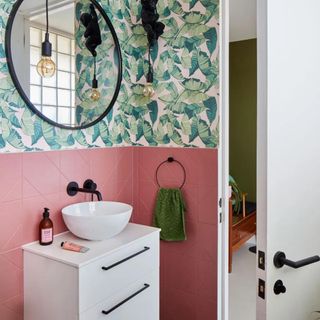 Small doesn't mean "plain." You can give yourself a little eye candy with a statement wall that uses a fun peel-and-stick wallpaper or a pop of color. This is a clever way to use the less-recommended hues and not make the feel of the bathroom entirely overwhelming.
5. Choose complementary textures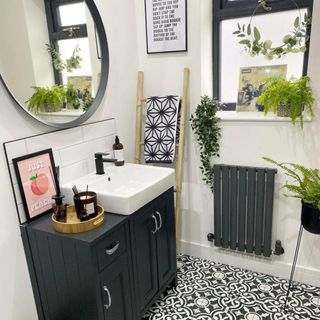 Kropovinsky says playing with textures is a way to add sophistication to the room, but make sure whatever you're incorporating into the W.C. fits with each other. If you want a boho feel, you should have wood accents, a neutral color palette, greenery (of course) and anything that feels pure. While an ultra-sleek, modern, black, and sophisticated vanity might look nice, that won't necessarily fit the theme you're going for.
6. Trick the eye with mirrors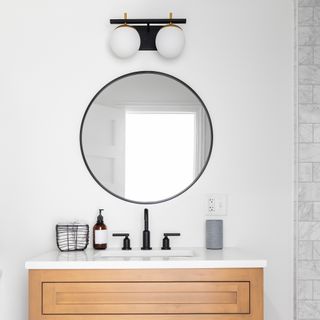 Yes, we'll admit, one of the biggest small bathroom feng shui mistakes is to go overboard with mirrors, as it can potentially flush away good energy, but it is a trick designers gravitate toward when they want to brighten a small bathroom.
"Play with perceptions. A large mirror or glossy tiles can reflect light, making the room appear larger," Kropovinsky adds.
7. Eliminate harsh lighting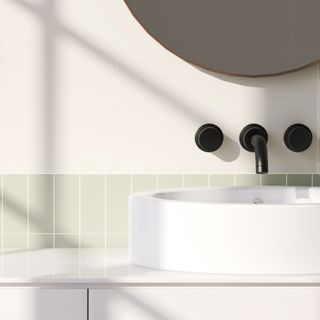 "Since you will be getting ready in the bathroom it's important to invest in good lighting and utilize natural light when possible," notes Hartman Malarkey.
LED lightbulbs will make things seem less intense, and Kropovinsky notes that ambient lighting has a way of "subtly redefining the space." (Think under-cabinet or behind-mirror lighting.)
8. Choose glossy finishes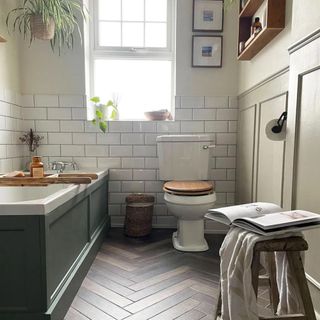 Even if you have to resort to peel-and-stick options, Warren Kinloch, bathroom interiors expert at Bathroom Deal, prefers to opt for a silky finish.
"My favorite tip is to choose glossy tiles," he says. "Having these on the walls can reflect light, making the room seem larger and brighter. You can also bring a trending color into this to add a stylish element, for example, choosing sage green tiles."
Warren Kinloch is the bathroom interiors expert at Bathroom Deal, a retailer that aims to "supply the highest quality bathroom products at the very best price."
9. Decorate minimally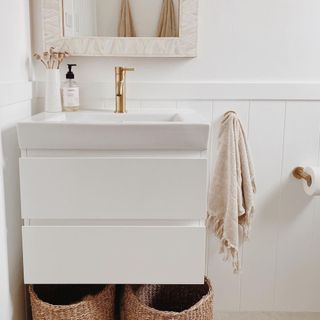 As much as we feel inclined to let our creativity show, a small bathroom can be stylish without being overdone. Plus, let's be honest, there isn't space to execute some of those grand ideas.
"Don't over-decorate here—especially with bins, shelves etc.," says designer Melony Huber, co-founder of La Peony. "I know it may seem like you are making the most out of your space but it may end up looking overcrowded at the end."
And you know what happens when things feel overcrowded, don't you?
Melony Huber is a global travel fashion, textile, and exclusive interior design stylist/buyer and co-founder of ethical lifestyle collection La Peony.
10. Pay attention to the energy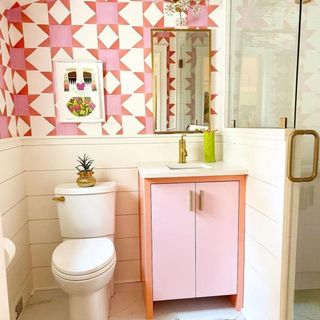 A bathroom should be calming, not the opposite, so it's important to be considerate of the energy that you bring to the room—especially according to feng shui experts.
"Treat your bathroom as a mini sanctuary that is your go-to place to recharge," says Laura Morris, feng shui expert and the co-founder of Mindful Design Feng Shui School
Feng shui consultant, Priya Sher says that in order to let the chi (energy) flow the way in which it is supposed to, all drainage must be working properly, otherwise it represents money depleting. And yes, moody shades and over-the-top wallpaper might look harsh, but in terms of feng shui, they also represent bad energy.
"Avoid a black, dark blue or red color scheme as black and dark blue are water colors and they may add to money leaking out," Sher notes. "Red is a fire color and crashes with the water element of the bathroom."
As a full time professional feng shui consultant, Priya works at enhancing her clients lives by aligning their space to suit them to its full potential, using her feng shui skills. The homes in London and abroad range from small studio apartments to large luxury developments, mansions and even opulent yachts
Laura Morris is a feng shui expert and educator. She is a teacher at and the co-founder of Mindful Design Feng Shui School
11. Pay attention to small details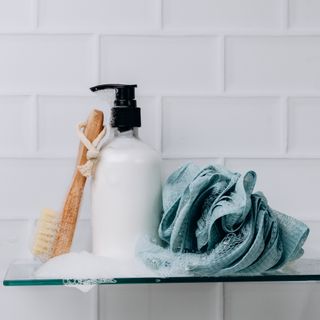 Hey, your shampoo and conditioner need to go somewhere, right? But that doesn't mean a bulky Garnier bottle needs to clash with the look of your shower, and bathroom as a whole. When you pay attention to smaller items and choose to decant shower products, find a fragrant reed diffuser, match your towels, etc., these tiny efforts effect the bigger picture, and will ultimately make your small bathroom look luxe.
12. Consider storage alternatives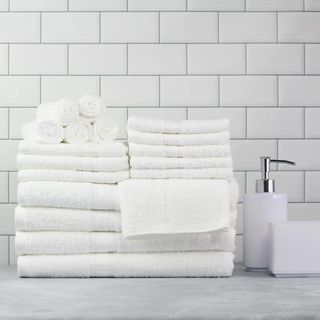 While yes, you might want to keep your towels as close to the shower as possible, that doesn't mean your linens have to be in the bathroom, especially if space is tight.
"Make sure that everything in the bathroom has a purpose and need," Hartman Malarkey adds. "Anything that doesn't most likely can be moved to another space in the house."
What to shop
FAQs
What to avoid in small bathroom: what are the red flags?
If you have a small bathroom, there are a few things you should avoid: the first would be an inadequate storage system, as it can make an already crowded space feel smaller. The next is a dark paint color, as it can make things seem cramped. You should also avoid too many decorations, harsh lighting, and messes.
What is bad bathroom etiquette?
According to feng shui experts, bad bathroom etiquette includes keeping the space unorganized and not cleaning up after yourself by closing the toilet seat and the door, as this can let bad energy circulate improperly.
---
Need a little extra help getting organized? These freestanding bathroom cabinets will do the trick.