The worst colors for a small bathroom have the potential to make your W.C. look dark and feel cramped. When you're in the midst of applying your skincare routine or styling your hair, you certainly don't have time for any of that nonsense.
While renters tend to fear small spaces of any kind, just remember that anything is possible. It might take some brainstorming before things fall into place, but rest assured, you can have the room of your dreams, no matter the size.
As you begin to map out the squeaky-clean small bathroom ideas that work well for you, here's what to avoid in the paint department, according to experts in the field.
The worst colors for a small bathroom, according to paint experts
"Keep in mind that paint color is personal," says Hannah Yeo, color marketing and development manager at Benjamin Moore. "There is no one-size-fits-all color palette for any dwelling."
While we agree that there is no right or wrong in terms of style, those in search of ways to brighten a small bathroom might definitely want to stray away from certain shades, lest they'd like a case of claustrophobia.
Hannah Yeo is the color marketing and development manager at Benjamin Moore. Her area of expertise is in color, design, and concept development.
1. Dark colors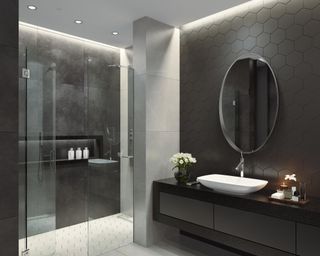 As much as we appreciate a few moody hues, particularly when the cold weather swoops in, we should use dark shades sparingly when space is limited. (Sorry to break the news to the dark cottagecore enthusiasts.)
"Any dark colors, from black to navy to cherry red, can make a room seem smaller and more enclosed, so picking from a more neutral palette may be more beneficial," says Warren Kinloch, bathroom interiors expert from Bathroom Deal.
While they're definitely beautiful, these shades are not doing much in the way of lighting — quite the opposite in fact.
"These colors absorb rather than reflect light, giving the appearance of a smaller room," adds Tasker Jay Walker.
Warren Kinloch is the bathroom interiors expert at Bathroom Deal, a retailer that aims to "supply the highest quality bathroom products at the very best price."
Jay Walker is a Tasker and carpenter who aims to bring his clients customized solutions and an exceptional experience. He is a Columbia University graduate with a degree in Neuroscience and Behavior.
2. High chroma hues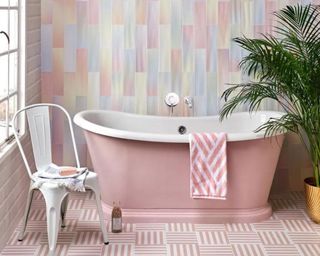 If you're on a quest to create a spa-like sanctuary or embrace Feng Shui ideas try to keep a zen color palette in mind when designing.
"Highly saturated colors exude excitement and high energy. When designed right, these strong colors can result in an eye-catching bathroom with a distinct personality," Yeo notes. "However, high chroma hues are not ideal for creating a calming atmosphere, especially if your goal is to create a relaxing oasis."
That being said, does anyone have two slices of cucumber for our eyelids?
3. Varied color scheme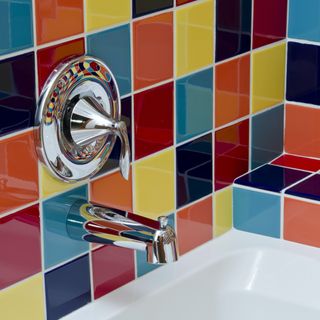 ROY G BIV offers a lot to love. While you might be partial to a pale mint green, a golden-hour yellow, lavender, or one of the colors of the year, you should probably stick to a few shades that work well together rather than plop everything in one area — especially if it's tight.
"Too many accent colors in a small space feel scattered rather than a carefully thought-out design," Yeo adds. "Try to stay with two to three colors for the overall scheme. Unified colors often lead to a cohesive design."
4. High-textured prints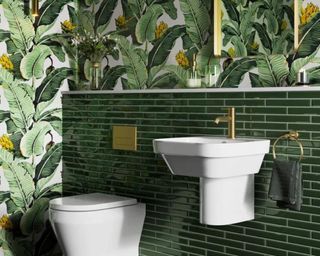 While it's always fun to have a look at patterns available in the best peel-and-stick wallpaper, be mindful that an overly lavish design could do more harm than good when square footage is at a minimum.
"Heavily patterned wallpaper can contribute to making a tight space feel even smaller, despite abstract prints in cloakrooms being a popular trend right now," Kinloch adds.
As is the case with small bedroom layout ideas and aesthetics, perhaps one statement wall with a fun and zany print would be more effective than an entire wall of neon-colored patterns.
What colors *should* you use in small bathrooms?
Alright, now that you know what could be tricky in a small powder room, color-wise, you're probably wondering what actually works. Fear not, we've got you covered!
1. Neutral colors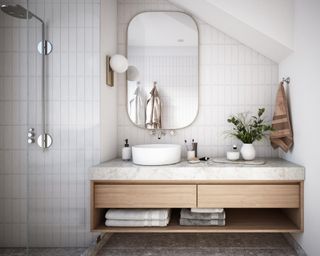 As Tasker Jay W notes, the darker you go, the less natural light you have. Keep that in mind if you want a li'l peek of sunshine (real or fabricated).
"If creating the illusion of space in a small bathroom is a priority to you, I would definitely recommend choosing a neutral color palette," Kinloch notes. "Off-whites and beiges are a great way to make the space feel open."
2. Nature-inspired tones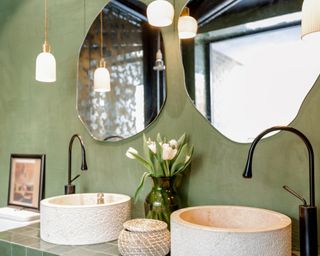 Who doesn't love a lil' nature? Use the environment around you as inspo when decorating and creating a space.
Sage green is a great option, alongside peachy orange tones," Kinloch says. "As the light changes throughout the day, a peach room can represent a stunning sunrise or sunset which can also help put you in a positive state of mind."
3. Pastels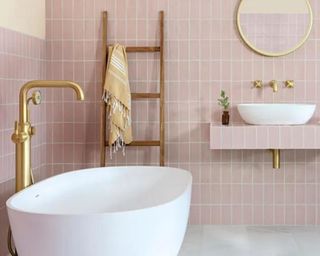 Sometimes it pays to go with an Easter egg-colored palette — it has its perks! Pastel aesthetic decor can work in just about any room.
"Pale and pastels are popular choices in smaller rooms as lighter colors tend to have an airy effect, which helps bring more light into the space," Yeo notes.
What to do before you start painting
Paint colors are but a small part of the already small equation. There are a lot of factors to take into consideration when modeling a room in your abode, and for those who might not be able to start Van Goghing (looking at you, renters), you'll want to take other options into consideration.
"Start small with painting an accent wall or a door," Yeo recommends. "An oversized mirror can help to reflect the accent wall color, giving the illusion of fully painted walls. If painting is not an option, bring colors through towels, rugs, or shower curtains."
All sources are in agreement that the only way to fully appreciate a space in all of its glory is to keep it clean and have clever storage options. That being said, you'll want to learn how to declutter a small bathroom (with help from the pros, of course).
What to buy for your small bathroom
Now that you're ready to put these methods into motion, here's what you'll need to get started, from painting tools to helpful accessories.
All prices were correct at the time of publication.
FAQs
What colors should you avoid in a small bathroom?
If you don't want your space to feel cramped, you should avoid dark colors in your bathroom. Additionally, anything bold and loud might feel too intense for such a small space. Interior experts and paint experts typically opt for quiet, neutral hues in small bathrooms.
What colors make a bathroom look clean?
You can never go wrong with a nice white, and there are plenty of shades to choose from, whether you'd like to opt for something like egg-shell or perhaps a hue that scales more towards ivory. Anything light, including a sage green or soft blue, can help make a small bathroom feel airy.
Are dark colors good for small bathrooms?
They're not necessarily bad for small bathrooms, but dark colors can make them look tinier and, of course, darker. This doesn't mean these shades need to be avoided entirely. You can opt for a statement wall or use a darker hue along the vanity or via accessories like shower curtains and bathmats.
---
Still looking for ways to keep your powder room in tip-top shape? We'll lend a hand. We have plenty of apartment bathroom ideas — they're as beautiful as they are useful!